Sept. 18, 2019
Sign up for our RwandaRwandan coffee was, at one time, rarely seen in the United States as either a Specialty grade or low-end commercial coffee. There simply was not that much coffee produced in Rwanda that went anywhere besides + BurundiBurundi coffee bears resemblance to neighboring Rwanda, in both cup character, but also the culture surrounding coffee. Burundi is a small landlocked country at the crossroads of East and Central Africa, straddling the crest of tasting event and experience a selection of Sweet Maria's coffees from these two underrated coffee origins. Julio, our lead roaster will roast one coffee from each country for you to compare and contrast.
Please note this will be a tasting and not a cupping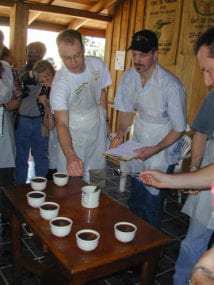 Cupping is a method of tasting coffee by steeping grounds in separate cups for discrete amounts of ground coffee, to reveal good flavors and defects to their fullest. It has formal elements and methodology in. Tasting drip brewed coffeeBrewed Coffee refers to all coffee preparations produced by adding non-pressurized water to coffee grounds. Contrasted with espresso coffee, which is produced under pressure, brewed coffee is primarily an extraction, and contains a lower amount compared to coffee from a cupping bowl will give you flavors a bit closer to what you might experience at home. Sweet Maria's staff will be on hand for questions and coffee conversations.
Please email [email protected] to register for this class. Space is limited. This is a free in-person event that will take place at our Oakland location.
Friday, Sept. 27th, 2019
1pm – 2pm
Sweet Maria's Coffee Warehouse
2823 Adeline St.
Oakland, CA 94608