August 7, 2015
Our first coffees from Urrao,
Antioquia
have arrived –
Colombia Cup of Antioquia – Hugo Sepulveda
, and
Colombia Cup of Antioquia – Jose Leobardo
. Both coffees were in the top 50 of 2014, Hugo actually took 5th place, quite a feat when you consider there were over 800 entries last year! These two coffees represent our introduction to the region of Urrao, a highland are tucked away in the northwest corner of
Antioquia
with a strong small-holder coffee growing tradition. We paid a handsome price for these two coffees to keep them out of the auctions. They show extremely unique cup profiles – cleanly
fruited
In some coffee taster's lexicon, "fruity" means the coffee is tainted with fruit, and "fruited" means a coffee is graced by positive fruit notes. We don't exactly see the difference in terms of these two
and integrated
acidity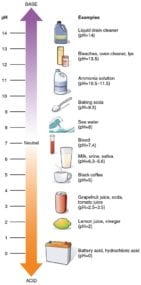 Acidity is a positive flavor attribute in coffee, also referred to as brightness or liveliness. It adds a brilliance to the cup, whereas low acid coffees can seem flat. Acidity can sound unattractive. People may
– and perhaps most importantly, this purchase helped solidify our interest in growing a buying program in the region. Consider these a window into "what's to come", as we have 1/2 container-full of Urrao micro lots and blends landing in the next couple weeks.
Colombia

Colombian coffee is highly marketed and widely available in the US. They have been largely successful at equating the name Colombian Coffee with "Good" Coffee. This is half-true. Colombian can be very balanced, with good

Cup of Antioquia – Hugo Sepulveda
– cups like a competition winner – fruit punch, stewed stone fruits,
mulling spice
A spice mix for adding flavor and aroma to a warm beverage, apple cider or wine. This mix might include all or an assortment of the following; allspice, nutmeg, cloves, cinnamon, star anise and various
hints and well-integrated acidity. Descriptors build as the cup cools, an array of fruit-juice flavors, backed with thick,
honey
In coffee, honey-like sweetness is often found, but we use terms such as refined honey (highly filtered and processed) as opposed to raw honey rustic honey sweetness. This form of sweetness is largely a dynamic
sweetness
Sweetness is an important positive quality in fine coffees, and is one of five basic tastes: Sour, Sweet, Salty, Bitter, Savory (Umami). In coffee, sweetness is a highly desirable quality, and the green bean has
, and mouth-cleansing
finish
Similar to aftertaste, but it refers to the impression as the coffee leaves the palate. Aftertaste is the sensations gathered after the coffee has left the mouth. We combine these to form the "final flavor
.
Colombia Cup of Antioquia – Jose Leobardo
– cups with fruit-forward complexity, from tart berry to orange-infused honey. The
body
Associated with and sensed by mouthfeel, body is sense of weight and thickness of the brew, caused by the percentage of soluble solids in the cup, including all organic compounds that are extracted from brewing
is lush like fruit juice, and deeper roasts bring on a delicious dark-chocolate flavor to the mix. Amazing for
espresso
A small coffee beverage, about 20 ml, prepared on an espresso machine where pressurized hot water extracted through compressed coffee.: In its most stripped-down, basic form, this is a working definition for espresso: A small
.
Guatemala

Guatemalan coffee is considered a top quality coffee producer in Central America. Due to our proximity to Guatemala, some of the nicest coffees from this origin come to the United States. : Guatemalan growing regions

Xinabajul – San Antonio Huista
– makes for a
clean cup
Clean cup refers to a coffee free of taints and defects. It does not imply sanitary cleanliness, or that coffees that are not clean (which are dirty) are unsanitary. It refers to the flavors, specifically
, filled out with sugar-browning, honey sweetness and spiced accents. Middle roast levels have elements of
apple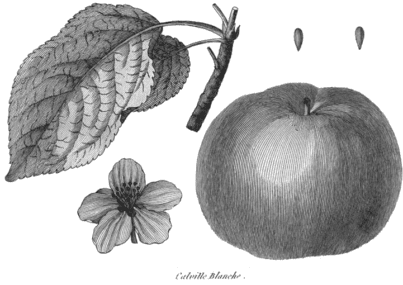 An acid that adds to favorable perceptions of cup quality; malic acid often adds apple-like acidity, and perhaps other taste aspects recalling apples. Malic acid is yet another of the many acids that adds to
crisp
Usually used as a modifying flavor term, such as "crisp acidity" : Crisp can have several meanings, since it modifies other flavor terms. Crisp acidity might mean bracing, fresh fruit acids. Crisp chocolate notes might
– baked apples with cinnamon stick and raw sugar crumble. Good for espresso.
Panama

Panama coffee ranges from medium quality lower altitude farms to those at 1600 - 1800 meters centered in the area of Boquete in the Chirqui district near the border with Costa Rica. Some farms feature

Boquete Camiseta Estate

A "coffee estate" is used to imply a farm that has its own processing facility, a wet-mill. In Spanish this is called an Hacienda. A Finca (farm) does not necessarily have a mill. (And Finca
– Flavors of
caramel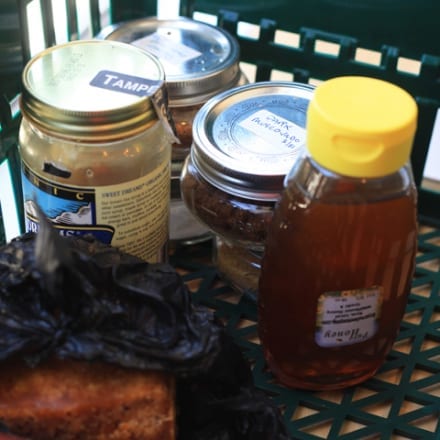 Caramel is a desirable form of sweetness found in the flavor and aroma of coffee, and is an extension of roast taste. Extremely light or dark coffees will lose potential caramel sweetness, as it exists
, butter pecan and a mouth-cleansing, balanced acidity. Definitely a coffee we'd drink every day.
Guatemala Proyecto Xinabajul – Peña Roja
– has incredible stone-fruit juice sweetness with great body and weight similar to
apple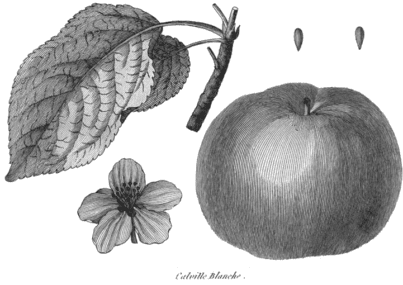 Apple-like flavors in coffee can take on many different forms. The more common ones we use relate to malic acid brightness, which can recall different apple types: green (Granny Smith type for example), red apple
juice. Dark roasts build high % cacao bar retaining fruit-forward characteristics. Good for espresso.
Click here
to view the entire
green coffee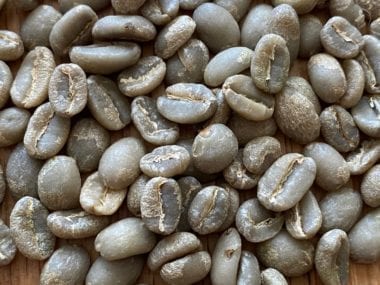 Green coffee refers to the processed seed of the coffee tree fruit. Coffee is a flowering shrub that produces fruit. The seeds of the fruit are processed, roasted, ground and prepared as an infusion.: Coffee
list.