Question: I thought I had a good idea of what a fermentedAs a defect flavor, a fruit quality in a coffee that is excessively ripe, toward rotten. Fermented flavor can be the result of poor wet-processing, over-ripe cherry, or... taint was but with discussions here and some of Tom's latest coffee descriptions I am just confused now. So the question is: when does Intense Fruit cross the line into a Fermented Taint? – Thanks, David
---
Answer: Not an easy question, and exactly the point of offering these 2 coffees that push that limit: Ethiopia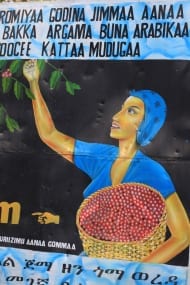 Ethiopia is the birthplace of coffee: it is in the forests of the Kaffa region that coffee arabica grew wild. Coffee is "Bun" or "Buna" in Ethiopia, so... FTOFTO is shorthand for a coffee that is certified as both Fair Trade and Organic. Lekempti Dry ProcessDry process coffee is a method for taking the fruit from the tree to an exportable green bean. The whole intact coffee cherry is dried in the sun... and (to a much lesser extent) Juan Francisco El SalvadorEl Salvador coffee had an undeservingly poor reputation for years, marred mostly by the inability to deliver coffee of high quality in an unstable political climate. Unfortunately, agriculture....
Partly, judging fruit versus fermentAs an aroma or flavor in coffee, ferment is a defect taste, resulting from bad processing or other factors. Ferment is the sour, often vinegar-like, that results from... is subjective. On the other hand, a truly fermentyA defect flavor, a fruit quality in a coffee that is excessively ripe, toward rotten. This often takes the form of vinegar-like aroma and flavor. Fermenty or vinegar... coffee will fade within a few months, and just taste dirty.
I just cupped a SumatraIndonesians are available as a unique wet-hulled or dry-hulled (washed) coffees. Giling Basah is the name for the wet-hulling process in Bahasa language, and will have more body... today that is another "challenging" cup profile in the same way; very fruityIn some coffee taster's lexicon, "fruity" means the coffee is tainted with fruit, and "fruited" means a coffee is graced by positive fruit notes. We don't exactly see..., but remaining more on the clean side (when I taste mustiness or mold, that IS, by all standards, over the line). Take this same debate over into the realm of food and you find a lot of parallels. For me, the analogy is between very refined food (for example, white sugar sweetnessSweetness is an important positive quality in fine coffees, and is one of five basic tastes: Sour, Sweet, Salty, Bitter, Savory (Umami). In coffee, sweetness is a highly...) versus more "natural" food (for example, raw unfiltered honeyIn coffee, honey-like sweetness is often found, but we use terms such as refined honey (highly filtered and processed) as opposed to raw honey rustic honey sweetness. This..., sorghum syrup, unsulphered blackstrap molasses).
The later contain sweetness with other flavors many would consider earthyEarthy is a flavor term with some ambivalence, used positively in some cases, negatively in others.: Sumatra coffees can have a positive earthy flavor, sometimes described as "wet..., herbalA flavor descriptor in coffee reminiscent of herbs, usually meaning aromatic, savory, leafy dried herbs. Usually, more specific descriptions are given, whether is is a floral herb, or..., groundy, vegetal, woodyGenerally a taste defect from age; old green coffee, perhaps yellowing in color. This is due to the drying out of the coffee over time, and as the..., etc. Now, I don't know where the line is between them: I don't want to subsist on a diet that tastes like fungus and rotting wood, but I also don't want to have a sanitized, boring diet of clean-flavored, homogenized food. The same goes for coffee.
There are coffee cuppers who reject even the slightest suggestion of unorthodoxy, of the unexpected, in their coffee. Seriously, it is true … they want "clean, sweet, floral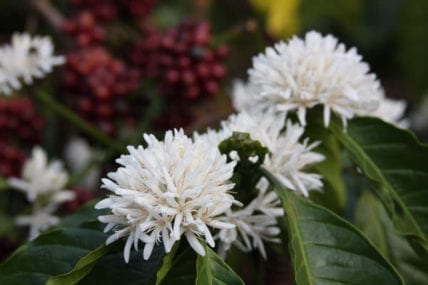 Floral notes in coffee exemplify the connection between taste and smell. Describing the taste of a specific flower is near impossible...we always default to "it tastes like it..., citric, slight chocolate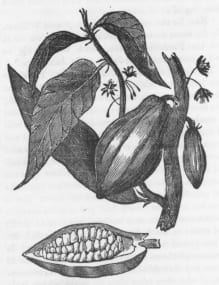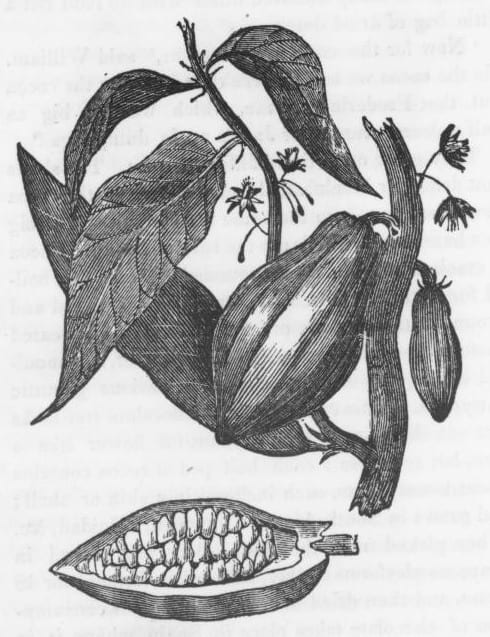 A general flavor or aroma term reminiscent of chocolate. But what type? Usually described with more specifics.: Chocolate is a broad, general flavor or aroma term reminiscent of... note" every time. Even flavors like nuts, cedar, and spice can cause them to suspect a coffee of uncleanliness. Most on the other extreme (in my experience) accept really marginal flavors because they roast coffee heavily … "west coast roast" types who can't live without DP Ethiopias and DP Sumatras.
My opinion: we should try to be flexible, and open to new tastes. We want coffee with character, something surprising … but not a coffee that can't be stored for 6 months green and still cup with the same quality. That IS important. But in general, the question you raise is something that is open-ended and should always be a matter for debate. And in a way it is good that cuppers don't agree on this; just another way the coffee trade is heterogeneous; that we don't all offer the same thing because we don't agree! -Tom