(12/01/10)
Just so's you know, there's a new KenyaKenya is the East African powerhouse of the coffee world. Both in the cup, and the way they run their trade, everything is topnotch.: Kenya is the East... in school. Actually it is a return of sorts. We offered the Peaberried cousin from Gakuyu-ini last year, and now we have for you an AA selection of this syrupy, satiny coffee. Peaches, grapefruit, candy, and other stuff that tastes amazing is all crammed into a mouthful of this coffee.
Kenya Kirinyaga AA Gakuyu-ini
http://www.coffeeshrub.com/shrub/coffee/kenya-kirinyaga-aa-gakuyu-ini
"The cup has delicate balanceSuggests a harmony and proportion of qualities, and implies mildness since no one quality dominates.: Balance is both an obvious and slippery taste term. It implies a harmony... of the sweet and the sourSour is one of four basic sapid (in the mouth) tastes: Sour, Sweet, Salty, Bitter (and possibly a 5th called Umami which indicates savory flavors). In coffee, sourness... sensations, with a lively, fresh lemonade brightnessA euphemistic term we use often to describe acidity in coffee. A bright coffee has more high, acidic notes. : A euphemistic term to describe acidity in coffee..... My lightest roast has a resiny hop flower note while the darker Full City roasts have some grape notes. The mouthfeelHow a coffee feels in the mouth or its apparent texture, a tactile sensation : A major component in the flavor profile of a coffee, it is a... is silkyA mouthfeel description indicating a delicate, light, elegant softness and smoothness. Usually refers to a lighter body than terms such as velvety, or creamy., with medium densityThe density of a coffee bean is often taken as a sign of quality, as a more dense bean will roast more with a better dynamic. The density... like the light syrupy character of hard candy as it dissolves. In the next cupping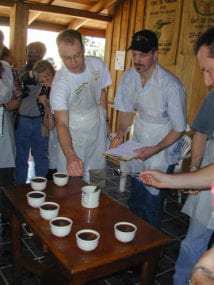 Cupping is a method of tasting coffee by steeping grounds in separate cups for discrete amounts of ground coffee, to reveal good flavors and defects to their fullest.... session we had a distinct grape candy flavor from this Gakuyu-ini, almost like a Jolly Rancher which is echoes the mouthfeel. This is a balanced and sweet lot. There is a hint of winey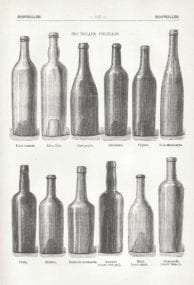 A taste term to describe a wine-like flavor with a similar perceived acidity and fruit, and some level of acetic acid. It is found most commonly in East..., ripe character to the fruit. When the cup is completely cool, there is a flavor of sweetened pink grapefruit or syrupy peaches… very nice!"
I honestly get the goosebumps thinking about all the coffees that we get to experience with you all through this whole shrub deal. I think that it's pretty cool, and we have a number of other new exciting additions to come in the next couple of weeks so keep your eyes peeled. Eyes peeled, that kinda makes me cringe.