Coffee tasting trips and harvest-oriented trips don't really line up. That didn't stop me from trying.
This was an extended trip, the last of coffee competitions for 2006  I judged, and a lot of time away from home. These kinds of trips are odd, because when it's time to taste coffees, the harvest is finished. On the farm there is not a lot to see. I went anyway…
A Little Story: Coffee Travelers Lament – Part 1
I bought a pair of Ray-ban sunglasses at Costco. I went on a trip to El SalvadorEl Salvador coffee had an undeservingly poor reputation for years, marred mostly by the inability to deliver coffee of high quality in an unstable political climate. Unfortunately, agriculture is the first to suffer in revolution, and to GuatemalaGuatemalan coffee is considered a top quality coffee producer in Central America. Due to our proximity to Guatemala, some of the nicest coffees from this origin come to the United States. : Guatemalan growing regions to cup coffees. The chances of returning with Costco Ray-bans still in my possession were slim. I am resigned to this: spend money on decent sunglasses and you will invariably lose them. Pay a few bucks for trashy ones, and when you lose them, you won't even stop to care.
But here I lie at the rusticA general characterization of pleasantly "natural" flavors, less sophisticated and less refined, but appealing. : What is Rustic? This is a general term we came up with... Dried Apricots from Sun Maid at the supermarket, and remote Crowne Plaza in Guatemala City, the last night of the 2-week excursion, and there I see a pair of Ray-bans, slightly tweaked. Dreams come true!
Did you ever wish for something you never really wanted and then you got it and realized that you are crazy not to want it, so basically, you are nuts. Well, that's the kind of problem you can hash out in between cupping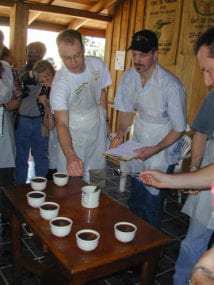 Cupping is a method of tasting coffee by steeping grounds in separate cups for discrete amounts of ground coffee, to reveal good flavors and defects to their fullest. It has formal elements and methodology in sessions because while you actually taste coffee there is little computing power to spare. The fact is, what dogs do effortlessly, process sensory input, and takes every anemic little brain cell I have. You ask yourself over and over "I know that! What is that? I can't remember. It's so familiar. What the hell is that?" You may also wander a bit and wonder where you are, how you got here, and what exactly ARE you doing anyway. And those questions might be easier to answer than the task at hand.
Anyway, much underwear is knotted up over this coffee tasting stuff (woe to the inspector who opens this coffee tasters suitcase).
Traveling is recognition of outsider-ness. I am an out-of-towner. I am an alien. I wish I could understand. I am reading all of the clues. There seems to be so many signs, telling me, but really there is a silence everywhere. What does it mean to photograph all these small businesses, stalls, carts, decipher their signs, see what they offer, how they offer it. It is certainly the most accessible signifier for the out-of-towner. But it says little. I am like a foreign part, something extraneous from another machine. This machine makes no sense. Incompatible technologies. My machine is just an overrepresented culture. They have heard of it too, and they don't get it.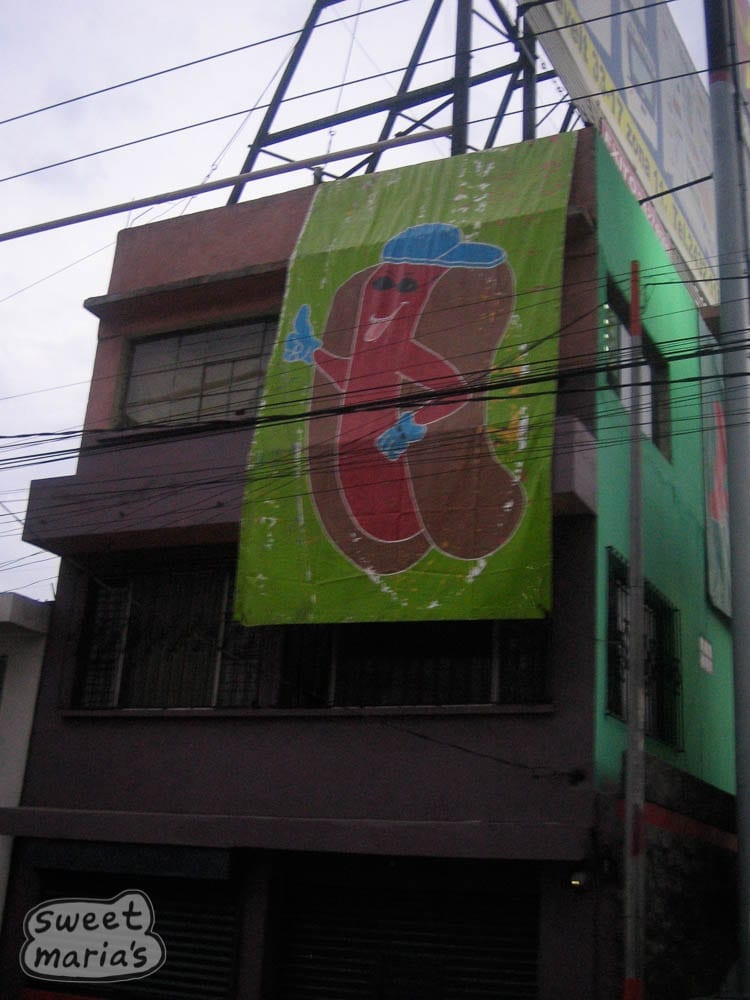 Coffee Travelers Lament:
Part 2, El Salvador
-El Salvador – I am not quite sure what it means to travel "internationally" anymore. When you leave the airport and see Holiday Inns, Intercontinentals, KFCs, Cinnabon, Taco Bell, Burger King, and of course McDonalds … well, where are you?
I guess that is why I seek out everything anachronistic, all the hand painted signs for incomprehensible businesses. They make me happy, they make me feel I am somewhere else. I was trying to explain to a couple fellow coffee judges why my iPod music playlist when I travel contains no marimba music, no native flutes, no samba, no salsa .
No, I listen to Iron Maiden and old Metallica, Pipe Organ Musciale and Private Press Lounge Singers from the '60s, Califiornia Hot Rod and Surf, and a million unknown Japanese bands.
Why? For the same reason; I feel like an alien, and that I don't belong. What is wrong with being from a different culture, asking for help because you don't understand (or at last asking for someone to speak Spanish more slowly).
Why should people speak English to me when I want to learn better Spanish anyway, Because I am afraid of a place where I am not in charge, where I can't go anywhere and order a double raspberry latteAn espresso-based beverage with steamed silky milk on top, averaging 190-220 ml with 20 ml espresso, served in a ceramic cup or bowl, or a giant giant paper cup. or find the nearest Gap?
Well, Latin America is becoming that place too and I only hope it is because the people genuinely want that. Otherwise, there is something sad about all these new sub developments, and malls. Still I must say, the French fries at a Guatemalan McDonalds kick ass (they use real lard to fry them).
Sorry for the lament. Let's move on.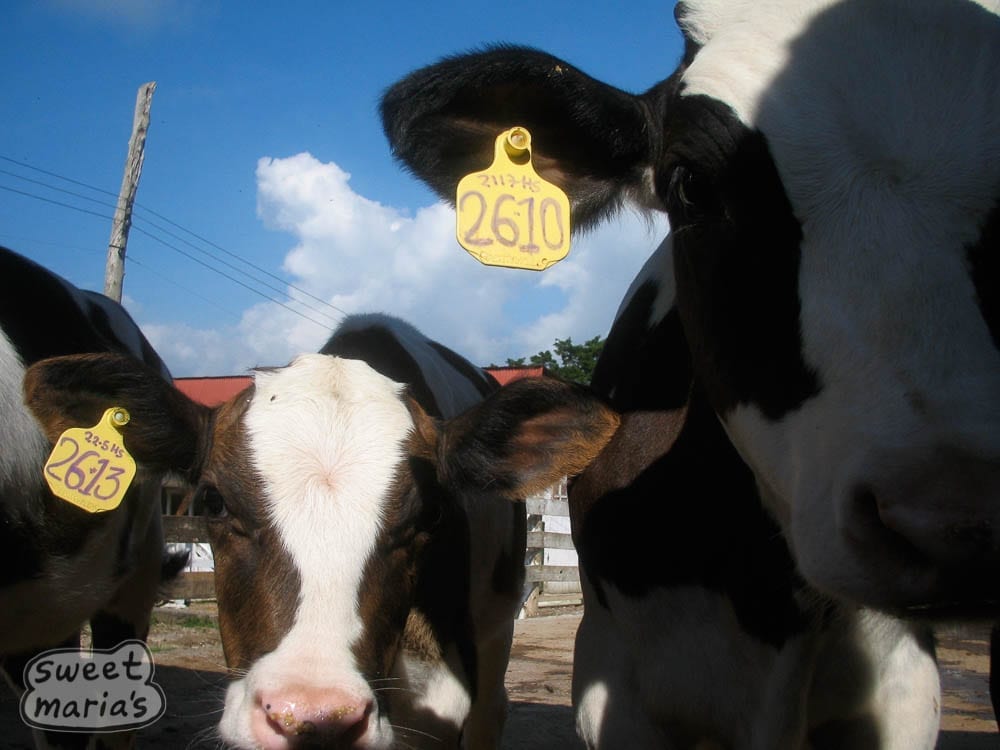 Winning Farms 2006 Cup of ExcellenceThe Cup of Excellence is a competition held yearly in many coffee-producing countries, designed to highlight the very best coffees from each origin.: The Cup of Excellence (COE) is a competition held more-or-less yearly in -Guatemala
Lot # Farm Farmer Score Lot Size*
1 El Injerto 1 El Injerto, S. A. 92.57 16
2 La Merced Finca

Spanish 101: Finca is the Spanish word for farm. Sometimes the term Hacienda is used to imply an Estate, which would mean the farm has its own wet-mill. A Finca does not necessarily have a

La Merced, S. A. 91.07 20
3 Asturias Plant. Asturias, S. A. 90.45 13
4 La Perla Y Anexos Finca La Perla Y Anexos, S. A. 90.43 17
5 Las Nubes Diez De Mayo, S. A. 90.19 13
6 Carmona Carmona, S. A. 89.80 15
7 El Potrerito Lima Rosales, Elmer 89.32 13
8 La Soledad Y Anexo Perez Melendez, Enio Raul 89.18 13
9 Carlos Morales Alvarado, Carlos 88.55 15
10 Valparaiso Perez Lima, Ernesto 85.45 15
11 Los Quequezques Agroind. Magna, S. A. 87.09 20
12 Viviano Gutierrez Vasquez, Viviano 86.91 15
13 Pachujul Ramirez Yataz, Jose 86.27 15
14 El Bosque De San Gerardo Inversiones Estrategicas, S. A. 85.36 16
15 La Labor Y Anexo Empresa Rancho Dulce, S. A. 85.34 21
16 Chichupac Asociacion C. De Estudios E Inv. P. El D. Y La Paz 85.30 16
17 El Platanar Y Anexo De La Roca Perez, Hector 85.23 14
18 Daniel Morales Alvarado, Daniel 85.11 19
19 Santa Isabel Y Anexos Jinaya, S. A. 85.07 15
20 Asoc. De Caficultores De San Cristobal Y Tamahu Actasa 84.50 16
21 Retana Y Anexos Finca Retana Y Anexos, S. A. 84.45 13
22 San Jorge Lemus Pineda, Tulio 84.41 21
23 El Retiro Finca El Retiro Del Quisaya, S. A. 84.11 20
24 San Rafael Urias Valdes Valdes Salvatierra, Hnos. 84.09 17
25 El Bosque Y Anexo Diaz Schwarz, Roberto 84.09 15
International Coffee Cuppers for Guatemala 2006
Head Judge
Paul Songer USA ACE
North America
Christy Thorns USA Allegro Coffee Co.
Vincent Iatesta USA Caffe Pronto
Katie Downey USA Port City Java

There are several types of Abyssinia, but they are not from Ethiopia but rather Indonesia. Abyssinia 3 = AB3. PJS Cramer, a Dutch plant researcher, introduced this variety in 1928, supposedly from Ethiopia seed stock. It was

Jason Long USA Café Imports
Peter Lynagh USA Terroir Coffee
Tim Hunter USA Olympia Coffee Co.
Tom Owen USA Sweet Maria's Coffee
Geoff Watts USA Intelligentsia
Duane Sorenson USA Stumptown
Europe
Thomas Stehl Germany Rehm & Company
Mirella Cielek Germany InterAmerican Coffee
Robert Thoreson Norway Kaffa AS, Oslo
Jan Schuitemaker Netherlands de Mélangerie
Tineke Jansen Netherlands De Eenhoorn koffie en thee
Stephen Hurst UK Mercanta The Coffee Hunters
Asia
Kentaro Maruyama Japan Maruyama Coffee
Keita Matsumoto Japan Wataru & Co., Ltd.
Yoshihito Kato Japan Bontain Coffee Co., Ltd.
Masahisa Asano Japan TOA Coffee., Ltd.
Hidetaka Hayashi Japan Hayashi Coffee Institute
Leah Warren Malaysia San Francisco Coffee
Observers
Vladamir Savinov UK SFT Trading Ltd.
Tatsuya Inoue Japan Voila Coffee/Inoue Coffee Corp.