Thompson just returned from another trip to visit two important coffee growing regions in Indonesia. High prices, low crop, and too much rain … things are a little grim!
It was a strange little trip to be sure, with daily rain … more than the normal Indo daily dose. There's a combination of factors contributing to smaller crops and higher price competition.
Global warming is shifting typical weather patterns that coffee needs for both cherry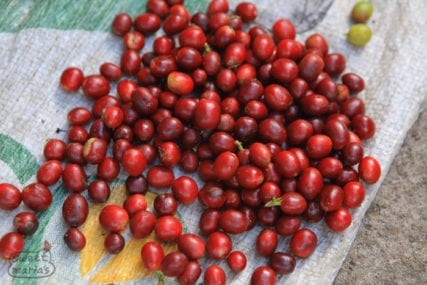 Either a flavor in the coffee, or referring to the fruit of the coffee tree, which somewhat resembles a red cherry.: Either a flavor in the coffee, or... ...more production and to provide better harvesting and processingThe removal of the cherry and parchment from the coffee seed.: Coffee is either wet-processed (also called washed or wet-milled) or dry-processed (also called wild, natural or natural... ...more periods. The Indian Ocean Dipole, an el nino pattern for this part of the world, is in full effect.
On top of this, local consumption has risen and the demand from Jakarta roasters and Medan traders means clashes over price. The fact that Starbucks still buys so much of the Indonesian coffeeIndonesian coffee is known for its unique earthy, potent flavors. Some like it, some hate it, but it's certainly distinctive. Much of the coffee in Indonesia is processed... ...more crop is a backdrop to other demands, and lower supply. The result is a lot of price spikes for coffee cherryOriginally coffee literature referred to the fruit of the tree as a "berry" but in time it became a cherry. It is of course neither. Nor is the... ...more.
The good news is this suits the farmer well! The bad news is the harvests keep diminishing, so less coffee to sell (even at a good price) still means less money.
Sumatra Coffee Clips
This is a long-form video (19:30) of short vignettes from the SumatraIndonesians are available as a unique wet-hulled or dry-hulled (washed) coffees. Giling Basah is the name for the wet-hulling process in Bahasa language, and will have more body... ...more leg of this trip. Warning – worms and maggots alert!
---
Travelogue Photos:
Here are some of my travel photos, certainly not all germain to coffee issues, but a good representation of the trip. (Click on a picture to open the larger lightbox version)