Sept. 16, 2016
It's been a while since we've had traceable coffee from Ethiopia's southern Guji Zone, with most recent purchases being through the Ethiopia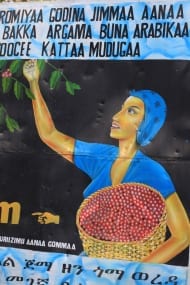 Ethiopia is the birthplace of coffee: it is in the forests of the Kaffa region that coffee arabica grew wild. Coffee is "Bun" or "Buna" in Ethiopia, so Coffee Bean is quite possibly a poor Commodities Exchange ("ECX", the government agricultural exchange program). In a nut shell, unless a farmer owns their own trees, all coffee harvested must be bought, graded, and sold through this government system. This is the case for most small holders in Ethiopia. It's not a bad system, really, one upside being that price as well as payments are regulated, and with local competition being what it is, the price for top grades remains very competitive and stable. One major downside though has been that coffee is sold by region at best, any washing station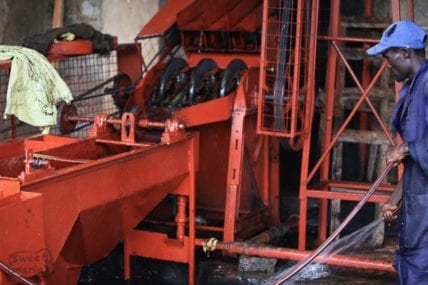 In Kenya, a "Factory" is actually a coffee wet mill (called a washing station in other parts of Africa) where the fresh cherry is brought for wet-processing. It is called a wet mill usually, and traceability lost in the shuffle (this is starting to change, but that's another story).
Exceptions to this rule are only made for farmers who either belong to a cooperative, or who own their own trees. The latter applies to Kayon Mountain Farm, a coffee plantation in Shakiso, which has been owned and operated by a single family since 2012. Since they own their land and coffee trees, they are able to broker the sale of their coffee directly, and can even export themselves. They've made major investments in infrastructure in recent years, now overseeing all post harvest processingThe removal of the cherry and parchment from the coffee seed.: Coffee is either wet-processed (also called washed or wet-milled) or dry-processed (also called wild, natural or natural dry, and we abbreviate it DP sometimes). themselves on their own milling equipment. We were impressed by both their wet processed and naturally processed coffees during the buying season, and wound up bringing in a nominal amount of each.
This is a unique opportunity to taste two Shakiso coffees side by side that were grown at the same farm, of the same heirloom cultivars, but processed two very different ways. Wet-processing refers to the fermentationA key part of the wet process of coffee fruit is overnight fermentation, to break down the fruit (mucilage) layer that tenaciously clings to the coffee seed, so it can be washed off. Fermentation must method implemented after removing the coffee cherryOriginally coffee literature referred to the fruit of the tree as a "berry" but in time it became a cherry. It is of course neither. Nor is the seed of the coffee a bean. All from the seed, which breaks down the sticky mucilage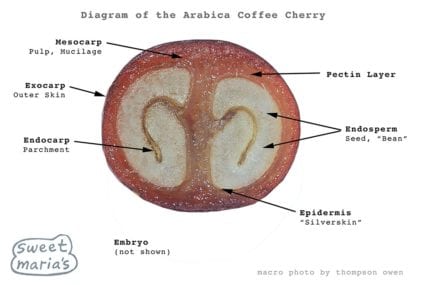 Mucilage indicates the fruity layer of the coffee cherry, between the outer skin and the parchment layer that surrounds the seed. It readily clings to the inner parchment holding the green bean. Think of the layer surrounding the bean, and is then washed away with water. The whole process can take 12 to 36 hours depending on climate, and tends to produce coffee with heightened acidity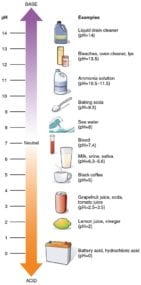 Acidity is a positive flavor attribute in coffee, also referred to as brightness or liveliness. It adds a brilliance to the cup, whereas low acid coffees can seem flat. Acidity can sound unattractive. People may, and a general clarity in cup profile. Dry or "natural" processing is when the whole coffee cherry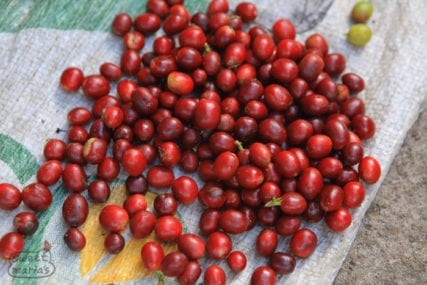 Either a flavor in the coffee, or referring to the fruit of the coffee tree, which somewhat resembles a red cherry.: Either a flavor in the coffee, or referring to the fruit of the coffee, seed and all, is simply laid out to dry for about 1 month after being harvested, then peeled away from the seed once completely dried. The extended contact with the fruit makes for much more fruitedIn some coffee taster's lexicon, "fruity" means the coffee is tainted with fruit, and "fruited" means a coffee is graced by positive fruit notes. We don't exactly see the difference in terms of these two character than wet processing, bigger bodyAssociated with and sensed by mouthfeel, body is sense of weight and thickness of the brew, caused by the percentage of soluble solids in the cup, including all organic compounds that are extracted from brewing, and more muted acidity. And while it can be quite interesting to talk about how different processing methods affect flavor, nothing quite replaces experience. Here's your chance to do just that. Try them both and I think you'll see what I mean.
Ethiopia Shakiso Kayon Mountain Farm – A beautiful cup: jasmine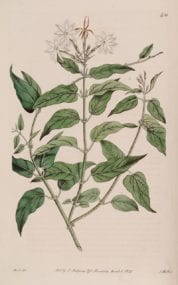 A very positive and intensely floral quality in coffee, usually with a strong aromatic component, reminiscent of jasmine flower or tea. There are many forms of jasmine; the common flowering vines, teas, potpourri, etc. Jasmine florals, raw honeyIn coffee, honey-like sweetness is often found, but we use terms such as refined honey (highly filtered and processed) as opposed to raw honey rustic honey sweetness. This form of sweetness is largely a dynamic, cherry cola, lemon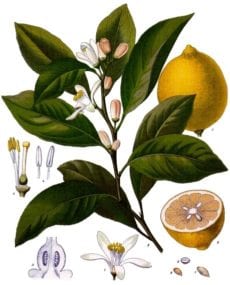 Lemon notes, as well as other related citrusy flavors or acidities, are prized in coffee. These usually express themselves as a bright accent in the cup, or aromatic citrus aspects, but not as blunt sourness. custard, and refined finishSimilar to aftertaste, but it refers to the impression as the coffee leaves the palate. Aftertaste is the sensations gathered after the coffee has left the mouth. We combine these to form the "final flavor. Darker roasts are like jasmine-infused cacao bar. City to Full City. Great Ethiopia espressoA small coffee beverage, about 20 ml, prepared on an espresso machine where pressurized hot water extracted through compressed coffee.: In its most stripped-down, basic form, this is a working definition for espresso: A small.
Ethiopia Dry ProcessDry process coffee is a method for taking the fruit from the tree to an exportable green bean. The whole intact coffee cherry is dried in the sun with the green bean inside. Later it Shakiso Kayon – Wild berry, maple sugar, caramel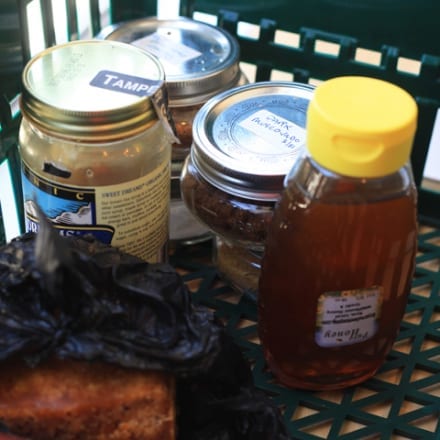 Caramel is a desirable form of sweetness found in the flavor and aroma of coffee, and is an extension of roast taste. Extremely light or dark coffees will lose potential caramel sweetness, as it exists, citrus accents, ripe cranberry, tamarind, hibiscus tea, and flame grape. Incredibly complexThe co-presence of many aroma and flavor attributes, with multiple layers. A general impression of a coffee, similar to judgments such as "balanced" or "structured" cup! Great Ethiopia espresso.