On this page: Description of List | List Rules | How to Join | More Rules | List Archive
Latest List Updates:
Hi folks,
In early '08 we migrated to a new server. Here is the information: http://www.sweetmariascoffee.com/mailman/listinfo/homeroast_lists.sweetmariascoffee.com
The prefix for list posts will be [homeroast] rather than the + sign we used before
Please see the List Rules and other information below!
Tom Sept 2008
Abbreviations used on the list! A consortium was formed, a committee studied the matter, a vote was taken. Here is a lits of all those cryptic abbreviations used on the homeroast list:
AP =AeroPress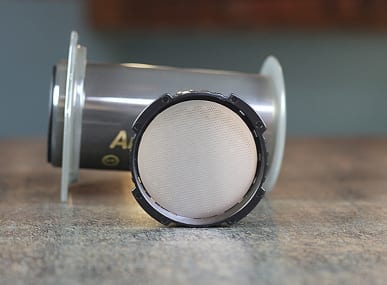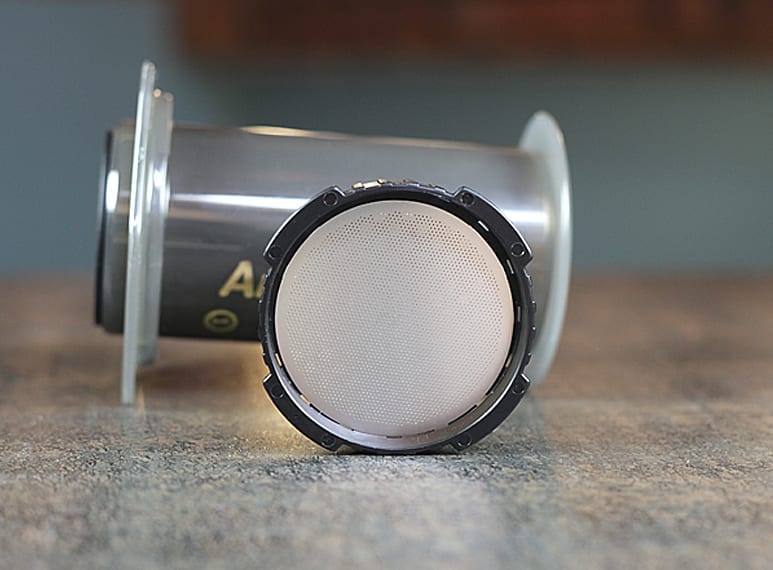 A portable coffee brewer that makes a unique dense brew, somewhat similar to an Americano.: The Aeropress looks like a giant syringe: coffee grounds are in the bottom, and when you depress the syringe it
Chem =Chemex
FP = FrenchPress
KMB = Krups Moka Brew
MP = Moka Pot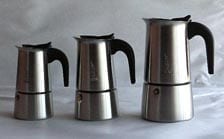 Moka Pot stovetop brewers produce a dense concentrated cup that's something between espresso and Turkish coffee. Coffee is placed into a filter between the lower chamber (that you fill with water) and the upper chamber
TV = TechnivormThe Technivorm is a Dutch-made electric drip brewer for the home that is known for it's good design, and good results. You can find them for sale on our site, the only standard electric drip
VP = Vacuum pot
IMV = Idido Misty Valley coffee
WP = Wet ProcessWet-processing starts by removing the outer skin of the coffee cherry with a machine called a pulper, then fermenting the remaining fruit (with green bean inside) in water for 8-36 hours. The fermentation breaks down (can mean "Water Process for Decafs, must consider context)
SHB = Strictly Hard BeanA classification used in some countries in Central America (Guatemala, Costa Rica) indicating the coffee was grown at an altitude above 1200 feet/4000 meters: In Costa Rica, a classification/grading for specialty coffee. indicates the coffees
SHG = Strictly High GrownA classification used in some countries in Central America, indicating the coffee was grown at an altitude above 1200 feet/4000 meters. Beans grown at a higher altitude, have a greater density, and thus a better
EP = European Process
Org. = organicGrown without the use of artificial fertilizers, herbicides, etc.: Organic coffee has been grown according to organic farming techniques, typically without the use of artificial fertilizers. Some farms have more local Organic Certification than the certified
FT = Fair tradeFair trade is an organized social movement and market-based approach to empowering developing country producers and promoting sustainability.: Fair trade is an organized social movement and market-based approach to empowering developing country producers and promoting
FTOFTO is shorthand for a coffee that is certified as both Fair Trade and Organic. = Fair trade organic
DP = DryProcess
C = City roastCity roast is what we define as the earliest palatable stage that the roast process can be stopped and result in good quality coffee. City roast occurs roughly between 415 and 425 degrees Fahrenheit in
C+ = City plus (+ means same for other roasts
FC = Full City
V = Vienna roastVienna roast occurs at the beginning of second crack. The Vienna stage is where you begin to find origin character eclipsed by roast character.: Vienna roast occurs at the beginning of second crack. The Vienna
F = French roastSugars are heavily caramelized (read as burned) and are degraded; the woody bean structure is carbonizing, the seed continues to expand and loose mass, the body of the resulting cup will be thinner/lighter as the
Abbreviations used on the list! (Continued)
IR2 = IRoast2
'spro = espressoA small coffee beverage, about 20 ml, prepared on an espresso machine where pressurized hot water extracted through compressed coffee.: In its most stripped-down, basic form, this is a working definition for espresso: A small
HG/DB = Heat Gun / Dog Bowl
HG/BM = Heat Gun / Bread Machine (the bread machine does the stirring)
KMB = Krups Moka Brew
WBP 1 = West Bend Poppery I (The Poppery)
WBP2 = West Bend Poppery 2
FR = FreshRoast roaster
PNWG = Pacific Northwest Gathering
WBC = World Barista Championship
CG = Coffeegeek.com
HB = Home-barista.com
SM = Sweet Maria's
SM = Solis Maestro grinder
SMP = Solis Maestro Plus grinder
SC/TO Stir Crazy/Turbo Over
SC/GG Stir Crazy/Galloping Gourmet
IIRC = If I Remember Correctly…
FWIW = For What It's Worth…
BTW = By the way …
IMHO = In my humble opinion..
Sweet Maria's plays host to a free mailing list discussion of home coffee roasting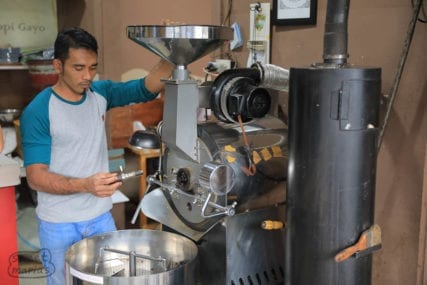 The application of heat to green coffee seeds (beans) to create palatable material for brewing a great cup!: Coffee roasting is a chemical process induced by heat, by which aromatics, acids, and other flavor components and other closely-related coffee topics. If you are not familiar with mailing lists, they are a way to exchange ideas through email about a topic. You subscribe to the list, and mail sent to the list address ([email protected]) is distributed to all list members. To date, the list has a lot of devoted members, and discussion is lively . Traffic has not been overwhelming as sometimes occurs on lists with several hundred subscribers. I want you to take a look at the rules of the list before subscribing:
List Rules
This is a free, commercial mail list (Sweet Maria's foots the bill to host this list), but you do not have to be a customer to join or participate:
In brief here's the list rules, which you agree to by subscribing to the list, (further explanations are below):
No outside commercial posts or solicitations – we do not allow outside commercial posts of any kind. This includes regular emails with commercial references, URLs, addresses or 800 numbers of products.*
No intentionally offensive language or posts – NO PROFANITY! Don't type anything that you would not say out loud – that is a good rule of thumb.
No posts detrimental to our business
Politeness and netiquette to other list members & the list administrator (that's me) is required. Feel free to disagree, but do it politely.
"Bad Faith" posting or "Baiting"; this list is for people who say what they mean, not for those who want to purposefully antagonize. If the list administrator feels a person consistently posts statements in "bad faith" then they will be removed from the list.
Off topic posting is discouraged, but if it is a spinoff of a coffee-related thread, please use the subject line convention "OT". OT is meant, as they say on the stage, as an "aside." People who consistently start off topic threads or don't properly label off topic threads are due for removal from the list. OT threads that have political, religious or other flashpoint topics and have the intent to antagonize will result in the removal of the poster.
(List removal note: don't assume you have been removed from the list for any reason. 99 out of 100 times you are removed from the list due to email bouncing back to the list server. If you are removed for a reason, you will be notified why. Yes, you can re-join the list if removeal is the result of some misunderstanding).
Other folks in the coffee trade may join, but please email me personally before attempting to join to introduce yourself.
Please communicate with me, Tom, personally at tom-at-sweetmarias.com if you ever have questions about the rules, or if something you want to post conflicts with them.
WE DO NOT SELL, TRADE OR SHARE CUSTOMER INFORMATION OR MAIL LIST SUBSCRIBER INFORMATION WITH ANYONE …EVER! Privacy policy
How To Join The List
You must subscribe yourself to the list …we can't do it for you. You must also unsubscribe yourself from the list, so bookmark this page!
As of January 1 2001 we have a new engine that runs the list. Follow this link to subscribe to the list:
http://www.sweetmariascoffee.com/mailman/listinfo/homeroast_lists.sweetmariascoffee.com
How To Unjoin The List
See the instructions below to get to your Personal Settings Page. People have complained that our list is hard to unsubscribe from. It is true that it is not as easy as some mail lists, where you send a simple unsubscribe command to an email address. But if you bookmark your Personal Setting page (or follow the simple instructions below to re-locate it) and save your password, it is easy!
Digest Version
We now have a Digest Version of the HOMEROAST list, as well as an Archive! When you sign up for the list you can set your subscription to regular (individual emails), Digest (one daily batch of messages in one email), or you can simply browse the Archive. To subscribe or make changes in your subscription please go to this web page and follow the simple instructions there:
http://www.sweetmariascoffee.com/mailman/listinfo/homeroast_lists.sweetmariascoffee.com
Some list members have set up their own digests, archives too:
The CoffeeCafes Digest: If you are interested, you can subscribe by sending a message to [email protected] with the command in the bodyAssociated with and sensed by mouthfeel, body is sense of weight and thickness of the brew, caused by the percentage of soluble solids in the cup, including all organic compounds that are extracted from brewing of the message: subscribe homeroast It will automatically set you up for the digest. Responses or posts should still be directed at the regular list '[email protected]' . If you have any digest questions or comments the kind host of the digest is Chris and his email is [email protected]
Web-based Archive: There is also a really nice web page archive of the Sweet Maria's Homeroast List by topic available at the following link, and courtesy of the Meyers: http://TheMeyers.org/HomeRoast/index.htm
Also check out the other web-based archive http://schwani.dynodns.net/ offered by Richard Schwaninger
Changing from regular list to digest: see below
Important! Your Personal Setting Page:
Unsubscribing, changing from Regular Membership to Digest, setting to receive NO MAIL (vacation)
You can manage your list membership, changing the type of subscription, or setting to receive no mail while on vacation or leave the list. Here's what you need to do
When you joined, you should have received a welcome email. That email contains a very important web link. It links to YOUR personal preferences page for the list.
Okay, so you lost that email. … here is a way to find your Personal Setting Page (this is easy, but read carefully:)
1. Click on this link, which will open a new browser window (you can also paste this link into a new browser window):
http://www.sweetmariascoffee.com/mailman/listinfo/homeroast_lists.sweetmariascoffee.com/[email protected]
2. OOPS! You got an error message that "[email protected]" is not a valid list member. …
3. Just go to the URL window in your browser and change the last part that reads [email protected] to your email address, the one you entered when you subscribed to the list. Then hit Enter or Return on your keyboard. If it does not work – try using all lower case letters in your email address.
So if I subscribed as [email protected], I change the URL from
http://lists.sweetmarias.com/mailman/options/homeroast/[email protected]
to http://lists.sweetmarias.com/mailman/options/homeroast/[email protected]
4. To change any of the options (including unsubscribing) you need your password. The program will email it to you with a click of the button! Why so complicated? Why do I need a password? Well, our homeroast list receives little to no SPAM and the emails on the list are protected from SPAMMERS by this password system. If you think this unsubscribe process takes too much time, think how much time it takes to delete all your SPAM every day! I think the trade-off is worth it.
5. Last, and most important, bookmark your personal settings page (i.e. add to favorites) and jot down your password. Then you never have to do this again!!!
New: I Was Booted Off The List !!! …
Yes, the list has a real live admin and we read eveything; yes, we do remind people of the rules; no, we have never booted a non-obliging poster without their full awareness (and I think this has happened once in 5 years).
But … as of 1/10/04 if your email address bounces messages back to the list 8 times within one archive cycle then the address is removed from the list, and you have to re-subscribe. This might happen if your email box goes over-quota. We previously had it set just to disable the address to "no mail" but were left with hundreds of dead addresses in our admin interface.
My Posts Are Not Reaching the List …
The most common cause of BOUNCED messages (that is, messages not successfully processed by the automated Majordomo and bounced to me, the list owner) is that the email address YOU subscribed is somehow slightly different, or perhaps very different, than the one you are trying to post from. You must subscribe to the list with the same address you post from.
The other cause of BOUNCED messages is the use of certain words in the message that are considered " administrative" such as :
subscribe
unsubscribe
help
get homeroast
who homeroast
list homeroast
which homeroast
… and more
To use these administrative words in a post AND have it reach the rest of the subscribers, you can misspell the word …such as "hey all you svbscribers" with a "v" instead of a "u".
I cannot help you with list problems because I am way way too busy, and will only do so in extreme cases. You need to learn to "manage your own affairs" in terms of adding or removing yourself from the list, or figuring out why a message doesn't reach the list. These skills will be very useful to you in all your future net experiences!
Filtering Messages: This is an important function to learn …a way to manage your incoming email and send it automatically into a folder or mailbox in your email program. I use Eudora and its called Filters. But the name varies from program to program. I can't help you set it up but I can tell you this:
See the + sign at the beginning of every Subject line in every list email? I put that there so you can set up a filter to look for a + sign in a message, then send it to the HomeRoast mailbox or folder you create
More Info about List Rules:
*Since we pay for the list, we do not allow outside commercial posts of any kind. This includes regular emails with commercial references, URLs, addresses or 800 numbers of products we offer or like products. That may seem harsh, but think of it this way: the discussion on the list takes place in our establishment …it's as if 300 homeroasters are sitting around a cozy (albeit a very large) table in our shop. It would be rude to come in our shop, where we work so hard to offer so much, and talk about the guy down the road who sells xxx for $x.xx! If in doubt, please send the email with commercial reference to me first ([email protected]) for approval. Obviously, some commercial references are necessary for constructive dialogue. But this list IS NOT alt.coffee!!! Paying for the list also insures that your email address is not exposed to spam-sending folks who buy email lists from "free" web-based mail list servers.
We reserve the right to post notices about new green coffees arriving and other coffee merchandise periodically. Those familiar with us know that we are extremely "low-key" in our commercial post, and feel that our approach is not blatant, obtrusive …and are actually quite informative. Nobody is ever under any obligation to buy from us, and you will never receive a direct email or other uninvited solicitation from us.
Homeroast List Archives
It's always a good idea to look over the archives when you join a list, or want to look up a topic that has been discussed in length (or ad nauseum as the case may be). It covers the topics we have already been over so you won't raise the same old boring issue, or will be able to put a fresh spin on old material. Please visit this web page to view archives (your list password is required):
http://host.sweetmariascoffee.com/mailman/private/homeroast_lists.sweetmariascoffee.com/
back
Sweet Maria's Coffee Library
Coffee Travel Pictorials, New Product Reviews, Roasting Pictorials, and more
Sweet Maria's Home Page
Our Current Green Coffee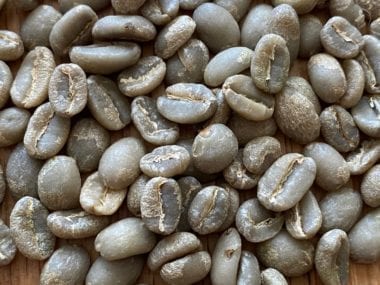 Green coffee refers to the processed seed of the coffee tree fruit. Coffee is a flowering shrub that produces fruit. The seeds of the fruit are processed, roasted, ground and prepared as an infusion.: Coffee Offerings
Sweet Maria's Coffee Library
Our Coffee OriginIn coffee talk, it refers to a coffee-producing region or country; such as, "I was just at origin." Of course "Origin" for most product we use is not a beautiful farm in a temperate climate, Pages(Library)