Not Another Fruit Cake! (and what to do about holiday blending?)
First published November 30, 2015, updated October 18, 2019
This coffee blending basics article covers how to approach a holiday blend. With so many coffee origins in stock in November/December, there's absolutely no excuse for winding up with a "fruit cake"!
The holiday fruit cake has a reputation for not actually being eaten. I know there are 'good' ones, but the vast majority with that dense, dry texture and large chewy fruit-candy chunks, change hands several times and are finally relegated to the post-holiday treat table at the office, or even worse, the garbage. In coffee, the 'holiday blends' we see from many of the larger roasters have a similar fate. With more attention paid to packaging than to actual quality, the blend is a way to get rid of old ingredients, coffees already 'long in the tooth.' Like the fruitcake, they offer a cheap gift option to bring to a party, they're stuffed in stockings or passed along at gift exchanges, and most certainly stored in the freezer for much later use, if at all.
On the other hand, for those looking to offer a quality-focused alternative, a holiday blend comes at a great time of the year with no shortage of impressive coffees from Africa and Latin America. A quick review of holiday blend ingredients from some of our customers reveals heavy use of Latin American coffees (often used as the base ingredient(s)), with KenyaKenya is the East African powerhouse of the coffee world. Both in the cup, and the way they run their trade, everything is topnotch.: Kenya is the East..., Ethiopia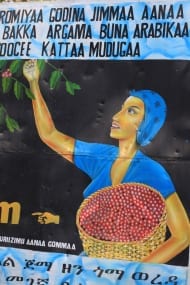 Ethiopia is the birthplace of coffee: it is in the forests of the Kaffa region that coffee arabica grew wild. Coffee is "Bun" or "Buna" in Ethiopia, so..., or both providing highlights and nuanced top notes.
We put together our own holiday blend the past few years (Sweet Marias Polar Expresso Holiday Blend returns next week), consisting of all washed African coffees with cup scores above 88 points. It's an opportunity to highlight the availability of great coffees, rather than merely a vessel through which we funnel coffees we've stored the longest (An NPR radio spot that's been playing regularly comes to mind, "brought to you by Peet's Coffee, now offering a holiday blend made up of the year's finest beans…")
Putting together a holiday blend doesn't have to be all that tricky, and if you're like us, it starts by selecting coffees that you enjoy. For our blend, we knew we wanted to use all African coffees, and so substituted the fairly standard Latin American ingredient with an all bourbonA coffee cultivar; a cross between Typica and Bourbon, originally grown in Brazil: Mundo Novo is a commercial coffee cultivar; a natural hybrid between "Sumatra" and Red Bourbon,... RwandaRwandan coffee was, at one time, rarely seen in the United States as either a Specialty grade or low-end commercial coffee. There simply was not that much coffee... to give that sweet base, and allowing space for the Ethiopian and Kenyan coffees that are used in much smaller amounts to stand out against. The objective was something a bit wilder than a traditional espressoA small coffee beverage, about 20 ml, prepared on an espresso machine where pressurized hot water extracted through compressed coffee.: In its most stripped-down, basic form, this is... blend, 'special' if you will, and with a level of complexity unattainable by any single ingredient.
Blend combinations are seemingly endless, with the only limiting factor being the number of ingredients you have on hand. They should be fresh tasting, and as such, can be dually used on your single originSingle Origin refers to coffee from one location, in contrast to blended coffee. This term is particularly useful in discussing espresso, since most commercial espressos are made from... list too. The blend should be fun to create, "gift-worthy," and most importantly one you love to drink. And as the stock of fresh-tasting ingredients from Latin American and African regions dwindles, there is an added sense of seasonality, not easily replicable at a different time of the year.
The coffees below are our recommendations for coffees we feel work really well in an espresso blend so you won't end the year with a "fruit cake". If you need more blend ideas, or basic information on how different coffees can be used in blending, our Blending Resources Article also offers a good starting point.
Now bring on the holiday blends!
Blend Bases – In general, these coffees bring sweetness

Sweetness is an important positive quality in fine coffees, and is one of five basic tastes: Sour, Sweet, Salty, Bitter, Savory (Umami). In coffee, sweetness is a highly...

, body

Associated with and sensed by mouthfeel, body is sense of weight and thickness of the brew, caused by the percentage of soluble solids in the cup, including all...

, milder acidity

Acidity is a positive flavor attribute in coffee, also referred to as brightness or liveliness. It adds a brilliance to the cup, whereas low acid coffees can seem...

, and loads of chocolate

A general flavor or aroma term reminiscent of chocolate. But what type? Usually described with more specifics.: Chocolate is a broad, general flavor or aroma term reminiscent of...

roast character to your espresso blend. Try using as 1/3 or even 1/2 of your blend, mixing in smaller amounts of your highlight coffees depending on the ultimate flavor target.
Highlight Coffees:
Most of our coffees can be used in an espresso blend, and we hope our reviews answer any questions you might have. Check the full list HERE as we're adding coffees on a weekly basis through the end of the year.