The last few months have seen the coffees futures market at the New York Board of Trade- the "C" market – rise steadily to a 13-year high. In June, the C market was at $1.60/lb, now it is at $1.90/lb. What difference does that make to Sweet Maria's when the price we pay averages something more like $2.79/pound?
There are good explanations of the C market at both ineedcoffee.com and wikipedia.com so I don't want to go over all that here. But basically, prices we pay importers, and what importers pay farmers, are generally tied to the C market, with a contract written for "C market + $.40 + import costs" or "C market + $.40". So when the market goes up, the contract is worth more. Fair tradeFair trade is an organized social movement and market-based approach to empowering developing country producers and promoting sustainability.: Fair trade is an organized social movement and market-based approach to empowering developing country producers and promoting prices too are generally pegged to the C market, with a floor built in so the price will not descend below a certain amount.
What has been driving up prices? Some say it has been bad weather in ColombiaColombian coffee is highly marketed and widely available in the US. They have been largely successful at equating the name Colombian Coffee with "Good" Coffee. This is half-true. Colombian can be very balanced, with good; some say it is increased demand and low stockpiles; others say it is speculation. It is not like we can buy more coffee now – since coffee has a limited shelf life, and we don't get involved in buying and selling contracts for coffee ourselves, we are too busy selling the actual thing, not a piece of paper! Gigantic coffee retailers that have fixed prices on their products (think of the thousands of printed menus Starbucks has!) are more squeezed than us; we tend to move through coffees fairly quickly and buy all of it at once. So once we offer a coffee at a set price, that is it.
But high coffee prices have an odd way of undermining quality. If a farmer can get a high price for middling-quality coffee, there is less incentive to put the extra work into developing a really great coffee. Because really great coffee is a lot more work, from more careful cherry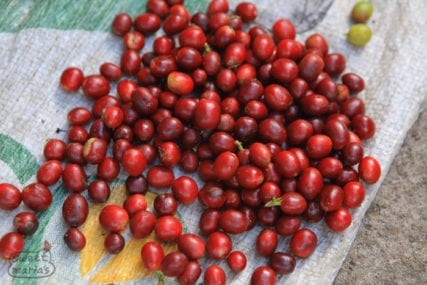 Either a flavor in the coffee, or referring to the fruit of the coffee tree, which somewhat resembles a red cherry.: Either a flavor in the coffee, or referring to the fruit of the coffee selection in the picking, to better handling and processingThe removal of the cherry and parchment from the coffee seed.: Coffee is either wet-processed (also called washed or wet-milled) or dry-processed (also called wild, natural or natural dry, and we abbreviate it DP sometimes).; all the way down the line. And before you even get to the cherries, the farm has to be at the right elevation, the right latitude, planted in the right trees. Say the flavor of the coffee is greatly improved by another two days of hand sortingPracticed around the world, with both wet processed and dry processed coffees, hand sorting is generally the final step in the preparation of specialty coffees. Whether on conveyor belts or tables, the work of hand. If you can get a good price without the hand sortingCoffee is sorted by size, density, and color in its preparation for export.: Sorting refers to several steps performed in the preparation of coffee for export. Coffee is sorted by size on a grader or, why not take that now and save the labor?
If I was a coffee farmer, I am not sure that I would take a chance on a fantastic price tomorrow, not if I could get a darn good price today – especially if I had limited resources and lots of responsibilities(i.e. mouths to feed). And maybe your customers cannot really tell the difference…..?
That is one reason why we put so much effort into educating our customers; why we are "more than an online shopping cart, but more like a coffee university…" Because we believe you don't need to be a super taster to discern really good coffee from good coffee. If you can taste the difference, if you know something of what goes into making a cup of coffee, then you will insist on the best, and not just accept what the market wants to produce, or what can be produced the most cheaply.
[Big aside: There used to be a discount men's clothing company called Sym's and their slogan was: "An educated consumer is our best customer." It always seemed so cheesyA coffee that has a kitchy quality, or literally cheese-like flavors in the cup. The second is actually a trade term, when their is a dairy-like sourness in the cup. We had this once in – but now I know it is true! Not that everyone's taste in coffee is going to suddenly be identical. But if our customers know more about coffee, then they know that quality is not based on fancy brand names, or how many tattoos your barista has, but is determined by the amount of care put into every step of making a great coffee.]
Our position at Sweet Maria's Coffee, from the beginning, has been the same; we pay good prices for quality coffee – prices well above average, well above the C market. We believe that paying well for quality, not external factors like organicGrown without the use of artificial fertilizers, herbicides, etc.: Organic coffee has been grown according to organic farming techniques, typically without the use of artificial fertilizers. Some farms have more local Organic Certification than the or rainforest or co-op certification, is the best way to move coffee forward.
In that vein, we are excited to be taking part in a new initiative focused on green coffee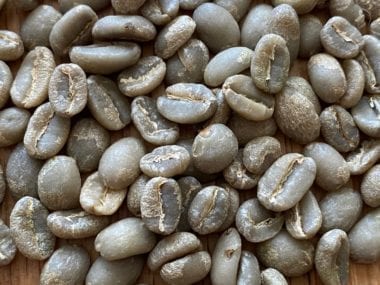 Green coffee refers to the processed seed of the coffee tree fruit. Coffee is a flowering shrub that produces fruit. The seeds of the fruit are processed, roasted, ground and prepared as an infusion.: Coffee quality, the Global Coffee Quality Research Initiative, which is being organized by the Norman Borlaug Institute at the Texas A&M. In late October, there will be a foundational meeting to have a wide array of coffee people define the most pressing questions facing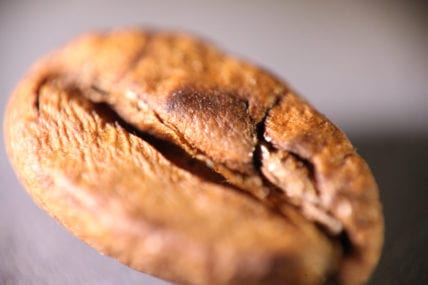 Facing can mean turning toward, standing up to, being brave. But in coffee roasting though, it means scorching a roast.: Facing refers to scorch marks found on the flat side or face of the coffee us in our specialty coffee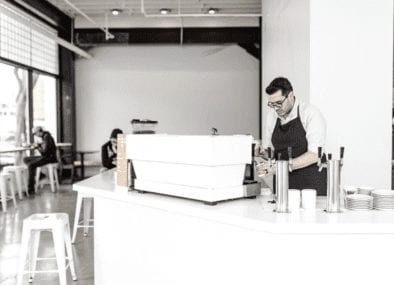 Specialty coffee was a term devised to mean higher levels of green coffee quality than average "industrial coffee" or "commercial coffee". At this point, the term is of limited use, since every multi-national coffee broker businesses, all focused through the prism of coffee quality. There has been no coffee industry effort to specifically define these problems, and then partner with coffee researchers to tackle them, forming a bridge between the main coffee institutions such as CATIEA coffee non-profit research organization in Costa Rica: CATIE graduate school and training program, research headquarters and an outreach center focused on coffee.CATIE, or Centro Agronómico Tropical de Invetigacion y Enseñanza (Tropical Agricultural Research and in Costa RicaCosta Rican coffee is typically very clean, sweet, with lots of floral accents. hey are prized for their high notes: bright citrus or berry-like flavors in the acidity, with distinct nut-to-chocolate roasty flavors.: Can a, CIRAD in France, CenicafeCenicafe is the Colombia research organization, and promotes research in coffee to aid Colombia coffee farmers, as part of the FNC in Colombia, IaparIapar stands for the "Agricultural Institute of Paraná in Brazil"l: they have developed some hybrid disease-resistant cultivars, such as Iapar 59. in BrazilBrazil is a coffee giant . As Frank Sinatra sang, "they grow an awful lot of coffee in Brazil".: Brazil is a coffee giant . As Frank Sinatra sang, "they grow an awful lot of, and others.
We hope that the American specialty coffee industry will get behind the CQRI and see how it can develop the basic knowledge that specialty coffee needs to more forward. A lot of research in coffee is on the agronomyScience and study of crops and soils: A branch of agriculture dealing with field-crop production, soil management and physiology of crop plants as its focus. side in terms of managing pests and increasing yields, but not understanding what factors improve quality. We are excited to be a part of this effort from the beginning.
The Holiday Season
[I'm recycling this from a past Tiny Joy verbatim because it is all still TRUE. It might seem early to include a note about the holidays, but we have seen an up-tick in orders already this fall, so I thought it relevant. – Maria]

Did you hear the latest about nostalgia? It's back again.
So goes the joke, but the holiday season … now that's unavoidable. And for us, it's a mixed bag. I am officially a Grinch; having a retail business during the holidays will do that to a person. I will make my usual appeal to get holiday orders in early. Please understand that our usual 24-hour turn around on orders does not apply during November and December! We try, we really do. We work weekends, we come in early, we work late. But the volume of orders slows us down. No matter how fast we can type – we are still human.
Please do not wait until the last minute if you plan to roast coffee for gifts. And don't be alarmed if we are a bit slower in processing orders or answering email.
Do let us know about problems as soon as you can so we have a chance to fix them. Also, UPS and USPS generally see big increases in package volumes for the holidays- so damaged and lost packages are more likely. Please give yourself time to have a shipping problem, just in case. We think UPS, all faults considered, does a much better job in the holidays than Priority Mail. (A few USPS packages seem to rematerialize on planets in distant solar systems.)
We are closed November 25th and 26th for Thanksgiving and this year both Christmas and New Year's Day are on a Saturday, so we will have to figure out what that means for shipping. Might be a good year to be a procrastinator (joking!).