One question that we get quite a bit via the forum and otherwise is; What are some coffees with a nutty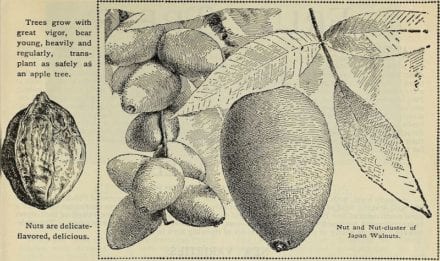 Nutty is a broad flavor term, reminiscent of nuts ... but what kind exactly?: Nutty is a broad flavor term, reminiscent of nuts. It is tied intrinsically to... ...more flavor profileFlavor Profile implies a graphical impression of a particular coffee, whether it be an artistic portrait or data graph of the perception of flavor compounds. In the case... ...more? There are definitely coffees that have more of a nutty taste to them, but it would be very helpful to identify some specific types and/or reasons for this nuttiness.
Nuttiness can be the result of processingThe removal of the cherry and parchment from the coffee seed.: Coffee is either wet-processed (also called washed or wet-milled) or dry-processed (also called wild, natural or natural... ...more, either purposeful or otherwise. It can also be the result of bean densityThe density of a coffee bean is often taken as a sign of quality, as a more dense bean will roast more with a better dynamic. The density... ...more, or even the age and condition of the green coffee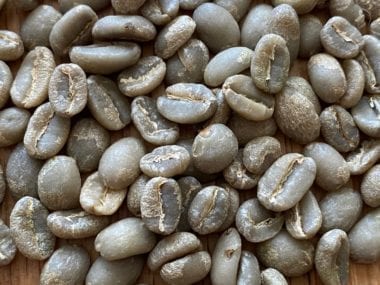 Green coffee refers to the processed seed of the coffee tree fruit. Coffee is a flowering shrub that produces fruit. The seeds of the fruit are processed, roasted,... ...more. Most commonly nutty is a result of roasting. Negative nutty attributes are usually tasted as a peanutty, fatty flavor characteristic in washed coffees. Peanut skin is also a common descriptor associated with an unpleasant astringentcy in a coffee.
Positive nutty attributes can be tasted as; almond, hazelnut, walnut, cashew, or candied peanut. Many coffees that have stone fruit flavors also have some almond-like flavors, especially when roasted more into the Full City range. Hazelnut is usually found in this similar fashion. Walnut is usually paired with a pleasant astringency, and is common in coffees with a slightly drier mouthfeelHow a coffee feels in the mouth or its apparent texture, a tactile sensation : A major component in the flavor profile of a coffee, it is a... ...more.
Some of the coffees that I would put into these categories are certain MaragogypeMaragogype is a mutation of Typica coffee and was discovered in Brazil. The Maragogype is a large plant with big leaves, low production and very large fruits (and... ...more/Maracaturra/Pacamara coffees roasted at the Full City range. The nicer coffees from Java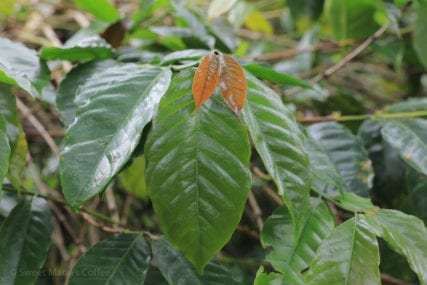 There are several types of Abyssinia, but they are not from Ethiopia but rather Indonesia. Abyssinia 3 = AB3. PJS Cramer, a Dutch plant researcher, introduced this variety in 1928,... ...more, such as the Pitaloka, have a very distinctive sweet almond and walnut quality to them at most of the roast levels. At City +, the toasted almond notes pair nicely with cocoa and spice to give it a very complexThe co-presence of many aroma and flavor attributes, with multiple layers. A general impression of a coffee, similar to judgments such as "balanced" or "structured" ...more sweetnessSweetness is an important positive quality in fine coffees, and is one of five basic tastes: Sour, Sweet, Salty, Bitter, Savory (Umami). In coffee, sweetness is a highly... ...more that's excellently expressed in a press pot brew. Coffees from Costa RicaCosta Rican coffee is typically very clean, sweet, with lots of floral accents. hey are prized for their high notes: bright citrus or berry-like flavors in the acidity,... ...more can frequently show some of the sweet hazelnut qualities at a Full City as well.
Pulped-Natural coffees very frequently have a candied peanut flavor to them, especially the ones from BrazilBrazil is a coffee giant . As Frank Sinatra sang, "they grow an awful lot of coffee in Brazil".: Brazil is a coffee giant . As Frank Sinatra... ...more. It's important to note that this processing style can have quite a wide range; from having none of the mucialge removed to having just about as much of the mucilage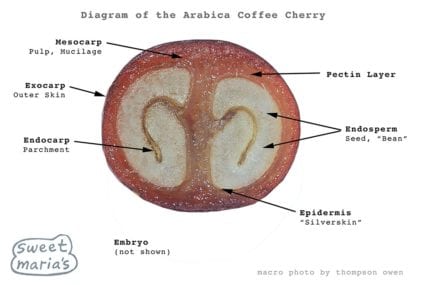 Mucilage indicates the fruity layer of the coffee cherry, between the outer skin and the parchment layer that surrounds the seed. It readily clings to the inner parchment... ...more removed as you would find on a fully Washed process coffee. In Central America these heavily demucilagized coffees can sometimes be identified as Machine Washed. Generally, the more mucilage that has been removed, the cleaner the cup profile is, and therefore the more fruitedIn some coffee taster's lexicon, "fruity" means the coffee is tainted with fruit, and "fruited" means a coffee is graced by positive fruit notes. We don't exactly see... ...more and less nutty the cup is as well. The coffees that have little of the mucialge removed are commonly called HoneyIn coffee, honey-like sweetness is often found, but we use terms such as refined honey (highly filtered and processed) as opposed to raw honey rustic honey sweetness. This... ...more or Miel coffees in Central America, but some other places as well. These Honey coffees are generally incredibly nutty, with loads of candied peanut butter type flavors.
Many of the coffees of Brazil have a distinct nuttiness that is usually paired with layers of cocoa, aromatic woods, leather, and spices. These coffees are the result of either Pulped Natural or full Natural Dry processing. In Brazil, selective picking is very rare, and separation of various qualities generally happen at the mill. This practice, as well as the practice of harvesting a range of coffee cherryOriginally coffee literature referred to the fruit of the tree as a "berry" but in time it became a cherry. It is of course neither. Nor is the... ...more ripeness all at once leads to this very distinctive flavor profile. Brazil was the first producing country to use the word Natural in reference to Dry Processing, and it more commonly refered to the practice of letting the fruit dry right on the tree. The Dry Processed coffees of Brazil are distinctively different that many of the more fruited Dry Processed coffees from EthiopiaEthiopia, formerly known as Abyssinia, or a coffee cultivar: Ethiopia, or more specifically the Empire under Haile Selassie,  was known as Abyssinia. The name is Latin, derived from... ...more or from some of the experiemental lots done recently in Central America where there is much more selective picking/harvesting being practiced.
If you are looking for the most nutty coffee, a Brazil will almost always be your safest bet. Pulped Natural coffees will also deliver a consistent sweet nuttiness at a City+City+ roast is an ideal roast level that occurs roughly between 425 and 435 degrees Fahrenheit in many coffee roasters with a responsive bean probe where First Crack... ...more and deeper roast level, but don't overlook the coffees from Java which might have more of the almondy character that you're after. And if you're looking for a little nuttiness combined with some cocoa and cherry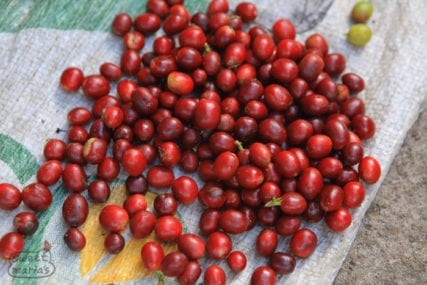 Either a flavor in the coffee, or referring to the fruit of the coffee tree, which somewhat resembles a red cherry.: Either a flavor in the coffee, or... ...more or stone fruit, try your hand at some well developed Full City roasts of a Costa Rica.