(04/20/13)
It's been a bit disorienting coming back from a good deal of activity on the east coast with stops in Boston for the SCAA Expo and New York City for a cupping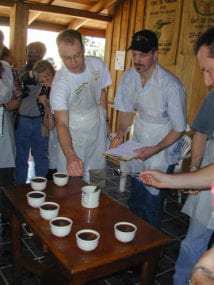 Cupping is a method of tasting coffee by steeping grounds in separate cups for discrete amounts of ground coffee, to reveal good flavors and defects to their fullest. It has formal elements and methodology in that we organized for roasters there that was generously hosted by JOE coffee at their pro shop. I'm usually quite busy during the SCAA show, but got the chance to spend some time with a number of folks who have been working with shrub from the area and otherwise. It's always so rewarding for us to get the chance to talk face to face with roasters who are working with our coffees and getting to have some conversations about profiles and roasting. It's also always incredibly exciting to hear how folks are growing and to meet new roasters who are interested in talking about shrub coffees or the pros and cons of various roasting machines.
One of the coolest parts of the SCAA show is getting to look at all the roasters. Unfortunately because of ridiculous Massachusetts State restrictions we were unable to set up gas roasters for the regular roasting classes, but there were a number of manufacturers on the show floor with their machines. It's really cool right now that there are a number of really well built smaller roasters out on the market, lots of options for smaller roasters. Roaster Dynamics have a really nice new table top machine out that I'm looking forward to working on at the Roasters Guild Retreat, and the Proasters from Taewhan Automation continue to impress me with their solid construction and controllability.
Wrapping up a busy week and climbing aboard the southbound train to NYC, I was really curious about how our cupping event would go, what kind of crowd would show up on a Monday and after so much activity the week before. Not only did we end up with a crowd, but it was an extremely solid crew with representation of a good deal of the roasters in NYC as well as some shops and otherwise. It was also so super cool to see Mark from reAnimator in Philly make the trek, so stoked on those guys. We were so grateful to be able to share these new and upcoming arrivals with these folks. The upcoming Ethiopias were some of the best received coffees, while the early arrival Guatemalas on the table cupped super sweet and there was a good deal of interest in these fresh crop centrals.
Some of the most exciting coffees to share for me were the new shrub Decafs. So consistently sweet and dynamic. People were blown away by the floral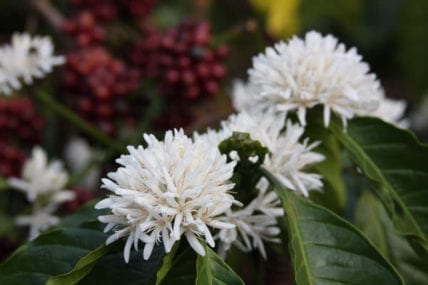 Floral notes in coffee exemplify the connection between taste and smell. Describing the taste of a specific flower is near impossible...we always default to "it tastes like it smells" which, admittedly, isn't the most helpful.  notes in the Ethiopia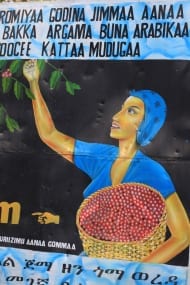 Ethiopia is the birthplace of coffee: it is in the forests of the Kaffa region that coffee arabica grew wild. Coffee is "Bun" or "Buna" in Ethiopia, so Coffee Bean is quite possibly a poor, and the fact that it tasted not just a like a regular Ethiopian coffee, but a superior one! It seemed to be most folks' favorite, but I just keep going back to the ColombiaColombian coffee is highly marketed and widely available in the US. They have been largely successful at equating the name Colombian Coffee with "Good" Coffee. This is half-true. Colombian can be very balanced, with good Gerardo Lorenzo decaf, the single most complete cup of decaffeinated coffeeCoffee from which caffeine has been removed, either chemically or using water filtration. A variety of methods for decaffeination exist, but all operate on the same basic principle: Coffee from which caffeine has been removed, I've ever had. Swiss Water is really knocking these out of the park right now.
While it's super cool to share these new and upcoming arrivals with everyone and that will always be a part of these cuppings, I'd still really love to take these opportunities to do some really cool pairings or tastings that can look at these coffees in new and different ways. I do appreciate that exclusivity is something that weighs heavy on a lot of roaster's minds, but I really think that there's a unique opportunity with so many different roasters in one area to take a few specific coffees and have all of them roast them and then present them to be cupped alongside each other. It's such an important conversation to have, how you as a roaster and an individual add to and/or express in a coffee your particular influence and how we can celebrate and promote that.
I just want to say a huge thank you to the coffee folks of New York City, thanks again to Ed and the JOE crew for hosting. Thanks so much to Dylan at Parlor too for a day full of great coffee conversations on Tuesday as well. Really excited about Toby's and Irving Farm, and Blue Bottle, and sooo many other great shops and new ones that are right around the corner. It was super uplifting to get to see what's happening out that way. Also want to say that we're just so overwhelmed with confusion for all of our dear friends in the Boston area. Such a surreal and terrifying end to what was such a great week. I'm so glad that we got to spend time with all of you too and you're in our thoughts as you begin to try to get back into your day to day. Keep your heads up all, so glad to be part of such a remarkable community.
ces