(10/21/09)
A month back, we sent off a few coffees to Swiss Water in Canada for decaffeination. It was the first time that we've ever sent out coffees for decaffeination ourselves, and we think the prospect of decaffeinating really top-tier coffees is pretty exciting. Now that they're back, we think it was a great decision: they're cupping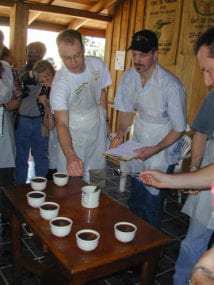 Cupping is a method of tasting coffee by steeping grounds in separate cups for discrete amounts of ground coffee, to reveal good flavors and defects to their fullest.... ...more really well, even next to our non-decaf lots. Here they are:
EthiopiaEthiopia, formerly known as Abyssinia, or a coffee cultivar: Ethiopia, or more specifically the Empire under Haile Selassie,  was known as Abyssinia. The name is Latin, derived from... ...more OrganicGrown without the use of artificial fertilizers, herbicides, etc.: Organic coffee has been grown according to organic farming techniques, typically without the use of artificial fertilizers. Some farms... ...more Guji Sidamo SWPSWP means Swiss Water Process is a patented water filtration decaf method, not a chemical solvent method. The plant is in Vancouver, Canada. ...more Decaf
and
GuatemalaGuatemalan coffee is considered a top quality coffee producer in Central America. Due to our proximity to Guatemala, some of the nicest coffees from this origin come to... ...more La Maravilla SWP Decaf.