After cupping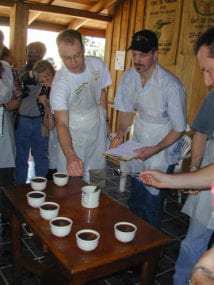 Cupping is a method of tasting coffee by steeping grounds in separate cups for discrete amounts of ground coffee, to reveal good flavors and defects to their fullest.... Flores Manu Lalu Cooperative last week, we knew it would make a nice espressoA small coffee beverage, about 20 ml, prepared on an espresso machine where pressurized hot water extracted through compressed coffee.: In its most stripped-down, basic form, this is.... Our Full City brews showed a balanced if not restrained cup profile, almond milk, cacao nibs, and mild acidity being some of the characteristics noted in the review. We call these coffees "crowd pleasing" for a reason. It's because the mild cup profiles tend to appeal to a wide audience, and in most cases, also garner near-universal acclaim as espresso. And while we gave an espresso recommendation in the review, we didn't actually give it a run through the espresso machine!
So here's my addendum to the review, a "quick take" of Manu Lalu as espresso roasting on two different machines – the BehmorA popular electric drum roaster designed for home use, with variable batch sizes (from 1/4 pound to 1 pound) and a smoke-reduction system. It has been modified and... 1600+ and a popcorn popper (the Westbend Poppery II to be exact).
I ran my fairly standard roast profile in the Behmor, starting at P5 (100%) and dropping the heat between 300F-315F in order to avoid the shutoff error (325F on my machine). I lowered the heat to P3 (50%) in an attempt to extend the latter part of the roast without stalling. If you look at my roast chart, it may have helped some and the time between 1st CrackAn audible popping sound heard during roasting. In coffee, one refers to "first crack" and "second crack," which come from two different classes of chemical reactions.: An audible... and finish was 3:30.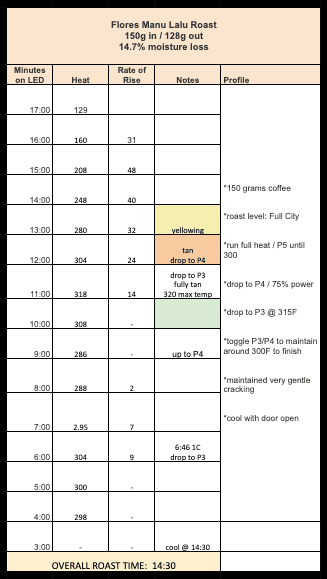 My popcorn popper method is about as simple as it gets. I turn on the machine and then pour in coffee until the the bean mass stops moving. It only stops for a few seconds, and a few gentle shakes gets the beans moving in a circular motion. This is the maximum batch size, which on my popper is roughly 120 grams of coffee.
There's no real 'art' to roasting on a popper, and I like it that way. Roast times will vary depending on ambient room temperature and of course the power of the particular popper you're using. The coffee went from green, to yellow, to tan in less than 3 minutes. 1st Crack happened at 4:10 and I stopped the roast after 2:50 had passed. I wasn't judging roast so much by time, but rather trying to match the roast color of my Behmor batch.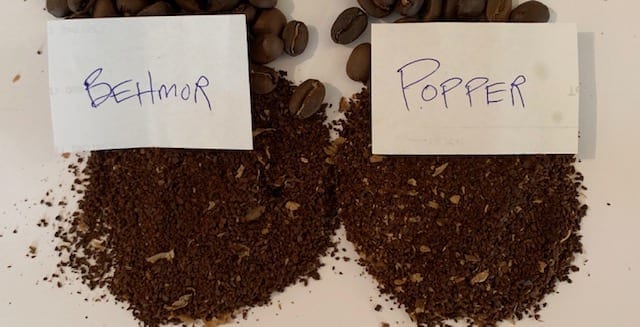 The Behmor roast pulled nicely as espresso, the creamyCreamy is a mouthfeel description indicating thickness and soft, rounded texture. See also buttery. liquid producing a gold-flecked, velvetyA mouthfeel description indicating elegant softness, refined smoothness: A mouthfeel description indicating elegant softness, refined smoothness. See Silky as well. cremaCrema is a dense foam that floats on top of a shot of espresso. It ranges in color from blond to reddish-brown to black. Blond crema may be.... Top notes are subtle and mostly occupy the middle and finishSimilar to aftertaste, but it refers to the impression as the coffee leaves the palate. Aftertaste is the sensations gathered after the coffee has left the mouth. We.... I pick up on notes of pipe tobacco, rhubarb, aromatic cedar wood, with deep, dark chocolate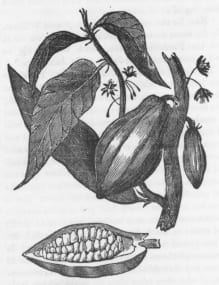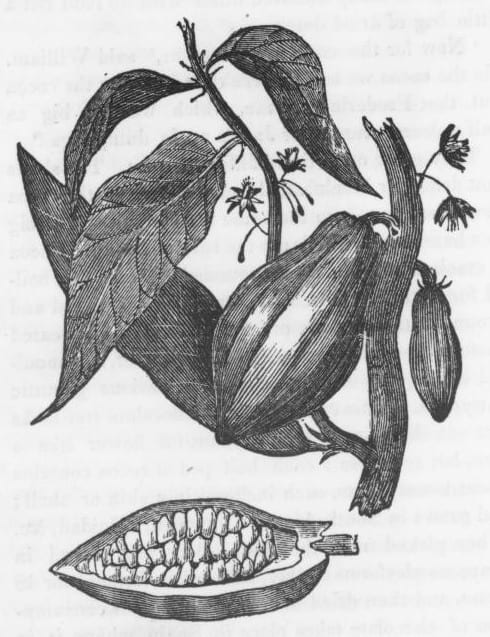 A general flavor or aroma term reminiscent of chocolate. But what type? Usually described with more specifics.: Chocolate is a broad, general flavor or aroma term reminiscent of... roast flavors coursing through it all. Regardless of whether I pulled short or long shots, the mouthfeelHow a coffee feels in the mouth or its apparent texture, a tactile sensation : A major component in the flavor profile of a coffee, it is a... was very dense, creamy, and the aftertasteAftertaste refers to lingering residual sensations in the mouth after coffee has swallowed. It might be distinguished from "finish" which is the final sensations of the coffee while... quite long. There was a subtle tart aspect that added a vibrant touch to the cup but was not citric or overly acidic.
My popper roast was really even in color. Granted, I roasted a shade darker than the Behmor, but was still a ways off from hitting 2nd snaps. It also produced a thick, creamy shot and the cup flavors were super bittersweetBittersweet is from the language of chocolate, and describes the co-presence of positive bittering compounds balanced by sweetness. It is directly related to caramelization, but has inputs from.... The slightly tangyAn adjective modifying a flavor descriptor, describing a sharp effect; tangy citrus, tangy bittersweet flavor, tangy green apple. characteristic was more muted and lower intensityWe have a simple scale to rate intensity in our coffee reviews, from Mild to Bold. Low intensity does not mean low quality!: We have a simple scale..., which I think had more to do with roast level than roasting machine. The finish had a saltySalty is one of four basic sapid (in the mouth) tastes: Sour, Sweet, Salty, Bitter (and possibly a 5th called Umami which indicates savory flavors). In coffee, saltiness.../briny flavor that came together with cocoa roast tones like a salted chocolate flavor in the aftertaste.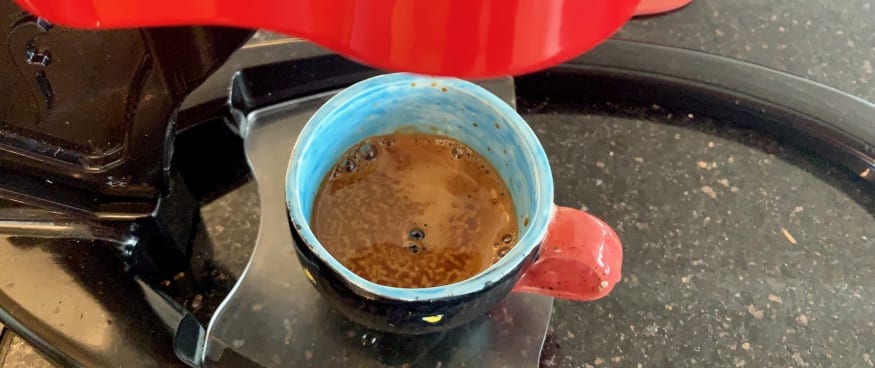 I think it's safe to say that no matter what you're roasting on, FloresFlores is an Indonesian island, and as a coffee bears more resemblance to the coffees of Timor-Leste, New Guinea and Java than to the wet-hulled coffees of Sumatra... Manu Lalu is a fairly easy coffee to pull out a chocolate-toned espresso with. The bean size is fairly large and surface area smooth and uniform, which translates to a coffee that's easy to judge by roast shade in terms of roast level and evenness. Start with Full City and adjust from there. Those medium-to-dark roasts make great single originSingle Origin refers to coffee from one location, in contrast to blended coffee. This term is particularly useful in discussing espresso, since most commercial espressos are made from... shots, and are a good option for milk drinks. If you find yourself wanting a little more of that tart side, shoot for roasting closer to City+City+ roast is an ideal roast level that occurs roughly between 425 and 435 degrees Fahrenheit in many coffee roasters with a responsive bean probe where First Crack....
Check out Flores Manu Lalu Cooperative on Sweet Maria's or Coffee Shrub.