The Amazing Spider Graph!
If you're familiar with our coffee reviews you've probably seen a funny-looking diagram to describe each coffee's score – the spider graph. Sure it adds graphical interest to some of our more text-heavy reviews, but what is the deal?
"What is a cupping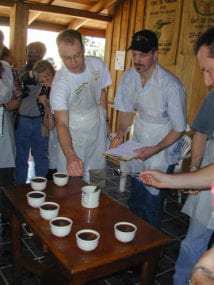 Cupping is a method of tasting coffee by steeping grounds in separate cups for discrete amounts of ground coffee, to reveal good flavors and defects to their fullest. It has formal elements and methodology in score?"     Taste can be pretty subjective; taste "vocabularies" can vary from person to person, depending on what they've eaten, smelled or experienced. The cupping score is a way to quantify a coffee's attributes so that we can have a common language for talking about that coffee. Describing Meyer lemon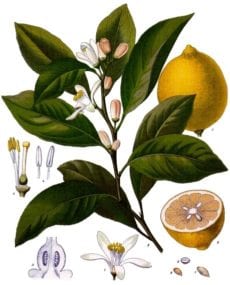 Lemon notes, as well as other related citrusy flavors or acidities, are prized in coffee. These usually express themselves as a bright accent in the cup, or aromatic citrus aspects, but not as blunt sourness. acidity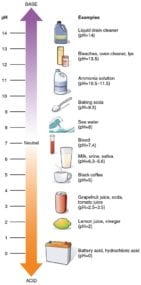 Acidity is a positive flavor attribute in coffee, also referred to as brightness or liveliness. It adds a brilliance to the cup, whereas low acid coffees can seem flat. Acidity can sound unattractive. People may in a coffee's review is meaningful, but it's helpful to know that it ranks a 9 in brightnessA euphemistic term we use often to describe acidity in coffee. A bright coffee has more high, acidic notes. : A euphemistic term to describe acidity in coffee. A bright coffee has more high, acidic if you're really looking for a lively, effervescentA combined mouthfeel and flavor sensation, hinting at a dynamic and lively cup: While coffee is not a carbonated beverage, at times a combination of factors (brightness/acidity with a light mouthfeel) can make the coffee coffee.
When scoring coffees, we look at 10 different factors: Dry Fragrance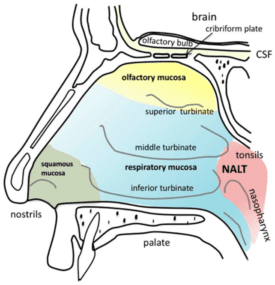 In the cupping procedure for tasting and scoring coffee, this is the smell of the dry, ground coffee before hot water is added. The term fragrance is used since it is normally applied to things (the smell of the dry coffee grounds), Wet Aroma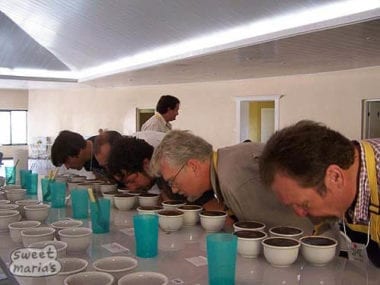 In cupping, wet aroma refers to the smell of wet coffee grinds, after hot water is added. It can involve smelling the "crust" (floating coffee grounds) on the coffee, as well as "breaking the crust", (the smell of the saturated grounds), Brightness/Acidity (flavor attribute that adds livelinessAnother euphemistic term to describe acidity in coffee. A lively coffee has more high, acidic notes. Not to be confused with the brighter roast flavors of light roast levels, such as City to City+ roasts. to coffee), Flavor (overall impression of taste), BodyAssociated with and sensed by mouthfeel, body is sense of weight and thickness of the brew, caused by the percentage of soluble solids in the cup, including all organic compounds that are extracted from brewing (the way the coffee feels on your tongue), FinishSimilar to aftertaste, but it refers to the impression as the coffee leaves the palate. Aftertaste is the sensations gathered after the coffee has left the mouth. We combine these to form the "final flavor (lingering flavor), SweetnessSweetness is an important positive quality in fine coffees, and is one of five basic tastes: Sour, Sweet, Salty, Bitter, Savory (Umami). In coffee, sweetness is a highly desirable quality, and the green bean has, Clean CupClean cup refers to a coffee free of taints and defects. It does not imply sanitary cleanliness, or that coffees that are not clean (which are dirty) are unsanitary. It refers to the flavors, specifically (absence or presence of earthyEarthy is a flavor term with some ambivalence, used positively in some cases, negatively in others.: Sumatra coffees can have a positive earthy flavor, sometimes described as "wet earth" or "humus" or "forest" flavors. But, funky flavors), Complexity (multi-faceted cup) and Uniformity (does the coffee taste the same from cup to cup?). Each factor is scored from 1-10, with a Cupper's Correction rounding out the overall score.
The shape of the graph gives an overview of the cup quality at a glance. It is also an easy way to visually compare different coffees' scores.
We use many of the same criteria as SCAA for assigning cupping scores and rate individual attributes from 1-10, like their scale, but there are a few key differences. We evaluate dry fragrance and wet aroma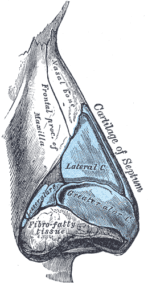 Aroma refers to sensations perceived by the olfactory bulb and conveyed to the brain; whether through the nose or "retro-nasally": The aromatics of a coffee greatly influence its flavor profile and come from the perception as separate elements, while SCAA rolls them into one attribute. We feel that the fragrance and aroma offer different insights into a coffee and can sometimes vary a lot.
The SCAA also includes defects as a component of their score, subtracting points for taints (noticeable off flavors that don't ruin the cup) and/or faults (really bad flavors that totally detract from the cup). Since we would reject coffees that have glaring faults it's not really a relevant factor for our scoring. Any defects that may be present would be reflected in the Clean Cup score.
"How do you determine what the score is for a particular attribute?"   When we're cupping we go through each coffee and consider the different attributes separately and score for how prevalent each attribute is, from 1-10.
"What's the deal with the Cupper's correction?"    The Cupper's Correction helps to describe the overall impression of the coffee. If you have a SumatraIndonesians are available as a unique wet-hulled or dry-hulled (washed) coffees. Giling Basah is the name for the wet-hulling process in Bahasa language, and will have more body and often more of the "character" that that doesn't necessarily score super high on the main factors, but is a great example of that originIn coffee talk, it refers to a coffee-producing region or country; such as, "I was just at origin." Of course "Origin" for most product we use is not a beautiful farm in a temperate climate,, the Cupper's Correction brings the score up to reflect the overall quality. Scoring a zero for Cupper's Correction wouldn't mean a coffee isn't "good," it just means that the other cupping numbers adequately express the value of the cup.
"If a coffee has a very high score does that mean everyone will like it?"    Not at all. If you don't like a particular origin, a high scoring coffee from that origin probably still won't do it for you. We highly recommend reading the full descriptions before you buy, not just looking at the score. If you really dislike coffees with tannicHaving the bitterness or astringency of Tannins. Tannins are plant polyphenols found across the flora kingdom. The term Tannins refers to the use of wood tannins from oak in tanning animal hides into leather. Having or drying characteristics, for example, that won't show up in the cupping score, but it will be in the full description. Looking at the spider graph in addition to the tasting notes will help you choose a coffee with bigger body, more complexity, etc., along with flavors that you enjoy.
Cold Brewin' Like It's Hot Out
We hear it's hot outside the Bay Area right now. It's been a pretty chilly summer here in Oakland, but we've been doing some cold brew experiments here for all you folks who are warm enough for a cold drink. One of our staff was kind enough to bring in her Yama drip tower so we've been trying not to spend too much time staring at it as it brews one drip at a time from a reservoir 2 feet above the tabletop. We also set up the DIY Aeropress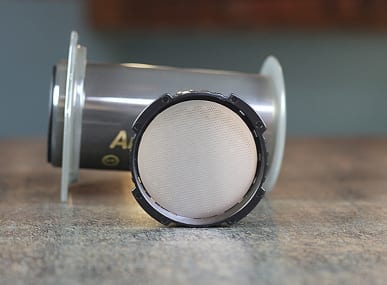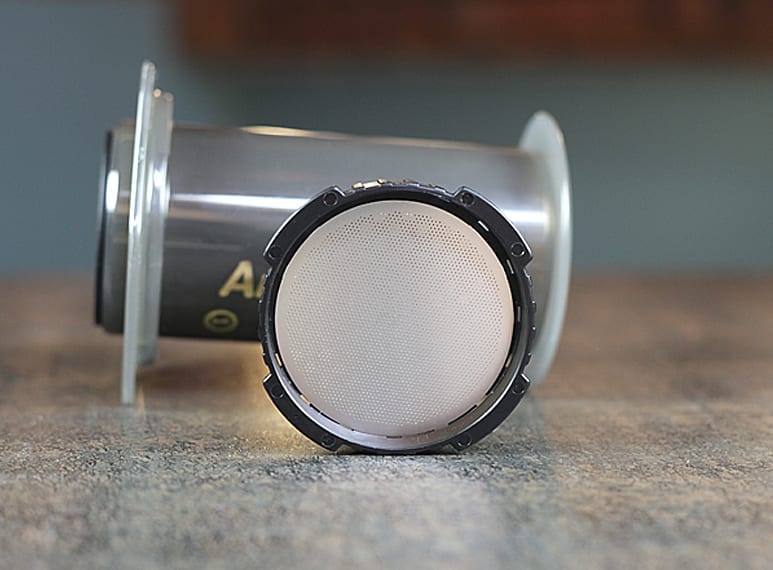 A portable coffee brewer that makes a unique dense brew, somewhat similar to an Americano.: The Aeropress looks like a giant syringe: coffee grounds are in the bottom, and when you depress the syringe it/plastic bottle dripper (with instructions from Prima Coffee) to compare something expensive to something affordable.
Cut the bottom off a 1L plastic bottle and poke a hole in the cap. Turn the bottle upside down and fill it with ice and water. You want to make a hole small enough to allow about 40 drops a minute. Use an Aeropress funnel as a holder for the upside-down bottle. This will suspend the bottle on top of a plunger-less Aeropress with a filter, ground coffee and another filter (trimmed to fit) on top of the coffee. Use whatever decanter you want. Mason jars and small French pressA simple coffee brewer also called a Press Pot: grounds and hot water are added to a carafe, allowed to sit for several minutes, and then a filter is pushed down to hold the grounds beakers work well. Get ready to sit and stare…it's gonna take a while. A fast dripping bottle takes an hour to fully empty itself.
The results from the two drip systems were different. The drip tower produced a very even cup, meaning there were no surprises during the initial sip and there wasn't an unusual aftertasteAftertaste refers to lingering residual sensations in the mouth after coffee has swallowed. It might be distinguished from "finish" which is the final sensations of the coffee while it leaves the mouth. Also see Afternose.. The Ethiopia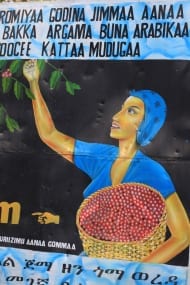 Ethiopia is the birthplace of coffee: it is in the forests of the Kaffa region that coffee arabica grew wild. Coffee is "Bun" or "Buna" in Ethiopia, so Coffee Bean is quite possibly a poor Sidama Deri Kochoha we used in both brewers was roasted light but the tower really brought out roast flavors. We think compensating by using more water or roasting even lighter might improve the cup.   The Aeropress method produced a sweeter cup both in the aroma and in the coffee itself. With a strong, fruitedIn some coffee taster's lexicon, "fruity" means the coffee is tainted with fruit, and "fruited" means a coffee is graced by positive fruit notes. We don't exactly see the difference in terms of these two flavor up front and a sweet finish, it wasn't as consistent as the flavors coming from the Yama tower.
Overall, our thoughts are that cold brewing might lend itself towards coffees that lean in directions of certain flavor profiles. A fruited coffee would probably become fruitier and although we haven't tried it, a coffee with chocolate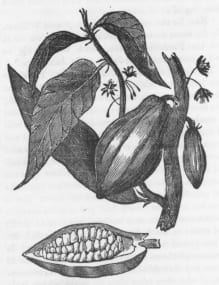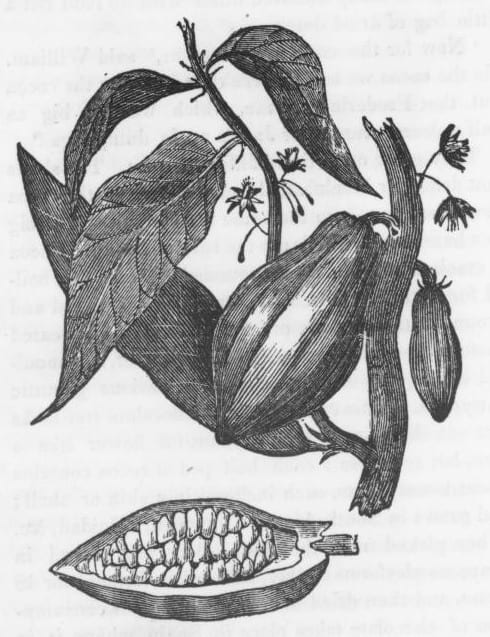 A general flavor or aroma term reminiscent of chocolate. But what type? Usually described with more specifics.: Chocolate is a broad, general flavor or aroma term reminiscent of chocolate. But what type? There are so notes would probably taste even more like chocolate.  There are endless variables and no rules (aside from using good coffee) when it comes down to cold brew so we encourage you to get adventurous and develop your own methods.