Coffee varieties are my thing! Here are some visits I have made to coffee research collections.
I am a big fan of unusual coffee varieties and will go out of my way to find these non-arabica species, or varieties of C. arabicaArabica refers to Coffea Arabica, the taxonomic species name of the genus responsible for around 75% of the worlds commercial coffee crop.: Arabica refers to Coffea Arabica, the taxonomic species name of the genus responsible More or C. canephora. Here's some coffee gardens I have visited
Kenya Coffee Research Coffee Variety Collection
This garden is large, one of the former International Coffee Organization – supported network of coffee species and variety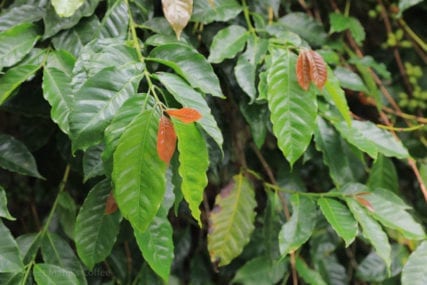 Hibrido de Timor abbreviated HdT is the interspecies hybrid of C. Arabica and C. Canephora (Robusta) that was found in Timor Leste in the 1940s. It has been the bases of plant breeding for disease More collections. The ICOThe ICO, International Coffee Organization, is the governing body for the world coffee trade. The ICO was responsible for the quota system that limited exports from each country, and helped maintain stable prices in the More still exists, but when the US-led effort to reduce it's authority, retreating from the Coffee Export Quota agreement in the 80s and 90s.
This was not only a precursor to the dramatic drop in global coffee prices, and lack of stable pricing overall. It also led to defunding important functions, like maintaining a diverse (and redundant) genetic repository of coffee plants for research. The collection here in KenyaKenya is the East African powerhouse of the coffee world. Both in the cup, and the way they run their trade, everything is topnotch.: Kenya is the East African powerhouse of the coffee world. Both More near Kiambu looks sad now, in need of care, replacing specimens that are old, and just better funding overall.
Yet I appreciate the work they continue to do, even with lack of sufficient funds! Click on an image to view it larger in the photo lightbox.
---
Procafe Coffee Variety Collection in El Salvador
I visited Procafe on a couple occasions many years ago. I am not clear on their function but I believe this is a private enterprise offering agronomyScience and study of crops and soils: A branch of agriculture dealing with field-crop production, soil management and physiology of crop plants as its focus. More services and testing. I believe they offered certified coffee seed and nursery seedlings too. I am not sure if ProcafeA coffee research firm in El Salvador: Procafé is the Fundación Salvadoreña para Investigaciones del Café, a coffee research firm in El Salvador that advises farmers and maintains a cultivar garden More SV are still operating… but they had some cool varieties!
---
Coffea Diversa, Escazu Costa Rica
Coffea Diversa is a unique farm and mail order coffee business that plants unique varieties of coffee and sells the roasted coffee for himne delivery … in Costa RicaCosta Rican coffee is typically very clean, sweet, with lots of floral accents. hey are prized for their high notes: bright citrus or berry-like flavors in the acidity, with distinct nut-to-chocolate roasty flavors.: Can a More. I visited there wth Francisco Mena many years ago and here's some photographic evidence!
---
Toarco Coffee Cultivar Garden, Toraja Sulawesi
The private farm and coffee millA coffee mill might mean a coffee grinder, but we usually use the term to refer to a coffee processing facility, either a Wet-Mill or a Dry Mill. A wet mill will be part of More PT Toarco has a small garden with useful varieties of coffee, right on their own Pedemeran coffee farm at about 1200 meters.
---
Colombia Coffee Cultivars at Cenicafe
One evening during the ColombiaColombian coffee is highly marketed and widely available in the US. They have been largely successful at equating the name Colombian Coffee with "Good" Coffee. This is half-true. Colombian can be very balanced, with good More Cup of ExcellenceThe Cup of Excellence is a competition held yearly in many coffee-producing countries, designed to highlight the very best coffees from each origin.: The Cup of Excellence (COE) is a competition held more-or-less yearly in More held in Manizales, we went to visit the research facility of the FNCThe FNC is the Federación Nacional de Cafeteros de Colombia, the coffee association of Colombia. They fund CENICAFE research institute, which has an extensive cultivar collection. More, called CenicafeCenicafe is the Colombia research organization, and promotes research in coffee to aid Colombia coffee farmers, as part of the FNC More. They had some interesting crosses. They kept multiple strains of Timor Hybrid variety, which makes sense as is it a genetic parent of CatimorCatimor is a broad group of cultivars derived from a Hibrido de Timor (HdT) and Caturra cross, highly productive, sometimes with inferior cup flavor. The main issue is the Robusta content in HdT, although this More rust-resistant variety types.