From the "way back machine" – another harvest time Central America trip to learn about the crop in El SalvadorEl Salvador coffee had an undeservingly poor reputation for years, marred mostly by the inability to deliver coffee of high quality in an unstable political climate. Unfortunately, agriculture... ...more – a bit too early to do much cupping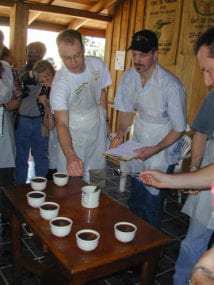 Cupping is a method of tasting coffee by steeping grounds in separate cups for discrete amounts of ground coffee, to reveal good flavors and defects to their fullest.... ...more though.
This was one of 2 trips I made that year to learn more about El Salvador. The second trip was to attend the Cup of ExcellenceThe Cup of Excellence is a competition held yearly in many coffee-producing countries, designed to highlight the very best coffees from each origin.: The Cup of Excellence (COE)... ...more as a judge.
Coffee is well-managed in El Salvador generally. They care for the farms well, prune, and pick very well. In general the quality of the selective picking of ripe cherry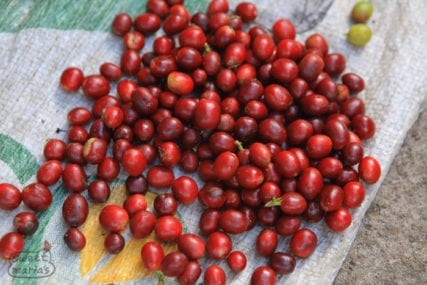 Either a flavor in the coffee, or referring to the fruit of the coffee tree, which somewhat resembles a red cherry.: Either a flavor in the coffee, or... ...more is unmatched!
Somehow the coffees, many from 1200 meters or so, are a balanced and a bit average. This is surprising given there are so many old BourbonA coffee cultivar; a cross between Typica and Bourbon, originally grown in Brazil: Mundo Novo is a commercial coffee cultivar; a natural hybrid between "Sumatra" and Red Bourbon,... ...more varietyA botanical variety is a rank in the taxonomic hierarchy below the rank of species and subspecies and above the rank of form (form / variety / subspecies... ...more coffees trees (as well as the similar PacasA mutation of Bourbon cultivar that appeared in El Salvador in 1949: Pacas is a natural mutation of Bourbon cultivar that appeared in El Salvador in 1949. It... ...more variety).
With the excellent quality of harvesting, and good coffee tree cultivars you would expect the baseline coffees to be quite high in cup quality. Don't get me wrong, they are good, and very useful in espressoA small coffee beverage, about 20 ml, prepared on an espresso machine where pressurized hot water extracted through compressed coffee.: In its most stripped-down, basic form, this is... ...more I think.
A highlight in El Salvador can be the Pacas x MaragogypeMaragogype is a mutation of Typica coffee and was discovered in Brazil. The Maragogype is a large plant with big leaves, low production and very large fruits (and... ...more cross: PacamaraAs the name implies, Pacamara is a large bean cultivar, a cross between Pacas and Maragogype with unique flavor properties. This variant originated in El Salvador in 1958,... ...more. When it is low grown it can taste a bit oniony, but from higher ranges it is fruitedIn some coffee taster's lexicon, "fruity" means the coffee is tainted with fruit, and "fruited" means a coffee is graced by positive fruit notes. We don't exactly see... ...more citric and a bit floral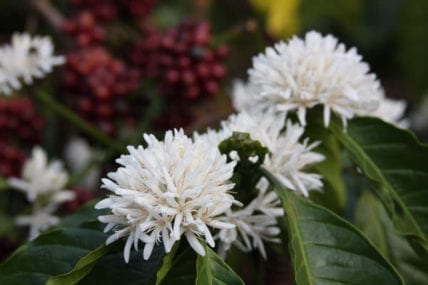 Floral notes in coffee exemplify the connection between taste and smell. Describing the taste of a specific flower is near impossible...we always default to "it tastes like it... ...more. – Thompson