I slacked off after my quadruple header of Central Cup of Excellences (pl.) and never put the pictures up. Well, I don't always make travelogues. If I take pictures I usually edit them, write something and put them up. But 4 competitions in a row (actually, 5 counting PanamaPanama coffee ranges from medium quality lower altitude farms to those at 1600 - 1800 meters centered in the area of Boquete in the Chirqui district near the border with Costa Rica. Some farms feature) that's just too much!
Anyway, Salvador was the second to last. We were sequestered at a resort on the coast, The Decameron . Sounds pretty nice, eh? Well, I like to be out and about more, and it was a little like prison (maybe a white collar prison).
In fact, there was torture involved: the entertainment. Things like mandatory dance contests and such … humiliating and embarrassing, and even worse because you are supposed to enjoy it, and you're not.
Even more, you feel like a bad guest because you are not having fun. Anyway, after cupping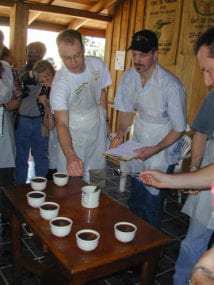 Cupping is a method of tasting coffee by steeping grounds in separate cups for discrete amounts of ground coffee, to reveal good flavors and defects to their fullest. It has formal elements and methodology in, there was a nice pool, and we played some fun beach volleyball – a good way to get excess caffeineAn alkaloidal compound that has a physiological effect on humans, and a bittering taste. It is found throughout the coffee plant but is more concentrated in the seed / coffee bean. Arabica ranges from 1.0 out of your system. Oh, the other problem: a bunch of US Coast Guard on leave came in, and made big fools of themselves … not all of them, but some of them.
They terrorized the staff, broke signs and mirrors, just the kind of things young drunk people do. Now, if we were off ion the coffee areas for the cupping, the chances of getting penned in with a bunch of drunk Coasties, and being forced to embarrass yourself in front of everyone for entertainment … well, chances would be slim.
---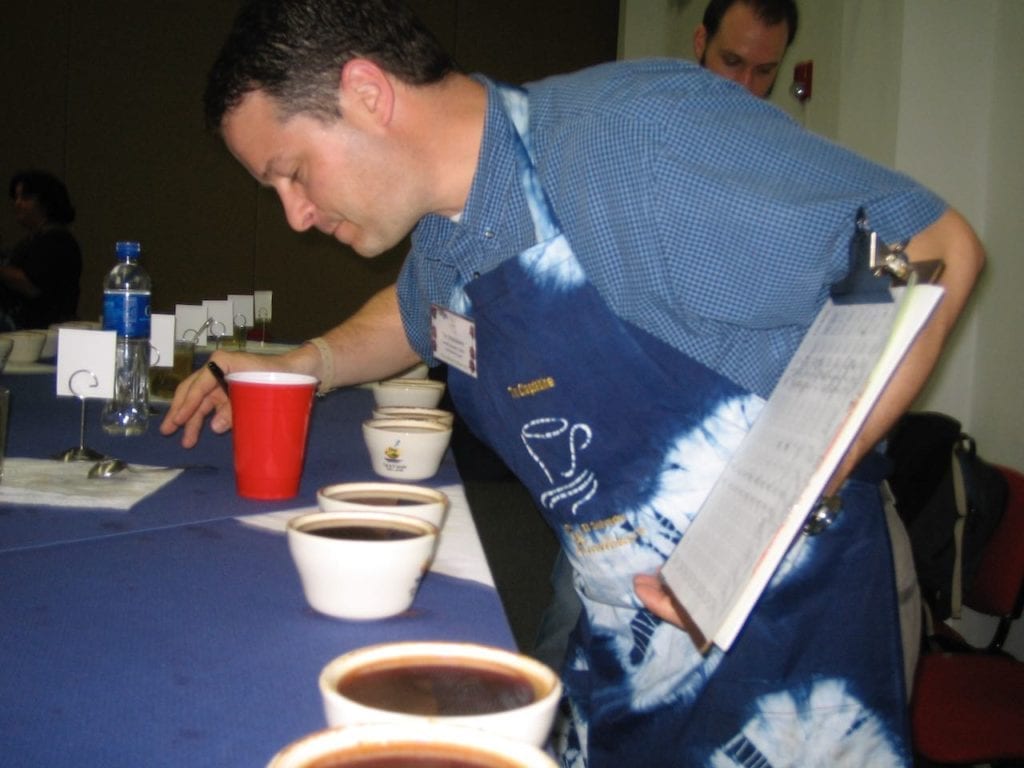 The Jury of Cuppers
Name Country Company
Head Judge
Sherri Johns USA ACE
North America
Darren Daniel USA Allegro Coffee Co.
Duane Sorenson USA Stumptown Coffee
Jayson North USA PTs Coffee Co.
Tim Chapdelaine USA Volcafe Specialty Coffee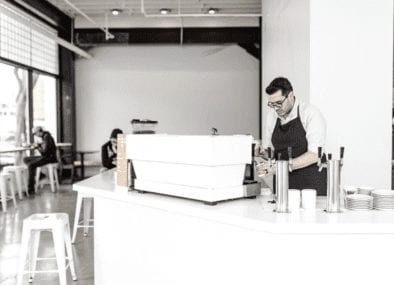 Specialty coffee was a term devised to mean higher levels of green coffee quality than average "industrial coffee" or "commercial coffee". At this point, the term is of limited use, since every multi-national coffee broker
Geoff Watts USA Intelligentsia
Trish Skeie USA Zoka Coffee RoasterA machine for roasting coffee. Or the person operating it! The basic requirements for a coffee roaster are a heating element that gets suitably hot and a mechanism for agitating the beans.: A mechanism for & Tea Co.
Mark Zwahl USA Z's Divine EspressoA small coffee beverage, about 20 ml, prepared on an espresso machine where pressurized hot water extracted through compressed coffee.: In its most stripped-down, basic form, this is a working definition for espresso: A small
Ruben Sagastume USA Condaxis Coffee & Tea Inc.
Bill Swoope USA The Coffee Tree Roasters
Tom Owen USA Sweet Maria's Coffee
Europe
Tsy Toquica UK Monmouth Coffee Company
Sanna Joutsijoki Finland Mokkamestarit Oy
Tineke Jansen Netherlands De Eenhoorn Koffie en thee
John Moore Norway Kaffa AS
Asia
Kentaro Maruyama Japan Maruyama Coffee
Yuko Yamada Itoi Japan Time's Club Inc.
Keizo Sato Japan Wataru & Co., Ltd.
Masahisa Asano Japan TOA Coffee., Ltd.
Leah Warren Malaysia San Francisco Coffee
Central America
Jorge Escobar El SalvadorEl Salvador coffee had an undeservingly poor reputation for years, marred mostly by the inability to deliver coffee of high quality in an unstable political climate. Unfortunately, agriculture is the first to suffer in revolution, Salvadoran Coffee Council
Mario Paiz El Salvador UNEX S.A.
Aldo Ruffatti El Salvador Coop. Los Ausoles
Lorena PacasA mutation of Bourbon cultivar that appeared in El Salvador in 1949: Pacas is a natural mutation of Bourbon cultivar that appeared in El Salvador in 1949. It has good cup character, and is an El Salvador El Borbollón
South America
Marco Kerkmeester BrazilBrazil is a coffee giant . As Frank Sinatra sang, "they grow an awful lot of coffee in Brazil".: Brazil is a coffee giant . As Frank Sinatra sang, "they grow an awful lot of Santo Grâo Café
Observers
Keita Matsumoto Japan Wataru & Co., Ltd.
Yoshinobu Arakawa Japan The Coffee Beans
---
Winning Farms NO MUESTRA NOTA PRODUCTOR FINCA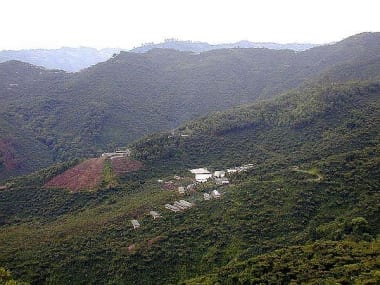 Spanish 101: Finca is the Spanish word for farm. Sometimes the term Hacienda is used to imply an Estate, which would mean the farm has its own wet-mill. A Finca does not necessarily have a CANTON VARIEDAD my score 1 HLB-609 94.00 ORTIZ BARRIERE, S.A. DE C.V. LAS MERCEDES EL TIGRE BourbonA coffee cultivar; a cross between Typica and Bourbon, originally grown in Brazil: Mundo Novo is a commercial coffee cultivar; a natural hybrid between "Sumatra" and Red Bourbon, originally grown in Brazil. It was developed Cultivar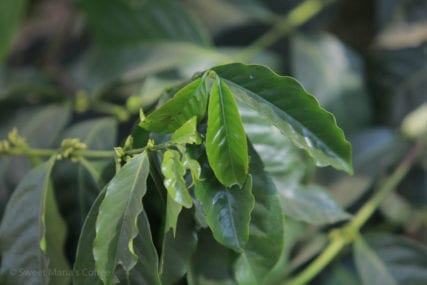 USDA is (obviously) the United States Department of Agriculture. USDA also had coffee plant breeding programs in the past and one variety they distributed to Indonesia and was widely planted is called USDA  (sounds like  94.00 2 HLB-610 93.52 SERGIO EDMUNDO TICAS REYES LOS PLANES LOS PLANES PacamaraAs the name implies, Pacamara is a large bean cultivar, a cross between Pacas and Maragogype with unique flavor properties. This variant originated in El Salvador in 1958, and has spread to nearby Central American 96.00 3 HLB-622 91.46 RAUL OCHOA HERNANDEZ – JOSE ARNULFO MONTIEL LA MONTA¥A EL TUNEL Pacamara 92.00 4 HLB-619 91.20 PACVIL, S.A. DE C.V. SANTA SOFIA PALO DE CAMPAN Bourbon Cultivar 88.00 5 HLB-607 91.13 OSCAR MAGAÑA MONTENEGRO LA REFORMA Bourbon Cultivar 92.00 6 HLB-614 90.20 PATRICIA MOLINA BATTLE EL ANGEL OCHUPSE ARRIBA Bourbon Cultivar 87.00 7 HLB-601 89.72 HIMALAYA, S.A. DE C.V. SANTA MARIA TALTAPANCA Bourbon Cultivar 92.00 8 HLB-624 89.39 AGROINVERSIONES SALBA, S. A. DE C. V. SANTA JULIA I EL PORVENIR, VA Bourbon Cultivar 90.00 9 HLB-625 89.02 AGROINVERSIONES SALBA, S. A. DE C. V. SANTA JULIA II EL PORVENIR,VAL Bourbon Cultivar 85.00 10 HLB-605 88.48 AGROINVERSIONES SALBA, S. A. DE C. V. SANTA ELENA JUAN HIGINIO Bourbon Cultivar\Paca 85.00 11 HLB-606 88.26 JUAN DUCH MARTINEZ EL CARMEN POTRERO GRAND Bourbon Cultivar 85.00 12 HLB-627 86.94 GUSTAVO E.URRUTIA POLANCO Y CIA.DE CV Y RL COM. SI EL ZAPOTE CUYANAUSUL Pacamara 91.00 13 HLB-621 86.57 CHANTUC, S.A. DE C.V. MALACARA LOTE B BUENOS AIRES Bourbon Cultivar\Paca 82.00 14 HLB-615 86.54 ANTONIO RENE AGUILAR LEMUS LA MONTA¥ITA EL TUNEL Bourbon Cultivar 91.00 15 HLB-602 86.22 F.A. PACAS Y CIA EL RETIRO BUENOS AIRES Bourbon Cultivar 97.00 16 HLB-629 86.22 CARMEN DUCH MARTINEZ FATIMA POTRERO GRAND Bourbon Cultivar 90.00 17 HLB-616 85.63 GUSTAVO ENRIQUE MAGAÑA DE LA TORRE LA GUERRA (TABLON LA GUERRA 1) SAN RAMON Bourbon Cultivar 85.00 18 HLB-620 85.63 ROSA MERCEDES GARCIA DE RODRIGUEZ LAS MERCEDES BUENOS AIRES Bourbon Cultivar 80.00 19 HLB-604 85.59 OPERACIONES MULTIPLES, S.A. DE C.V. LAS VICTORIAS SUNTECUMAT Bourbon Cultivar\Paca 88.00 20 HLB-613 85.54 CARLOS ROBERTO SALINAS MAGAÑA E TRAPICHE PALO VERDE Bourbon Cultivar 80.00 21 HLB-618 85.46 MARIA ALICIA CASTILLO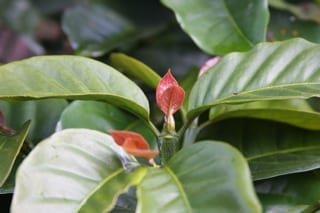 Castillo is a selection of the Colombia cultivar that has become the most commonly grown coffee in Colombia. It is preferred to the older resistant variety, Variedad Colombia in some regards. Cenicafe developed this variety DE MAGAÑA EL CASHAL SUNTECUMAT Bourbon Cultivar 83.00 22 HLB-603 85.24 LILIANA AMALIA HERRERA CORNEJO DE URRUTIA MONTE SION TAPACUM Bourbon Cultivar 85.00 23 HLB-617 84.83 MARGARITA LUCIA DIAZ DE LOPEZ EL MANZANO LAS CRUCES Bourbon Cultivar 79.00