Feb. 11, 2019
Looking for a good deal on some great coffee? Check out our green coffee sale. We are offering 15% off of these great coffees. Discount applied at checkout
Costa Rica Roger Solis La Casona – – A modest brewed coffee, sweetness ranging from light brown sugar to caramelizing smokey sweetness when roasted dark. Butter toffee, caramel, roasted almond, and bittering cocoa. Good for espresso.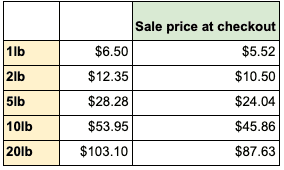 Guatemala Antigua Hunapu Dueñas – Bittersweetness achieved at City+ and beyond lends to robust coffee character, dark chocolate bittersweetness, pistachio and roasted pumpkin seeds, soft acidity, and accents of carob, raisin, and cinnamon. Good for espresso.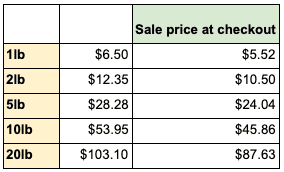 Guatemala Xinabajul La Libertad Lot 2 –  Balanced when roasting medium to dark, notes of brown sugar and molasses offset bittering "coffee" character and cocoa roast tone. Big body and brooding chocolate at Full City and beyond. Good for espresso.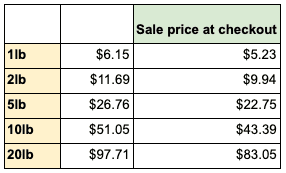 Ethiopia Kayon Mountain Taaroo Lot 2 – Honey sweetness at the forefront of City/City+, along with accent notes of dried ginger, lemon balm herb, apple, ginger tea, and light jasmine flower aroma. A delicate, clean, and clear cup profile at City to City+.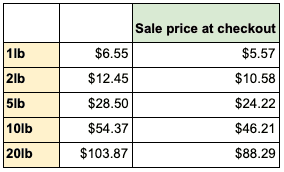 Ethiopia Agaro Kedamai Cooperative – City and City+ showcase a citrus juice aspect that carries more vibrance and 'pep' than some of the other Western coffees. Glimpses of orange blossom, lemon curd, peach and nectarine. (.20/lb of every purchase goes to support the Beshasha School Project in Agaro )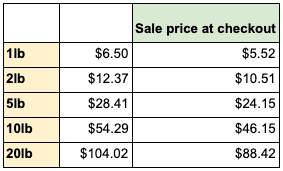 Flores Wolo Bobo – City+ and Full City roasts coax a blend of savory and sweet notes like sucanat sugar and roasted grain, with a mild cocoa powder underlay, and finishing accents of buckwheat tea and cinnamon.