FOR IMMEDIATE RELEASE
KOA COFFEE PLANTATION SELECTED AS KONA'S FINEST COFFEE
KONAKona coffee comes from farms along the Kona Coast on the Big Island of Hawaii: Kona coffee comes from farms along the Kona Coast on the Big Island of Hawaii. Coffee is grown at elevations, HAWAII'S BIG ISLAND – Marin and Cathy Artukovich Koa Coffee Plantation won the coveted Gevalia Kona Coffee Cupping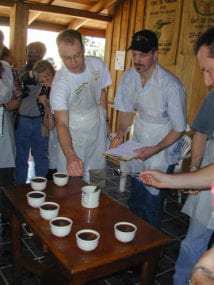 Cupping is a method of tasting coffee by steeping grounds in separate cups for discrete amounts of ground coffee, to reveal good flavors and defects to their fullest. It has formal elements and methodology in Competition today. The five-year old family run Kona coffee farm is located in Captain Cook at the 2,700 foot elevation. Cupping judge John King of Harold King and Co. described the winning coffee as "a typical medium mellowA general primary-to-secondary post gustatory flavor characterization, often called "rich" or alternately "smooth" Coffee that has been hanging out in the warehouse, but not really helping out with the work, just relaxing over in the bodied Kona coffee with a delicate acidity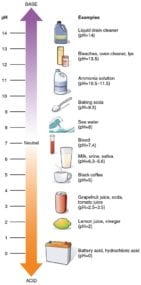 Acidity is a positive flavor attribute in coffee, also referred to as brightness or liveliness. It adds a brilliance to the cup, whereas low acid coffees can seem flat. Acidity can sound unattractive. People may."
Second place went to Sugai Kona Coffee and third place to Wood Captain Cook EstateA "coffee estate" is used to imply a farm that has its own processing facility, a wet-mill. In Spanish this is called an Hacienda. A Finca (farm) does not necessarily have a mill. (And Finca.
Over sixty Kona coffee farmers submitted entries into this year's Gevalia Kona Coffee Cupping Competition. The blind-taste competition, held Wednesday and Thursday at the Ohana Keauhou Beach Resort, was sponsored by Gevalia Kaffe of Sweden,
and fourteen entries advanced to Thursday's final round.
The guest judge of honor, international master cupperOne who cups, or tastes and evaluates, coffee.: A cupper is a person who performs the somewhat formal analysis of coffee quality, called cupping. See the definition of cupping for more information. It has nothing Willy Pettersson of Gevalia Kaffe, was welcomed back to Kona. Manabu Fujita of UCC Ueshima Coffee Company, the largest coffee roasterA machine for roasting coffee. Or the person operating it! The basic requirements for a coffee roaster are a heating element that gets suitably hot and a mechanism for agitating the beans.: A mechanism for in Japan, served on the judge's panel with John King of Harold King and Co. and Michael Therrien, an international coffee expert, maintaining the high standards for the competition.
Each farm submitted a 50-pound sample from which five pounds were actually entered into the cupping competition. To be eligible, the coffee submitted must have been harvested in Kona. The cupping competition is a blind tasting, once the entry is accepted it is simply assigned a number to protect its anonymity. These numbers are even changed midway into the cupping-between the preliminary and final rounds-to keep the judges' palates alert throughout the competition.
The coffee samples, both green and roasted, are placed on a long table for the judges to independently evaluate. The judges look for
high marks in these six categories: fragrance, aroma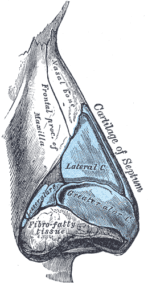 Aroma refers to sensations perceived by the olfactory bulb and conveyed to the brain; whether through the nose or "retro-nasally": The aromatics of a coffee greatly influence its flavor profile and come from the perception, taste, nose, aftertasteAftertaste refers to lingering residual sensations in the mouth after coffee has swallowed. It might be distinguished from "finish" which is the final sensations of the coffee while it leaves the mouth. Also see Afternose. and bodyAssociated with and sensed by mouthfeel, body is sense of weight and thickness of the brew, caused by the percentage of soluble solids in the cup, including all organic compounds that are extracted from brewing.
Cupping sponsor Gevalia Kaffe has included Kona coffee among its elite selections of Island Mountain Reserve coffees-three of the world's most sought-after coffees. Gevalia developed a cupping chart for Kona coffee that graphically characterizes the gourmet brew. IntensityWe have a simple scale to rate intensity in our coffee reviews, from Mild to Bold. Low intensity does not mean low quality!: We have a simple scale to rate intensity, from Mild to Bold., referring to the strength and impact of the coffee that is brought out during roasting, rates 3-cups on a 5-cup scale. Acidity, the characteristic livelinessAnother euphemistic term to describe acidity in coffee. A lively coffee has more high, acidic notes. Not to be confused with the brighter roast flavors of light roast levels, such as City to City+ roasts. or sharpness, also rates 3- cups. Body, or how the coffee feels in the mouth and weighs on the palate, completed the balanceSuggests a harmony and proportion of qualities, and implies mildness since no one quality dominates.: Balance is both an obvious and slippery taste term. It implies a harmony and proportion of qualities, and perhaps a with a 3-cup rating. According to Gevalia, its 100% Kona coffee is best described as "smooth with butteryA mouthfeel description indicating thickness and creaminess, and can also be a flavor description.: Buttery is primarily a mouthfeel description indicating thickness and creaminess. It indicates a high level of lipids (fats) in the coffee, and nutty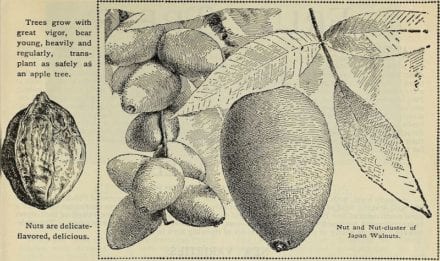 Nutty is a broad flavor term, reminiscent of nuts ... but what kind exactly?: Nutty is a broad flavor term, reminiscent of nuts. It is tied intrinsically to roast taste and the degree of roast, overtones, rich and velvetyA mouthfeel description indicating elegant softness, refined smoothness: A mouthfeel description indicating elegant softness, refined smoothness. See Silky as well. without heaviness."
The Gevalia Kona Coffee Cupping Competition is a signature event of the 32nd annual Kona Coffee Cultural Festival. The Kona Coffee Cultural Festival is supported by the Big Island Visitors Bureau, County of HawaiiThe Kona district on the big island of Hawaii produces the best coffee from this state - clean, sweet and mild. : Ah, Hawaii... what a nice place. They grow nuts, fruit, and coffee. The, UCC Ueshima Coffee Company, Ltd., Doutor Coffee Company Hawaii, Gevalia Kaffe of Sweden, Hawaii Coffee Association, Kamehameha Schools, Keauhou Resort, KTA Super Stores, Meadow Gold Dairies, Hawaii Coffee Company, State of Hawaii DepartmentA Department is the term used in some Latin American countries for a State or County. For example, Huila Department is the state in the South of Colombia. of Agriculture and numerous corporate and community donors.
Gevalia Kona Coffee Cupping Competition
From Koa Plantation: 
Our plantation is a family owned and operated business, which was established in 1997 and continues to grow each year. We are located in the small town of Captain Cook and situated on the slopes of the Hawaiian Volcano, Mauna Loa, at the ideal elevation of 2,500 ft.
Because of the high elevation, sun drenched mornings, cloud covered afternoons and abundant rainfall, our coffee beans mature more slowly. This enables them to obtain a large size and a superb grade. Our soil is a mix of volcanic and nutrient filled earth, which is excellent for growing our rich flavorful gourmet coffee.
We process all our own coffee from start to finishSimilar to aftertaste, but it refers to the impression as the coffee leaves the palate. Aftertaste is the sensations gathered after the coffee has left the mouth. We combine these to form the "final flavor. With the most ecologically efficient wet -processing equipment in Kona (first of its kind here), we take the coffee from fruit on the tree to roasted bean in the bag. Because of complete control during each step, we are able to ensure a very high quality coffee. Our final product (before roasting) is stored in one of the only climate-controlled rooms in Kona. –Marin and Cathy Artukovich