Home Roaster Camp July 2009…next Camp is September 26!
On Saturday July 25th, 2009, Josh Housh facilitated a "home roasters dream camp" at our warehouse in Oakland. Each participant was asked to roast two different coffees to a City+City+ roast is an ideal roast level that occurs roughly between 425 and 435 degrees Fahrenheit in many coffee roasters with a responsive bean probe where First Crack starts in the 395 to 405 degree level so we could compare and contrast cup quality from different roasting methods. Each sample was logged and assigned a random number so we could do a "blind" cupping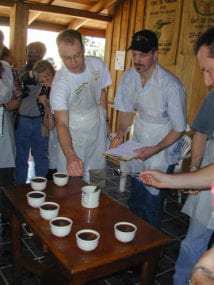 Cupping is a method of tasting coffee by steeping grounds in separate cups for discrete amounts of ground coffee, to reveal good flavors and defects to their fullest. It has formal elements and methodology in. The results were very intriguing and we've compiled a detailed list of photos and notes about the results. It was a fun-filled day of roasters sharing stories and profile ideas with each participant getting a chance to try different machines and the group roasting two batches on the 12 kilo Probat. A list of all participants are below. Thanks so much to the wonderful folks who attended the first camp, you really did a great job and hopefully this data will be useful to many other home roasters out there.
For this first camp we instructed the participants to roast light, to a City + roast, so we could reveal the coffee flavors without a strong overlay of roast tasteThe set of flavors that result from the degree-of-roast.: Roast Taste is a term we started to distinguish it from "Origin Flavor". We use the "roast taste" term define the set of flavors that result. In retrospect, we should have asked for a darker roast, because I found that most people slightly underroasted the coffee and got to City, not City + (the Roast Level column below is what people felt they had roasted to). So the low cupping scores and comments have as much to do with the under-developedUnder-developed refers to roast problems, usually too-light roasts. If a coffee is not roasted until the reactions responsible for the audible First Crack are completed, there will be astringent and un-sweet flavors (high trigonelline levels) roast flavor as with the roast machine itself. That said, I was really impressed with the fact that no coffees (aside from 2 batches) were mis-roasted, meaning they were not scorched or tipped. A couple are heavily roasted, and one lot was actually NOT roasted, because it did not really reach first crackFirst crack in one of two distinct heat-induced pyrolytic reactions in coffee. It is distinguished by a cracking or popping sound in the coffee, and occurs between 390 and 410 degrees Fahrenheit in most coffee. And some of the best roasts came from a Poppery! I photographed each batch on the copy stand with a macro lens and cupped every coffee. The photographs and comments are below. Please note that under a strong light, the roasted coffee looks very contrasty and patchy. Under normal room lighting, these coffees would look more even and darker. So here are the images and comments. Click on the thumbnail for the larger image.
– Tom
We are planning to have another camp on September 26th (it is already full – sorry!) and are planning to get the widest possible cross-section of different roaster types – folks who using a Freshroast, modified Popcorn Popper, Nesco, Gene Cafe, and stovetop methods. These camps are helping Sweet Maria's critically examine the different results from the home roasting machines we sell or that people create themselves. This page has images from the camp and a roster of participants.
Image #

Image

Sample #

Roast Level

Roaster

Person

Coffee

Notes

Score

1

4

City+

BehmorP1

John

Peru

Peruvian coffees have Central American brightness but in a South American coffee flavor package overall. The good organic lots do have more of a "rustic" coffee character.: Organic Peru ... you can get it anywhere

San Ignacio Cajamarca

Sweet, thin,

grainy

A roast-related flavor, sometimes used negatively, but it can also be a positive flavor attribute. Usually grain flavors indicate a too-light roast, stopped before 1st crack concluded, like under-developed grain flavor. It can also result

pasty bready – not bad roast but too light.

84.5

2

6

City+

Poppery

Dustin

Peru San Ignacio Cajamarca

Acids

Many acids contribute to coffee flavor: acetic, malic, citric, quinic, tartaric, phosphoric, etc.: Many acids contribute to coffee flavor; malic, citric, quinic, tartaric, phosphoric, etc. See Acidity or specific acids. While acids in coffee sounds

are balanced, good roast level,

bittersweet

Bittersweet is from the language of chocolate, and describes the co-presence of positive bittering compounds balanced by sweetness. It is directly related to caramelization, but has inputs from other roast reactions, as well as bittering

, dry

85.5

3

8

FC

BehmorP4

John T.

Peru San Ignacio Cajamarca

Astringent

Astringency is a harsh flavor sensation, acrid flavor, that provokes a physical reaction on the toungue, the tactile feeling of papery dryness. It can have saltiness, sourness and bitterness as components. It is certainly the

and dry, too light

83.5

4

11

City+

BehmorP1

Greg

Peru San Ignacio Cajamarca

Mild cup, soft acids, sweet, nuts

84.5

5

12

Vienna

Iroast

Janice

Peru San Ignacio Cajamarca

Very roasty, but still retains

acidity

Acidity is a positive flavor attribute in coffee, also referred to as brightness or liveliness. It adds a brilliance to the cup, whereas low acid coffees can seem flat. Acidity can sound unattractive. People may

83.5

6

14

FC+

Iroast

Janice

Peru San Ignacio Cajamarca

Mild,

tannic

Having the bitterness or astringency of Tannins. Tannins are plant polyphenols found across the flora kingdom. The term Tannins refers to the use of wood tannins from oak in tanning animal hides into leather. Having

, sweet but a little odd in

finish

Similar to aftertaste, but it refers to the impression as the coffee leaves the palate. Aftertaste is the sensations gathered after the coffee has left the mouth. We combine these to form the "final flavor

– 1.06% TDS

84.5

7

20

City+

BehmorP3

Greg

Peru San Ignacio Cajamarca

Baked roast taste, thin

body

Associated with and sensed by mouthfeel, body is sense of weight and thickness of the brew, caused by the percentage of soluble solids in the cup, including all organic compounds that are extracted from brewing

83

8

22

City+

Poppery

Chuck

Peru San Ignacio Cajamarca

Very drinkable, balanced, milk

chocolate

A general flavor or aroma term reminiscent of chocolate. But what type? Usually described with more specifics.: Chocolate is a broad, general flavor or aroma term reminiscent of chocolate. But what type? There are so

, good roast level

86.5

9

25

City+

Iroast

Mike

Peru San Ignacio Cajamarca

Good roast level like sample 22, finish a bit thin

86

10

26

City+

BehmorP1

John T.

Peru San Ignacio Cajamarca

Far too light, astringent

82.5

11

27

City+

BehmorP1

Bonie

Peru San Ignacio Cajamarca

An off bean? Some taint in  the cup. Too light

81

12

28

City+

BehmorP2

Bonnie

Peru San Ignacio Cajamarca

Sweet and dry, more

rustic

A general characterization of pleasantly "natural" flavors, less sophisticated and less refined, but appealing. : What is Rustic? This is a general term we came up with... Dried Apricots from Sun Maid at the supermarket,

than others, not bad, light

84

13

31

City+

Hottop

A home drum roaster with a 9oz capacity, adjustable heat and airflow profiling, and an external cooling tray.: A home drum roaster with a 9oz capacity, adjustable heat and airflow profiling, and an external cooling

14 min

Steve

Peru San Ignacio Cajamarca

Sweet and balanced, more

floral

Floral notes in coffee exemplify the connection between taste and smell. Describing the taste of a specific flower is near impossible...we always default to "it tastes like it smells" which, admittedly, isn't the most helpful. 

than others

86

14

32

City+

Probat

Josh

Peru San Ignacio Cajamarca

Very balanced

sweetness

Sweetness is an important positive quality in fine coffees, and is one of five basic tastes: Sour, Sweet, Salty, Bitter, Savory (Umami). In coffee, sweetness is a highly desirable quality, and the green bean has

, soft acidity, round

mouthfeel

How a coffee feels in the mouth or its apparent texture, a tactile sensation : A major component in the flavor profile of a coffee, it is a tactile sensation in the mouth used in

1.33% TDS

86.5

15

35

City+

Poppery

Mark

Peru San Ignacio Cajamarca

Thin, but still sweet

83.5

Image #

Sample #

Roast Level

Roaster

Person

Coffee

Notes

Score

1

1

City+

Poppery

Chuck

Indonesia

USDA is (obviously) the United States Department of Agriculture. USDA also had coffee plant breeding programs in the past and one variety they distributed to Indonesia and was widely planted is called USDA  (sounds like 

Flores

Flores is an Indonesian island, and as a coffee bears more resemblance to the coffees of Timor-Leste, New Guinea and Java than to the wet-hulled coffees of Sumatra and Sulawesi. It is sweet, with good

Manggarai

Sweet, very nice body, balanced, short finish

86.5

2

7

FC

BehmorP1

John T.

Indonesia Flores Manggarai

thin acidity, underdeveloped roast taste

84.5

3

9

City+

BehmorP3

Greg

Indonesia Flores Manggarai

Malty, grainy sweet, butter, wafer cookie

84.5

4

10

City+

BehmorP1

Bonnie

Indonesia Flores Manggarai

balanced, less sweet but nice body

85

5

13

City+

Poppery

Dustin

Indonesia Flores Manggarai

odd rustic, like

baggy

The flavor of coffee that has been stored for too long, it has absorbed the flavor of whatever it has been stored in. : Coffees that are held for too long run the risk of

, not seen in others, tight

84

6

15

City+

Poppery

Mark O.

Indonesia Flores Manggarai

average, mild, sweet

84

7

16

City+_

Hottop

Steve

Indonesia Flores Manggarai

sour-sweet, thing, too light

83

8

17

City+

BehmorP1

Greg

Indonesia Flores Manggarai

rustic, thin,

sour

Sour is one of four basic sapid (in the mouth) tastes: Sour, Sweet, Salty, Bitter (and possibly a 5th called Umami which indicates savory flavors). In coffee, sourness in moderate amounts of favorable, although the

, baked, too light

82

9

18

City+

Probat

Josh

Indonesia Flores Manggarai

darker roast than others, body,

balance

Suggests a harmony and proportion of qualities, and implies mildness since no one quality dominates.: Balance is both an obvious and slippery taste term. It implies a harmony and proportion of qualities, and perhaps a

, mild

85.5

10

19

Vienna

Iroast

Janice

Indonesia Flores Manggarai

dark roast, burned,

carbony

A roast-related flavor term, referring to burnt flavors from dark roast levels. For some this is a pleasant flavor if residual sweetness is present, but plain carbon flavor is usually not pleasant.

, uneven

79

11

21

City+

BehmorP4

John T.

Indonesia Flores Manggarai

vanilla

Vanilla notes in coffee are often related to caramelization notes, as butter and vanilla can be found in flavors and aromatics of roast reactions from reducing of sugars.

, cereal sweetness, light

84

12

23

City

Iroast

Mike

Indonesia Flores Manggarai

very cereal like and grainy, not roasted, really 1.52% TDS

79

13

24

City+

Behmor

A popular electric drum roaster designed for home use, with variable batch sizes (from 1/4 pound to 1 pound) and a smoke-reduction system. It has been modified and upgraded in refining the base model over the years.

John

Indonesia Flores Manggarai

Vanilla and butter, light, sweet but too thin, light

84.5

14

33

City+

BehmorP2

Bonnie

Indonesia Flores Manggarai

Sweet butter, a bit thin, too light but nice also

85.5