I have yet to harvest a crop from my homegrown coffee plants. But I did bring back some coffee cherryOriginally coffee literature referred to the fruit of the tree as a "berry" but in time it became a cherry. It is of course neither. Nor is the seed of the coffee a bean. All on a recent trip to Costa RicaCosta Rican coffee is typically very clean, sweet, with lots of floral accents. hey are prized for their high notes: bright citrus or berry-like flavors in the acidity, with distinct nut-to-chocolate roasty flavors.: Can a, and after planting some, I had leftovers. What to do?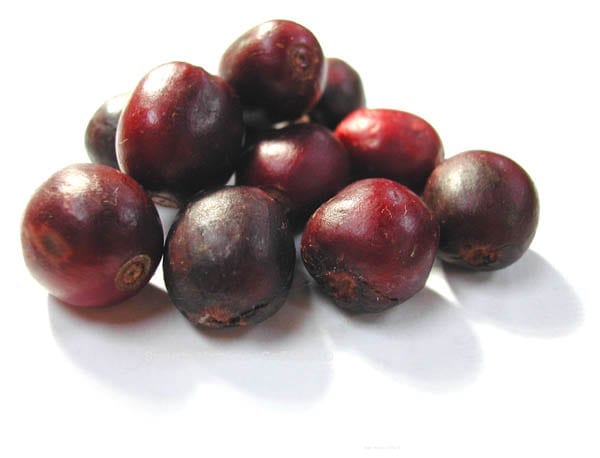 Well, why not wet-process the coffee?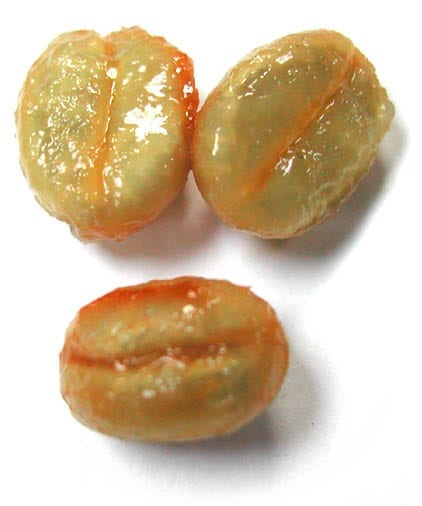 This is coffee seeds after the skin is removed… in parchmentGreen coffee still in its outer shell, before dry-milling, is called Parchment coffee (pergamino). In the wet process, coffee is peeled, fermented, washed and then ready for drying on the patio, bed, or a mechanical, coated by mucilage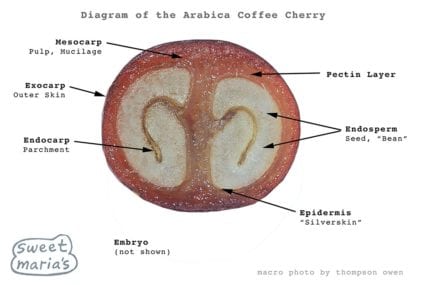 Mucilage indicates the fruity layer of the coffee cherry, between the outer skin and the parchment layer that surrounds the seed. It readily clings to the inner parchment holding the green bean. Think of the.
I started by removing the seeds from the outer skin of the cherry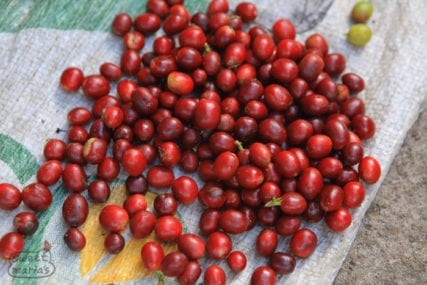 Either a flavor in the coffee, or referring to the fruit of the coffee tree, which somewhat resembles a red cherry.: Either a flavor in the coffee, or referring to the fruit of the coffee and fermenting in a bowl with just a tad of water (I used non-chlorinated water to allow the fermentationA key part of the wet process of coffee fruit is overnight fermentation, to break down the fruit (mucilage) layer that tenaciously clings to the coffee seed, so it can be washed off. Fermentation must to proceed unimpeded). Then I scrubbed the loosened mucilage off the coffee parchment layer and left it to dry for 30 days.
At that point, I had dry "pergamino" that was ready to remove from the parchment layer and roast
 

I did that using my high tech "rub your palms together" method (as I have seen many coffee farmers do with ease – it is NOT easy for a novice like me though.

 

Then I was ready to roast my bumper batch of .. what is that … something like 15 seeds???

Unfortunately, I found it tough to roast 15 seeds. I started with the Freshroast but then switched to a Rosto.

 

Finally, I had an acceptable roast and ground the coffee to cup it. Why use the cuppingCupping is a method of tasting coffee by steeping grounds in separate cups for discrete amounts of ground coffee, to reveal good flavors and defects to their fullest. It has formal elements and methodology in technique? Because it wasn't enough coffee for any conventionalConventional coffee means that a coffee is not organic certified, in the coffee trader parlance. brew method!

 

Actually, it wasn't even enough for cupping, which requires 8-10 grams. So I ended up with 1/2 a cupping cup. Hey, it worked… (Picture shows the coffee in the first 2 minutes, before "breaking the crust")
The results – actually, it was really good! This was La Minita of the arabicaArabica refers to Coffea Arabica, the taxonomic species name of the genus responsible for around 75% of the worlds commercial coffee crop.: Arabica refers to Coffea Arabica, the taxonomic species name of the genus responsible cultivar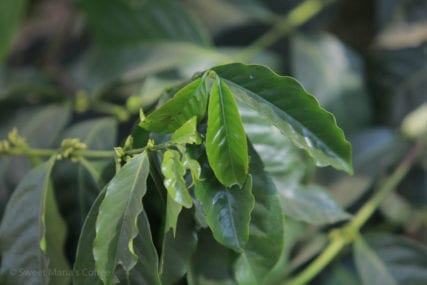 USDA is (obviously) the United States Department of Agriculture. USDA also had coffee plant breeding programs in the past and one variety they distributed to Indonesia and was widely planted is called USDA  (sounds like  caturraCatimor is a broad group of cultivars derived from a Hibrido de Timor (HdT) and Caturra cross, highly productive, sometimes with inferior cup flavor. The main issue is the Robusta content in HdT, although this and had decidedly more "fruitiness" to it than a true La Minita coffee. But I liked it. It was not fermentyA defect flavor, a fruit quality in a coffee that is excessively ripe, toward rotten. This often takes the form of vinegar-like aroma and flavor. Fermenty or vinegar flavors can result from high levels of tasting, as I anticipated (since my fermentation lasted 72 hours! The normal fermentation at a wet mill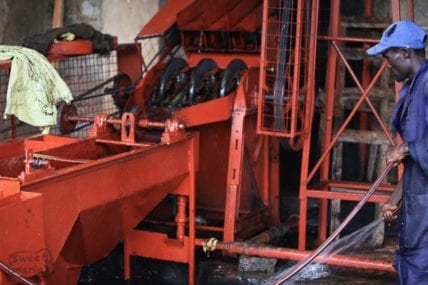 In Kenya, a "Factory" is actually a coffee wet mill (called a washing station in other parts of Africa) where the fresh cherry is brought for wet-processing. It is called a wet mill usually, and is 18-22 hours or so.)
I can't wait for my trees at home to produce!
-Tom 4/16/04
---
This page is authored by Tom Owen and Sweet Maria's Coffee, Inc. and is not to be copied or reproduced without permission.
---