About a month ago, we did a short demo at a lecture series here in Oakland called Nerd Nite. We were excited to be invited back to teach one of their "Field Trips", a longer, more hands-on demo at Tech Liminal (one of our favorite places to teach coffee roasting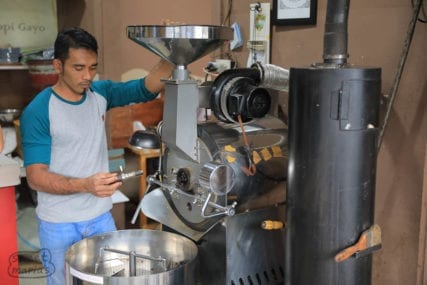 The application of heat to green coffee seeds (beans) to create palatable material for brewing a great cup!: Coffee roasting is a chemical process induced by heat, by which aromatics, acids, and other flavor components). In a matter of 2 hours, a class of 20 tasted different brewed coffeeBrewed Coffee refers to all coffee preparations produced by adding non-pressurized water to coffee grounds. Contrasted with espresso coffee, which is produced under pressure, brewed coffee is primarily an extraction, and contains a lower amount, roasted coffee in popcorn poppers, learned about a few other roasting methods and learned some basic brewing methods.
Some roasts were a little light and some were a little dark, but all of them were educational and fun.
East Bay Nerd Nite is a monthly event where interested attendees can sit down with some food and a few drinks while listening to a selection of passionate speakers talk about something they are truly "nerdy" about. Nerd Nite isn't just for Oaklanders. It takes place in different cities around the world. Click here to see if your city is on the list.
Tech Liminal is a coworking space a few minutes away from Sweet Marias. They are also very much into hosting cool educational events like this.
Thank you to Kishore from Nerd Nite and Anca from Tech Liminal. This was a lot of fun