(11/30/12)
With Tom and Aleco in Ethiopia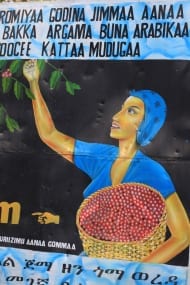 Ethiopia is the birthplace of coffee: it is in the forests of the Kaffa region that coffee arabica grew wild. Coffee is "Bun" or "Buna" in Ethiopia, so Coffee Bean is quite possibly a poor, I thought it would be swell to take a look at our current Ethiopia offerings as some have changed out since the last time we looked at them all together. I'm very pleased to say that these coffees are still spectacularly expressive, and while all the wet processed coffees had some well stated classic attributes they were still rather distinct from one another.
Start with the odd man out
Ethiopia Grade One Kochere Dry ProcessDry process coffee is a method for taking the fruit from the tree to an exportable green bean. The whole intact coffee cherry is dried in the sun with the green bean inside. Later it
http://coffeeshrub.com/shrub/coffee/ethiopia-grade-one-kochere-dry-process
In dry processed coffees, we're seeing cleaner and cleaner cups, and this is something that can be extremely positive, but it can also lead to cups that toe the line of off fermentAs an aroma or flavor in coffee, ferment is a defect taste, resulting from bad processing or other factors. Ferment is the sour, often vinegar-like, that results from several possible problems. It might be the even closer. This dry processed coffee from Kochere in Yirgacheffe definitely has unmistakably fruitedIn some coffee taster's lexicon, "fruity" means the coffee is tainted with fruit, and "fruited" means a coffee is graced by positive fruit notes. We don't exactly see the difference in terms of these two characteristics right off of the dry grounds and all the way though hot to cold in the cup. The fruit is a much jammier fruit with an impressively syrupy bodyAssociated with and sensed by mouthfeel, body is sense of weight and thickness of the brew, caused by the percentage of soluble solids in the cup, including all organic compounds that are extracted from brewing. Not too thin, and nowhere near that highly suspect yogurt-like fruit that I've been seeing more and more of in dry processed coffee. And the fruit is well balanced with earthyEarthy is a flavor term with some ambivalence, used positively in some cases, negatively in others.: Sumatra coffees can have a positive earthy flavor, sometimes described as "wet earth" or "humus" or "forest" flavors. But cocoa, especially in the finishSimilar to aftertaste, but it refers to the impression as the coffee leaves the palate. Aftertaste is the sensations gathered after the coffee has left the mouth. We combine these to form the "final flavor but also right at the front of the palate as well. I truly believe that dry processed coffees need to be more than simply fruit bombs, and think that the complexThe co-presence of many aroma and flavor attributes, with multiple layers. A general impression of a coffee, similar to judgments such as "balanced" or "structured" in sweetnessSweetness is an important positive quality in fine coffees, and is one of five basic tastes: Sour, Sweet, Salty, Bitter, Savory (Umami). In coffee, sweetness is a highly desirable quality, and the green bean has along with mild dry nuttiness make this coffee complete and a perfect component for espressoA small coffee beverage, about 20 ml, prepared on an espresso machine where pressurized hot water extracted through compressed coffee.: In its most stripped-down, basic form, this is a working definition for espresso: A small or as an SO as well.
Ethiopia Agaro Jimma
http://coffeeshrub.com/shrub/coffee/ethiopia-agaro-jimma
Out of the 3 wet processed offerings from Ethiopia, I found this one to be the most citrus forward. In the description here it is described as being restrainedA descriptive term I use to communicate a well-structured, classic, clean flavor profile from a wet-processed coffee. This would be in opposition to coffees with exotic character, flamboyant and "loud", a fruity dry process coffee, as well as having a cleanly disappearing sweetness, which I found here as well, with a wide open finish. This means that the front of the cup is loaded with all the nuanced citrus and fruited characteristics. There was a potent bergamotBergamot Orange is the size of an orange, with a yellow color similar to a lemon, and has a pleasant fragrance. The juice tastes less sour than lemon, but more bitter than grapefruit.: Bergamot orange flavor and aroma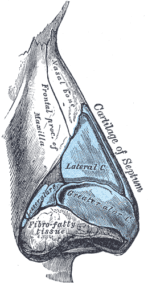 Aroma refers to sensations perceived by the olfactory bulb and conveyed to the brain; whether through the nose or "retro-nasally": The aromatics of a coffee greatly influence its flavor profile and come from the perception, noted by a number of different people when I put this coffee in front of a panel. There was a delicate floral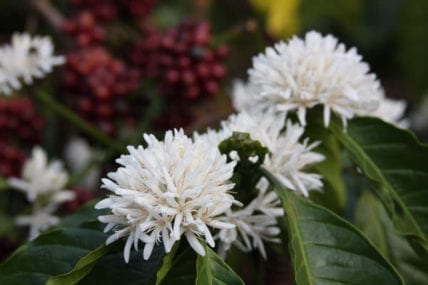 Floral notes in coffee exemplify the connection between taste and smell. Describing the taste of a specific flower is near impossible...we always default to "it tastes like it smells" which, admittedly, isn't the most helpful.  element throughout the cup but the star was the citrus that became more sweetly rounded s fruit as it cools but maintained that bright open.
Ethiopia Illubabor Sota
http://coffeeshrub.com/shrub/coffee/ethiopia-illubabor-sota
Sota is a newly formed cooperative, and the cup character is distinct from other wet processed Ethiopias, but I still found it to have the most floral characteristics at City+City+ roast is an ideal roast level that occurs roughly between 425 and 435 degrees Fahrenheit in many coffee roasters with a responsive bean probe where First Crack starts in the 395 to 405 degree then any of the other wet processed offerings. The deeper, darker fruit characteristics do mean that this is a wet processed coffee that can take a deeper roast and still be incredibly sweet and interesting at Full City. The other wet processed coffees defintiely didn't hold up to the darker roasts as well as this coffee did, making this a great candidate for introducing some of your more darker roasts customers to the flavors that are distinct to Ethiopia.
Ethiopia OrganicGrown without the use of artificial fertilizers, herbicides, etc.: Organic coffee has been grown according to organic farming techniques, typically without the use of artificial fertilizers. Some farms have more local Organic Certification than the Guji Shakiso
http://coffeeshrub.com/shrub/coffee/ethiopia-organic-guji-shakiso-0
This was the all around favorite at the panel cupping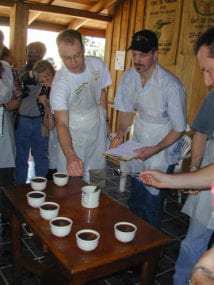 Cupping is a method of tasting coffee by steeping grounds in separate cups for discrete amounts of ground coffee, to reveal good flavors and defects to their fullest. It has formal elements and methodology in that I held. While the Agaro was more citrusy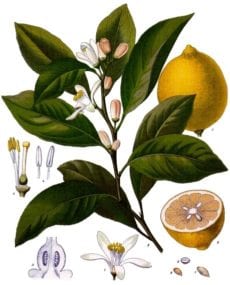 Qualities in coffee that are reminiscent of a citrus fruit; orange, lemon, grapefruit, kumquat, etc.: Qualities in coffee that are reminiscent of a citrus fruit; orange, lemon, grapefruit, kumquat, etc. Usually these terms imply a, and the Sota more roast dynamic but also more floral, this cup was the most rounded with both floral and citrus notes with some incredibly vibrant bergamot notes on the break and warm cups. This also had such complex candied ginger notes that everyone on the panel noted. The long sweet finish gave this a slightly longer lasting impressing than the others, which also lent to it being the favorite. This ginger, honeyIn coffee, honey-like sweetness is often found, but we use terms such as refined honey (highly filtered and processed) as opposed to raw honey rustic honey sweetness. This form of sweetness is largely a dynamic, and bergamot paring is so distinctive and so well put together, aming this a great SO espressoShort for Single Origin espresso, meaning using one origin specific coffee to make espresso, as opposed to using a blended coffee., but truly this is a coffee that would shine on any and every brew bar, with the Clever brews I did perfectly articulating these nuances.