A trip during harvest to visit the Ruiz family, Esmeralda Estate and other coffee farmers in Boquete Panama.
This was a small group that visited from California to see how the harvest was progressing in Chirqui and do some initial cupping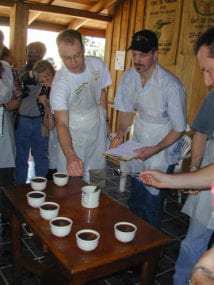 Cupping is a method of tasting coffee by steeping grounds in separate cups for discrete amounts of ground coffee, to reveal good flavors and defects to their fullest. It has formal elements and methodology in of the coffees.
I captioned the photos pretty well … too bad I didn't rotate all of them correctly though! Sigh – Thompson 2020