A post from the road while traveling to coffee farms in East Timor (Timor Leste)
East Timor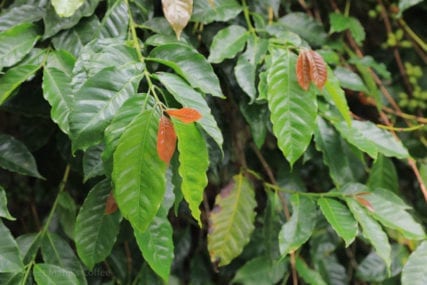 Hibrido de Timor abbreviated HdT is the interspecies hybrid of C. Arabica and C. Canephora (Robusta) that was found in Timor Leste in the 1940s. It has been... is the independent nation of a mere 1.25 million people that kindly shares its landmass with Indonesia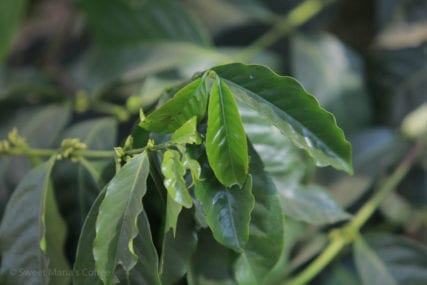 USDA is (obviously) the United States Department of Agriculture. USDA also had coffee plant breeding programs in the past and one variety they distributed to Indonesia and was..., split down the middle. The separation did not come easy or without violence.
While Timor Leste has matured, there's something about this place that always seems things are being made up as they go along. And they are open to suggestions. A video loop running in the airport invites you to come to Timor, get free land from the government and build a shipyard. Please, just think about it.
Coffee was mandated by the Portuguese colonial masters to be planted by the rural Timorese. There were some large plantations but generally it was a form of tax on the poor to provide coffee to the large central mills.
Something about coffee here still feels sad in that way. Prices paid for cherry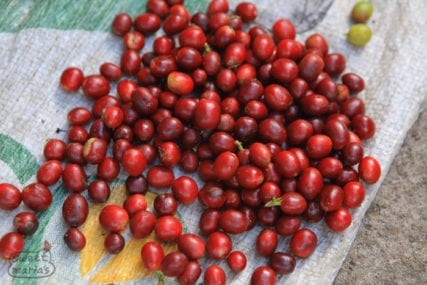 Either a flavor in the coffee, or referring to the fruit of the coffee tree, which somewhat resembles a red cherry.: Either a flavor in the coffee, or... or parchmentGreen coffee still in its outer shell, before dry-milling, is called Parchment coffee (pergamino). In the wet process, coffee is peeled, fermented, washed and then ready for drying... are not that bad, but if you only have a few hundred trees, what does that amount to? Small farm sizes are just part of the problem; the yield per tree of coffee cherryOriginally coffee literature referred to the fruit of the tree as a "berry" but in time it became a cherry. It is of course neither. Nor is the... is incredibly low. A tree produces 500 to 800 grams of cherry per harvest. That's about 20 cents of fruit!
What's needed here is new plantings or better-yielding coffee, more organicGrown without the use of artificial fertilizers, herbicides, etc.: Organic coffee has been grown according to organic farming techniques, typically without the use of artificial fertilizers. Some farms... inputs to the soils, which are very depleted, farmer training for pruning and replanting. It happens on a small scale by coops and private companies but a real political program for the countries coffee farmed is what's really needed. And that's not in the works.
I made a quick trip to a new washing station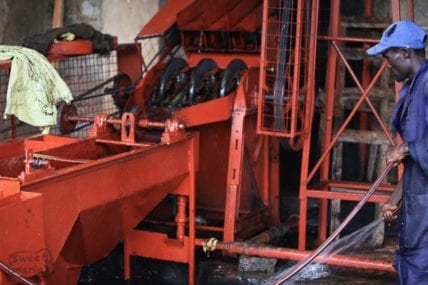 In Kenya, a "Factory" is actually a coffee wet mill (called a washing station in other parts of Africa) where the fresh cherry is brought for wet-processing. It... in operation this year in Haupa, near Letefoho town, were we have focused buying in the past. Based on the cupping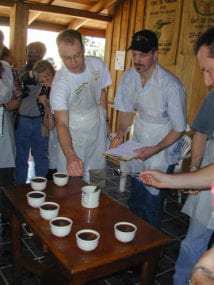 Cupping is a method of tasting coffee by steeping grounds in separate cups for discrete amounts of ground coffee, to reveal good flavors and defects to their fullest.... we did, interrupted by soccer games on the drying patio with the local kids, this crop has some nice cup quality.
Timor coffees aren't full of crazy top notes, but they are good bittersweetBittersweet is from the language of chocolate, and describes the co-presence of positive bittering compounds balanced by sweetness. It is directly related to caramelization, but has inputs from... balanced coffees, not too acidic, great viscosity, thick, cocoa-laden, a classic cup.
In addition to being a solid cup, these coffees we are getting are fully traceable, coming from a small scale community project that looks at the goodness of the coffee as part of a bigger goal: making a supply chain from farm to consumer that benefits everyone.
The project is a private effort run by Peter Dougan, who has been in East Timor six years developing his fresh farm produce business to get small village farmers access to the market in the capital Dili. Peter realized that the seasonal produce production, broccoli, beans, lettuce, tomatoes etc, wasn't enough to sustain farmers. Coffee could compliment their incomes too.
The washing stationIn Rwanda and some other East African countries, a wet mill is called a Washing Station.: In Rwanda and some other East African countries, a wet mill is... he runs is in its infancy but a community is coalescing around it, and the coffees are cupping well! We hope to land new cropRefers to fresh shipments of green coffee within the first month or two of the earliest arrivals ... not quite the same as Current Crop, which means the... East Timor coffee November or December this year.
We need to wait for the highest altitude coffees to be processed, and during my visit there was still cherry on the trees in these zones. Once those are processed, cupping and final selection can occur – Thompson
---
Check out our Coffee Roasting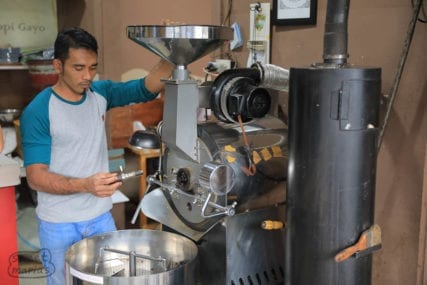 The application of heat to green coffee seeds (beans) to create palatable material for brewing a great cup!: Coffee roasting is a chemical process induced by heat, by... Basics articles:
How To Roast Your Own Coffee
Need a Visual Guide to Determine Coffee Roast Color?
Using Sight to Determine Degree of Roast