An old article concerning cupping separated screen sizes of roasted coffee to see if there are differences in quality related to coffee bean size.
Today I am motivated by the most un-scientific curiosity to screen a roasted Ethiopia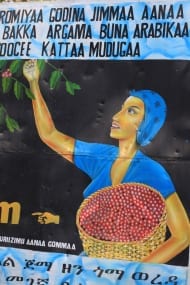 Ethiopia is the birthplace of coffee: it is in the forests of the Kaffa region that coffee arabica grew wild. Coffee is "Bun" or "Buna" in Ethiopia, so Coffee Bean is quite possibly a poor Yirgacheffe and cup the different bean sizes separately. The inspiration comes from eating the roasted whole bean coffee, and occasionally finding a seed with incredible flavor. It seemed that these were smaller beans … is that possible? As you know, the traditions in some coffee origins to sort coffee by screen size into various grades makes little sense in terms of cup quality. I mean, it does matter that all the seeds are healthy, correctly processed and non-defective. But larger size does not make better coffee. SupremoA Colombian coffee grade referring to screen size of 17-18 screen. In the traditional bulk Arabica business, Supremo was the top grade Colombia, with Excelso one step below at 15-16 screen. Neither of these refer and ExcelsoA Colombian coffee grade referring to screen size of 15-16. In the traditional bulk Arabica business, Excelso is a step below the large bean Supremo grade, which indicates screen size 17-18. grades in ColombiaColombian coffee is highly marketed and widely available in the US. They have been largely successful at equating the name Colombian Coffee with "Good" Coffee. This is half-true. Colombian can be very balanced, with good, and AA versus AB in KenyaKenya is the East African powerhouse of the coffee world. Both in the cup, and the way they run their trade, everything is topnotch.: Kenya is the East African powerhouse of the coffee world. Both make little sense. In fact, I thought with this Yirgacheffe that it was the opposite case, and I wanted to see if I could reproduce my anecdotal results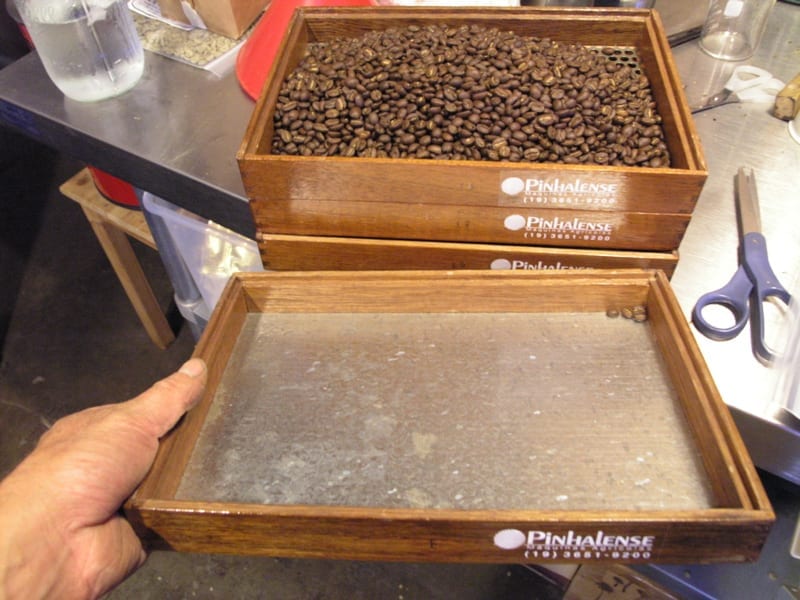 To do this, you start with a set of coffee test screens. These are not cheap! But I find them useful and I make it part of all my final green coffee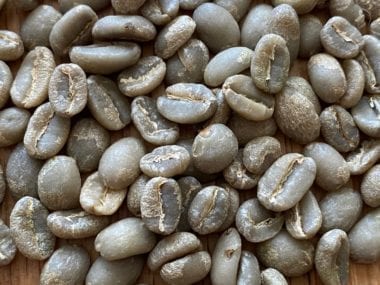 Green coffee refers to the processed seed of the coffee tree fruit. Coffee is a flowering shrub that produces fruit. The seeds of the fruit are processed, roasted, ground and prepared as an infusion.: Coffee sample evaluations to test the screen size. Now, these screens are really made for green unroasted coffee, but there is nothing wrong with trying to screen a roasted batch … the same principles apply. My screens are very simple hand-shaken square screens. You can get a setup with a fancy test sieve shaker and round screens that are more accurate, but that is not needed really. In the foreground is the bottom collector screen.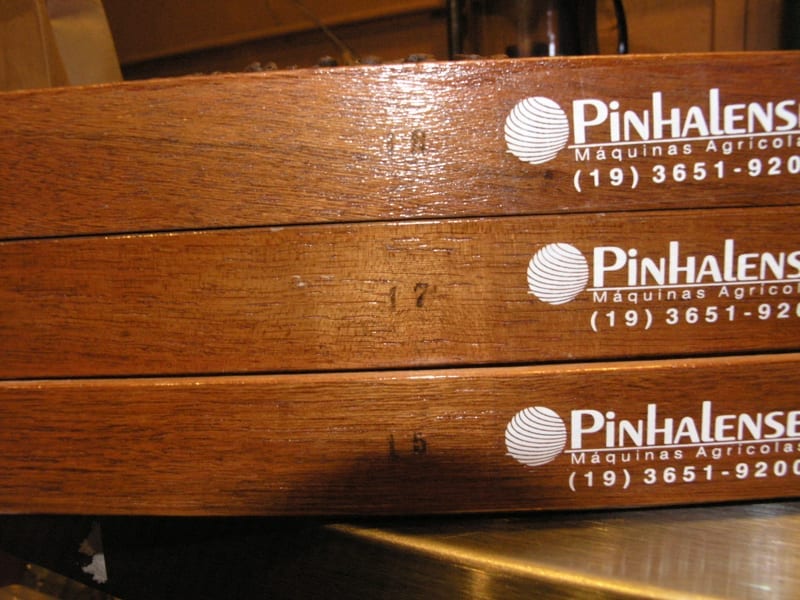 I chose to separate the Yirgacheffe using 18, 17, and 15 screens. These are all measured in 64ths of an inch and these are round hole screens, the standard in coffee. I also have a full set of slotted peaberry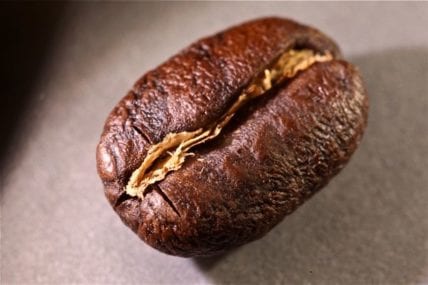 The Spanish-language term for Peaberry is the same for "snail". See Peaberry for more information on the single bean fruit of the coffee tree. A peaberry is the rounded singular seed found in the coffee screens but that is another story.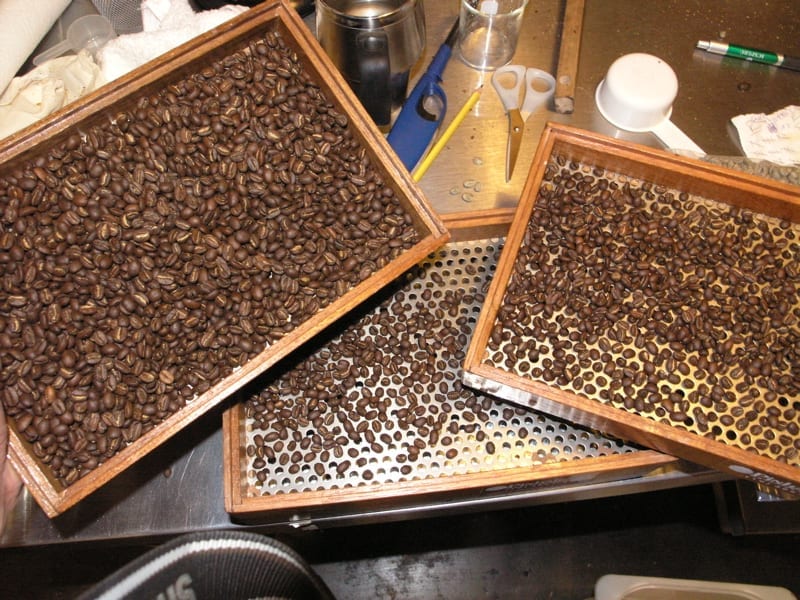 The results were that an overwhelming amount were 18+ screen, while the 17-18 screen size held 18% of the coffee, with a fair amount of peaberryA peaberry is a green coffee "bean" that has a rounded form: Coffee is the dried seed from the fruit of a flowering tree - each fruit having 2 seeds facing each other (the flat. The 15/64ths screen held 7% of the coffee, and was almost entirely peaberry.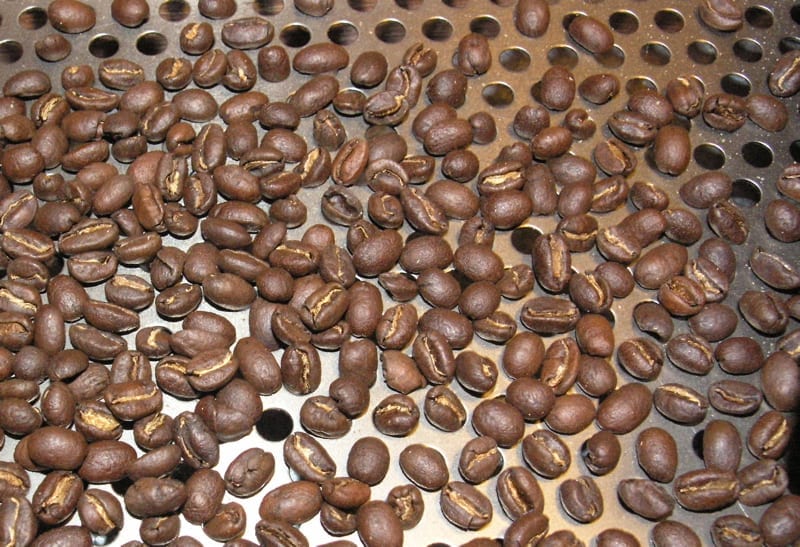 A closeup of the 15 screen contents, which would actually hold 15-64ths and 16/64ths.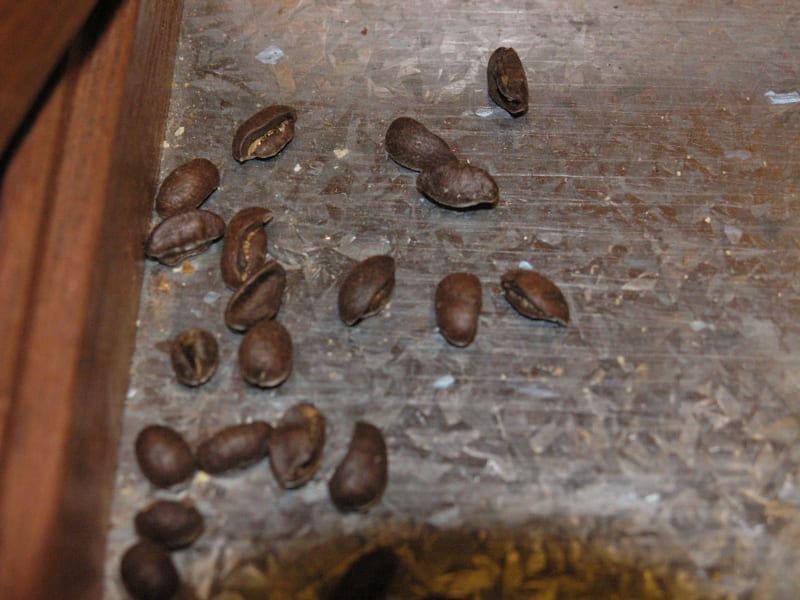 Interestingly, there were a few brokens and "tri-beans" that made it past 15 screen. Tri beans are what they sound like, a coffee cherryOriginally coffee literature referred to the fruit of the tree as a "berry" but in time it became a cherry. It is of course neither. Nor is the seed of the coffee a bean. All with three healthy seeds, which end up sorta pie-shaped. A couple rat-turd shaped peaberries made it through too. Overall, the percentage of brokens was not enough to be measured as a defectIn coffee, a defect refers to specific preparation problems with the green coffee, or a flavor problem found in the cupping process. Bad seeds in the green coffee sample are termed defects, and scored against in the rating of this coffee.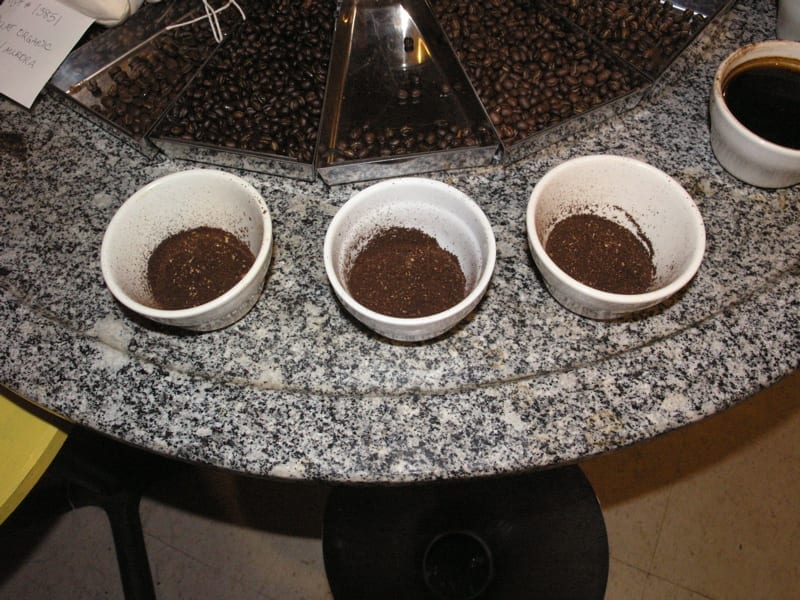 Okay, set 'em up on the table to cup. (incidentally, what is left over in the trays is roaster tests, not the coffee ground in the cups.)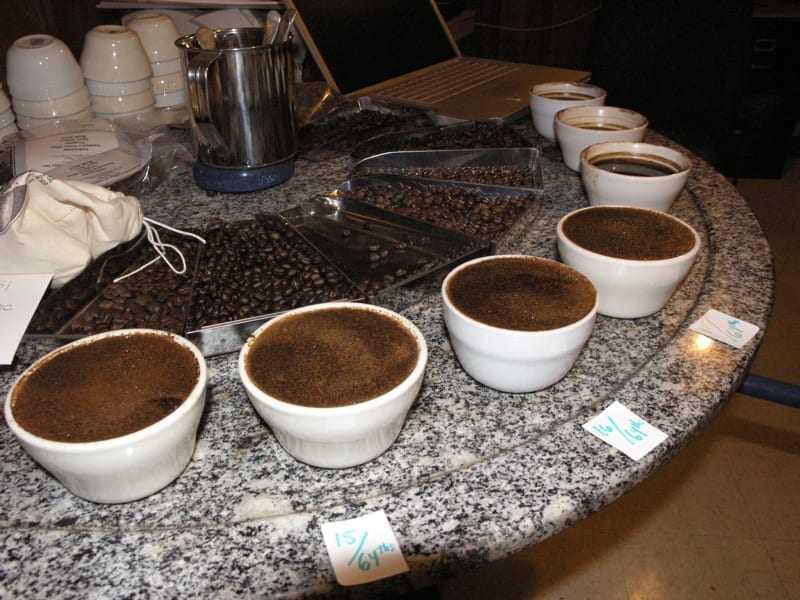 I made 3 cups of each and evaluated them in 2 rounds with a comparison cup of the blended/unscreened coffee. The results were interesting to me:
This is a Fair TradeFair trade is an organized social movement and market-based approach to empowering developing country producers and promoting sustainability.: Fair trade is an organized social movement and market-based approach to empowering developing country producers and promoting, OrganicGrown without the use of artificial fertilizers, herbicides, etc.: Organic coffee has been grown according to organic farming techniques, typically without the use of artificial fertilizers. Some farms have more local Organic Certification than the Yirgacheffe from the Oromia group, basically the giant Ethiopian "Co-op of co-ops" . It's a nice, uniform-processed washed coffee. The green coffee screens as 16-17. The results were as follows:
15/64ths screen: tangy

An adjective modifying a flavor descriptor, describing a sharp effect; tangy citrus, tangy bittersweet flavor, tangy green apple.

acidity

Acidity is a positive flavor attribute in coffee, also referred to as brightness or liveliness. It adds a brilliance to the cup, whereas low acid coffees can seem flat. Acidity can sound unattractive. People may

, more "prickly" than the other cups. Lighter body

Associated with and sensed by mouthfeel, body is sense of weight and thickness of the brew, caused by the percentage of soluble solids in the cup, including all organic compounds that are extracted from brewing

, a little more citrus brightness

A euphemistic term we use often to describe acidity in coffee. A bright coffee has more high, acidic notes. : A euphemistic term to describe acidity in coffee. A bright coffee has more high, acidic

, a little less deep/dimensional.
17/64ths screen: cupped very close to the unscreened control cups, but with a little flatter acidity.
18+/64ths screen: more discernible roast-oriented flavors here: caramel

Caramel is a desirable form of sweetness found in the flavor and aroma of coffee, and is an extension of roast taste. Extremely light or dark coffees will lose potential caramel sweetness, as it exists

, very mild milk chocolates, perhaps not more body in terms of quantity but it was more noticeable.
Unscreened Control cup: as the coffees cooled, this had the most dimension, and as I keyed in on the taste attributes I could differentiate in the screened cups, i was also able to switch to the unscreened cup and locate them.
Results: well, I debunked my own notion that any particular screen size was the locus of magic flavor crystals in this lot of Yirgacheffe. I also prove to myself again (not that I need to) that bigger is not better. It makes a case for "estateA "coffee estate" is used to imply a farm that has its own processing facility, a wet-mill. In Spanish this is called an Hacienda. A Finca (farm) does not necessarily have a mill. (And Finca grade" coffee of mixed screen size, provided that the coffee is free from defect, that the processingThe removal of the cherry and parchment from the coffee seed.: Coffee is either wet-processed (also called washed or wet-milled) or dry-processed (also called wild, natural or natural dry, and we abbreviate it DP sometimes). is exceptional, that the cherries are all ripe, etc etc. No real revelations here, but an easy cupping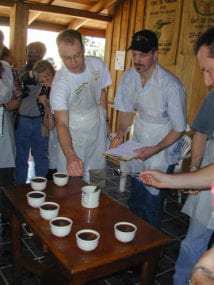 Cupping is a method of tasting coffee by steeping grounds in separate cups for discrete amounts of ground coffee, to reveal good flavors and defects to their fullest. It has formal elements and methodology in test to perform with some personally relevant information coming out of it. And that's how I spent my afternoon… end of coffee Show and Tell! –Tom
Post script: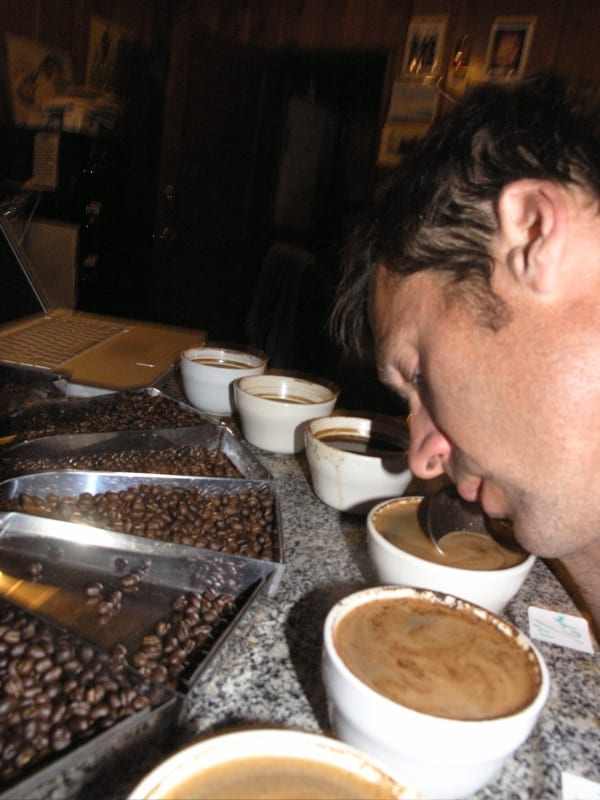 Incidentally, here is perhaps the worst-ever cupping photo of myself … right up the nostrils. Anyway, I am breaking the crustA dance, a beat, an error, an interruption ... or in coffee cupping, the "breaking of the crust" of floating grounds, part of aromatic evaluation: In coffee cupping, the "breaking of the crust" of floating on the cups here. –Tom