An overview of coffee filter types, sizes and materials. Why is the quality of your coffee filters important? Read on …
Roasting your own coffee, grinding it just before brewing, using spring water heated to ~205 f, and watching your coffee-to-water ratios: These are all important factors to brewing a good cup of coffee. Why blow it by using bad coffee filters?
Luckily, once you find good filters, there isn't much more to do. It doesn't add another layer of complication to your coffee brewing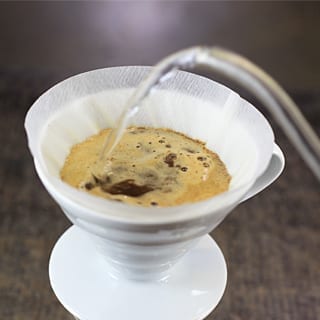 The process of making an infusion of water and roasted, ground coffee. In the most basic sense, hot water is added to coffee ground to produce a drink.... ...more practice. (And since we only sell good filters that we have tested, and use ourselves, you can trust our filter selections).
The Basics of Coffee Filters
How do I get the best out of my paper coffee filter? Give me the shortest answer…

1. Select the right filter for the brewer.
2. Make sure the filter is made of quality material.
3. Make any needed folds before putting it in the brewer.
4. Rinse it with hot water before brewing.

How do I match the filter to the brewer? What filter goes with what pour-over dripper?

When you buy a new brewer or dripper, the maker will usually indicate what type of filters go with it. Otherwise the shape should tip you off to the correct filters to use. What we call the "Flat-V" was developed by Melitta way back when, so it is sometimes called a Melitta filter. That's confusing because Melitta makes other types, like basket filters. The filters that come to the point are sometimes called V60 for the name given to them by Hario. But those are made by others as well.

How do I know my filter is made from good quality filter paper?

Cheap supermarket filters tend to be very thin visually and to the touch. We have compared commercial basket filters and found that holding them up to light shows thinness, and amount of loose paper pulp fibers, both signs of a cheap-ass filter! Most well-known brand name filters use higher quality filter paper. In fact, some good filters available under different brands appear to be made by the same factory, I believe (Cafec and Hario). And in some cases the same brand is made by different factories (Hario sold in USA is made in Japan, Hario in Europe is not). The photo to the right demonstrates 2 different qualities of filter material … it's pretty clear that the thin transparent filter paper will not adequately filter the coffee.

When do I need to fold a filter before brewing?

Folding the seamed edge on a filter can help it fit the dripper or brew basket better. In the case of Melitta filters, folding the bottom seam to the side means it won't block the drain holes in a dripper like the Bonmac. If you don't fold it, you have essentially tripled the filter paper over the drain holes and it will drain slooowly (and you might want that in some cases actually!) See our gallery of images below for examples of folding the seam edge of some filters. (Also the Chemex 3 cup comes as flat filter paper – different issue!)

Why rinse a coffee filter before brewing?

Rinsing paper filters before brewing is a great idea. It will extract some of the 'paper' flavor and preheat your dripper / carafe as well. It only takes a small amount of hot water to absorb across an entire filter. Be sure to empty the water you use to rinse the filter from the carafe before brewing! If you wonder why this is important, taste the water you pour through to rinse the filter. Some filters have quite a strong taste, and you don't want that in your coffee! It's one reason we do not tend to carry natural brown papers (aside from bamboo). We have found some brown paper types impart more paper flavor. Also, old filters that have been stored outside of a plastic or lined bag tend to have more paper flavor, we have found.

Paper filters or Re-usable, which is better?

They offer different pros and cons, so the answer really depends personal preference. Paper filters have a tighter mesh than re-usable cloth or stainless options. They generally do a better job trapping "fines" produced by your grinder that would otherwise wind up as sediment in your cup. On the other hand, the re-usable options are a one-time purchase, washable, and create less waste. Some re-useable filters build up residues, and require a lot of care to keep clean. They can become rancid if you aren't diligent. While some people like the taste of coffee from a metal filter, a paper filter reduces 2 chemical compounds in the final brew: cafestolCafestol is a lipid found in the coffee bean and in brewed coffee. It is at higher levels in unfiltered coffee than in filtered, where it's levels are... ...more and kahweolKahweol is a lipid found in the coffee bean and in brewed coffee. It is at higher levels in unfiltered coffee than in filtered, where it's levels are... ...more. While coffee has no cholesterol, these compounds are shown to raise cholesterol levels by the way they act on the bodyAssociated with and sensed by mouthfeel, body is sense of weight and thickness of the brew, caused by the percentage of soluble solids in the cup, including all... ...more. This is true with all brew methods that use metal type filters or screens: espressoA small coffee beverage, about 20 ml, prepared on an espresso machine where pressurized hot water extracted through compressed coffee.: In its most stripped-down, basic form, this is... ...more, French pressA simple coffee brewer also called a Press Pot: grounds and hot water are added to a carafe, allowed to sit for several minutes, and then a filter... ...more, or metal type drip filters.

Which are better …natural brown filters or white filters?

Some filters like Melitta come in a white version and brown kraft color version. At a time when white paper might have been bleached with chlorine, this was important. But these days white color filters are blanched using an "oxygen whitening" process with specialized equipment that does not use chlorine or harsh chemicals. Natural color papers tend to impart more paper taste to the coffee too, but all types of filters benefit from being rinsed with hot water before brewing.
What is important to know about coffee filter materials?
Does a paper filter material change the taste of the cup?
It does, in a couple ways. First : We already talked about "paper taste". The bleached paper of Melitta and Hario filters tend to be fairly transparent after a quick rinse, whereas we pick up on more of a 'papery' flavor from Bonmac's Bamboo filters. To use those, rinse them with more water, and they work great. Some brands of unbleached brown filters are very, very papery. We don't carry those. You can always check on paper taste: take a sip of the hot water you wash through your filter (before adding coffee of course). Taste the differences in "paper water"and see. Yum. (The level of filtration and quality of the material can have a fairly big impact on the cup as well. Second: Paper filters are going to remove some soluble compounds, oils etc. But good paper filters will also filter out insoluble compounds and material that increases the bitterness in the cup. In a sense a good filter can improve coffee taste. If you have ever drained the last coffee from a french press, then looked in the bottom of your cup, what you see are residual fines that are very bitter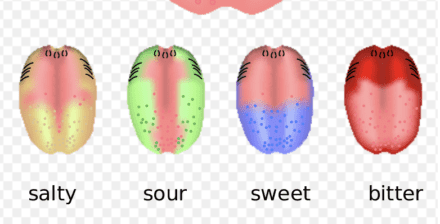 Bitterness is one of 5 basic tastes: Sour, Sweet, Salty, Bitter and Umami (savory flavors). There are many types of bitterness, hence not one avenue to tracking down... ...more. A good quality paper filter removes that from your coffee.
How should I store my coffee filters to get the best out of them?
If you go through them at a steady clip (like using one a day, for example), I don't think any special storage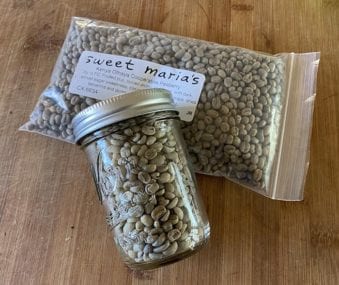 Green coffee can be stored much longer than roasted coffee: Roasted coffee starts to lose its aromatics in 10 days after roasting. Green coffee can be stored months... ...more is needed. But if you use them infrequently, and plan on having an open package for more than a month, I would store them in an airtight container like a ziplock baggie. If you live in a humid climate, the low water activity of a paper filter will absorb the moisture in the air and cause the paper to break down more rapidly. Super dry climates can also cause the paper material to deteriorate as the dry out. Both cases will result in more paper pulp washing into the cup, and can be avoided by storing your filters in an enclosed barrier bag or container.
Why are some filter better than others?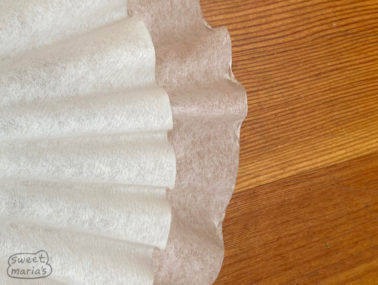 I'm repeating the answer from the similar question above here: Cheap supermarket filters tend to be very thin visually and to the touch. We have compared commercial basket filters and found that holding them up to light shows thinness, and amount of loose paper pulp fibers, both signs of a cheap-ass filter! Most well-known brand name filters use higher quality filter paper. See our photos below for visual demonstration of a good vs cheap filter paper material.
Size, shape, design of paper coffee filters
Does the coffee filterA mechanism (usually paper or a metal or nylon mesh) for straining coffee ground from brewed coffee. ...more shape impact the taste of the cup?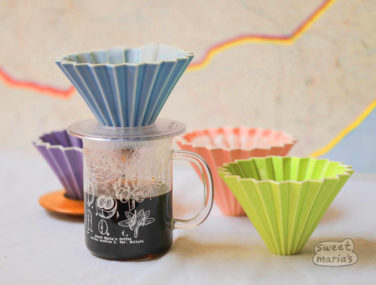 Yes, but exactly how much this matters for your daily brew isn't clear. For example, brew technique, water temperature and quality, grind, coffee quality and freshness, steep time … these are all big factors on the resulting cup taste. If you could eliminate all of those variables and brew a Kalita type flat bottom vs a Hario V60 pointy bottom, what difference might you expect? A very small one. But it has been tested and shown that the shape of the filter / dripper matters. We actually feel this test overstates the difference that most people would find though, and doesn't truly account for all the other variables to isolate the filter shape sufficiently. (Another SCASCA is the newly formed global coffee association for Specialty Coffee. The former organization called SCAA was incorporated into the new group. The main commercial coffee group is... ...more paper argues that brew temperature does not matter that much … very hard to believe).
Does the filter holder design influence the taste of the cup?
People who compete in brewing competitions say yes, absolutely. How much that matters for the rest of us, it is tough to say. Flat bottom vs V bottom seems to matter, as we point out above. Within a certain type of pour-over brewer …let's say the V60 pointy filter type that includes Hario, Origami, and others, the thermal properties of the materials and the texture or form of the walls impact how the coffee drains, and how stable the temperature is. This would make the barista pour differently to maintain temperature and rate of drainage. The Origami for example has less contact area with the filter, allowing drainage from more surface area of the filter sidewalls, while allowing more atmosphere around the brew. The Chemex, with smooth glass walls, is quite different in that regard, for example.
What are the sizes and shapes of coffee filters Sweet Maria's sells?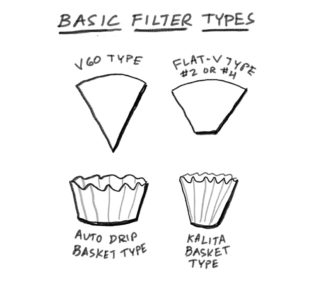 In paper, we offer V shaped, flat bottom "basket" type, and Melitta filters that are sort of a "hybrid of V "Flat V" hybrid. We have 6-8 cup flat-bottom filters that fit many standard automatic coffee makers (although some us the Melitta "Flat V" type), and flat-bottom Kalitta Wave filters. Then there are the pointed Chemex Filters, though in some cases you can use a Hario V60 in a Chemex. Their unique shapes make them fairly easy to match up to the appropriate brewer, and they work with a lot of brewers we don't sell too. We also have round disc shaped filters for the Aeropress. Most of our reusable cloth and stainless filters are specific to the Yama vacuum brewerA vacuum brewer works by heating water, pushing it into a chamber with coffee grounds, and then sucking the water back. Vacuum brewers produce a clean, aromatic cup.:... ...more, though we do sell a stainless mesh filter option for the Aeropress too! And of course we supply replacement filter screen for French Press brewers.
Sweet Maria's Coffee Filter Selection: Sizes, Types and Dimensions
While this photo set it not complete (we are missing Chemex for one) here is some useful information on filter types and sizes: