(04/04/12)
So I am fresh off my 2nd originIn coffee talk, it refers to a coffee-producing region or country; such as, "I was just at origin." Of course "Origin" for most product we use is not a beautiful farm in a temperate climate, trip with Coffee Shrub which took me to El SalvadorEl Salvador coffee had an undeservingly poor reputation for years, marred mostly by the inability to deliver coffee of high quality in an unstable political climate. Unfortunately, agriculture is the first to suffer in revolution,, GuatemalaGuatemalan coffee is considered a top quality coffee producer in Central America. Due to our proximity to Guatemala, some of the nicest coffees from this origin come to the United States. : Guatemalan growing regions and PanamaPanama coffee ranges from medium quality lower altitude farms to those at 1600 - 1800 meters centered in the area of Boquete in the Chirqui district near the border with Costa Rica. Some farms feature. Although I'm hoping to focus my efforts on some of the lesser traveled, more-difficult-to-source producing countries i.e. PeruPeruvian coffees have Central American brightness but in a South American coffee flavor package overall. The good organic lots do have more of a "rustic" coffee character.: Organic Peru ... you can get it anywhere, EcuadorEcuador has everything it takes to grow great coffee. Positioned between Colombia and Peru, the interior mountain ranges have plenty of altitude, weather patterns, and ideal soil for quality coffee production.: Coffee has a long, BurundiBurundi coffee bears resemblance to neighboring Rwanda, in both cup character, but also the culture surrounding coffee. Burundi is a small landlocked country at the crossroads of East and Central Africa, straddling the crest of, UgandaWhile Arabica was introduced at the beginning of the 1900's, Robusta coffee is indigenous to the country, and has been a part of Ugandan life for centuries. The variety of Wild Robusta Coffee still growing, etc I also wanted to make sure that our arsenal includes some of the finer Central American coffees come spring/summer.
El Salvador has a historically low crop this year with certain farmers telling me that they are down as much as 80% from last year! Getting our hands on the higher echelon quality hasn't been easy but we are happy with what we've come up with. La Montanita BourbonA coffee cultivar; a cross between Typica and Bourbon, originally grown in Brazil: Mundo Novo is a commercial coffee cultivar; a natural hybrid between "Sumatra" and Red Bourbon, originally grown in Brazil. It was developed is classic – layered sweetnessSweetness is an important positive quality in fine coffees, and is one of five basic tastes: Sour, Sweet, Salty, Bitter, Savory (Umami). In coffee, sweetness is a highly desirable quality, and the green bean has, ripe stone fruit qualities and superlative balanceSuggests a harmony and proportion of qualities, and implies mildness since no one quality dominates.: Balance is both an obvious and slippery taste term. It implies a harmony and proportion of qualities, and perhaps a. Its a small lot worth taking a look at. We're also bringing in two larger lots from Finca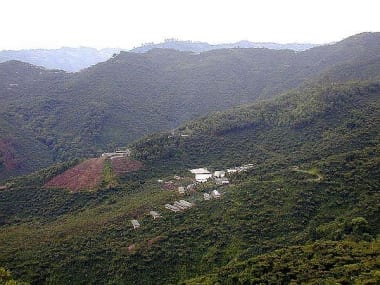 Spanish 101: Finca is the Spanish word for farm. Sometimes the term Hacienda is used to imply an Estate, which would mean the farm has its own wet-mill. A Finca does not necessarily have a El Majaual in Santa Ana. This farm has been a staple espressoA small coffee beverage, about 20 ml, prepared on an espresso machine where pressurized hot water extracted through compressed coffee.: In its most stripped-down, basic form, this is a working definition for espresso: A small component in my previous life and can produce a very approachable brewed cup as well. I love the Majaual not only for its succulent sweetness, heavy cream-like mouth feel and tremendous balance but mostly for its preparationPreparation refers to the dry-milling steps of preparing coffee for export: hulling, grading, classifying, sorting.: Preparation refers to the dry-milling steps of preparing coffee for export: hulling, grading, classifying, sorting. Sorting means using density sorters. The folks we work with on the dry millA facility that accepts dried coffee cherry and mechanically separates the coffee bean from the dried fruit and parchment layer. The facility can be highly mechanized, as in Ethiopia, or very simple, as in Yemen. level in El Salvador have as good a control on cleaning green coffee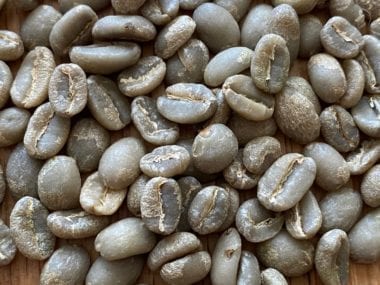 Green coffee refers to the processed seed of the coffee tree fruit. Coffee is a flowering shrub that produces fruit. The seeds of the fruit are processed, roasted, ground and prepared as an infusion.: Coffee for export as anyone I've worked with in Latin America.
Visits to Guatemala always seems to rewards in some manner especially in March. Via some established strategy prior to last year's end we've set ourselves up with some fancy small producer lots in and around Sacatepequez. We've done our best to construct lots based on both producer and profile and will have a vast selection by month's end if not sooner. You'll be hearing from us about them as well as a new project we'll soon be undertaking north of Antigua.
Panama. Panama. Panama. I went back to the well as I always do. There aren't many producers who have the complete skill set that my old pal Ricardo has. He's a graduate of one of the world's finest AgronomyScience and study of crops and soils: A branch of agriculture dealing with field-crop production, soil management and physiology of crop plants as its focus. Universities, Zamorano and a great cupperOne who cups, or tastes and evaluates, coffee.: A cupper is a person who performs the somewhat formal analysis of coffee quality, called cupping. See the definition of cupping for more information. It has nothing. I've had much success with his organicGrown without the use of artificial fertilizers, herbicides, etc.: Organic coffee has been grown according to organic farming techniques, typically without the use of artificial fertilizers. Some farms have more local Organic Certification than the farm in the past and look forward to adding to my repertoire, from his, this year with the addition of a new farm from great altitude in Volcancito. We're also scouring the Volcan Baru Valley for some interesting Geisha lots this year and hope to bring you all something fun in the form of a few different lots. Keep your fingers crossed.
I'll be looking to post something about the treasure chest of coffees we're doing from Ethiopia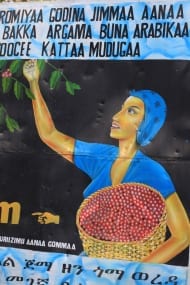 Ethiopia is the birthplace of coffee: it is in the forests of the Kaffa region that coffee arabica grew wild. Coffee is "Bun" or "Buna" in Ethiopia, so Coffee Bean is quite possibly a poor this year soon. In the meantime know that they're shipping now and will be here by June.
OK, time to check-in in South America….
Cheers,
Aleco