3/29/2019
Here's the emailer that we sent on 3/29. If you want to subscribe, sign up on the bottom of our homepage.

We're rolling out The Special as a simple, quick way to order an 8 pound set of green coffee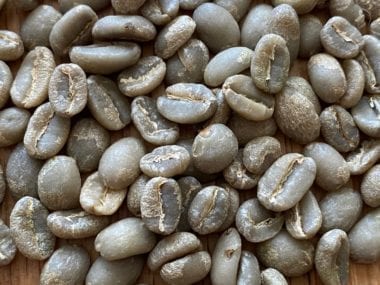 Green coffee refers to the processed seed of the coffee tree fruit. Coffee is a flowering shrub that produces fruit. The seeds of the fruit are processed, roasted, ground and prepared as an infusion.: Coffee and know you're getting a good deal. You get 2 pounds of each of the coffees below for only $40.
-Ethiopia Agaro Sadi Loya Coop
-Flores Wolo Bobo
-Brazil Don Jose Maria Yellow CatuaiCatuai is a high-yield Arabica cultivar resulting from a cross of Mundo Novo and yellow Caturra. The tree is short, with lateral branches forming close angles to the primary branches. It is robust and can
-Guatemala Xinabajul Cuilco Productores

BurundiBurundi coffee bears resemblance to neighboring Rwanda, in both cup character, but also the culture surrounding coffee. Burundi is a small landlocked country at the crossroads of East and Central Africa, straddling the crest of Honey Process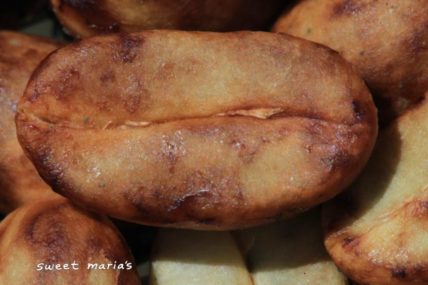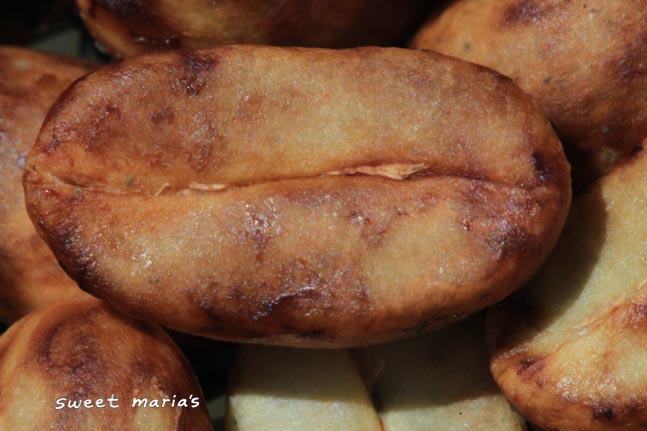 "Red honey" process gesha at a coffee farm in Costa Rica's Central Valley growing region. The honey process has nothing to do with honey other than the fact that they're both sticky! It's a term Murambi – City+City+ roast is an ideal roast level that occurs roughly between 425 and 435 degrees Fahrenheit in many coffee roasters with a responsive bean probe where First Crack starts in the 395 to 405 degree brews are centered around honeyIn coffee, honey-like sweetness is often found, but we use terms such as refined honey (highly filtered and processed) as opposed to raw honey rustic honey sweetness. This form of sweetness is largely a dynamic, syrupy mouthfeelHow a coffee feels in the mouth or its apparent texture, a tactile sensation : A major component in the flavor profile of a coffee, it is a tactile sensation in the mouth used in, molasses bread, pulpyCan refer to fruited flavor or sometimes mouthfeel. In terms of flavor, which is how we normally use it, pulpy fruit, it tends toward the rustic side of things, distinct from dried fruit or over-ripe fruit, lemongrass accent, and inky bodyAssociated with and sensed by mouthfeel, body is sense of weight and thickness of the brew, caused by the percentage of soluble solids in the cup, including all organic compounds that are extracted from brewing. Big dark chocolate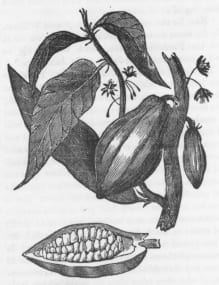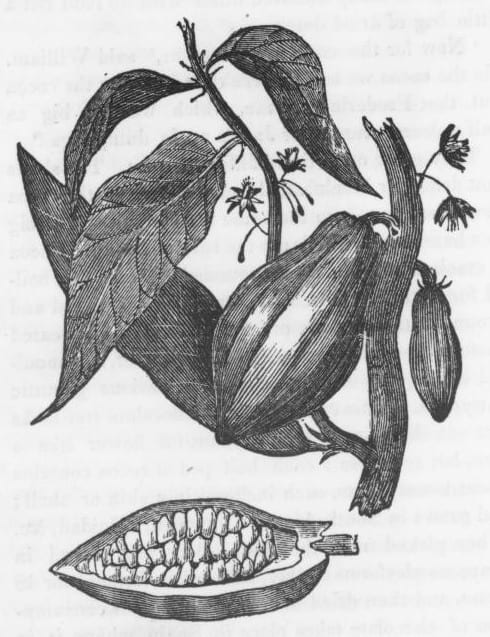 A general flavor or aroma term reminiscent of chocolate. But what type? Usually described with more specifics.: Chocolate is a broad, general flavor or aroma term reminiscent of chocolate. But what type? There are so flavors at Full City along with a maraschino cherry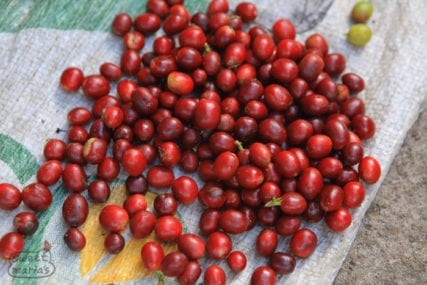 Either a flavor in the coffee, or referring to the fruit of the coffee tree, which somewhat resembles a red cherry.: Either a flavor in the coffee, or referring to the fruit of the coffee note.
Papua New GuineaPapua New Guinea (PNG) occupies the eastern half of the island it shares with the Indonesian province of Irian Jaya, part of Indonesia. The two primary areas for coffee production can be grouped roughly as Baroida EstateA "coffee estate" is used to imply a farm that has its own processing facility, a wet-mill. In Spanish this is called an Hacienda. A Finca (farm) does not necessarily have a mill. (And Finca – A sweet, earth-toned coffee with herbalA flavor descriptor in coffee reminiscent of herbs, usually meaning aromatic, savory, leafy dried herbs. Usually, more specific descriptions are given, whether is is a floral herb, or sage-like, etc. In reality, there are very honey sweetnessSweetness is an important positive quality in fine coffees, and is one of five basic tastes: Sour, Sweet, Salty, Bitter, Savory (Umami). In coffee, sweetness is a highly desirable quality, and the green bean has, accents of basil and fresh tarragon, a saturated green tea flavor, rusticA general characterization of pleasantly "natural" flavors, less sophisticated and less refined, but appealing. : What is Rustic? This is a general term we came up with... Dried Apricots from Sun Maid at the supermarket, palm and date sugars, tart citrus, and sandalwood aroma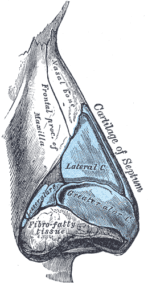 Aroma refers to sensations perceived by the olfactory bulb and conveyed to the brain; whether through the nose or "retro-nasally": The aromatics of a coffee greatly influence its flavor profile and come from the perception.
KenyaKenya is the East African powerhouse of the coffee world. Both in the cup, and the way they run their trade, everything is topnotch.: Kenya is the East African powerhouse of the coffee world. Both Nyeri Gichichi AA – Gichichi is a vibrant Kenya, with fruitedIn some coffee taster's lexicon, "fruity" means the coffee is tainted with fruit, and "fruited" means a coffee is graced by positive fruit notes. We don't exactly see the difference in terms of these two sweetness that falls somewhere between berry/raw sugar reductions and grape juice, with accents of orange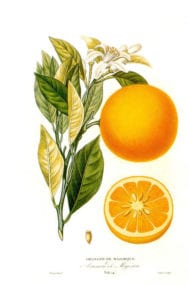 Orange aromatics and flavors are prized in coffee, whether they take the form of sweet orange flesh and pulp, or orange peel. Orange flavors or aromatics can range in degrees of ripeness, which also involves, dried cranberry, cascara tea, and strawberry lemonade.
PeruPeruvian coffees have Central American brightness but in a South American coffee flavor package overall. The good organic lots do have more of a "rustic" coffee character.: Organic Peru ... you can get it anywhere Huabal San Francisco – Toasted sugar, bittering cocoa notes, red fruit accents, and soft tea-likeA term used to describe coffees with light, tannic, slighly astringent mouthfeel and tea aromatics. We find it in some Rwandan flavor profiles, among others. acidic impression. Deeper roasting brings out flavor qualities akin to German chocolate cake with berry filling.
Nicaragua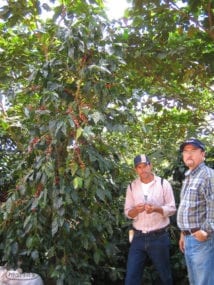 Nicaraguan coffees from the Segovia, Jinotega, Ocotal and Matagalpa regions are nice balanced cups. They often possess interesting cup character along with body and balance, outperforming many other balanced Central American and South American high-grown Honey Process Buenos Aires MaracaturraAs the name indicates cross between large-bean Maragogype and Caturra cultivars. : As the name indicates cross between large-bean Maragogype and Caturra cultivars. It seems to be found most in Nicaragua, although I am not – Marzipan aroma and flavors of molasses, nougat, burntBurnt flavors in coffee are the result of over-roasting, fast roasting, or roasting in a high-heat environment. This often occurs when the initial roaster temperature when the green coffee is introduced is too high. Usually, sugar candies, almond, and a dried apple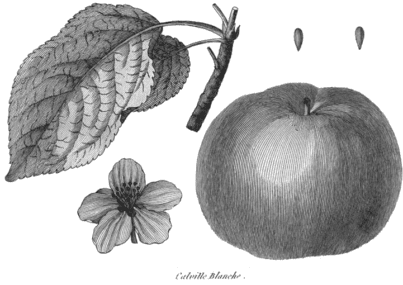 An acid that adds to favorable perceptions of cup quality; malic acid often adds apple-like acidity, and perhaps other taste aspects recalling apples. Malic acid is yet another of the many acids that adds to accent note. Pleasing tea-like acidity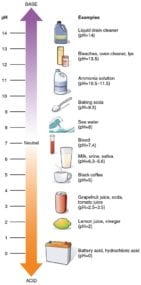 Acidity is a positive flavor attribute in coffee, also referred to as brightness or liveliness. It adds a brilliance to the cup, whereas low acid coffees can seem flat. Acidity can sound unattractive. People may comes into view in light roasts too.
Peru Huabal Perlamayo – Raw sugar sweetness, hazelnut and walnut accents, along with dried apple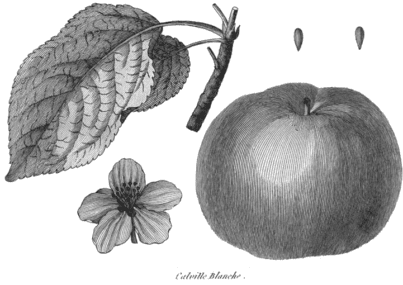 Apple-like flavors in coffee can take on many different forms. The more common ones we use relate to malic acid brightness, which can recall different apple types: green (Granny Smith type for example), red apple and peach tea. BittersweetBittersweet is from the language of chocolate, and describes the co-presence of positive bittering compounds balanced by sweetness. It is directly related to caramelization, but has inputs from other roast reactions, as well as bittering the darker you roast, and fruited hints hold up to roast development. Good for espressoA small coffee beverage, about 20 ml, prepared on an espresso machine where pressurized hot water extracted through compressed coffee.: In its most stripped-down, basic form, this is a working definition for espresso: A small.
SumatraIndonesians are available as a unique wet-hulled or dry-hulled (washed) coffees. Giling Basah is the name for the wet-hulling process in Bahasa language, and will have more body and often more of the "character" that Honey Basah Jernih Jaya – This unique hybrid process technic constructs a complexThe co-presence of many aroma and flavor attributes, with multiple layers. A general impression of a coffee, similar to judgments such as "balanced" or "structured" fruited cup: rice syrup sweetness, berry, cooked pineapple, dried papaya, canned stone fruit and an herbal overlay that adds a Lintong-like hue.

Limmu Kossa in Western Ethiopia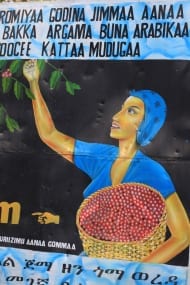 Ethiopia is the birthplace of coffee: it is in the forests of the Kaffa region that coffee arabica grew wild. Coffee is "Bun" or "Buna" in Ethiopia, so Coffee Bean is quite possibly a poor is an extraordinary place. It's a 350 hectare (about 1.35 square miles) organicGrown without the use of artificial fertilizers, herbicides, etc.: Organic coffee has been grown according to organic farming techniques, typically without the use of artificial fertilizers. Some farms have more local Organic Certification than the and rain forest certified coffee farm. Tom shot this video during his last visit.