Also on this page:

Maturing of the Coffee CherryOriginally coffee literature referred to the fruit of the tree as a "berry" but in time it became a cherry. It is of course neither. Nor is the... ...more

 

ProcessingThe removal of the cherry and parchment from the coffee seed.: Coffee is either wet-processed (also called washed or wet-milled) or dry-processed (also called wild, natural or natural... ...more Stages of the Coffee CherryEither a flavor in the coffee, or referring to the fruit of the coffee tree, which somewhat resembles a red cherry.: Either a flavor in the coffee, or... ...more

I have tried and failed many times to get images that adequately represent the roast process. It's not easy! And frankly I am not happy with the set of images you see below. But we have so many questions about the visual clues that indicate "degree of roast" that I think its better to share these fairly useful images than wait until I get it perfect!
Visual examination during roasting is one of the ways to determine where the coffee is in the roast process. By itself, it is of limited use. When complimented by the audible cues (first and second crackAfter First Crack, a roast reaction around 440 to 450 degrees that is distinguished by a snapping sound. Second Crack is the second audible clue the roaster-operator receives... ...more) and the aromas of the roast process, it is extremely informative. Beware that coffee is more about exceptions that rules; Sumatras often look like they are in the City roastCity roast is what we define as the earliest palatable stage that the roast process can be stopped and result in good quality coffee. City roast occurs roughly... ...more while in fact they are into 2nd CrackAn audible popping sound heard during roasting. In coffee, one refers to "first crack" and "second crack," which come from two different classes of chemical reactions.: An audible... ...more. On the other hand, there is an occasional coffee that over-represents the degree of roastDegree of Roast simply means the roast level of a coffee, how dark it has been roasted.: Degree of Roast simply means the roast level of a coffee,... ...more, that looks darker than it truly is, such as some Kenyas and St. Helena (and some would say that dry-processed Brazils are in the category too). Dry-processed "natural" coffees do not roast to an even color, so it is hard to judge the median color of the batch to determine the degree of roast. And none of these factors necessarily have a bearing on the quality of a raw coffee: quality is determined in the cup!
Also on the subject of quality, there is a lot of confusion about the "best" roast for a coffee. You see advertising for "deep roasted" coffee, or "slow-roasted" coffee, both are relative to the type of roaster or just plain old nonsense (have you ever seen "shallow-roasted coffee?). I subscribe to the idea that the best roast is the one that maximizes all the "originIn coffee talk, it refers to a coffee-producing region or country; such as, "I was just at origin." Of course "Origin" for most product we use is not... ...more character" of the coffee … that reveals the maximum degree of quality that identifies the unique character of the place the coffee is from. This is usually associated with a lighter "City" roast, which is often a bit less attractive in appearance than a Full City roastA coffee that has been roasted to the brink of second crack.: A coffee that has been roasted to the brink of second crack. The internal bean temperature... ...more where the color of the coffee is more even and the beans have reached a greater expansion. But once again, we judge coffee by the cup quality, not by its handsome appearance as roasted or raw seeds. I consider coffees roasted to a greater degree to have "roast character" that often eclipses "origin character". This coffee is roasted in a particular "style" where the origin of the coffee becomes secondary to the flavors of the roast. At some point between French and fire, it really doesn't matter much what the "origin character" of the coffee was …
It's going to be up to you, home roaster, to navigate the variables of roasting to create the coffee you truly enjoy. This may be a darker roast than I recommend but stand your ground, and brave the smoke! The experience of finding the combination that suits your senses only deepens the appreciation for the great varietyA botanical variety is a rank in the taxonomic hierarchy below the rank of species and subspecies and above the rank of form (form / variety / subspecies... ...more of coffee we are blessed with, and the enjoyment of the diverse cup qualities available to you…
Degree of Roast, Temperature, Description

Picture of Roast

, Comments


(click on preview for full size image)

Green CoffeeGreen coffee refers to the processed seed of the coffee tree fruit. Coffee is a flowering shrub that produces fruit. The seeds of the fruit are processed, roasted,... ...more:

Most images here are of Guatemalan Antigua Bella Carmona, a wet-processed Central American coffeeCentral American coffee is known for its "classic," balanced profile.: Central American coffee is known for its "classic," balanced profile. Centrals are primarily wet-processed since the climate is... ...more screened to 17 to 18/64ths. It is a high quality SHB (Strictly Hard BeanA classification used in some countries in Central America (Guatemala, Costa Rica) indicating the coffee was grown at an altitude above 1200 feet/4000 meters: In Costa Rica, a... ...more) high grownHigh Grown, or HG, is a coffee designation that can mean different things in different countries. : High Grown, or HG, is the highest quality Mexican coffee designation... ...more coffee, and you will notice a considerable amount of chaffChaff is paper-like skin that comes off the coffee in the roasting process. Chaff from roasting is part of the innermost skin (the silverskin) of the coffee fruit... ...more clinging to the coffee which only indicates that this coffee was not polished (an unnecessary, silly practice anyway).

This coffee should give you a good, general idea of roast appearance but every coffee type is different! Dry-processed coffees are not sorted in the wet-mill process, it is done entirely by hand, visually. So the coffee roasts more uneven from seed to seed. Even color is NOT and indicator of roast quality, or coffee quality!

Yellow Stage:

200-250 degrees f. internal bean temperature

At the yellow stage the coffee has a wet-hay or humid grassyGreenish flavor in the cup, usually indicating early crop, unrested coffee.: Greenish flavor in the cup, usually indicating early crop, unrested coffee. This is a fresh cut grass... ...more smell as moisture begins to be liberated from the coffee and often you will see steam (not smoke) rising from the roaster. Some coffees become quite orangeOrange aromatics and flavors are prized in coffee, whether they take the form of sweet orange flesh and pulp, or orange peel. Orange flavors or aromatics can range... ...more at this time, while others are tan. Sumatras have a unique aromaAroma refers to sensations perceived by the olfactory bulb and conveyed to the brain; whether through the nose or "retro-nasally": The aromatics of a coffee greatly influence its... ...more early in the roast, and earthy-grassy smell.

I missed the image of the yellow stage with the GuatemalaGuatemalan coffee is considered a top quality coffee producer in Central America. Due to our proximity to Guatemala, some of the nicest coffees from this origin come to... ...more but had this image of a Costa Rican Tarrazu. I can tell by bean shape that it is a CR, and these coffees become very yellow in this stage, unlike the Guatemalan above. But nonetheless, it represents the yellowing stage well.

Light Brown Stage:

250-300 degrees f. internal bean temperature

At this time the coffee has a toasted grain or baked bread smell. Up until first crackFirst crack in one of two distinct heat-induced pyrolytic reactions in coffee. It is distinguished by a cracking or popping sound in the coffee, and occurs between 390... ...more the coffee is undergoing an endothermicA term applied to thermodynamic reactions, referring to one that absorbs heat. Most parts of the coffee roasting process are endothermic, as coffee acquires heat from the environment.... ...more reaction, taking on heat, but as it undergoes first crack (next image) the reaction becomes exothermicA term applied to thermal reactions, referring to one that releases energy. A classic example is burning. Most parts of the coffee roasting process are endothermic, but first... ...more, releasing heat/energy.

 

First Crack Begins:

355 degrees f. internal bean temperature, 395-405 f by thermo-probe

As first crack begins the coffee still appears mottled and uneven in color, as the coffee first starts its expansion in size that is marked by the cracking of the seed. Moisture is being liberated from the interior of the coffee and as it expands the crease in the seed usually opens enough to allow much of the remaining chaff to be released. Since first crack is an exothermic reaction, the beans are giving off heat in first crack, but the quickly become endothermic, meaning that a roaster that is not adding enough heat to the process will stall the roast at this point …not a good thing. Once caramelizationA reaction involving sugars that occurs during coffee roasting. A caramelized sugar is less sweet, but has greater complexity of flavor and aroma. Caramelization is slower than Maillard... ...more begins (340-400 degrees) a roast that looses heat will taste "baked", perhaps due to the disruption on long-chain polymerization. The melting point of sucroseSucrose is important to the taste of sweetness in light roast coffees, as it is completely converted or destroyed in darker roasts.: Sucrose is largely destroyed by the... ...more is 370 f and corresponds to this window of temperatures when caramelization begins.

 

City Roast, City+City+ roast is an ideal roast level that occurs roughly between 425 and 435 degrees Fahrenheit in many coffee roasters with a responsive bean probe where First Crack... ...more Roast*:

400 – 415 degrees f. internal bean temperature, 425-435 f by thermo-probe

The coffee has completed the First Crack, and has been allowed to brown up a little, but Second Crack has not sounded yet. Not the slightly rough texture the coffee surface, and how it is crazed with darker lines. At this point the coffee has expanded due to the outgassing of First Crack, marking the point where water and carbon dioxide go their separate ways.

In terms of cup qualities, at this stage and the light Full City below you will have the best chance to sense the Origin Character of the coffee, although this style of roast might not appeal to your palate. In fact, at this degree of caramelization you have (perhaps) caramelized 50% of the sugars. Non-caramelized sugars cup sweeter than the bittersweet-bitter caramelized ones, so here you have a compliment of the presence of both, lending dimension to the cup character. The roast temperature window of 400-425 represents the "peak of flavor" roast temperatures.

Full City Roast, Full City+ RoastA roast slightly darker than Full City. At Full City+, the roast is terminated after the first few snaps of second crack. The main cue that distinguishes the... ...more*

415-425 degrees f. internal bean temperature, 438-448 f by thermo-probe

This image represents a lighter Full City roast, where the coffee has just barely showed signs of 2nd crack -a snap or two-, or that 2nd crack is imminent, and the roast is stopped. The actual temperature that second crack normally occurs is higher: 446 degrees f internal bean temperature. But in fact second crack is a little less predictable than first crack, in my experience. Why? It could be explained as this: first crack is the physical expansion of the coffee seed as water and carbon dioxide split and CO-2 outgassing occurs. Second Crack is the physical fracturing of the cellular matrix of the coffee. This matrix is wood, also called celluloseCellulose is the principle fiber of the cell wall of coffee. It is partially ordered (crystalline) and partially disordered (amorphous). The amorphous regions are highly accessible and react... ...more, and consists of organized cellulose that reacts readily to heat, and not-so-organized cellulose that does not. Since every coffee is physically different in size and densityThe density of a coffee bean is often taken as a sign of quality, as a more dense bean will roast more with a better dynamic. The density... ...more due to the cultivarCultivar is a term used interchangeably with Varietal in the coffee trade to indicate plant material, although there are distinctions.: The naming of a cultivar should conform to... ...more, origin, altitude, etc. it might make sense that the particular cell matrix is different too, and not as universally consistent in reactiveness as H-2O and CO-2.

*City, Full City note: I have been dividing up the roasts around City and Full City into finer distinctions using the + sign. So City (or sometimes I write "true City roast" means the coffee has fully cleared 1st crack, and the roast is stopped (about 425-430 f). City+ means the coffee has cleared first crack, and time is allowed for an even bean surface appearance to develop, about 435f usually. Full City, or "true Full City" is where the coffee is roasted to the verge of 2nd crack without entering it, which is about 440-445f. Full City+ is where the coffee is roasted to the verge of 2nd crack and enters it slightly, but the coffee is dumped/roast is ended at that point, so the batch has no momentum to truly enter 2nd crack, roughtly 445-448f. Beyond that and we are talking Vienna roastVienna roast occurs at the beginning of second crack. The Vienna stage is where you begin to find origin character eclipsed by roast character.: Vienna roast occurs at... ...more in my book. The temperatures in this paragraph are not internal bean temperatures, but probed bean temperatures from my Probat roaster.

Full City Roast+, on the dark side … see note on the + sign above.

430-445 degrees f. internal bean temperature, 450 f by thermo-probe

This image represents the darker side of a Full City roast, where the coffee has barely entered 2nd crack, and 10 seconds of snaps are heard, and the roast is then stopped. Compare the full size images from the lighter Full City roast and this one, and I think it is easier to see a difference. Well, maybe I shouldn't say it is easy, since the main cue that would distinguish the difference between the two is audible, not visual.

Vienna Roast:

450-465 degrees f. internal bean temperature, 455-465 f by thermo-probe

An aggressive Full City roast and beyond into the Vienna stage (also called Continental) is where you begin to find Origin Character begin to be eclipsed by Roast Character. If you buy coffee for its distinct origin qualities, it makes sense that heavy roasting is at odds with revealing the full effect of the differences we can sense in coffee due to distinct origins.

EspressoA small coffee beverage, about 20 ml, prepared on an espresso machine where pressurized hot water extracted through compressed coffee.: In its most stripped-down, basic form, this is... ...more is not a roast. But Northern Italian style espresso is usually roasted to 440 -460 internal bean temperature. Southern Italian (Scura) is generally a French RoastSugars are heavily caramelized (read as burned) and are degraded; the woody bean structure is carbonizing, the seed continues to expand and loose mass, the body of the... ...more.

---

Full French Roast –Italian Roast (no picture)
475-510 degrees f. internal bean temperature, 470-490 f by thermo-probe, or more (!)

Sugars are heavily caramelized and begins to be degraded; the woodyGenerally a taste defect from age; old green coffee, perhaps yellowing in color. This is due to the drying out of the coffee over time, and as the... ...more bean structure is carbonizing, the seed continues to expand and loose mass, the bodyAssociated with and sensed by mouthfeel, body is sense of weight and thickness of the brew, caused by the percentage of soluble solids in the cup, including all... ...more of the resulting cup will be thinner/lighter as the aromatic compounds, oils, and soluble solids are being burned out of the coffee and rising up to fill your house with smoke.

---

Spanish Roast (no picture)

520-530 degrees f. internal bean temperature, fire coming soon!

At this point the coffees flavor-contributing compounds are severely degraded, the cellular matrix of the coffee is completely ruptured, the soluble solids content of the coffee is diminished (so the cup will not have body and taste "thin"), and fire will soon ensue… the mythic and dreaded "third crack".
---
The Coffee Cherry
| | | |
| --- | --- | --- |
| Coffee is a deciduous, shrub-like tree. Most cultivars used in commercial production are pruned back each year to less than 8 feet in height, and every 8-10 years the tree is pruned nearly to the ground. The life of the tree in terms of good coffee production can be 50 years, and it will live much longer but will probably stop producing coffee with good organolepticOrganoleptic refers to any sensory properties of, in this case, the coffee beverage. It involves flavor, color, odor and mouthfeel. Organoleptic testing involves inspection through visual examination, smelling... ...more qualities at some point. | | |
The coffee cherry matures for about 5-6 months on the branch! At any time in this period it is susceptible to damage from weather, rain (or lack thereof), hail, insect damage, etc. Below is an image of coffee from green, to ripe (second from right) to rotten. The cherry must be ripe when picked, which is why all quality coffee is harvested by hand. At any given time a branch contains ripe and unripe fruit simultaneously so picking is done with continuous passes on the same trees.
Bad coffee is picked less discriminately, and the cup quality bears this out. Green cherry is unacceptable in good coffee. Yellow to red cherry is not necessarily going to ruin a cup, but ideally all fruit is deep red to crimson. Overripe cherry can give interesting nuance to a cup in small amounts and ruin it if there is too much. In the wet-process method, cherry must be depulped within 6-12 hours after picking or it will began to rot.

In dry-processing, the whole ripe coffee cherry is laid out on patios to sun-dry. Then the seed is milled out of the cherry once the moisture content is down to about 12%. So in the image below you basically jump from the far left to the far right in one step. It can be done in remote areas without water or electric, one reason this is ideal for small-plot farms. But only coffee for local markets is processed this way in Central America.
In wet-processing the coffee cherry is harvested by hand, and brought to the wet millThe wet mill is a processing center where coffee cherry from the tree is brought for initial processing.: The wet mill goes by many names (Beneficio, Factory, Washing... ...more in baskets. In Guatemala a full basket is called a Quintal. The cherry enters a deep water flotation tank. Ripe cherry sinks, unripe cherry floats. The floatersFloaters are defective coffee cherries or depulped seeds that float to the surface of a water bath.: During the wet-process method, coffee cherry or the de-pulped (without skin)... ...more are skimmed off the surface and the ripe cherry enters the pulper. At this stage the external skin of the fruit is removed/abraded and the fruityIn some coffee taster's lexicon, "fruity" means the coffee is tainted with fruit, and "fruited" means a coffee is graced by positive fruit notes. We don't exactly see... ...more, pulpyCan refer to fruited flavor or sometimes mouthfeel. In terms of flavor, which is how we normally use it, pulpy fruit, it tends toward the rustic side of... ...more muscilage is exposed. The coffee then enters a water tank to fermentAs an aroma or flavor in coffee, ferment is a defect taste, resulting from bad processing or other factors. Ferment is the sour, often vinegar-like, that results from... ...more. FermentationA key part of the wet process of coffee fruit is overnight fermentation, to break down the fruit (mucilage) layer that tenaciously clings to the coffee seed, so... ...more is natural and it begins to break down the remaining musilage and makes the wall of the parchmentGreen coffee still in its outer shell, before dry-milling, is called Parchment coffee (pergamino). In the wet process, coffee is peeled, fermented, washed and then ready for drying... ...more (the tough blonde-colored inner layer surround the seed) thin. Fermentation is carefully controlled to avoid giving the coffee any off flavors, and lasts between 12-48 hours, sometimes as much as 72 hours in colder, high altitude locations. Then the coffee is channeled in a water stream to the drying patio. At this point it appears as the third from the third from the left (count the split halves of the seed as 1.) Drying is anywhere from 4-8 days depending on the weather, until the coffee reaches about 12% moisture content, and it will shrink a bit in size (third from right). It is now ready for the dry millA facility that accepts dried coffee cherry and mechanically separates the coffee bean from the dried fruit and parchment layer. The facility can be highly mechanized, as in... ...more (dry beneficio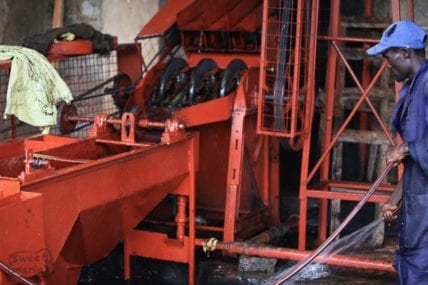 In Kenya, a "Factory" is actually a coffee wet mill (called a washing station in other parts of Africa) where the fresh cherry is brought for wet-processing. It... ...more) where it is removed from parchment, sorted by density and screened, hand prepped, and bagged for export (far right)!

---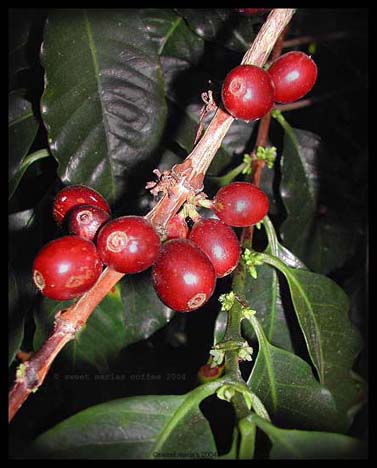 Ripe coffee cherry on the tree, Coffea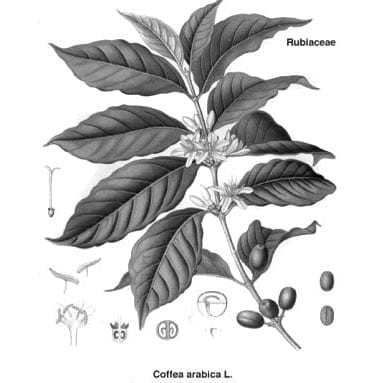 The botanical genus colloquially referred to as the "coffea genus," which is comprised of over 120 individual species. These are generally opposite-leaved, evergreen shrubs or small understory trees... ...more ArabicaArabica refers to Coffea Arabica, the taxonomic species name of the genus responsible for around 75% of the worlds commercial coffee crop.: Arabica refers to Coffea Arabica, the... ...more var. Caturra at La Minita farm, Tom, 2004