Thompson demonstrates a Popper roast from start to finish, aiming for a Full City Plus roast with just a bit of Second Crack.
Some people have requested roast profiles for the Popper coffee roasterA machine for roasting coffee. Or the person operating it! The basic requirements for a coffee roaster are a heating element that gets suitably hot and a mechanism... … or some guidance on how to approach the roast. More specifically, how to roast to get toward Full City+City+ roast is an ideal roast level that occurs roughly between 425 and 435 degrees Fahrenheit in many coffee roasters with a responsive bean probe where First Crack... level, at the onset of 2nd crackAn audible popping sound heard during roasting. In coffee, one refers to "first crack" and "second crack," which come from two different classes of chemical reactions.: An audible.... To be honest, Popper, without some modification or tweaks, isn't great for roasting to full-on French RoastSugars are heavily caramelized (read as burned) and are degraded; the woody bean structure is carbonizing, the seed continues to expand and loose mass, the body of the..., ie, dark oily coffee! And Popper has a thermal safety cutoff that can interfere with second crackAfter First Crack, a roast reaction around 440 to 450 degrees that is distinguished by a snapping sound. Second Crack is the second audible clue the roaster-operator receives....
But a gentle roast curve is a way to minimize this, and also is a better roast profileRoast Profile refers to the relationship between time and temperature in coffee roasting, with the endpoint being the "degree of roast". Roast profiling is the active manipulation of... anyway!  I really like the espressoA small coffee beverage, about 20 ml, prepared on an espresso machine where pressurized hot water extracted through compressed coffee.: In its most stripped-down, basic form, this is... I get from the approach I show here in this video, where I am narrating a full batch from start to finishSimilar to aftertaste, but it refers to the impression as the coffee leaves the palate. Aftertaste is the sensations gathered after the coffee has left the mouth. We.... 
Roasting to second crack in Popper coffee roaster isn't hard, but as I say in the introduction to the video, it's the way you approach it that matters. Roasting quickly with high heat will trigger the thermal cut off for sure. Approaching it with more care is not only a much better way to develop nice, sweet roast tasteThe set of flavors that result from the degree-of-roast.: Roast Taste is a term we started to distinguish it from "Origin Flavor". We use the "roast taste" term... in your coffee, but also will allow for more roast development to darker stages.
My overhead camera got overheated by the roaster 2/3 of the way through. Bah! But I think the gist of it is there…
The details here: 95 grams of 95% wet processWet-processing starts by removing the outer skin of the coffee cherry with a machine called a pulper, then fermenting the remaining fruit (with green bean inside) in water... Ethiopia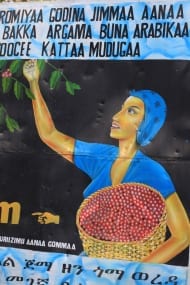 Ethiopia is the birthplace of coffee: it is in the forests of the Kaffa region that coffee arabica grew wild. Coffee is "Bun" or "Buna" in Ethiopia, so..., Roasted for a total of 10:30.
The popper is unmodified except for the addition of a thermometer probe. First crackFirst crack in one of two distinct heat-induced pyrolytic reactions in coffee. It is distinguished by a cracking or popping sound in the coffee, and occurs between 390... starts at 415 f. Finish roast temperature is 465 f. I'll show how I modify poppers for my testing and demos in another video / library page!
I use a narrow range of heat adjustment between 12:45 and 1:15 on the heat dial (reading the heat dial as a clock face). Oh, I added the paper cut out to the heat dial to read it better, just tacked on with a glue stick. 
When the overheat cutoff kicks in, I raise the temperature to 2:00 on the heat dial so that, when the heat coil comes back on 30 seconds later it will recover temperature quickly.
Home Coffee Roasters and French Roast Dark Oily Beans
Remember the '80s and dark oily coffee beans?
Popper is not the first choice for doing that kind of French/Italian roast. Most electric home roasters are not ideal for that kind of thing, actually.
I think people who only want very dark roasts are best served roasting in some manual way over a flame, such as in a barbeque, or stovetop pan or popper.
In some of my test roasters I do reposition the thermal switch to allow for higher roast temperatures, which is really simple to do. It means loosening a screw and shifting the bracket about 1/2 inch to 3/4 inch higher on the roast chamber. But I can't advise it because it voids the warranty to modify the machine, and while not really unsafe (the thermal switch is still wired and functional for safety), it's possible people can damage wiring or components in some other way if they open up the machine. So, you know … liability.
But roasting super dark all the time is hard on Popper or any roaster. In a pan or a barbeque drum, you're not going to hurt anything … well maybe your sense of smell from all the roast smoke!