In part 1 of Stretchin' Out the Roast we looked at the effect of stretching out the time and development between 1st and 2nd crackAn audible popping sound heard during roasting. In coffee, one refers to "first crack" and "second crack," which come from two different classes of chemical reactions.: An audible popping sound heard during roasting. In coffee, during the roast. The greatest effect was on the perceived acidity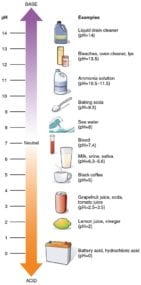 Acidity is a positive flavor attribute in coffee, also referred to as brightness or liveliness. It adds a brilliance to the cup, whereas low acid coffees can seem flat. Acidity can sound unattractive. People may and the type of sweetnessSweetness is an important positive quality in fine coffees, and is one of five basic tastes: Sour, Sweet, Salty, Bitter, Savory (Umami). In coffee, sweetness is a highly desirable quality, and the green bean has in the cup from malt to candy, then fruit and  into bittersweet-cocoa-type sweetness. In this article we look at the effect of stretching out the 1st crack itself and how that changes the sweetness, bodyAssociated with and sensed by mouthfeel, body is sense of weight and thickness of the brew, caused by the percentage of soluble solids in the cup, including all organic compounds that are extracted from brewing, and acidity in the finished roast.
What is happening during  1st crack? The coffee expands and begins to release moisture, but more importantly it is when caramelizationA reaction involving sugars that occurs during coffee roasting. A caramelized sugar is less sweet, but has greater complexity of flavor and aroma. Caramelization is slower than Maillard reactions, and requires higher temperatures. These reactions begins. This is important mostly because if caramelization stalls you can develop baked flavors in the cup – harsh cereal notes with strawA dried hay-like character due to age of the green coffee and the corresponding loss of organic material storage. and sometimes corn-like flavors. This makes the attempt to stretch out this part of the roast a little tricky, since you want to make sure that it never dips below the temperatures where caramelization occurs – between 340° and 400° INTERNAL bean temperature. Depending on your probe and roasting environment, this could be a reading of around 380°-415°, but a good rule of thumb is to just be sure not to let the crack itself stop or let it get below the temperature at which the 1st crack began.
I chose once again to use a BourbonA coffee cultivar; a cross between Typica and Bourbon, originally grown in Brazil: Mundo Novo is a commercial coffee cultivar; a natural hybrid between "Sumatra" and Red Bourbon, originally grown in Brazil. It was developed coffee from RwandaRwandan coffee was, at one time, rarely seen in the United States as either a Specialty grade or low-end commercial coffee. There simply was not that much coffee produced in Rwanda that went anywhere besides for this experiment. A coffee that has some delicate floral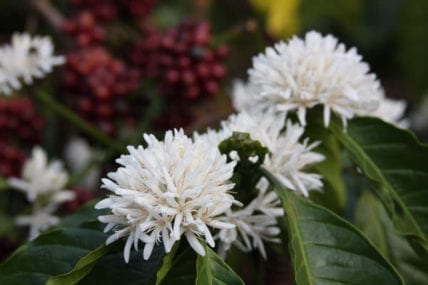 Floral notes in coffee exemplify the connection between taste and smell. Describing the taste of a specific flower is near impossible...we always default to "it tastes like it smells" which, admittedly, isn't the most helpful.  and citrus features, but also has a range of sweetness with a potential for a balanced body and clear acidity. I also used the Probat PRE-1Z electric sample roaster again because of the control it gives the user with repeatibility of results.
The end point for each roast was approximately 30 seconds after the last audible crack.  I manipulated each roast with adjustments to air flow. For the first roast I made no adjustment to airflow, allowing the first crackFirst crack in one of two distinct heat-induced pyrolytic reactions in coffee. It is distinguished by a cracking or popping sound in the coffee, and occurs between 390 and 410 degrees Fahrenheit in most coffee to roll right through. For the second I increased air flow about 15 seconds earlier, then on the third roast about 30 seconds earlier, and so on.
I did 5 roasts, with the 3rd roast actually stalling. Since I tasted the baked effects of the stalling on my first round of cupping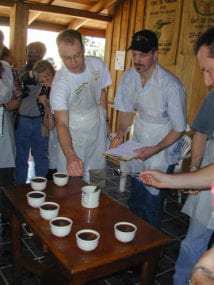 Cupping is a method of tasting coffee by steeping grounds in separate cups for discrete amounts of ground coffee, to reveal good flavors and defects to their fullest. It has formal elements and methodology in, I did not include it in the panel cuppings.
The Particulars:   Coffee: Rwanda Karengera
Roast 1
Start: 320
Yellow: 5:20
1st C: 8:05
1st C end: 9:12
End: 9:37
Roast 2
Start: 320
Yellow: 5:24
1st C: 8:04
1st C end: 9:27
End: 9:50
Roast 3
Start: 320
Yellow: 5:18
1st C: 7:52
1st C end: stalled – 9:40 ish
End: 10:26
Roast 4
Start: 320
Yellow: 5:10
1st C: 7:27
1st C end: 9:55
End: 10:20
Roast 5
Start: 320
Yellow: 5:14
1st C: 7:44
1st C end: 9:44
End: 10:06
My tasting notes from these cups, excluding Roast 3:
Roast 1: Body: clean, condensed,Sweetness: mid palate, not so much in the finishSimilar to aftertaste, but it refers to the impression as the coffee leaves the palate. Aftertaste is the sensations gathered after the coffee has left the mouth. We combine these to form the "final flavor, Acidity: tea like, dry, center
Roast 2: Body: sheer, Sweetness: nice through finish, Acidity: mild
Roast 4 : Body: more syrupy, Sweetness: very honeyIn coffee, honey-like sweetness is often found, but we use terms such as refined honey (highly filtered and processed) as opposed to raw honey rustic honey sweetness. This form of sweetness is largely a dynamic sweet through finish, Acidity: peak in the middle, even some tang at the sides of the palate
Roast 5:  Body: broad, big, Sweetness: marshmallow, sugar sweetness, Acidity: not as bright as the other coffees, but some in the back and finish
The first panel that I put these coffees in front of was a panel of untrained/inexperienced cuppers. Roast 4 was the universal favorite. As you will note, roast 4 actually has a longer 1st crack than roast 5; almost 2:30 mins compared to 2 mins exactly.  With more experienced cuppers, Roast 5 was the favorite. With these longer roasts, the mouthfeelHow a coffee feels in the mouth or its apparent texture, a tactile sensation : A major component in the flavor profile of a coffee, it is a tactile sensation in the mouth used in was more full and tactile which created a longer and sweeter finish, and in the case of Roast 4 it also allowed for a more expressive acidity.
Roast 1 was their second favorite of both panels, with a few people stating that there were aspects to Roast 1 that they liked more than either longer Roast.  It had the clearest and brightest acidity. It was sweet, but not through the short and dry finish. There was an overall condensed feel to the cup with everything right in the middle of the palate. This roasting style could lend itself rather nicely to a pour-over brewing method and I could see using a coffee roasted in this way being used in a component of a blend as an accent, perhaps even a blend with the same coffee roasted more like Roasts 4 and 5.
The coffee that no one picked was Roast 2. I personally found it to be fairly mild  with muted acidity and a sheer mouthfeel. Compared to every other roast, the cup was just generally flat.
A more syrupy mouthfeel is related to the perception of particular carbohydrates that are released in greater levels with the stretching out of first crack. Stretching out the 1st crack did not have much effect on the sweetness of the coffee.  For part 3 of Stretchin' Out the Roast, I will be looking at stretching out the drying stage before the 1st crack begins.