October, 2009 Update
This year's batch of R.I.P. coffee is in. Overall, we think the cup quality is improved over last year: incredible bodyAssociated with and sensed by mouthfeel, body is sense of weight and thickness of the brew, caused by the percentage of soluble solids in the cup, including all..., with a really unique flavor profileFlavor Profile implies a graphical impression of a particular coffee, whether it be an artistic portrait or data graph of the perception of flavor compounds. In the case.... This year's batch roasts quite differently from last year's, as illustrated below:
RIP Coffee 2009, Unroasted
RIP Coffee 2009, Roasted to Full City. Note the extremely uneven color of the parchment

Green coffee still in its outer shell, before dry-milling, is called Parchment coffee (pergamino). In the wet process, coffee is peeled, fermented, washed and then ready for drying...

.
Another shot of a full city roast

A coffee that has been roasted to the brink of second crack.: A coffee that has been roasted to the brink of second crack. The internal bean temperature...

of the 2009 RIP Coffee.
RIP Coffee Tutorial
Okay, this is about as wacky as it gets; roasting coffee in it's parchment shell, grinding it up, parchment and all, and brewing it. But we tried it and it's a unique cup, with extra body, and unusual cocoa and
woody
Generally a taste defect from age; old green coffee, perhaps yellowing in color. This is due to the drying out of the coffee over time, and as the...
flavors. RIP coffee is a name we came up with for "Roasted In Parchment," which is a another of our crackpot ideas. But the logic is all there: After coffee is processed at the
wet mill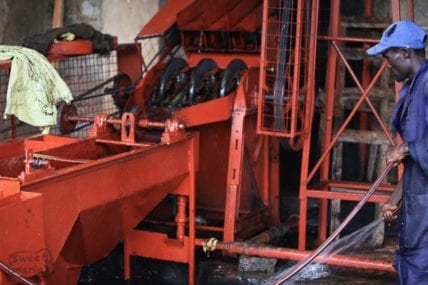 In Kenya, a "Factory" is actually a coffee wet mill (called a washing station in other parts of Africa) where the fresh cherry is brought for wet-processing. It...
or the
pulping
The first step in processing wet-process coffee, pulp natural or forced demucilage coffees. Pulping simply refers to removing the skins from the coffee fruit, leaving the parchment coffee...
station, it is dried in the sun. At this stage the coffee has it's outer parchment shell on it; it is called pergamino in Central America at this stage. After it is sun-dried down to 12% moisture content, the parchment coffee is rested in silos or bags for anywhere from 30-60 days. This allows the coffee to stabilize. In it's parchment shell, the dried
green coffee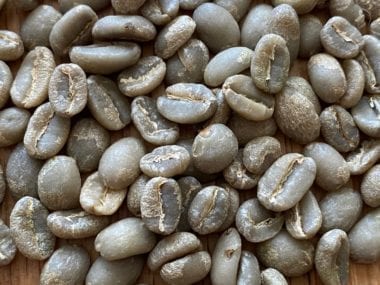 Green coffee refers to the processed seed of the coffee tree fruit. Coffee is a flowering shrub that produces fruit. The seeds of the fruit are processed, roasted,...
can be stored for much longer, and is more protected from temperature and humidity changes that damage cup quality. I had toyed with the idea years ago of importing coffee in parchment, and milling it here. You can store it and
dry mill
A facility that accepts dried coffee cherry and mechanically separates the coffee bean from the dried fruit and parchment layer. The facility can be highly mechanized, as in...
it right before shipping it to the customer. The logistics never made sense, and milling is expensive and dusty. Some time last year I was in my
cupping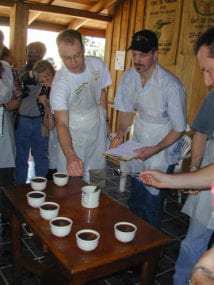 Cupping is a method of tasting coffee by steeping grounds in separate cups for discrete amounts of ground coffee, to reveal good flavors and defects to their fullest....
room and on a whim I started roasting some samples I had of parchment coffee. I remember seeing women in rural
Guatemala
Guatemalan coffee is considered a top quality coffee producer in Central America. Due to our proximity to Guatemala, some of the nicest coffees from this origin come to...
roasting parchment coffee on a wood stove. What would happen? I was really surprised by the cup. It was very different, not at all unpleasant. There was tons of body, an unusual maple syrup and cocoa powder taste. It seemed like I had
blended coffee
A blend is a mixture of coffees from multiple origins. Coffees are typically blended to produce a more balanced cup. A blend of roasts of different levels is...
with something else, but I enjoyed it! I also found that the darker roasts were my favorite. So this year while traveling in
Costa Rica
Costa Rican coffee is typically very clean, sweet, with lots of floral accents. hey are prized for their high notes: bright citrus or berry-like flavors in the acidity,...
I asked Juan Ramon at Brumas del Zurqui Micro Mill if they would ship us parchment coffee. They did, and with a twist: this isn't wet-processed parchment coffee, it is
Red Honey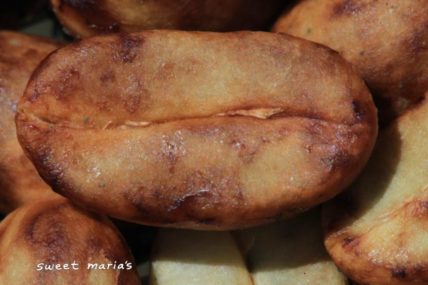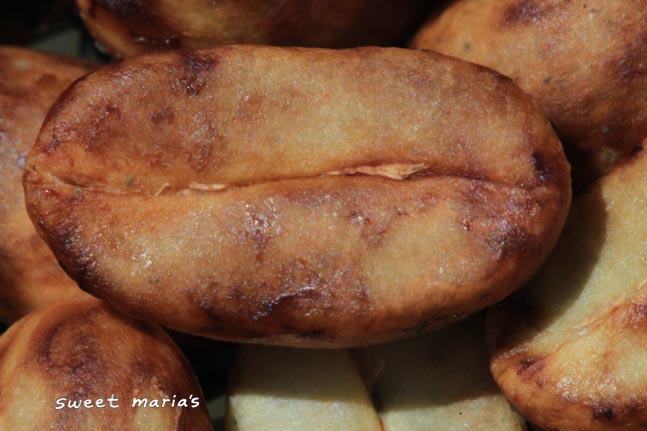 "Red honey" process gesha at a coffee farm in Costa Rica's Central Valley growing region. The honey process has nothing to do with honey other than the fact...
Parchment from pulped natural process. That means the fruit of the
coffee cherry
Originally coffee literature referred to the fruit of the tree as a "berry" but in time it became a cherry. It is of course neither. Nor is the...
was left to dry on the parchment. Rather than the pale cream color of wet-processed parchment, this has a red tint to it.
Wet-Process Coffee Parchment
Here is an image of typical wet-process parchment or pergamino coffee. The coffee fruit has it's outer skin removed (pulped), then the fruityIn some coffee taster's lexicon, "fruity" means the coffee is tainted with fruit, and "fruited" means a coffee is graced by positive fruit notes. We don't exactly see... layer that clings to the parchment shell is fermentedAs a defect flavor, a fruit quality in a coffee that is excessively ripe, toward rotten. Fermented flavor can be the result of poor wet-processing, over-ripe cherry, or... off. It is washed and then laid on patios to dry for a week or so. Once it reaches 11 or12% moisture, it is "rested" for up to 2 months to stabilize, then ready for dry-milling (hullingHulling is the step at the dry mill where the green coffee bean is removed from the parchment shell. (See Wet Hulled for the Indonesia method). the green bean out of the parchment, screeningRunning coffee through a screen with holes of a fixed size to sort beans for size.: Running coffee through a screen with holes of a fixed size to..., sortingCoffee is sorted by size, density, and color in its preparation for export.: Sorting refers to several steps performed in the preparation of coffee for export. Coffee is...) and export.
"Red Honey" Parchment
Note the strong visual distinction of HoneyIn coffee, honey-like sweetness is often found, but we use terms such as refined honey (highly filtered and processed) as opposed to raw honey rustic honey sweetness. This... Coffee, also called Miel, or Pulp NaturalPulp natural is a hybrid method of processing coffee to transform it from the tree fruit to a green bean, ready for export. Specifically, it involves the removal.... In this process the fruit skin is removed, then the coffee is dried on raised screens without attempting to remove the fruit. The fruit dries to the parchment layer. In normal processingThe removal of the cherry and parchment from the coffee seed.: Coffee is either wet-processed (also called washed or wet-milled) or dry-processed (also called wild, natural or natural..., this is removed at the dry mill, and the green coffee that comes out looks a lot like wet-process green coffee. But it has a different cup; lower acidty, more fruit, more body.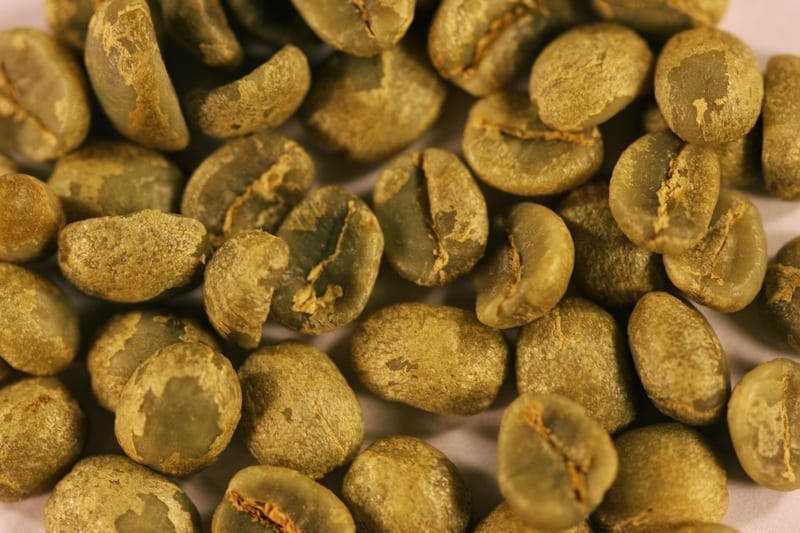 Red Honey Coffee – Herbazu EstateA "coffee estate" is used to imply a farm that has its own processing facility, a wet-mill. In Spanish this is called an Hacienda. A Finca (farm) does...
We have a different lot of Red Honey coffee coming late in the season, and this is what the green coffee looks like (no, that lot will NOT be in parchment). It has a lot of silverskinOn dried green bean coffee, the thin inner-parchment layer that clings to the bean and lines the crease on the flat side. Silverskin becomes chaff and falls off... still clinging to the green seed, but it is otherwise much like a traditional Central American wet-process coffee in appearance. If you were inclined, you could buy the RIP lot from us and mill it yourself to produce green coffee that looks much like this image.
Drum Roast or Air Roast? We found that both work well for RIP coffee. In any case, DO NOT leave your roaster unattended!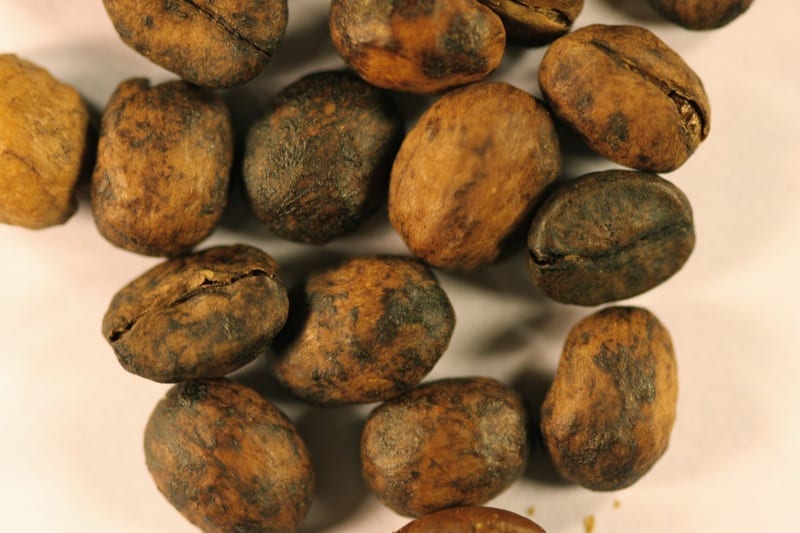 RIP Coffee (Roasted in Parchment) City+City+ roast is an ideal roast level that occurs roughly between 425 and 435 degrees Fahrenheit in many coffee roasters with a responsive bean probe where First Crack... Roast
Roasting coffee in parchment is tricky. First off, parchment adds to the combustible load in the roast chamber. YOU NEED TO STAY BY YOUR ROASTER. Don't walk away from this one, even in the warmup stages. Secondly, how in the world do you know the level of roast, and where to stop it? You can't see the green coffee. Well, that's one reason I took these images. This is a City roastCity roast is what we define as the earliest palatable stage that the roast process can be stopped and result in good quality coffee. City roast occurs roughly... (not recommended) where the exterior of the parchment has a red-brown color, with dark splotches.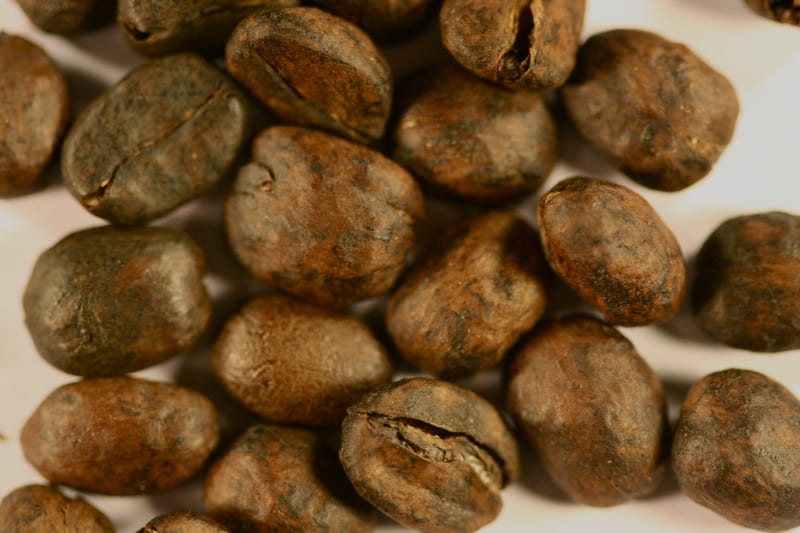 RIP Coffee (Roasted in Parchment) FC Roast
At Full City roast yiu can see an overall browning of the parchment, still with dark areas. One trick here is to shell a few of the seeds out of the parchment shell and have them in the batch. If you can catch sight of them, they can indicate the roast level. This is not so effective with roasters where the coffee is in a rapid agitation, or can't be probed directly. I would keep roasting past this stage. RIP coffee is better on the dark side.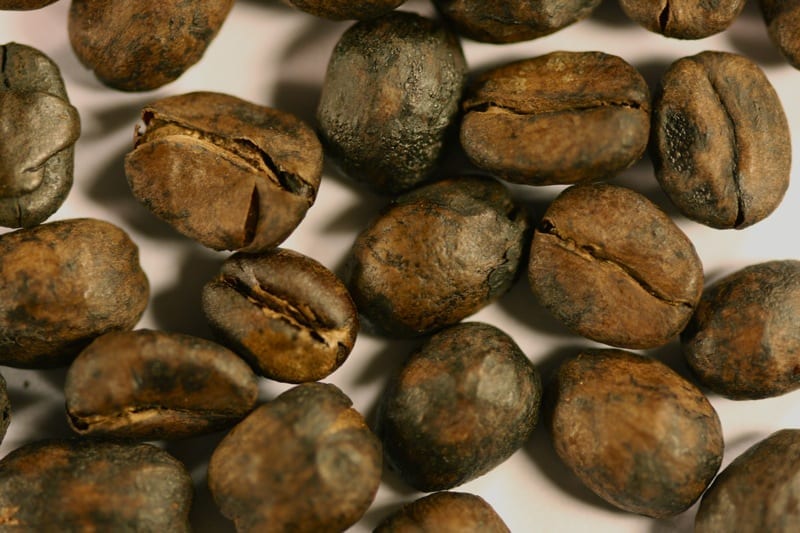 RIP Coffee (Roasted in Parchment) FC++ Roast
Full City++. I guess I just made that up. It means that 2nd crackAn audible popping sound heard during roasting. In coffee, one refers to "first crack" and "second crack," which come from two different classes of chemical reactions.: An audible... has started and coffee roast is stopped. Coffee in parchment makes the 2nd crack harder to hear (if that wasn't a problem already). Notice the slightly darker coloration overall of the coffee. In a way. the parts where the coffee fruit isn't starts to catch up to the darkness of the fruitly splotches. This is a good roast level for RIP Red Honey Coffee.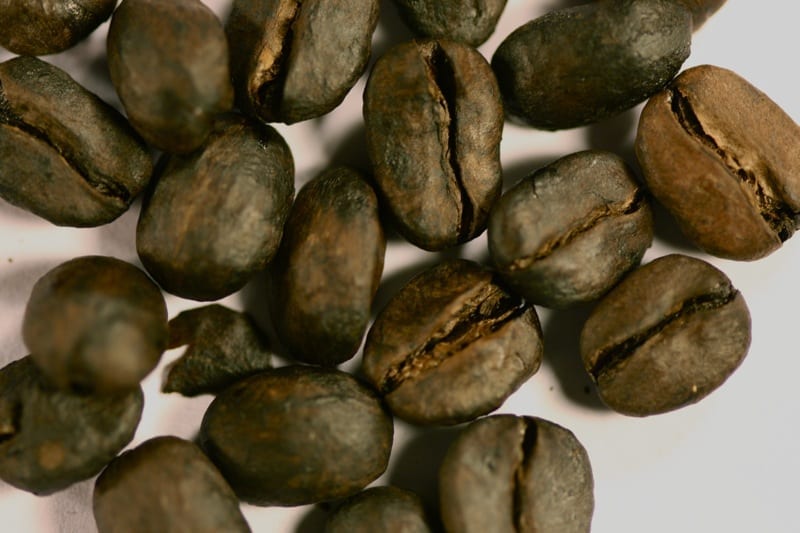 RIP Coffee (Roasted in Parchment) Vienna RoastVienna roast occurs at the beginning of second crack. The Vienna stage is where you begin to find origin character eclipsed by roast character.: Vienna roast occurs at...
Vienna roast of RIP coffee, and the surface color has evened out between the areas where fruit was clinging to the shell, and areas where it was not. This works well with the flavors of RIP coffee: chocolate-cocoa, woody, tobacco, earth. But don't let it go much futher than this…
---
This page is authored by Tom Owen and Sweet Maria's Coffee, Inc. and is not to be copied or reproduced without permission.
---