Need some help with your Bullet roaster?
We put together this page to offer the latest information in one place. Please contact us at [email protected] and we will address needed repairs, diagnose any unusual sounds or just get you the advice you need. Keep in mind we plan on updating this page with more advice and information consistently to reflect updates, roasting questions and concerns.
Is the Bullet R1 for Everyone? No! It's expensive. It's not a kitchen-counter-type appliance (see dimensions). And 1kg is a lot of coffee! The Bullet is not hard to operate, but we do not recommend it for those without coffee roasting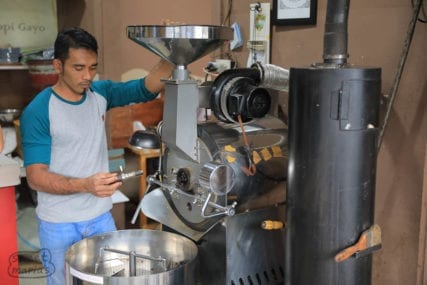 The application of heat to green coffee seeds (beans) to create palatable material for brewing a great cup!: Coffee roasting is a chemical process induced by heat, by which aromatics, acids, and other flavor components experience. Start with a popper and learn the roast process first! The Bullet doesn't need much, but we do not recommend it for those intimidated by a hex head screwdriver! You will need to clean it, make occasional adjustments, and eventually do small repairs like replace a belt. But it is a wonderful, innovative machine that gives great control of the roast process, and produces fantastic coffee with its induction heat transfer technology.
Links & Downloads
---
Check out the Aillio Bullet R1 users group on Facebook. This is a good place to see what other Bullet owners are up to. You can usually get input from other owners 24/7 as active community members are spread across time zones.
---
You can contact Aillio directly. Please keep in mind that Aillio is a small company located in Taiwan. Much of their efforts are dedicated to keep up with the demand for R1 machines and they are probably in a different time zone so they might be a little slow in regards to response time…but they will get back to you.
www.aillio.com 
+886 02 2550 8851
[email protected]
Aillio's contact page
---
Sweet Maria's Bullet R1 Videos
Here's a quick troubleshooting video regarding a Bullet that was returned to us due to an obvious problem with drum alignment at the front bearing. We were able to diagnose the issue after comparing it to our own display model.
---
Tip: If everything's working but the combination of roasting software and a brand new machine is a little overwhelming, we recommended starting off by roasting with just the panel until you get used to how the machine roasts. Before using a new roaster, check the drum position, front bearing position, and that drum operates okay! See the Quick Start Sheet and the Online Manual !
---
Here's a look at some of the Bullet R1's internals, how to remove the rear panels, adjust the belt tension, and what tools to have on hand. There were minor differences between the roasters that we received in the past two shipments from Aillio. He opened up two roasters to show these differences.
---
This one is about accessing the control panel. All you need is a 2mm allen wrench (aka hex key) and a small phillips screwdriver. Opening up the panel is helpful for troubleshooting if you should encounter any issues with loose connections.
---
Basic cleaning.

---
Here's some intro videos for our early experiences with our test roaster. We plan on producing more detailed videos in the future.
---
Unboxing a Bullet. What to expect (especially if you purchased one in Jan. 2019.

How to install the impeller fan in your Bullet if you purchased it in Jan. 2019.