We have migrated our Library content into a new format – served by WordPress – but find that we still want to reference the old travelogue photo sets that did not make it over.  We find there is something special about the format of the old pages(especially if you like wallpaper!)  so we have decided not to migrate them – but instead to post links to the html pages.  These will not have updated headers and footers to allow you to navigate further into the site, so you will have use your browser's BACK button. (Sort of old school I know.)  Here is the list:
Travelogues: Our Coffee Trade, Farm & Cupping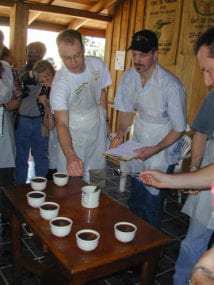 Cupping is a method of tasting coffee by steeping grounds in separate cups for discrete amounts of ground coffee, to reveal good flavors and defects to their fullest.... ...more Trips
2010
Some photos from from a short trip I took to Costa Rica in January 2010.
2009
A trip to Africa in late November early December 2009 included Uganda, Ethiopia and Kenya.
A trip to a cupping competition Taza Dorada in Ecuador in late October 2009 included a few days in ColombiaColombian coffee is highly marketed and widely available in the US. They have been largely successful at equating the name Colombian Coffee with "Good" Coffee. This is half-true.... ...more to check out the sources of our micro-lots.
Some thoughts and photos from my trip to PeruPeruvian coffees have Central American brightness but in a South American coffee flavor package overall. The good organic lots do have more of a "rustic" coffee character.: Organic... ...more in September 2009 are here.
Oh look, it's the 2009 SCAA Roaster's Guild Retreat Review. It's all about the Gangs!
Ben and Maria met me in Costa RicaCosta Rican coffee is typically very clean, sweet, with lots of floral accents. hey are prized for their high notes: bright citrus or berry-like flavors in the acidity,... ...more for a Central America Family Coffee get-together, and then we all went to the Best of PanamaPanama coffee ranges from medium quality lower altitude farms to those at 1600 - 1800 meters centered in the area of Boquete in the Chirqui district near the... ...more competition in Boquete (May 2009).
During and after the 2009 El SalvadorEl Salvador coffee had an undeservingly poor reputation for years, marred mostly by the inability to deliver coffee of high quality in an unstable political climate. Unfortunately, agriculture... ...more Cup of ExcellenceThe Cup of Excellence is a competition held yearly in many coffee-producing countries, designed to highlight the very best coffees from each origin.: The Cup of Excellence (COE)... ...more, I visited some of our important coffee sources, such as Aida Batlle's Kilimanjaro farm, and Vickie Dalton's Finca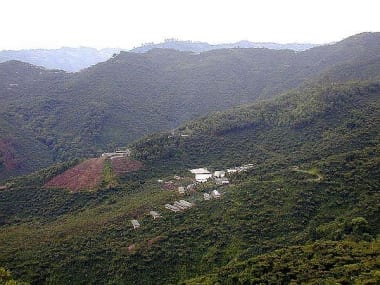 Spanish 101: Finca is the Spanish word for farm. Sometimes the term Hacienda is used to imply an Estate, which would mean the farm has its own wet-mill.... ...more Matalapa. Here's some photos of my El Salvador Travels.
El Salvador Cup of Excellence 2009 photos. Woo!
SCAA 2009 Atlanta. A Grumpy Commentary
Tom's trip reports from the trip he made in late March 2009 to Panama, Costa Rica and Nicaragua are just posted. The trips were short – but action packed! Lots of good information about what we can expect in terms of coffees from the new cropRefers to fresh shipments of green coffee within the first month or two of the earliest arrivals ... not quite the same as Current Crop, which means the... ...more in these countries. And of course, lots of fun photos.– Maria
I'm not finished yet. I keep generating material from this recent Africa trip. I was writing some actual commentary. Here is a link to the Kenya Travelogue, and here you can find commentary from Ethiopia (2009)-Tom
2008
Tom took a trip to SumatraIndonesians are available as a unique wet-hulled or dry-hulled (washed) coffees. Giling Basah is the name for the wet-hulling process in Bahasa language, and will have more body... ...more and SulawesiSulawesi coffees are low-acid with great body and that deep, brooding cup profile akin to Sumatra. The coffee is sometimes known as Celebes, which was the Dutch colonial... ...more in November 2008; it was a looonnng trip that seemed all too short. I divided the pictures into
North Sumatra, including Lintong and the Lake Toba area.
The Aceh District of Sumatra (actually north of North Sumatra!) which includes Takengon and the areas aroundLake Tawar.
…. and then Sulawesi and Tana Toraja, an amazing, mystical place, where I handily whacked my head crawling through a tunnel in a Toraja traditional burial cave. It still hurts. –Tom
Tom returned from a Cupping Competition in Peru September 2008 with a handful of pictures, and some thoughts on why Peru coffee isn't as respected as it could be …
The shennanigans of the Costa Rica Micro-Millers visit to Sweet Maria's September 2008.
I have 2 new photosets for recent trips to Ethiopia's Harar region, and from the first-ever Rwanda Cup of Excellence Competition 2008. You can also view both of these on our Coffee Image Gallery site.
Many may not know about the problems internal to the SCAA Roaster's Guild, but it came to a head at the 2008 Roaster's Guild Retreat due to gangs from Mille Lac. Read more …
I had a very interesting Colombia trip to Huila, Cauca and Narino districts in late May 2008 but have been delayed getting the pictures together. You can also see it on the beta images site.
I did a lot of cupping in GuatemalaGuatemalan coffee is considered a top quality coffee producer in Central America. Due to our proximity to Guatemala, some of the nicest coffees from this origin come to... ...more City looking for special lots, and then some quick trips to farms in the nearby states. Check out my Guatemala Travelogue. What, another Guatemala trip a few weeks later, with the family (Maria, Ben, my Mom, Myself), and yet another Guatemala Picturelog for 2008.
I can't go to the Tolima area of Colombia where our Las Florestales is from … there's too much FARC Guerilla activity in the area! But our coffee sourcer for this lot, Genevieve was able to go (2008).
A whirlwind tour of Costa Rica Micro Mills in mid February 2008!.
January 2008: IndiaIndian coffees are under-represented in the coffee market: they are good balanced, mild coffees. You will find the pronounced body, low acidity and subtle spicy notes pleasing, and... ...more … another example of gross camera addiction. I took 1350 images, and narrowed it down to 302 for my India Travelogue. There's also a brief essay….
2007
Here's a travelogue of my trip to Ethiopia in November 2007 to cup at many exporters in Addis Ababa, and get ready for the new crop coffees.
It took a week to sort through them all, but here is my little travelogue for Yemen in November 2007, just 350 photos or so. You can view it here, or on our new beta site Image Gallery. It's one of the most intriguing coffee origins, and one of the best trips I have taken.
A short but sweet cupping trip to the Dota, Tarrazu and Naranjo regions of Costa Rica.
Since we are finally offering Daterra Yellow BourbonYellow Bourbon is a subtype that has fruit which ripens to a yellow color, found mainly in Brazil where it was first grown. Bourbon coffees are named for... ...more, I have made a page to describe Daterra Farms, including a snippet of my travelogue and photos of their amazing coffee processingThe removal of the cherry and parchment from the coffee seed.: Coffee is either wet-processed (also called washed or wet-milled) or dry-processed (also called wild, natural or natural... ...more system.
A real short trip to Motozintla, Mexico, "land of the squirrels," way south in Chiapas state at the border with Guatemala.
Here's my totally uninformative picture book of the 2007 Roasters Guild Retreat and a matching, very curmudgeonly comments about the 2007 SCAA Conference in Long Beach.
2006
Peru, what an amazing place, what a screwy place in terms of coffee. If I seem too harsh, 395 photos in a travelog (and a video to boot) should show the enthusiasm I also have for Peru, there are 7 pages of thumbnail images, and I hope you find some of it, if not most of it, interesting: Peru Coffee Tour 2006
Travelog for Guatemala Cup of Excellence and other Guatemala travels 2006
Travelogue for El Salvador  Cup of Excellence 2006
I posted new travelogs for my recent trips, with all my coffee competition cupping scores and the final results. First off was the 2006 Best of Panama competition, then off to to Honduras Cup of Excellence 2006 in San Pedro Sula, and finally the 2006 Nicaragua Cup of Excellence competition in Granada, Nicaragua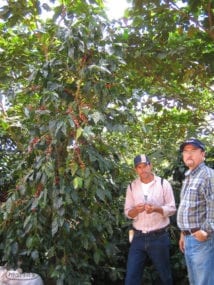 Nicaraguan coffees from the Segovia, Jinotega, Ocotal and Matagalpa regions are nice balanced cups. They often possess interesting cup character along with body and balance, outperforming many other... ...more (a beautiful colonial town). I hope you can tolerate some tongue-in-cheek commentary, with a smattering of useful observations. Lots of pictures, and some of them actually have something to do with coffee! -Tom …
2005
Back from the Brasil Cafe do Cerrado 2005 event , but off to BoliviaBolivia has always been a coffee origin with great potential, the potential to have a unique Specialty coffee offering with unique cup character.: There's no better way to... ...more Cup of Excellence (hurricane permitting)[hurricane was not permitting – here are the Bolivia 2005 winners though]. I had time to parse 800 photos and ended up with about 150 that I just had to share. Why do I do this? I don't know. And be warned that a lot of it is not about coffee, strictly speaking. -Tom
Since we are finally offering Daterra Yellow BourbonA coffee cultivar; a cross between Typica and Bourbon, originally grown in Brazil: Mundo Novo is a commercial coffee cultivar; a natural hybrid between "Sumatra" and Red Bourbon,... ...more, I have made a page to describe Daterra Farms, including a snippet of my travelogue and photos of their amazing coffee processing system.
January harvest trip to Nicaragua and El Salvador and a whole mess o' pictures, as usual. Check out the Nicaragua – El Salvador Travelogue.
I have finished the travelog for my Colombia Trip, (three pages!) which includes the 2005 Cup of Excellence competition winners. It's a different format than before, more and I put a lot of work into it. I hope you get something out of it.
And there is a special feature: What does a coffee cupping room sound like? Well, I made a little stereo recording while walking around the room at the 2005 Colombia CoE, "Sounds of Cupping Coffee".
2004
I am back from KonaKona coffee comes from farms along the Kona Coast on the Big Island of Hawaii: Kona coffee comes from farms along the Kona Coast on the Big Island... ...more and the2004 Kona Cupping Competition and made a travelogue of the event … which feels a bit incomplete. Even with a limited time there, it makes a big impression and there is no way to convey it in a few photos. -Tom…
I have finished my rather extensive travelogue from Brazil 2004 Cerrado Competition and Coffee Tour. Maria thinks I am nuts. I spent 3 days trimming down my 600 pictures to a mere 179, and writing the descriptions for each. There is just so much I learn on each new trip, so these web pages are as much for myself as you everyone else.
I finally finished a complete journal and slide show for my trip as a judge at the 2004 El Salvador Cup of Excellence Competition. It includes a visit to the ProCafeA coffee research firm in El Salvador: Procafé is the Fundación Salvadoreña para Investigaciones del Café, a coffee research firm in El Salvador that advises farmers and maintains... ...more Experimental Coffee Farm with lots of CultivarCultivar is a term used interchangeably with Varietal in the coffee trade to indicate plant material, although there are distinctions.: The naming of a cultivar should conform to... ...more Pictures!
I also did a "slide show" of pictures from the Nicaragua Cup of Excellence coffee competition, 2004 . It took me a long time to get the pages together and so I am sorry it lacks detail. But there are some nice images…
I created a sort of quick and temporary page of images from last week's Costa Rica trip (2004). Here is a page about La Candelilla farm.  Seems sort of promo-y, can't remember where it is from!
My review of El Salvador 2004 Cup of Excellence.  I did not attend the 2004 Honduras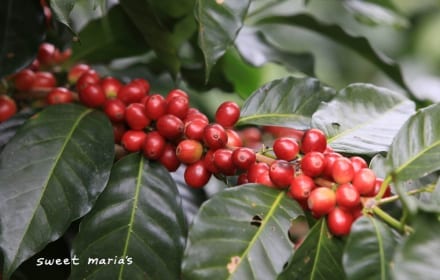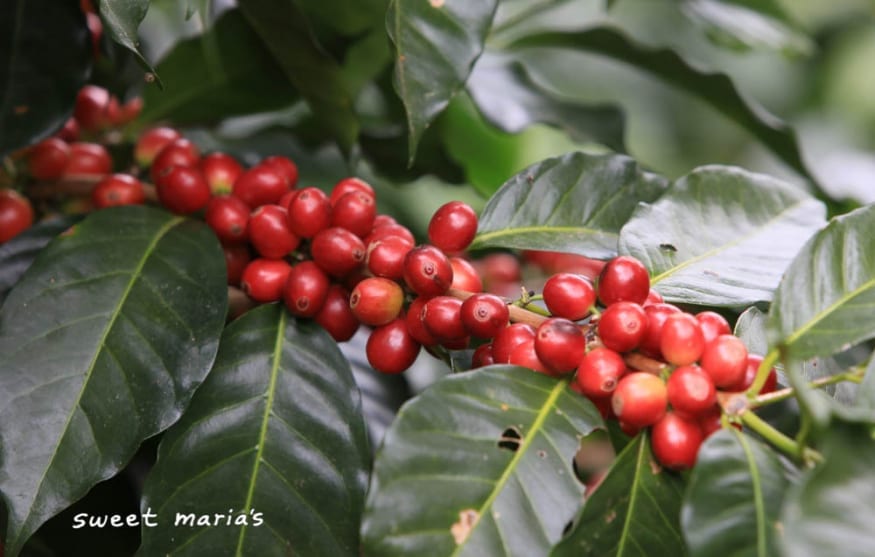 Honduran coffee was absent from the top ranks of the Specialty market, but that has changed. It has all the environmental factors on its side: soil, altitude, climate.... ...more Cup of Excellence as a judge, but I did evaluate the coffees at the group cupping. Here's a run down.
And here is a group of photos from cupping the 2004 Best of Panama coffees at Royal Coffee in Emeryville.  Here's  a page on Panama Jaramillo estateA "coffee estate" is used to imply a farm that has its own processing facility, a wet-mill. In Spanish this is called an Hacienda. A Finca (farm) does... ...more from that time.
2003
There's a new pictorial of my 2003 trip to the Bolivia Coffee Competition in 2 sections Page 1 and Page 2, and you can download a  short Bolivia Movie too!.
I have made a "slide show" of my trip to the 2003 Best of Panama cupping competition.
My Honduras Cupping Trip 2003: Part One is the competition and tour of the Northern coffee lands. Part Two is the tour of the Southern coffee lands near the capital of Tegucigalpa.
I have a lot of information and pictures from a tour of Nicaragua this year, including judging in the Cup of Excellence competition. …
I had a couple comments and pictures from the 2003 SCAA Conference in Boston.
2001-2002
A new page from my trip to the Panama Cupping Competition in early April 2002 is done!
Tom's 2001 SCAA Convention Report …bitter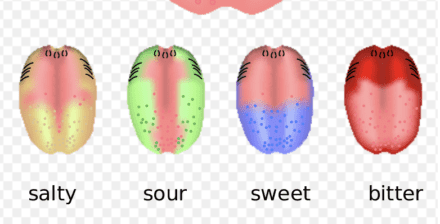 Bitterness is one of 5 basic tastes: Sour, Sweet, Salty, Bitter and Umami (savory flavors). There are many types of bitterness, hence not one avenue to tracking down... ...more, very bitter.
I have finally completed a lengthy pictorial page on my Trip to the Guatemala Highlands, April 2001.