It's true that coffee produced around the world arrives in the United States continuously, but there are certain moments in the crop cycle when the best coffees become available. This varies based on originIn coffee talk, it refers to a coffee-producing region or country; such as, "I was just at origin." Of course "Origin" for most product we use is not a beautiful farm in a temperate climate,, but by coincidence many favorites arrive in the first few months of the new year.
I always look forward to the new cropRefers to fresh shipments of green coffee within the first month or two of the earliest arrivals ... not quite the same as Current Crop, which means the most recent harvest. As a stable dried SumatraIndonesians are available as a unique wet-hulled or dry-hulled (washed) coffees. Giling Basah is the name for the wet-hulling process in Bahasa language, and will have more body and often more of the "character" that coffees. The earliest shipments arrive in December and are often the most wild, pungentRefers to an aggressive, intense aroma or flavor, often related to spices (pepper) or roast tastes. Pungent foods are often called "spicy", meaning a sharp or biting character, but not unpleasant. Bittersweet tangy roast flavors and aggressive in cup character. It seems the sweeter, fruitier Sumatras come in February or later, but if you like the type of Sumatra that is a bit funkier and a bit obnoxious, here they come. The first lot we approved arrives December 10.
Other Indonesian origins arrive a bit before the Sumatras: SulawesiSulawesi coffees are low-acid with great body and that deep, brooding cup profile akin to Sumatra. The coffee is sometimes known as Celebes, which was the Dutch colonial name for the island. Indonesians are available, Timor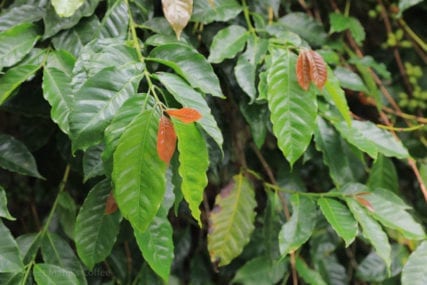 Hibrido de Timor abbreviated HdT is the interspecies hybrid of C. Arabica and C. Canephora (Robusta) that was found in Timor Leste in the 1940s. It has been the bases of plant breeding for disease, Papua New GuineaPapua New Guinea (PNG) occupies the eastern half of the island it shares with the Indonesian province of Irian Jaya, part of Indonesia. The two primary areas for coffee production can be grouped roughly as (PNG), Java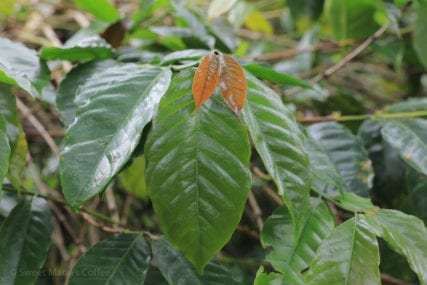 There are several types of Abyssinia, but they are not from Ethiopia but rather Indonesia. Abyssinia 3 = AB3. PJS Cramer, a Dutch plant researcher, introduced this variety in 1928, supposedly from Ethiopia seed stock. It was. They are all looking good this year with the exception of the PNG, which a high quality and distinct cup has been a bit hard to find. There has been considerable coffee looting of the Timor crop too, one reason we continue to give donations to the Red Cross and Doctors without Borders efforts there! But the quality is high. Starbucks is reported to have done their own form of looting of these crops, making them more scarce than last year …but the best examples were offered and we snatched up everything we could! Sulawesi again wins the award as the "best prepared natural coffee", meaning the green beans are impeccably milled and sorted. They are the anti-Sumatra, the later known for is ruddy appearance and an occasional rock or stick or ??? The earliest new crop Central Americans are offered in January and February. I like to cup the samples but I rarely buy coffee from these offerings. Whereas some early offerings are excellent, the early-picked Centrals are rushed to market to beat the later glut. They are usually lower-grown (coffee cherryOriginally coffee literature referred to the fruit of the tree as a "berry" but in time it became a cherry. It is of course neither. Nor is the seed of the coffee a bean. All ripens first at lower elevations) and often poorly-prepared, sometimes rushed through reposo with mechanical drying machines. (Reposo: the restingEither the resting of parchment coffee after drying, or for the home roaster, post-roast resting.: Resting might refer to "reposo", the time after drying the parchment coffee, when it is held for 30-60 days to stage when the green coffee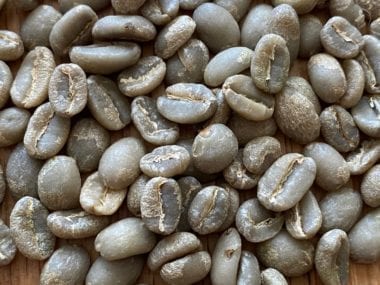 Green coffee refers to the processed seed of the coffee tree fruit. Coffee is a flowering shrub that produces fruit. The seeds of the fruit are processed, roasted, ground and prepared as an infusion.: Coffee seed is still in its outer hull, called pergamino, and is carefully dried down to about 12% moisture content.)
We should also see some late, late December offerings of Zimbabwe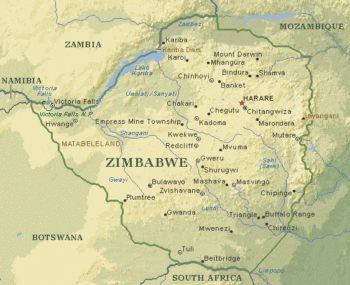 Zimbabwe, formerly known as lower Rhodesia until independence in 1980, has produced great coffee since production was introduced in the 1960s. Like Zambian coffees, these coffees are often overshadowed by the great East African coffee:, Zambian, Ugandan, Tanzanian and other East African coffees. These are all distinct origins but sometimes fail to distinguish them enough from the immense shadow cast by the East African powerhouse, KenyaKenya is the East African powerhouse of the coffee world. Both in the cup, and the way they run their trade, everything is topnotch.: Kenya is the East African powerhouse of the coffee world. Both. But when we find a distinct coffee in this group of origins, we buy it immediately!
Over time, I think our prowess in cupping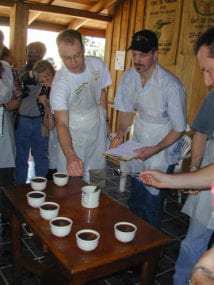 Cupping is a method of tasting coffee by steeping grounds in separate cups for discrete amounts of ground coffee, to reveal good flavors and defects to their fullest. It has formal elements and methodology in and buying the best has only improved. Sometimes I feel I am more lax than before in cupping, but it seems that familiarity with the coffees and also being able to read the dry fragrances that foreshadow cup quality more rapidly allows a little slop. Hopefully our long-term customers can see improvements, even though there are cases were an entire crop simply does not measure up to the previous year. Even in these cases (Antigua and PNG come to mind), I think we still do quite well to offer coffees with excellent cup character.
In Defense of Cupping
It was very upsetting to read a recent article attacking the way coffee cupping, the testing of coffees we in the coffee trade rely upon so heavily, by a coffee trade author, Timothy Castle. The article seems to substitute contrariness for intelligent criticism when it characterizes the loathsome and haughty act of "slurping, spiting and pronouncing" as a form of inept justice that inflates the cupper's ego and shows contempt for the farmer. Ironically, Timothy Castle and his milieu are perhaps called upon to perform such public cupping where chest-thumping and bucolic declarations are heard.
But for a person like me who seeks to stay close to cup quality, cupping is the exact opposite. If I don't taste something, I don't write about it. While I like to have fun with reviews, I stick to the facts. You wont read about a coffee experience being "running through a field of flowers" or such useful advise as "this is a coffee for people who watch the X-Games" on our site (but these are quotes from others coffee reviews). And frankly, it's not a sin if I did write like that, or if that is how a coffee drinker feels about a coffee. In fact, if enjoyment such as this is not allowed to be interpretive and creative (and even in its most technical it is) it is at that point it becomes chest-thumping and preposterous. When we talk about coffee being "chocolatey" or "winey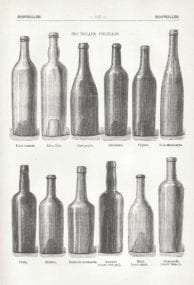 A taste term to describe a wine-like flavor with a similar perceived acidity and fruit, and some level of acetic acid. It is found most commonly in East African specialty coffees as well as in" it is not because it tastes as if someone literally dumped Hershey's Cocoa Power or a glass of wine in the coffee. We says this because some quality of chocolate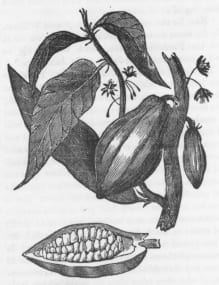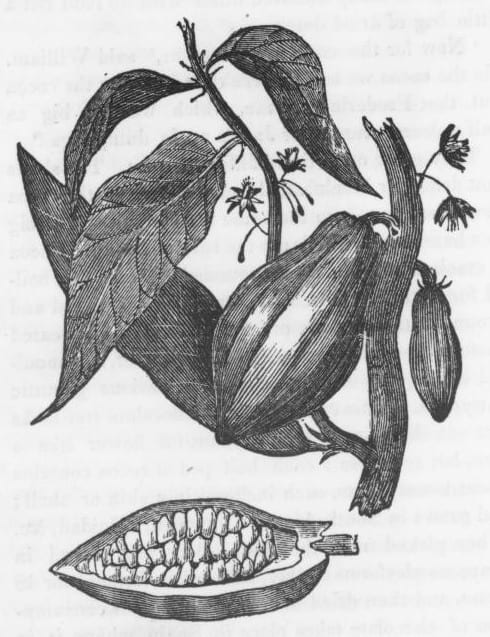 A general flavor or aroma term reminiscent of chocolate. But what type? Usually described with more specifics.: Chocolate is a broad, general flavor or aroma term reminiscent of chocolate. But what type? There are so or wine is hinted at in the very complexThe co-presence of many aroma and flavor attributes, with multiple layers. A general impression of a coffee, similar to judgments such as "balanced" or "structured" tastes of the cup, and we say this in respect to the other cups of coffee on the cupping table, and in respect to all our experience distinguishing and describing coffee flavor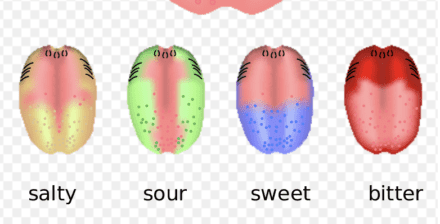 The overall impression in the mouth, including the origin character as well as tastes that come from the roast.: This is the overall impression in the mouth, including the above ratings as well as tastes.
And personally, I stick to what my beleaguered little taste buds can detect. I know for a fact that cupping allows me to say the things I do about coffee, and without it I would be an ass. Now, if it is a fact that there are arrogant cuppers in the world who have contempt for farmers and cant "walk their talk", that's just their problem. You can find Timothy Castle's article reprinted on our site at http://www.sweetmarias.com/articles.html
Sweet Maria's Coffee
9 E. 2nd Ave Columbus Ohio 43201
web: www.sweetmarias.com
email: [email protected]
Sweet Marias Green Coffee Offerings on 12/1/00:
This list is always superceded by the current list on our web page! http://sweetmarias.com/prod.greencoffee.shtml
1000-Central America 1 lb 2 lb 5 lb 20 lb
Costa RicaCosta Rican coffee is typically very clean, sweet, with lots of floral accents. hey are prized for their high notes: bright citrus or berry-like flavors in the acidity, with distinct nut-to-chocolate roasty flavors.: Can a La Minita 99-00 $6.95 $13.21 $30.23 $111.20
Costa Rica Los Frailes Tarrazu $4.80 $9.12 $20.88 $73.92
Guat. Antigua La Tacita Est $6.00 $11.40 $26.10 $92.40
Guat. El Injerto EstateA "coffee estate" is used to imply a farm that has its own processing facility, a wet-mill. In Spanish this is called an Hacienda. A Finca (farm) does not necessarily have a mill. (And Finca BourbonA coffee cultivar; a cross between Typica and Bourbon, originally grown in Brazil: Mundo Novo is a commercial coffee cultivar; a natural hybrid between "Sumatra" and Red Bourbon, originally grown in Brazil. It was developed $4.90 $9.31 $21.32 $75.46
Guat.Fraijanes Org.-La Montana $5.20 $9.88 $22.62 $80.08
Guat. Huehue -Dos Lagos $4.70 $8.93 $20.45 $72.38
Guat. Huehuetenango -Catinil $4.80 $9.12 $20.88 $73.92
Guat. SHB HHT MaragogypeMaragogype is a mutation of Typica coffee and was discovered in Brazil. The Maragogype is a large plant with big leaves, low production and very large fruits (and seeds / green beans). It has been $5.65 $10.74 $24.58 $87.01
Guat. Org/FT Huehuetenango $5.10 $9.69 $22.19 $78.54
MexicoMexican coffee originates from South-central to Southern regions of the country. For that reason, coffees from Coatepec and Veracruz are much different from Oaxacan Plumas, which are in turn much different from the Southernmost region Oaxaca -Fino Rojas $4.80 $9.12 $20.88 $73.92
Mexico San Pablo Tres Flechas $4.70 $8.93 $20.45 $72.38
Nic. SHG -Selva Negra Est $5.00 $9.50 $21.75 $77.00
PanamaPanama coffee ranges from medium quality lower altitude farms to those at 1600 - 1800 meters centered in the area of Boquete in the Chirqui district near the border with Costa Rica. Some farms feature Boquete -La Berlina $5.10 $9.69 $22.19 $78.54
Panama Hartmann Songbird $4.75 $9.03 $20.66 $73.15
Salvador Organic-Los Naranjos $5.00 $9.50 $21.75 $77.00
Salvador PacamaraAs the name implies, Pacamara is a large bean cultivar, a cross between Pacas and Maragogype with unique flavor properties. This variant originated in El Salvador in 1958, and has spread to nearby Central American – $5.00 $9.50 $21.75 $77.00
1020-South America 1 lb 2 lb 5 lb 20 lb
BrazilBrazil is a coffee giant . As Frank Sinatra sang, "they grow an awful lot of coffee in Brazil".: Brazil is a coffee giant . As Frank Sinatra sang, "they grow an awful lot of Cerrado-Monte Carmelo $4.40 $8.36 $19.14 $67.76
Brazil Monte Alegre- Wet Proc. $4.70 $8.93 $20.45 $72.38
Colombian Popayan SupremoA Colombian coffee grade referring to screen size of 17-18 screen. In the traditional bulk Arabica business, Supremo was the top grade Colombia, with Excelso one step below at 15-16 screen. Neither of these refer $4.50 $8.55 $19.58 $69.30
Colombian Reserva Del Patron $5.60 $10.64 $24.36 $86.24
Colombian Tuluni Supremo 18 $4.80 $9.12 $20.88 $73.92
PeruPeruvian coffees have Central American brightness but in a South American coffee flavor package overall. The good organic lots do have more of a "rustic" coffee character.: Organic Peru ... you can get it anywhere Org/FT Chanchamayo $5.00 $9.50 $21.75 $77.00
1040-Africa- Arabian 1 lb 2 lb 5 lb 20 lb
Ethiopian Harar Gr5 Horse $5.50 $10.45 $23.93 $84.70
Ethiopian Sidamo Gr.5 -00 $5.00 $9.50 $21.75 $77.00
Ethiopian Yirgacheffe Gr2 $5.50 $10.45 $23.93 $84.70
Kenya AA Kiungu Est 99-00 $5.60 $10.64 $24.36 $86.24
Kenya AA Mweiga Est 99-00 $5.00 $9.50 $21.75 $77.00
YemenYemen has a coffee culture like no other place, and perhaps some of what we enjoy in this cup is due to their old style of trade...: Technically, Yemen is on the Asian continent (on MokhaThe Yemeni type of coffee, both in terms of the family of cultivars planted there, and the general trade name.: Mokha Yemeni type of coffee, both in terms of the family of cultivars planted there, Mattari $7.00 $13.30 $30.45 $112.00
Yemen Mokha Raimi $6.90 $13.11 $30.02 $110.40
Zimbabwe AAA Pinnacle $5.60 $10.64 $24.36 $86.24
1060-Indonesian- Indian 1 lb 2 lb 5 lb 20 lb
Indian Monsooned Malabar AA $5.50 $10.45 $23.93 $84.70
Indian Pearl Mountain. Peaberry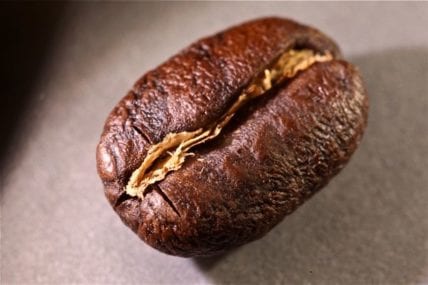 The Spanish-language term for Peaberry is the same for "snail". See Peaberry for more information on the single bean fruit of the coffee tree. A peaberry is the rounded singular seed found in the coffee $5.20 $9.88 $22.62 $80.08
Aged Java – Old Brown '97 $6.20 $11.78 $26.97 $95.48
Java Govt. Est Blawan $4.80 $9.12 $20.88 $73.92
Myanmar ArabicaArabica refers to Coffea Arabica, the taxonomic species name of the genus responsible for around 75% of the worlds commercial coffee crop.: Arabica refers to Coffea Arabica, the taxonomic species name of the genus responsible -Rubyland $3.50 $6.65 $15.23 $53.90
Papua New Guinea OrganicGrown without the use of artificial fertilizers, herbicides, etc.: Organic coffee has been grown according to organic farming techniques, typically without the use of artificial fertilizers. Some farms have more local Organic Certification than the AA $5.00 $9.50 $21.75 $77.00
Sulawesi Toraja Gr.1 00 $4.80 $9.12 $20.88 $73.92
Sulawesi Sulotco.-Wet Proc. $5.40 $10.26 $23.49 $83.16
Sumatra MandhelingA trade name used for wet-hulled Sumatra coffees. It is an area and a culture group as well (spelled Mandailing often) but there is not as much coffee production in this area anymore, south of DP '01 $4.75 $9.03 $20.66 $73.15
Sumatra Mand. Triple Pick $5.20 $9.88 $22.62 $80.08
Aged Sumatra Pwani $6.00 $11.40 $26.10 $92.40
Timor Organic Aifu 00 $4.80 $9.12 $20.88 $73.92
1080-Islands- Blends -Etc. 1 lb 2 lb 5 lb 20 lb
Dominican.-Montana Verde Est $4.80 $9.12 $20.88 $73.92
French ChicoryChicory was a popular coffee substitute and economizer for 2 centuries, back when coffee was more prized, and pure coffee was a luxury. : Chicory was a popular coffee substitute and economizer for 2 centuries, -Roasted $4.60 $8.74 $20.01 $70.84
HawaiiThe Kona district on the big island of Hawaii produces the best coffee from this state - clean, sweet and mild. : Ah, Hawaii... what a nice place. They grow nuts, fruit, and coffee. The Kona-Kowali Farm XF $16.20 $30.78 $70.47 $268.92
Hawaii Kona- Blue Mountain $17.10 $32.49 $74.39 $283.86
SM's Moka Kadir Blend $5.80 $11.02 $25.23 $89.32
SM's EspressoA small coffee beverage, about 20 ml, prepared on an espresso machine where pressurized hot water extracted through compressed coffee.: In its most stripped-down, basic form, this is a working definition for espresso: A small Monkey Blend $5.00 $9.50 $21.75 $77.00
SM's Decaf Espresso Blend $5.70 $10.83 $24.80 $87.78
Sweet Maria's Fr.RoastBlend $5.50 $10.45 $23.93 $84.70
Malabar Gold Espresso Blend $6.00 $11.40 $26.10 $92.40
1100 -Decafs 1 lb 2 lb 5 lb 20 lb
Brazil Santos SWPSWP means Swiss Water Process is a patented water filtration decaf method, not a chemical solvent method. The plant is in Vancouver, Canada. Decaf $5.40 $10.26 $23.49 $83.16
Colombian Natural Decaf $5.20 $9.88 $22.62 $80.08
Costa Rica SHB Natural Decaf $5.10 $9.69 $22.19 $78.54
Ethiopian Yirgacheffe MC Decaf $5.50 $10.45 $23.93 $84.70
Indonesian Komodo Org SWP D $6.10 $11.59 $26.54 $93.94
Mexican Esmeralda Natural D $4.70 $8.93 $20.45 $72.38
Mexican Organic/Shade SWP D $6.15 $11.69 $26.75 $94.71
Papua New Guinea Org SWP D $6.00 $11.40 $26.10 $92.40
Sumatra Mandheling Natural D $5.40 $10.26 $23.49 $83.16
Sumatra Org.GayoMtn SWP D $6.30 $11.97 $27.41 $97.02
1120 -Premium Robustas 1 lb 2 lb 5 lb 20 lb
Indian Kaapi Royale RobustaRobusta usually refers to Coffea Robusta, responsible for roughly 25% of the world's commercial coffee. Taxonomy of Robusta is debated: some sources use "Robusta" to refer to any variety of Coffea Canephora, and some use $5.00 $9.50 $21.75 $77.00
Indian Monsooned Robusta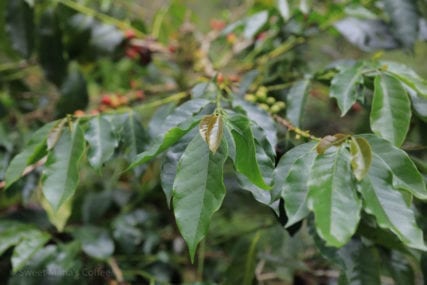 Ateng is a common name for Catimor coffees widely planted in Sumatra and other Indonesia isles.: Ateng, with several subtypes, is a common name for Catimor coffees widely planted in Sumatra and other Indonesia isles. AA $5.20 $9.88 $22.62 $80.08
Mexican Washed Robusta $3.02 $5.74 $13.14 $46.51