I took a detour to Nairobi, Kenya for cupping and some farm visits in Thika and Nyeri areas. Here's some photos and things I learned about Kenya Coffee. (March 2009)
I was already headed to Ethiopia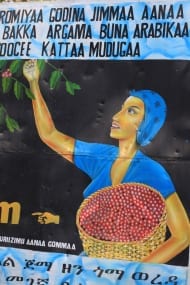 Ethiopia is the birthplace of coffee: it is in the forests of the Kaffa region that coffee arabica grew wild. Coffee is "Bun" or "Buna" in Ethiopia, so... for late February, but had heard that the crop was large and of excellent quality in KenyaKenya is the East African powerhouse of the coffee world. Both in the cup, and the way they run their trade, everything is topnotch.: Kenya is the East..., and was told "come right away."
Okay, I did, and the results were some excellent rounds of cupping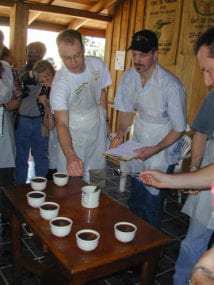 Cupping is a method of tasting coffee by steeping grounds in separate cups for discrete amounts of ground coffee, to reveal good flavors and defects to their fullest.... and many new contacts. I visited many coffee factories (wet mills) from whom we have already bought coffee: Karagoto, Ndaroini, Kiawamururu, Tegu, Kangocho and more. I also learned more about the coffee "societies", what they call a co-operative union here. Each co-operative is organized into districts, each with their own "factory". co-ops can take a maximum of 20% of the proceeds a lot makes in the Kenya auction, or from a direct "Second Harvest" purchase that circumvents the auction. I especially enjoyed the time I had cupping at the mill in Nyeri, and visiting the coffee shambas, the small farms of co-op members. The amount of cupping they do here is staggering.
And the auction system is unparalleled as a model for discovery of coffee quality. The fact that they added the "Second Harvest" window several years ago improves the system, allowing a buyer to purchase coffee outside of the auction system if so desired, by negotiating a price directly with the farm or co-operative. I was here primarily to visit one exporter, C. Dorman, and see how they work in Kenya. They have a mill in Nairobi, but also work at the farm level through an outreach company called CMS. Extra focus is put on coffees from another related company, Central Kenya Coffee MillA coffee mill might mean a coffee grinder, but we usually use the term to refer to a coffee processing facility, either a Wet-Mill or a Dry Mill...., a dry-mill located in Nyeri. There is a lot of work behind Kenya coffee for sure. And we are hoping to elevate the quality again this coming season, with many of our lots coming in vacuum pack to ensure highest quality with no flavor loss in transit.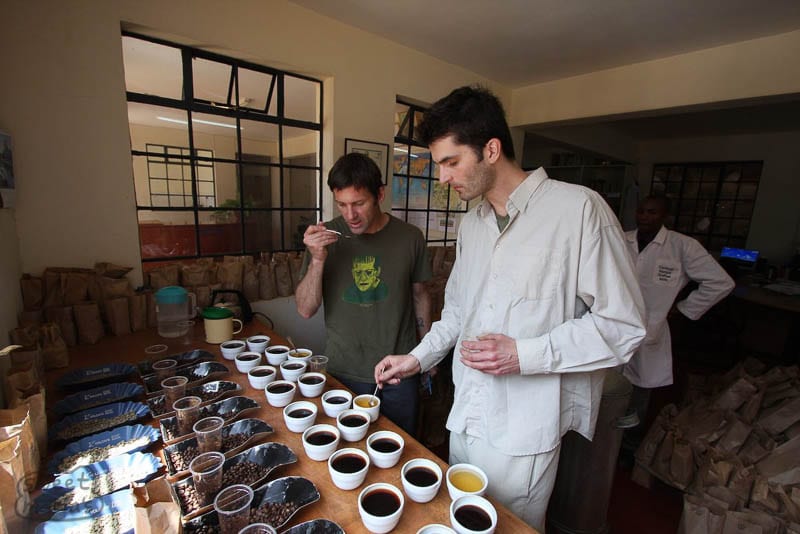 Kenya cupping, it's not a style, it's a matter of survival…. Tasting so many coffees with that level of acidity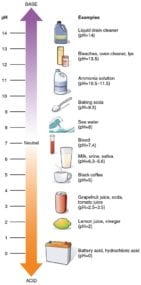 Acidity is a positive flavor attribute in coffee, also referred to as brightness or liveliness. It adds a brilliance to the cup, whereas low acid coffees can seem... can make someone want to drink Nescafe on the weekend. I asked a cupperOne who cups, or tastes and evaluates, coffee.: A cupper is a person who performs the somewhat formal analysis of coffee quality, called cupping. See the definition of... here, and that's exactly what they do. Cupping in Kenya is like nowhere else. Those who want a quiet room, a careful, clean procedure, a form with 10 scoring categories for each coffee, a rule to "stir each cup 3 times when breaking the cup" and clean water to rinse your spoon … well, you might need to adjust your requirements. This is really a very different type of cupping than most of us do. Just consider the scale of things …At the exporter C. Dorman for example, they cup around 600 kenya auction lots per week (650 is the max per weekly auction), and they do those twice on different days. 1200 or so. They also do 600 Tanzanias, another 1200 cup preparations. With re-cups and samples direct from the mill, not the auction, it's another 400-600. In the main crop season, they do 2500-3500 cups, sometimes up to 4000! A week! Rinsing water is not their primary concern. They move really fast, using a simple 3 point score for acidity, bodyAssociated with and sensed by mouthfeel, body is sense of weight and thickness of the brew, caused by the percentage of soluble solids in the cup, including all... and flavor. I have a video of the explanation, but basically a 232 is a great lot, 2 acidity, 3 body, 2 flavor. 1 scores are rare. They use these / marks for in-between scores so it's 232/3 or 1/232 etc. They don't write down their own scores either since that takes time, someone else does it. There are lots of drips that come off the spoons and fall in other cups; they don't care. They make a set of about 15 samples, half-pour the water, then return to fill in 4 minutes with slightly cooler water. Nobody sniffs the coffee dry or wet. The cups are stirred and cleaned, then cool down for 15 minutes before they cup. So there is a table with maybe 80 cups set up in these stages, and as they finishSimilar to aftertaste, but it refers to the impression as the coffee leaves the palate. Aftertaste is the sensations gathered after the coffee has left the mouth. We... scoring, they pull the cups from that stage and set up new ones. The lab I was in has 3 5-barrel sample roasters, with 2 of them were running most of the time I was there, and yes, all barrels in use. So you can imagine what a pain it must be to have your roaster-type cupper or coe type cupper in the room. There were three of us, me, Peter from Coffee Collective in Copenhagen and Tim Wendelboe from Oslo. They are very polite but I am sure it felt good to get the slow-pokes out of the way!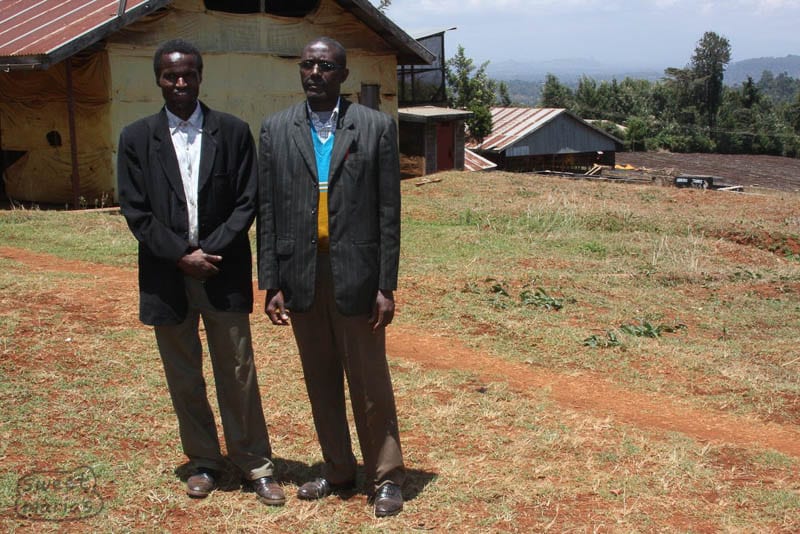 One of the big concerns among buyers of Kenya coffee is cultivar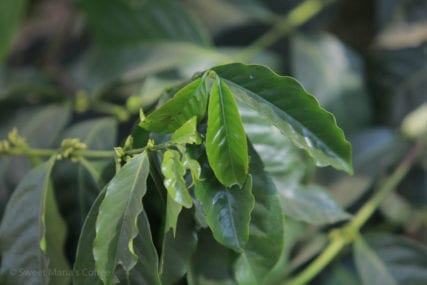 USDA is (obviously) the United States Department of Agriculture. USDA also had coffee plant breeding programs in the past and one variety they distributed to Indonesia and was.... SL-28Scott Labs selection 28 Kenya cultivar, a preferred type with Bourbon and Mokka heritage. It supposedly is selected from Tanganyika DR cultivar, found by A.D. Trench on a... is the king of all varietals and is broadly planted at high altitude farms. SL-34Scott Labs selection 34 Kenya cultivar, a preferred type with French Mission Bourbon heritage. It supposedly is selected from French Mission Bourbon trees at Loresho Estate in Kabete... and K-7 can be found at lower altitudes, 1300 meters or so. SL stands for Scot Laboratories, who was contracted by the government to improve upon the BourbonA coffee cultivar; a cross between Typica and Bourbon, originally grown in Brazil: Mundo Novo is a commercial coffee cultivar; a natural hybrid between "Sumatra" and Red Bourbon,... types of coffee that had come with French Missionaries from Reunion (Bourbon) island via TanzaniaIn terms of the Tanzania coffee character, it belongs to the Central/East African family of washed (wet-processed) coffees, bright (acidy), and mostly aggressively flavorful of which Kenya is... in the south, as well as some inputs from the Scottish MissionThe Scottish Mission introduced Mokka coffee from Yemen to their site in Kibwezi Kenya in 1893, and later at Kikuyu. These were called the St. Austin and St.... in the North which brought in YemenYemen has a coffee culture like no other place, and perhaps some of what we enjoy in this cup is due to their old style of trade...: Technically,... Typica seedstock. Coffee Leaf Rust (CLR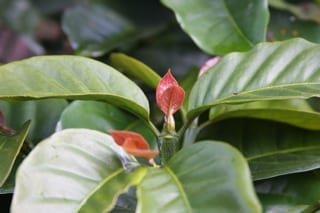 Castillo is a selection of the Colombia cultivar that has become the most commonly grown coffee in Colombia. It is preferred to the older resistant variety, Variedad Colombia...) and Coffee Berry DiseaseAbbreviated as CBD: A fungal disease that results in cherry dying and dropping to the ground before it is ripe.: A fungal disease that results in cherry dying... (CBD) are huge problems in Kenya, and without treatment the crops would be devastated. The fact is, OrganicGrown without the use of artificial fertilizers, herbicides, etc.: Organic coffee has been grown according to organic farming techniques, typically without the use of artificial fertilizers. Some farms... Kenya coffee is not viable, and you would need to pay 10x more for it if the farmer was going to be compensated fairly, because there would be so much loss. While the SL types have some resistance to these diseases, the Coffee Resarch center in Ruiru came up with a new type in the 1980s called Ruiru 11An Arabica cultivar from Kenya, a dwarf form with resistance to CBB (coffee berry borer)  and CBD (coffee berry disease) : Ruiru 11 is named for the station.... Oh, dreaded Ruiru 11. It is a back-crossed hybrid of earlier Ruiru types that has Hibrido de Timor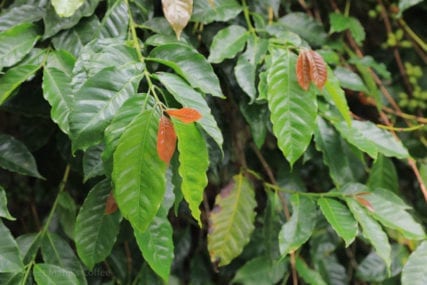 Hibrido de Timor abbreviated HdT is the interspecies hybrid of C. Arabica and C. Canephora (Robusta) that was found in Timor Leste in the 1940s. It has been... inputs. HdT is a natural mutation of ArabicaArabica refers to Coffea Arabica, the taxonomic species name of the genus responsible for around 75% of the worlds commercial coffee crop.: Arabica refers to Coffea Arabica, the... and RobustaRobusta usually refers to Coffea Robusta, responsible for roughly 25% of the world's commercial coffee. Taxonomy of Robusta is debated: some sources use "Robusta" to refer to any... that occurred on the island of Timor, and while the plant is hearty and strong, it tastes like crap. While Ruiru 11 is planted in many locations it makes up 5% or less of the total Kenya crop, so I am told. Most co-ops and farms are well aware now that the buyers want the SL types, and if properly managed they can have good yields and disease resistance too. Well, add to that "if they are properly treated with fungicides." Yes, Kenya is dependant on them and there is no way around it. Their use appears to be wise (especially since they are so expensive) and it is not like farmers run out and spray the coffee cherries before harvest. Much of the treatment is before the coffee is formed on the tree. Various certifications, Utz Kapeh and Fair TradeFair trade is an organized social movement and market-based approach to empowering developing country producers and promoting sustainability.: Fair trade is an organized social movement and market-based approach... and Rain Forest, require careful signage, training, and protection for those who spray. But the fact is, your Kenya coffee tree has been treated with fungicides at some point. In this way, it is 180 degrees opposite of Ethiopia.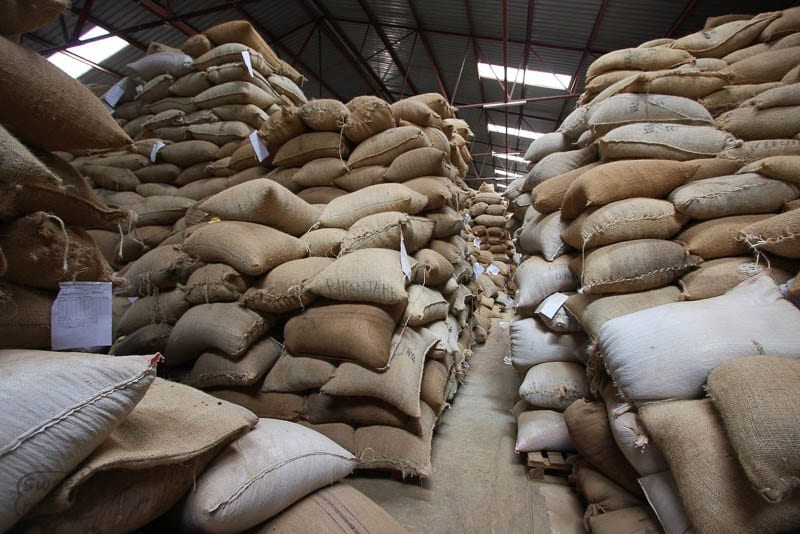 After a morning of tongue-splitting cupping in Nairobi, we headed out to Thika district, to Yadini estateA "coffee estate" is used to imply a farm that has its own processing facility, a wet-mill. In Spanish this is called an Hacienda. A Finca (farm) does... to meet Kamau, the head of farm outreach at Coffee Management Services (CMS). Yadini is a big farm, and the only one we saw in Thika, since much of the focus for quality coffee is the small-holder co-operatives farther away from the capital, such as Karatina, Nyeri. We did visit one co-operative near Thika called New Gatukuyu Farmer's Coffee co-op, in Gatundu. Fun was had by all.
Next day we cupped a billion coffees again, then headed out for a tour of the Dorman's impressive Nairobi mill, where coffees come to be offered at the auction, or conversely they come from the auction to be re-graded for export. This is also where they vacuum package the top tier lots, such as the Ndaro-Ini (Ndaroini) lot we have this year. Dorman has their fingers in many pies, and they also have a local chain of 10 coffee shops (money-losers, I am told) and a very successful roasted coffee brand, hence the tiny 90 kg Probat.
On Tuesday, since it is the main crop season, we paid an obligatory visit to the auction house in Nairobi. If you can imagine an old school lecture hall during test time, but add a big LED electronic trading board to the lecturn, and mix in the sounds from your pick of early 1980s video games (Pong will do), there you have it. You will need to check out the video I took to get the full effect. The sample room upstairs is amazing. The logistics for this process, and the fact they have carried it out for so many years, is a credit to the coffee board here. The problem is that, until several years ago, the KPCU company dominated the milling, and later Sofcanaf. Lack of competition made costs high, but the other big issue was this; marketing agents, the people that "represent" the co-op or farm and bring the lots to auction, were not always paying the farmers promptly. So despite the high prices garnered in the auction, the money was not making its way back to the people who grew the coffee, but was rather becoming "cash flow" money for middlemen. When the competition was opened up to include more exporters, more mills, and more agents, it actually helped, because a business that hadn't paid farmers promptly had a hard time getting coffee next time. Happily, Dorman has a stellar reputation for getting the best prices for farmers and for paying them on time. I heard it at every co-op we visited, and saw the numbers. That is comforting to know.
After a jaunty time at the auction we headed up-country, as they call it, past Thika, Murang'a and Kirinyaga, to the Karatina area of Nyeri. We met members at Gikanada Farmers Co-operative Society (at Gachatha-Ini coffee factory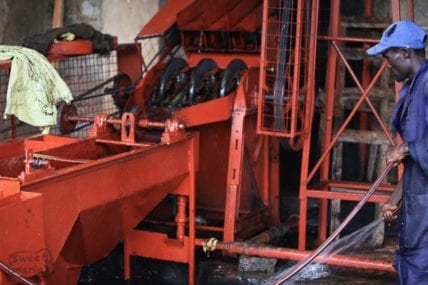 In Kenya, a "Factory" is actually a coffee wet mill (called a washing station in other parts of Africa) where the fresh cherry is brought for wet-processing. It...). Gachatha-Ini is great coffee, as is the Ndaro-Ini and Kangocho that all are part of this co-operative group. Charles, in the animal print shirt, is the co-op president and seemed on his game. We poked around the Gachatha-Ini factory (a mill is called a factory), and headed off to Ndaro-Ini not so far away. While the main harvest and drying time is over here, as in Ethiopia, the Mbuni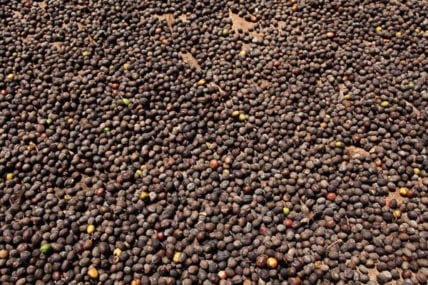 Also spelled M'buni or Buni, this is a Swahili term that refers to dry-process coffee.: Also spelled M'buni or Buni, this is a Swahili term that refers to... coffees are still coming in. Theoretically, these dry-processed coffees from late in the season could be good, but they aren't. Why? Because they are the indiscriminate strip-pickings of everything left on the tree after the main harvest is over. There are all types of defectIn coffee, a defect refers to specific preparation problems with the green coffee, or a flavor problem found in the cupping process. Bad seeds in the green coffee... beans, under-ripes, over-ripes, bug-infested. We'll think about trying a high quality, mid-harvest, all-ripe-cherry Mbuni project in the future. But for now … no. This stuff is verbotten. I asked to cup a few lots back in Nairobi, but the smell of the cups alone made it impossible for me to approach within 5 feet of them. Seriously.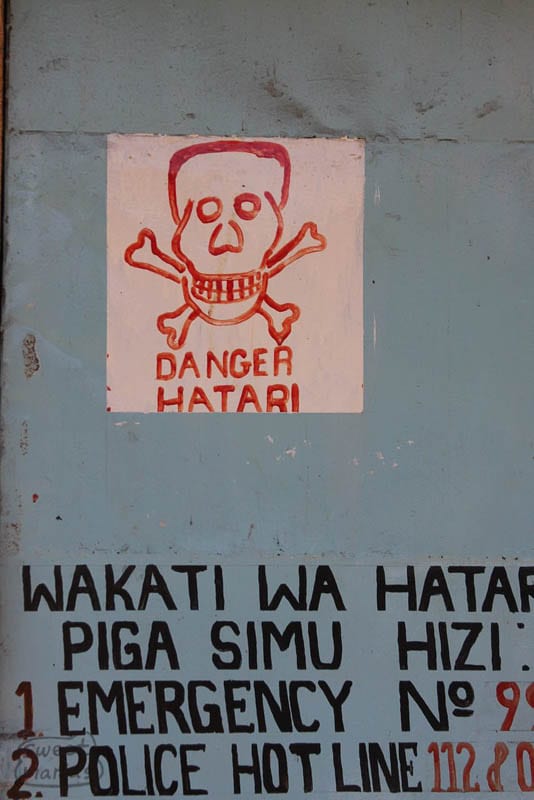 I strolled out of the mill to a nearby coffee shamba (smallholder farm) to see the trees, and met a very proud (and very old) farmer named Shellwyth Wanjeri. Her trees were well-pruned using a method that allows it to stay in production while also renewing itself. The tree is stumped at the main trunk except for one dominant older upright, and one new shoot. The old part will continue to produce, grow tall and flop over a bit, while the new shoot will reach 4 feet or so in 2 years with little coffee production. Then the old, tall, flopped-over trunk can be cut, and in the third year the new upright will have good production, well into 8 years of age. Then the process can repeat.
We headed out for Nyeri and the hotel, but not before passing through Karatina town and taking the obligatory picture of the Hotel Starbucks … or would you rather stay at the Chicken Inn. The choice is yours, man.
Next day we toured the CKCM mill with Charles, the mill manager, as well as their demonstration garden. It features the nice pruning techniques I already described, and a pure SL-28 nursery. We also had some cupping to do, very fresh lots that were recently brought in from nearby Nyeri farms. As in Nairobi, the overall quality was really stellar, hinting at a strong year for Kenya coffee (unlike every where else it seems, were volumes are way down). We headed off to Rumukia Co-operative Society in Mukurwe-Ini, Nyeri District. They have some great factories under their banner, ones we have enjoyed much in the past, such as Kiawamururu, Gatura, Thunguri, Tambaya and others. We had cupped really nice Kiawamururu coffees already so we headed out there with Patrick, the president of the sub-coop and Peter, the manager of the factory.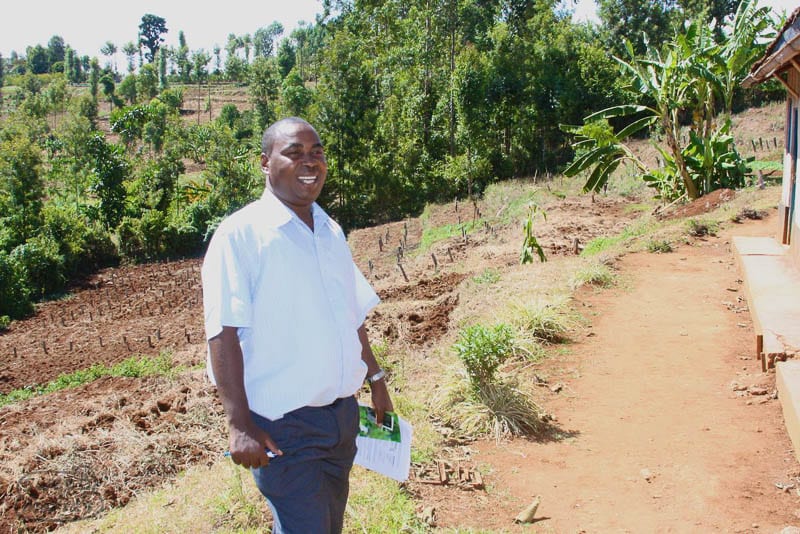 It's a good time to sum up the Kenya wet-process method, which is different than other places. In Kenya, they use long fermentationA key part of the wet process of coffee fruit is overnight fermentation, to break down the fruit (mucilage) layer that tenaciously clings to the coffee seed, so... times, and an unusual soaking process afterwards. All the wet mills are on slight hills and the first row of tanks are for overnight, initial fermentation. Coffee from the day's harvest comes in at evening time, then it is sorted out at the mill for any under-ripe or CBD bitten cherries. Coffee is logged in by the mill to ensure proper payment to the farmer, then collected in cement bins and run through the pulper/grader, which removes skins from the fruit, and does some basic separation of the heavier (riper, more mature) cherry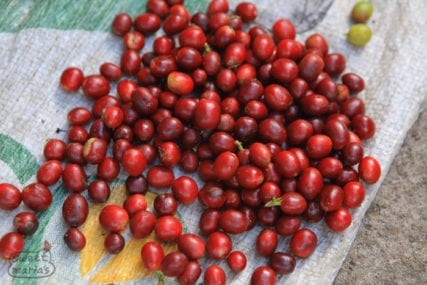 Either a flavor in the coffee, or referring to the fruit of the coffee tree, which somewhat resembles a red cherry.: Either a flavor in the coffee, or... from lighter (floating) underripe ones. This results in 3 different streams of graded coffee seeds emerging from the pulper, washed down cement channels into separate tanks. Coffee is left overnight in the initial tank, and then is washed down into a lower series of tanks for more fermentation, lasting as long as 36 hours! (In Central America, coffee is rarely fermentedAs a defect flavor, a fruit quality in a coffee that is excessively ripe, toward rotten. Fermented flavor can be the result of poor wet-processing, over-ripe cherry, or... more than 24 hours total).
Water is changed in the tank every 12 hours, but they use filtered, recycled water which maintains the fermentation reactions. After this the coffee is sent to the washing channel, where the fruityIn some coffee taster's lexicon, "fruity" means the coffee is tainted with fruit, and "fruited" means a coffee is graced by positive fruit notes. We don't exactly see... mucilage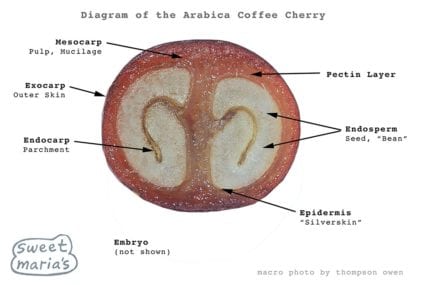 Mucilage indicates the fruity layer of the coffee cherry, between the outer skin and the parchment layer that surrounds the seed. It readily clings to the inner parchment... layer that clings so vigorously to the coffee parchmentGreen coffee still in its outer shell, before dry-milling, is called Parchment coffee (pergamino). In the wet process, coffee is peeled, fermented, washed and then ready for drying... layer is now easily scrubbed off as the coffee is pushed down the channel. Now it goes to a soaking tank, where it is held in clean water for 12 hours. It can actually be held for as much as 48 hours here, if the drying beds are filled with coffee, as can happen in the middle of the harvest. The water is changed so that little or no fermentation is occuring. I mean, technically there is nothing left to fermentAs an aroma or flavor in coffee, ferment is a defect taste, resulting from bad processing or other factors. Ferment is the sour, often vinegar-like, that results from..., but they feel that the soaking tank finishes off any small amount of fermentation that is needed. The coffee is then washed down channels again to the triage point where it is dumped onto a large screen, like a mesh gurney, and transported to an available space on the raised drying screens. The key difference here is the extraordinarily long fermentation time. And yet the resulting coffee (usually) has one of the brightest, cleanest cup profiles in the world!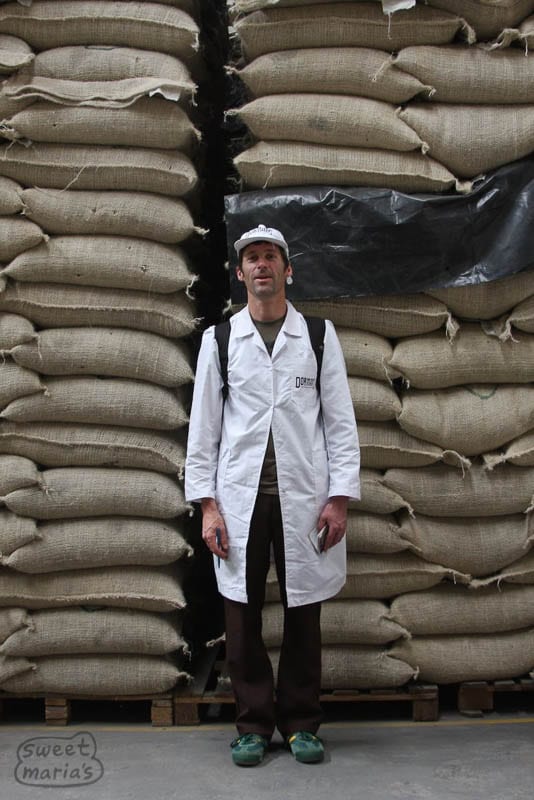 We had one more co-op society to visit, Tekangu, which stands for the 3 member factories: Karagoto, Tegu, and Ngunguru. The first two we have bought before, and they can be excellent coffees. Here I enjoyed a most memorable ginger beer called Stoney Tangawizi. I looked it up on the internet when I got home; it's made by Coke. So much for original experiences.
It was a short but fruitful trip, and one thing I learned about Kenya that will make me want to come back is a side-story to the whole coffee thing. I mean Kenya coffee, world's finest, great auction system, Grand Cru, black currant, blah, blah, blah. But where else can you find a butcher and a pub under the shingle of one business??? What about Hair Plaza College & Beauty Therapy + Boarding! Mob House Motorcycle and Powersaw Spares, yo! Nameless Hotel? Chapbucks and the Chicken Inn? Seniors Driving School for Trucks? And don't get me started on the vans and minibuses. Kenya is an eye-popping good time, despite the huge gap in classes, threat of ethnic warfare, bad colonial vibe, Fort Knox level security around the ex-pat mansions, kidnappings, carjackings, and a general level of suspicion not found in Ethiopia. In that way, it's pretty much the West Oakland of Africa, I would say. -Tom March 2009
Photos from Kenya Coffee Cupping & Comments from a Quick Trip: