New CropRefers to fresh shipments of green coffee within the first month or two of the earliest arrivals ... not quite the same as Current Crop, which means the... ...more: Central America & More
Drowning in samples. It might sound like a good problem to have, but you should see my desk; it's covered with coffee samples. Upstairs in the cupping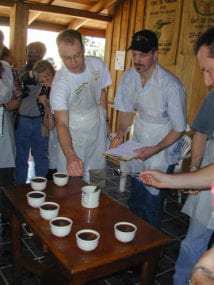 Cupping is a method of tasting coffee by steeping grounds in separate cups for discrete amounts of ground coffee, to reveal good flavors and defects to their fullest.... ...more room … samples, everywhere. There are baggies and boxes, of every shape and size. Then there are the piles, flopped over. Occasionally there are the escapees, loose green coffee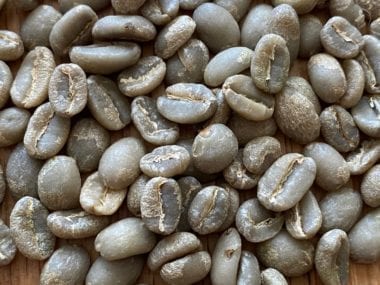 Green coffee refers to the processed seed of the coffee tree fruit. Coffee is a flowering shrub that produces fruit. The seeds of the fruit are processed, roasted,... ...more now hopelessly separated from its designated bag: anonymous, alone, doomed to become floor sweepings, never to be roasted, tasted, or appreciated. There are some key moments each year when coffee harvests from various originIn coffee talk, it refers to a coffee-producing region or country; such as, "I was just at origin." Of course "Origin" for most product we use is not... ...more countries yield hordes of pre-shipment samples (enticing, carefully prepared little baggies chosen to represent the bigger lot) awaiting a buyer. Since many of our coffees are purchased from farms we have visited and sources we know, the narrative isn't quite the same. We already know the coffee, we know the quality of the labor behind the coffee, and we know the cup quality we should get. Still, pre-shipment samples are an important part of the process, even if they are not solicitations to buy the lot. This year is a new beginning for Sweet Maria's in terms of our Central American coffees. With more time traveling in the field, we have jumped in with a greater varietyA botanical variety is a rank in the taxonomic hierarchy below the rank of species and subspecies and above the rank of form (form / variety / subspecies... ...more of micro-lotA term that designates not only a small volume of coffee, but a lot produced separately, discreetly picked or processed to have special character. Read the full definition!:... ...more coffees than ever before. Many of these, especially in the case of Costa RicaCosta Rican coffee is typically very clean, sweet, with lots of floral accents. hey are prized for their high notes: bright citrus or berry-like flavors in the acidity,... ...more, come from small farms that used to sell to big cooperatives, and decided to go independent, build Micro-Mills on the premises, and get total control of their coffee. This also allows them to gain better prices from quality-oriented buyers like Sweet Maria's, and maximize the value of their product. The number of small lots we will be offering is a bit daunting, and involves a lot of writing and reviewing for me (Tom.)
We need to introduce a broader range of flavors than before and it may be confusing since there are Costa Rican coffees that are full natural, dry-process, and cup like dry-processed EthiopiaEthiopia, formerly known as Abyssinia, or a coffee cultivar: Ethiopia, or more specifically the Empire under Haile Selassie,  was known as Abyssinia. The name is Latin, derived from... ...more; others are "Miel" coffees, pulp naturalPulp natural is a hybrid method of processing coffee to transform it from the tree fruit to a green bean, ready for export. Specifically, it involves the removal... ...more, and have lower acidity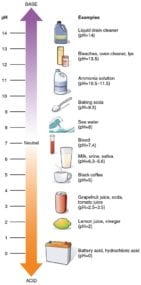 Acidity is a positive flavor attribute in coffee, also referred to as brightness or liveliness. It adds a brilliance to the cup, whereas low acid coffees can seem... ...more but with great balanceSuggests a harmony and proportion of qualities, and implies mildness since no one quality dominates.: Balance is both an obvious and slippery taste term. It implies a harmony... ...more and bodyAssociated with and sensed by mouthfeel, body is sense of weight and thickness of the brew, caused by the percentage of soluble solids in the cup, including all... ...more like a BrazilBrazil is a coffee giant . As Frank Sinatra sang, "they grow an awful lot of coffee in Brazil".: Brazil is a coffee giant . As Frank Sinatra... ...more. And then we have the typical wet-process lots, but since they are from particular farms, particular cultivars, and particular elevations, they cup with a vivid brightnessA euphemistic term we use often to describe acidity in coffee. A bright coffee has more high, acidic notes. : A euphemistic term to describe acidity in coffee.... ...more that may exceed some of our Costas of the past. We will be offering the same from GuatemalaGuatemalan coffee is considered a top quality coffee producer in Central America. Due to our proximity to Guatemala, some of the nicest coffees from this origin come to... ...more, with a full natural lot from Oriente due in several months, but some excellent small farm wet-processed coffees due much sooner. We already have 2 new crop lots from Fraijanes in the shop, old cultivars of BourbonA coffee cultivar; a cross between Typica and Bourbon, originally grown in Brazil: Mundo Novo is a commercial coffee cultivar; a natural hybrid between "Sumatra" and Red Bourbon,... ...more and Typica. In Ethiopia, we are taking a much more active role buying from cooperatives and private mills, and will have many of our wetprocessed coffees vacuum packed in Addis Ababa to ensure they are not diminished by the long (often sweltering) trip from Africa to Oakland. KenyaKenya is the East African powerhouse of the coffee world. Both in the cup, and the way they run their trade, everything is topnotch.: Kenya is the East... ...more Auction Lots? They take 6 weeks to transit here, but we have many incredible lots lined up. Back to our Centrals; we just received our Nicaragua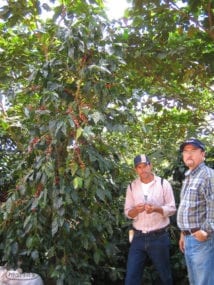 Nicaraguan coffees from the Segovia, Jinotega, Ocotal and Matagalpa regions are nice balanced cups. They often possess interesting cup character along with body and balance, outperforming many other... ...more Limoncillo Farm Java CultivarJava Cultivar is planted widely in Cameroon, related to Abyssinia found in East Java. It is distinct from Java Typica types, such as Bergendal, Pasumah or BLP, and... ...more, and a sister lot of this coffee (under a modified name) just won #2 in the 2008 Nicaragua Cup of ExcellenceThe Cup of Excellence is a competition held yearly in many coffee-producing countries, designed to highlight the very best coffees from each origin.: The Cup of Excellence (COE)... ...more! We have the
award winning El SalvadorEl Salvador coffee had an undeservingly poor reputation for years, marred mostly by the inability to deliver coffee of high quality in an unstable political climate. Unfortunately, agriculture... ...more from Finca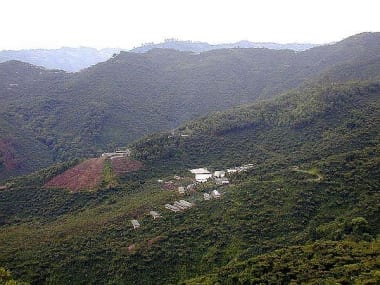 Spanish 101: Finca is the Spanish word for farm. Sometimes the term Hacienda is used to imply an Estate, which would mean the farm has its own wet-mill.... ...more Kilimanjaro booked, along with Orange BourbonA variant of Bourbon that ripens to an orange color. While the cup quality is on par with Red Bourbon (and no discernable cup quality differences from the... ...more, the excellent Finca Mauritania, and many other exciting lots. In April, the arrivals will be descending upon us in thick slabs, like fog through the Golden Gate.
Flat Rate Shipping
The USPS has come out with a new Large Flat Rate box, so now there is the standard Flat Rate box (holds up to 12#s maximum, green coffee and some bags) for $10.80 and the Large Flat Rate box(18#s maximum, green coffee and some bags) for $13.95. This works out to about $.90/# shipping in the small box, and $.76/# in the larger one. This is a great deal for folks east of the Rockies (okay, so like most of the country!) so long as you understand that USPS boxes are not truly trackable; delivery confirmation is just that, the box is recorded when it goes into the system and when it is delivered, that's all. Also, there is no time-in-transit guarantee as there is with UPS, no real accountability unless the box is insured. I mean, c'mon, it's the Post Office! So it works great most of the time, but when something is lost, misdirected or horribly delayed, there is no real accountability. West of the Rockies, UPS is often a better deal than USPS Flat Rate. And of course, for larger boxes and items that will not fit in the Flat Rate Boxes, UPS is the best option generally.
Postcards from Coffee Lands
We have started to print postcards of various photos Tom has taken on his many travels – so far this year we have cards from IndiaIndian coffees are under-represented in the coffee market: they are good balanced, mild coffees. You will find the pronounced body, low acidity and subtle spicy notes pleasing, and... ...more, Costa Rica and YemenYemen has a coffee culture like no other place, and perhaps some of what we enjoy in this cup is due to their old style of trade...: Technically,... ...more. Many folks like these as they are good quality prints, so we will try to keep them coming, timed to coincide with new coffee arrivals and/or big trips. We know you could re-use them easier if we didn't fill the back with information about the image, but then again, you wouldn't know what the heck you were looking at in the picture! We plan to produce a card with good-quality reproductions of the various roasting stages, a "cheat card" you can keep nearby while roasting. Look for these packed with your orders soon!
New EspressoA small coffee beverage, about 20 ml, prepared on an espresso machine where pressurized hot water extracted through compressed coffee.: In its most stripped-down, basic form, this is... ...more Training Book
We have a new book oriented toward advanced "home baristas" and professionals as well. It's by Scott Rao and it's called The Professional Barista's Handbook. Don't let the name put you off, it's an excellent, focused book on technique, printed on thick stock, perfect to keep right by the machine. Unlike the Illy Espresso book, which is heavy on theory, this book is about practice, about doing it. -Maria
Sweet Maria's Coffee
1115 21st Street, Oakland CA
94607
web: www.sweetmarias.com
email: [email protected]
Sweet Maria's Green Coffee Offering List
as of May1, 2008 – there are many, many incoming lots weekly.
Check the web site – this list is certainly out-of-date!
Central American 1 lb 2 lb 5 lb 10 Lb 20 lb
El Salvador Matalapa EstateA "coffee estate" is used to imply a farm that has its own processing facility, a wet-mill. In Spanish this is called an Hacienda. A Finca (farm) does... ...more $5.00 $9.50 $21.75 $41.50 $77.00
Guatemala Finca La Florencia 100% Bourbon $5.15 $9.79 $22.40 $42.75 $79.31
Guatemala Huehuetenango – San Vicente $5.30 $10.07 $23.06 $43.99 $81.62
Honduras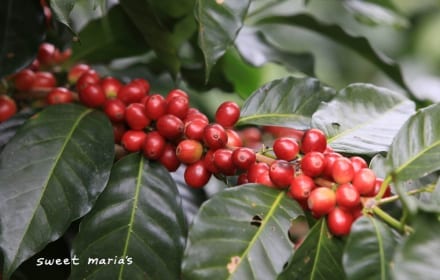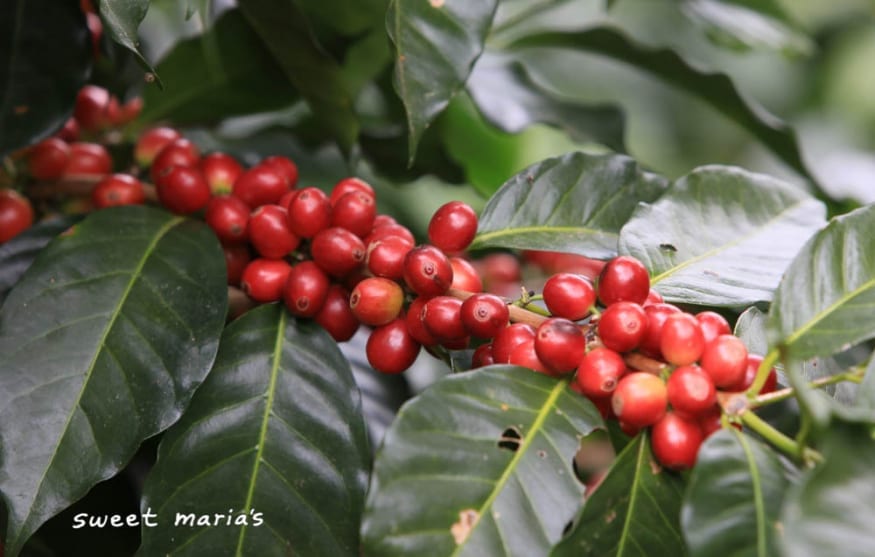 Honduran coffee was absent from the top ranks of the Specialty market, but that has changed. It has all the environmental factors on its side: soil, altitude, climate.... ...more FTOFTO is shorthand for a coffee that is certified as both Fair Trade and Organic. ...more San Marcos -Cocosam Coop $4.90 $9.31 $21.32 $40.67 $75.46
MexicoMexican coffee originates from South-central to Southern regions of the country. For that reason, coffees from Coatepec and Veracruz are much different from Oaxacan Plumas, which are in... ...more OrganicGrown without the use of artificial fertilizers, herbicides, etc.: Organic coffee has been grown according to organic farming techniques, typically without the use of artificial fertilizers. Some farms... ...more Dry-Process Nayarit Rustico $5.80 $11.02 $25.23 $48.14 $89.32
Nicaragua PacamaraAs the name implies, Pacamara is a large bean cultivar, a cross between Pacas and Maragogype with unique flavor properties. This variant originated in El Salvador in 1958,... ...more PeaberryA peaberry is a green coffee "bean" that has a rounded form: Coffee is the dried seed from the fruit of a flowering tree - each fruit having... ...more $5.90 $11.21 $25.67 $48.97 $90.86
Nicaragua Limoncillo Java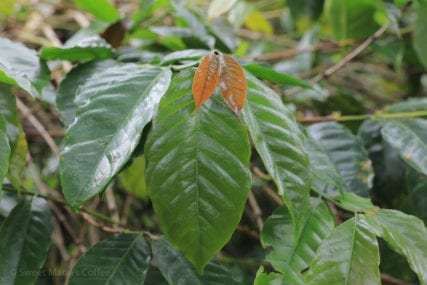 There are several types of Abyssinia, but they are not from Ethiopia but rather Indonesia. Abyssinia 3 = AB3. PJS Cramer, a Dutch plant researcher, introduced this variety in 1928,... ...more CultivarCultivar is a term used interchangeably with Varietal in the coffee trade to indicate plant material, although there are distinctions.: The naming of a cultivar should conform to... ...more $5.90 $11.21 $25.67 $48.97 $90.86
PanamaPanama coffee ranges from medium quality lower altitude farms to those at 1600 - 1800 meters centered in the area of Boquete in the Chirqui district near the... ...more SHB Las Victorias $4.80 $9.12 $20.88 $39.84 $73.92
South American 1 lb 2 lb 5 lb 10 Lb 20 lb
Brazil Carmo – Nazareth Dias Pereira