Stay up to date on coffee we have coming down the pipeline and our latest green coffee outlook and arrivals schedule.
Green Coffee Notes for April 2021:
We hope to have Liquid Amber back in stock by June. We are out of Monsoon Malabar, one of the central components, and unfortunately, the samples we've tasted of available stock are not at the quality level we require for our blend (we won't compromise quality!). 
The good news is we found an exceptional IndiaIndian coffees are under-represented in the coffee market: they are good balanced, mild coffees. You will find the pronounced body, low acidity and subtle spicy notes pleasing, and... ...more Monsoon Malabar lot at originIn coffee talk, it refers to a coffee-producing region or country; such as, "I was just at origin." Of course "Origin" for most product we use is not... ...more, and is currently on the water in-transit. We even bought enough of it to offer as a single originSingle Origin refers to coffee from one location, in contrast to blended coffee. This term is particularly useful in discussing espresso, since most commercial espressos are made from... ...more too!
While we realize it's not the most accurate metric of how things are moving at the Port, the number of container ships we can see from the Bay Bridge waiting to dock and offload their shipping containers seems to be shrinking. 
There's a very real possibility some of the slowdown is related to the proverbial log jam caused by the megaship Ever Given running afloat. But now that it's cleared up, the San Francisco Bay may fill up like a parking lot once more.
Our latest arrivals from ColombiaColombian coffee is highly marketed and widely available in the US. They have been largely successful at equating the name Colombian Coffee with "Good" Coffee. This is half-true.... ...more have been slowly moving through the queue that starts West of the Golden Gate, but we're hoping to see its final progress to the Port this week.
Back at our cuppingCupping is a method of tasting coffee by steeping grounds in separate cups for discrete amounts of ground coffee, to reveal good flavors and defects to their fullest.... ...more lab, we're tasting the final harvest samples from EthiopiaEthiopia, formerly known as Abyssinia, or a coffee cultivar: Ethiopia, or more specifically the Empire under Haile Selassie,  was known as Abyssinia. The name is Latin, derived from... ...more and KenyaKenya is the East African powerhouse of the coffee world. Both in the cup, and the way they run their trade, everything is topnotch.: Kenya is the East... ...more, and have contracted nearly all of our coffee for the year. You'll see quite a few new lots on the list of incoming coffees below.
We're wrapping up contracts in GuatemalaGuatemalan coffee is considered a top quality coffee producer in Central America. Due to our proximity to Guatemala, some of the nicest coffees from this origin come to... ...more as well, and I'll definitely have more to report on specifics in the May Green CoffeeGreen coffee refers to the processed seed of the coffee tree fruit. Coffee is a flowering shrub that produces fruit. The seeds of the fruit are processed, roasted,... ...more Outlook. We've been fielding some questions about what to expect from Guatemala, so I'll try to do a mid-month update to relay some of those specifics in our Incoming Coffees list.
As always, send any coffee questions to us at [email protected], or wholesale questions at [email protected]. We're here to help.
| | | | |
| --- | --- | --- | --- |
| April Outlook | | | |
| BrazilBrazil is a coffee giant . As Frank Sinatra sang, "they grow an awful lot of coffee in Brazil".: Brazil is a coffee giant . As Frank Sinatra... ...more Dry ProcessDry process coffee is a method for taking the fruit from the tree to an exportable green bean. The whole intact coffee cherry is dried in the sun... ...more Sítio Dois Irmãos | 30 | 60 KG | Oakland |
| Brazil Dry Process Sitio Senhor Bom Jesus | 30 | 69 KG | Oakland |
| Brazil Dry Process Pedra Branca | 50 | 60 KG | Oakland |
| Brazil Pulp NaturalPulp natural is a hybrid method of processing coffee to transform it from the tree fruit to a green bean, ready for export. Specifically, it involves the removal... ...more Pedra Branca | 31 | 60 KG | Oakland |
| BurundiBurundi coffee bears resemblance to neighboring Rwanda, in both cup character, but also the culture surrounding coffee. Burundi is a small landlocked country at the crossroads of East... ...more Kazoza N'Ikawa Coop Lot 2 | 20 | 60 KG | Oakland |
| Burundi Dry Process Kibingo | 50 | 60 KG | Oakland |
| Burundi Kabarore Commune Yandaro | 40 | 30 KG | Oakland |
| Burundi Kayanza Yagikawa Lot 2 | 30 | 60 KG | Oakland |
| Burundi Mutambu Colline Migoti | 20 | 69 KG | Oakland |
| Colombia Inzá Veredas Vecinas | 46 | 60 KG | Oakland |
| Colombia Urrao Valle de Penderisco | 18 | 60 KG | Oakland |
| Colombia Urra Fray David Moreno | 10 | 60 KG | Oakland |
| Colombia Urrao FincaSpanish 101: Finca is the Spanish word for farm. Sometimes the term Hacienda is used to imply an Estate, which would mean the farm has its own wet-mill.... ...more San Carlos | 24 | 60 KG | Oakland |
| Colombia HoneyIn coffee, honey-like sweetness is often found, but we use terms such as refined honey (highly filtered and processed) as opposed to raw honey rustic honey sweetness. This... ...more Las Aguilas GeshaGesha is a long-bean Ethiopia selection with unique cup character.: Gesha (often wishfully misspelled as Geisha) is a long-bean Ethiopia cultivar selection with unique cup character. It is... ...more | 10 | 60 KG | Oakland |
| FloresFlores is an Indonesian island, and as a coffee bears more resemblance to the coffees of Timor-Leste, New Guinea and Java than to the wet-hulled coffees of Sumatra... ...more Gunung Waja Mala | 40 | 30 KG | Oakland |
| HondurasHonduran coffee was absent from the top ranks of the Specialty market, but that has changed. It has all the environmental factors on its side: soil, altitude, climate.... ...more La Peña Denilson Madrid | 8 | 60 KG | Oakland |
| JavaThere are several types of Abyssinia, but they are not from Ethiopia but rather Indonesia. Abyssinia 3 = AB3. PJS Cramer, a Dutch plant researcher, introduced this variety in 1928,... ...more Wet Hulled Parahyangan | 50 | 30 KG | Oakland |
| PeruPeruvian coffees have Central American brightness but in a South American coffee flavor package overall. The good organic lots do have more of a "rustic" coffee character.: Organic... ...more Pueblo de Piñas | 40 | 60 KG | Oakland |
| Peru Huabal Ancelmo Guevara | 14 | 69 KG | Oakland |
| Peru Huabal Santiago Tapia | 10 | 60 KG | Oakland |
| RwandaA Bourbon cultivar variant from Rwanda and Burundi. Bourbon coffees are named for the island in the India Ocean where French colonists grew it. Some history from the... ...more Dry Process Nyakabingo | 20 | 60 KG | Oakland |
| Rwanda Gatare PeaberryA peaberry is a green coffee "bean" that has a rounded form: Coffee is the dried seed from the fruit of a flowering tree - each fruit having... ...more | 20 | 60 KG | Oakland |
| Sulalwesi Toraja Pulu Pulu | 26 | 60 KG | Oakland |
| Sulalwesi Enrekang Angin Angin | 40 | 30 KG | Oakland |
| SulawesiSulawesi coffees are low-acid with great body and that deep, brooding cup profile akin to Sumatra. The coffee is sometimes known as Celebes, which was the Dutch colonial... ...more Dry Process Topidi | 31 | 30 KG | Oakland |
| Sulawesi Wet Hulled Toraja Sapan | 30 | 30 KG | Oakland |
| SumatraIndonesians are available as a unique wet-hulled or dry-hulled (washed) coffees. Giling Basah is the name for the wet-hulling process in Bahasa language, and will have more body... ...more Wet ProcessWet-processing starts by removing the outer skin of the coffee cherry with a machine called a pulper, then fermenting the remaining fruit (with green bean inside) in water... ...more Kerinci | 30 | 30 KG | Oakland |
| Sumatra Mandheling-Aceh Triple-Pick | 47 | 60 KG | Oakland |
| TimorTimor-Leste (East Timor) is a tiny island between Australia and Sulawesi, annexed by Indonesia and liberated in a referendum several years ago. Small scale coffee farming was jump-started... ...more Leste Goulala Village | 25 | 60 KG | Oakland |
| Timor Leste Dry Process Kailitlau | 24 | 30 KG | Oakland |
| Timor Leste Dukurai Loiludo | 20 | 30 KG | Oakland |
| Brazil Minas Gerais SWPSWP means Swiss Water Process is a patented water filtration decaf method, not a chemical solvent method. The plant is in Vancouver, Canada. ...more Decaf | 60 | 60 KG | Oakland |
| Ethiopia SWP Decaf | 60 | 60 KG | Oakland |
| Moka Java SWP Decaf | 60 | 60 KG | Oakland |
Upcoming coffees currently on the schedule to be added to our website: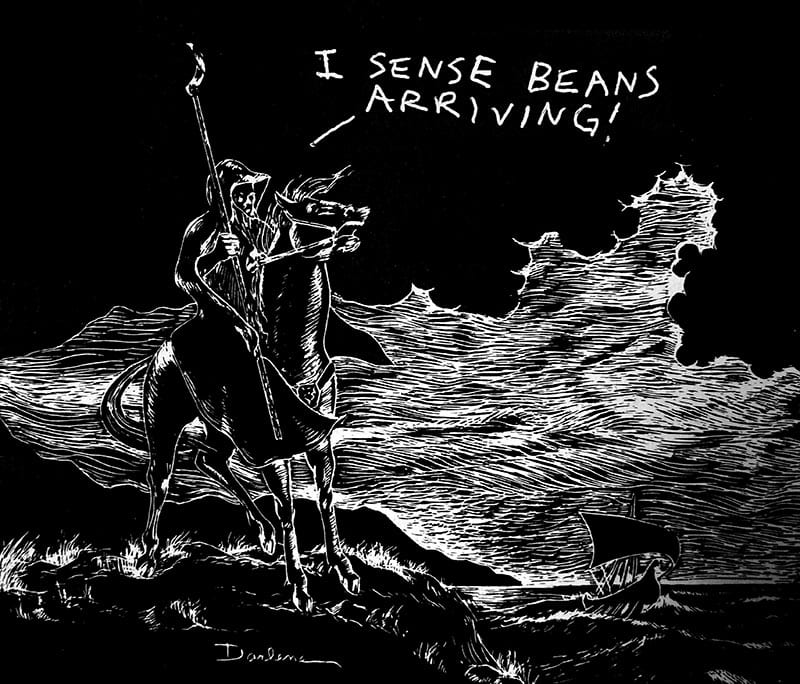 Incoming coffees currently on the water:
| | | | |
| --- | --- | --- | --- |
| Africa Outlook | | | |
| Cameroon Caplami Java CultivarJava Cultivar is planted widely in Cameroon, related to Abyssinia found in East Java. It is distinct from Java Typica types, such as Bergendal, Pasumah or BLP, and... ...more | 50 | 60 KG | mid May |
| Ethiopia Yirga Cheffe Konga Lot 1 | 50 | 60 KG | late April |
| Ethiopia Yirga Cheffe Aricha Lot 1 | 85 | 60 KG | late April |
| Ethiopia Yirga Cheffe Aricha Lot 2 | 85 | 60 KG | late April |
| Ethiopia Banko Gutiti Gedeb | 50 | 60 KG | late April |
| Ethiopia Yirga Cheffe Worka Wuri | 50 | 60 KG | late April |
| Ethiopia OrganicGrown without the use of artificial fertilizers, herbicides, etc.: Organic coffee has been grown according to organic farming techniques, typically without the use of artificial fertilizers. Some farms... ...more Dry Process Daanisa | 100 | 60 KG | not yet shipped |
| Ethiopia Organic Dry Process Bookkisa | 75 | 60 KG | not yet shipped |
| Ethiopia Organic Dry Process Birbissa | 50 | 60 KG | not yet shipped |
| Ethiopia Dry Process Bekele Basha | 50 | 60 KG | not yet shipped |
| Ethiopia Dry Process Bekele Belayecho | 45 | 60 KG | not yet shipped |
| Ethiopia Dry Process Hambela Dabaye | 120 | 60 KG | not yet shipped |
| Ethiopia Dry Process Benti Nenka | 100 | 60 KG | not yet shipped |
| Ethiopia Hambela Benti Nenka | 50 | 60 KG | not yet shipped |
| Ethiopia Hambela Dabaye | 50 | 60 KG | not yet shipped |
| Ethiopia Organic Agaro Duromina | 80 | 60 KG | not yet shipped |
| Ethiopia Organic Nano Challa | 60 | 60 KG | not yet shipped |
| Ethiopia Organic Agaro Kedamai | 60 | 60 KG | not yet shipped |
| Ethiopia Organic Kennisa Cooperative | 60 | 60 KG | not yet shipped |
| Ethiopia Organic Geta Bore | 60 | 60 KG | not yet shipped |
| Ethiopia Dry Process Hambela Buliye | 100 | 60 KG | not yet shipped |
| Ethiopia Dry Process Guji Bukusayisa | 60 | 60 KG | not yet shipped |
| Ethiopia Dry Process Shakiso Allona | 80 | 60 KG | not yet shipped |
| Ethiopia Dry Process Goro Bedesa | 80 | 60 KG | not yet shipped |
| Ethiopia Dry Process Dambi Udo | 100 | 60 KG | not yet shipped |
| Ethiopia Dry Process Dari | 100 | 60 KG | not yet shipped |
| Ethiopia Dry Process Hambela Goro | 120 | 60 KG | not yet shipped |
| Ethiopia Banko Chelchelle | 120 | 60 KG | not yet shipped |
| Ethiopia Dry Process Guji Uraga | 100 | 60 KG | not yet shipped |
| Ethiopia Dry Process Dikitu | 50 | 60 KG | not yet shipped |
| Ethiopia Agaro Genji Challa | 30 | 60 KG | not yet shipped |
| Ethiopia Kecho Anderecha | 40 | 60 KG | not yet shipped |
| Ethiopia Honey Process"Red honey" process gesha at a coffee farm in Costa Rica's Central Valley growing region. The honey process has nothing to do with honey other than the fact... ...more Genji Challa | 40 | 60 KG | not yet shipped |
| Ethiopia Agaro Telila | 40 | 60 KG | not yet shipped |
| Ethiopia Dry Process Mahamed Aba Nura | 50 | 60 KG | not yet shipped |
| Ethiopia Dry Process Nebso Aba Geda | 40 | 60 KG | not yet shipped |
| Ethiopia Limu Musa Aba Lulesa | 40 | 60 KG | not yet shipped |
| Ethiopia Dry Process Mansur Aba Hikam | 40 | 60 KG | not yet shipped |
| Kenya Nyeri Ichamama PeaberryThe Spanish-language term for Peaberry is the same for "snail". See Peaberry for more information on the single bean fruit of the coffee tree. A peaberry is the... ...more | 14 | 60 KG | not yet shipped |
| Kenya Nyeri Ichamama AB | 31 | 60 KG | not yet shipped |
| Kenya Nyeri Gatugi AA | 54 | 60 KG | not yet shipped |
| Kenya Nyeri Gatugi AB | 47 | 60 KG | not yet shipped |
| Kenya Nyeri Chinga AA | 22 | 60 KG | not yet shipped |
| Kenya Nyeri Chinga AB | 25 | 60 KG | not yet shipped |
| Kenya Nyeri Chinga Peaberry | 6 | 60 KG | not yet shipped |
| Kenya Nyeri Rukira AA | 15 | 60 KG | not yet shipped |
| Kenya Nyeri Kiruga AB | 37 | 60 KG | not yet shipped |
| Kenya Nyeri Kiruga Peaberry | 16 | 60 KG | not yet shipped |
| Kenya Nyeri Gatugi Peaberry | 25 | 60 KG | not yet shipped |
| Kenya Nyeri Mahiga Peaberry | 10 | 60 KG | not yet shipped |
| Kenya Nyeri Riakiberu AA | 30 | 60 KG | not yet shipped |
| Kenya Nyeri Karindundu Peaberry | 13 | 60 KG | not yet shipped |
| Kenya Nyeri Kiunyu Peaberry | 11 | 60 KG | not yet shipped |
| Kenya Nyeri Kainamui Peaberry | 20 | 60 KG | not yet shipped |
| | | | |
| --- | --- | --- | --- |
| Africa Outlook (Cont) | | | |
| Kenya Nyeri Karinga Peaberry | 14 | 60 KG | not yet shipped |
| Kenya Nyeri Gakui Peaberry | 11 | 60 KG | not yet shipped |
| Kenya Nyeri Ndimaini Peaberry | 13 | 60 KG | not yet shipped |
| Kenya Nyeri Gatomboya Peaberry | 26 | 60 KG | not yet shipped |
| Kenya Nyeri Karatina Peaberry | 13 | 60 KG | not yet shipped |
| Kenya Nyeri Riakiberu Peaberry | 32 | 60 KG | not yet shipped |
| Kenya Nyeri Kangunu Peaberry | 33 | 60 KG | not yet shipped |
| Kenya Nyeri Kangunu AB | 35 | 60 KG | not yet shipped |
| Kenya Nyeri Kegwa Peaberry | 14 | 60 KG | not yet shipped |
| Kenya Wadogo Wakulima Peaberry | 9.5 | 60 KG | not yet shipped |
| Kenya Kiambu Fram Farm Peaberry | 10 | 60 KG | not yet shipped |
| Kenya Kirinyaga Kabimutho AB/PB | 8 | 60 KG | not yet shipped |
| Kenya Nyeri Ichuga AB/PB | 32 | 60 KG | not yet shipped |
| Kenya Kiambu Jojo AB/PB | 10 | 60 KG | not yet shipped |
| Kenya Thika Elik Farm AA | 9 | 60 KG | not yet shipped |
| Kenya Kiambu Fram Farm AA | 22 | 60 KG | not yet shipped |
| Kenya Kiambu Fram Farm AB | 37 | 60 KG | not yet shipped |
| Kenya Kiambu Fram Farm AA | 24 | 60 KG | not yet shipped |
| Kenya Kirinyaga Gachenge AA | 30 | 60 KG | not yet shipped |
| Kenya Thika Ibutiti AA | 7 | 60 KG | not yet shipped |
| Kenya Nyeri Ichuga AA | 32 | 60 KG | not yet shipped |
| Kenya Nyeri Kiamabara Peaberry | 7 | 60 KG | not yet shipped |
| Kenya Kiambu Mandela AA | 12 | 60 KG | not yet shipped |
| Kenya Kiambu Mandela AB | 40 | 60 KG | not yet shipped |
| Kenya Embu Mwiria AA | 16 | 60 KG | not yet shipped |
| Kenya Kirinyaga Wanja AA | 12 | 60 KG | not yet shipped |
| TanzaniaIn terms of the Tanzania coffee character, it belongs to the Central/East African family of washed (wet-processed) coffees, bright (acidy), and mostly aggressively flavorful of which Kenya is... ...more Ngorngoro Nitin Peaberry | 8 | 60 KG | not yet shipped |
| Tanzania Ngorngoro Nitin EstateA "coffee estate" is used to imply a farm that has its own processing facility, a wet-mill. In Spanish this is called an Hacienda. A Finca (farm) does... ...more AA | 25 | 60 KG | not yet shipped |
| Tanzania Heights AA | 60 | 60 KG | not yet shipped |
| Tanzania Ngorngoro Nitin Peaberry | 19 | 60 KG | not yet shipped |
| YemenYemen has a coffee culture like no other place, and perhaps some of what we enjoy in this cup is due to their old style of trade...: Technically,... ...more Dry Process Bani Mattari | 150 | 32 KG | not yet shipped |
| Yemen Dry Process Al Hiwar | 50 | 32 KG | not yet shipped |
| Yemen Dry Process Moka Khulani | 50 | 32 KG | not yet shipped |
| Yemen Dry Process Moka Small Producers | 150 | 32 KG | not yet shipped |
| | | | |
| --- | --- | --- | --- |
| South America | | | |
| Colombia Urrao-Caicedo Las Alegrias | 24 | 70 KG | mid Mar |
| Colombia Urrao Finca Los Palomos | 20 | 70 KG | mid Mar |
| Colombia Urrao Jhon Alexander | 10 | 70 KG | mid Mar |
| Colombia Urrao Finca San Carlos | 24 | 70 KG | mid Mar |
| Colombia Urrao Valle de Penderisco | 18 | 70 KG | mid Mar |
| Colombia Urra Fray David Moreno | 10 | 70 KG | mid Mar |
| Colombia Inzá Las Estrellas | 15 | 70 KG | mid Mar |
| Colombia Inzá Rio Paez | 44 | 70 KG | mid Mar |
| Colombia Inzá Cresta El Hato | 24 | 70 KG | mid Mar |
| Colombia Inzá Palomos del Sur | 15 | 70 KG | mid Mar |
| Colombia Inzá Veredas Vecinas | 51 | 70 KG | mid Mar |
| Colombia La Argentina Alberto Paya | 10 | 70 KG | mid Mar |
| Colombia Honey Las Aguilas Gesha | 5 | 70 KG | mid Mar |
| Colombia Las Aguilas Lasso Gesha | 10 | 70 KG | mid Mar |
| | | | |
| --- | --- | --- | --- |
| Central America | | | |
| El SalvadorEl Salvador coffee had an undeservingly poor reputation for years, marred mostly by the inability to deliver coffee of high quality in an unstable political climate. Unfortunately, agriculture... ...more Matalapa Mirador | 34 | 69 KG | mid May |
| El Salvador Matalapa El Pino | 34 | 69 KG | mid May |
| El Salvador Matalapa Calagual | 20 | 69 KG | mid May |