Stay up to date on coffee we have coming down the pipeline and our latest green coffee arrivals schedule.
Green Coffee Notes for December 2020:
All of the West Coast ports are experiencing labor shortages, which is delaying containers being offloaded from incoming vessels. Nearly all imports are being delayed from unloading. We even had a container redirected to another port of entry!
Coffees that have arrived and are awaiting transfer from the port to the Annex coffee storage facility include Brazils from Carmo de Minas and Minas Gerais, and Honduras micro lots from Beneficio San Vicente
Our first Burundi and Rwanda containers are slated to start trickling in the last week of December. They have been delayed by container shortages and loading issues in the export country as well as on our end.
While we run a lean warehouse crew to stay COVID safe, we will be focusing our efforts on fulfilling the rush of holiday orders, and minimizing new coffee additions for the remainder of December.
We have plenty of reinforcements to restock with come January from Guatemala, Ethiopia, Colombia, and more.
Our decaf selection is thin but we will be adding more options of our custom-decaffeinated Swiss Water Process coffee soon!
Upcoming coffees currently on the schedule to be added to our website:
| | | | |
| --- | --- | --- | --- |
| December Outlook | | | |
| Colombia Buesaco Alianza Granjeros | 31 | 70 KG | OAKLAND |
| Ethiopia Miirabawi Buna SWP Decaf | 70 | 60 KG | OAKLAND |
| Kenya Kiambu Fram Farm AB | 50 | 60 KG | OAKLAND |
| Sumatra Aceh Farmers SWP Decaf | 70 | 60 KG | OAKLAND |
| | | | |
| --- | --- | --- | --- |
| January Outlook | | | |
| Brazil Dry Process Fazenda Furnas | 60 | 60 KG | OAKLAND |
| Brazil Dry Process Pedra Branca | 81 | 60 KG | OAKLAND |
| Colombia Urrao Heirloom Caturra | 17 | 60 KG | OAKLAND |
| Costa Rica Miguel Rojas Rola | 38 | 60 KG | OAKLAND |
| El Salvador Santa Ana Pacas | 35 | 60 KG | OAKLAND |
| El Salvador Santa Ana Pacamara | 15 | 60 KG | OAKLAND |
| Ethiopia DP Yirga Cheffe Aricha | 117 | 60 KG | OAKLAND |
| Ethiopia Organic Shakiso Kayon Mountain | 50 | 60 KG | OAKLAND |
| Guatemala Antigua Pulcal Inteligente | 43 | 60 KG | OAKLAND |
| Guatemala Xinabajul La Libertad | 47 | 60 KG | OAKLAND |
| Guatemala Huehuetenango Chalum | 34 | 60 KG | OAKLAND |
| Kenya Nyeri Ichamama Peaberry | 14 | 60 KG | OAKLAND |
| Kenya Nyeri Kiruga Peaberry | 14 | 60 KG | OAKLAND |
| Nicaragua Jinotega Selección | 70 | 60 KG | OAKLAND |
| Peru Fair Trade Organic Don Edy | 16 | 60 KG | OAKLAND |
| Sumatra Aged 5 Years Nusantara | 10 | 60 KG | OAKLAND |
| Sumatra Lintong Sigumpar Village | 22 | 60 KG | OAKLAND |
| Sumatra Wet Process Gunung Tujuh | 13 | 60 KG | OAKLAND |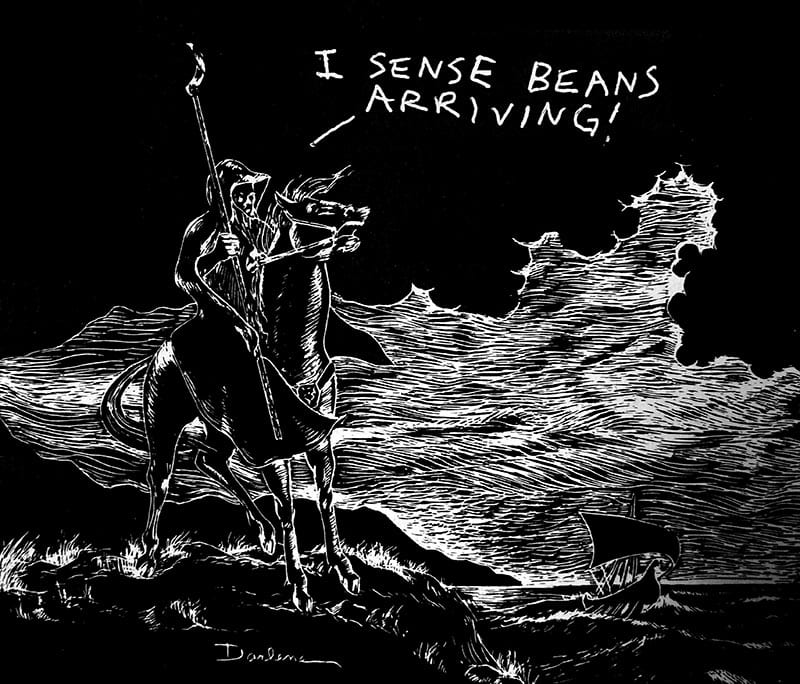 Incoming coffees currently on the water:
| | | | |
| --- | --- | --- | --- |
| Brazil Dry Process Pedra Branca | 31 | 60 KG | AFLOAT |
| Brazil Dry Process Carmo Estates | 28 | 60 KG | AFLOAT |
| Brazil Pulp Natural Pedra Branca Yellow Bourbon | 31 | 60 KG | AFLOAT |
| Brazil Dry Process Pedra Branca | 50 | 60 KG | AFLOAT |
| Brazil Dry Process Fazenda Furnas | 60 | 60 KG | AFLOAT |
| Brazil Ricardo Vagne Ignotti | 30 | 60 KG | AFLOAT |
| Papua New Guinea Baroida Morita | 65 | 60 KG | Dec 29 |
| Papua New Guinea Norikiri | 10 | 60 KG | Dec 29 |
| Papua New Guinea Kainantu Urara | 25 | 60 KG | Dec 29 |
| Burundi Kayanza Yagikawa Motongo | 30 | 60 KG | Dec 29 |
| Burundi Kayanza Dusangirijambo | 35 | 60 KG | Dec 29 |
| Burundi Kazoza N'Ikawa Station | 34 | 60 KG | Dec 29 |
| Burundi Kazoza N'Ikawa Station | 20 | 60 KG | Dec 29 |
| Burundi Rwiri Yagikawa | 20 | 60 KG | Dec 29 |
| Burundi Mutambu Colline Migoti | 20 | 60 KG | Dec 29 |
| Burundi Monge Murambi Hill | 60 | 60 KG | Dec 29 |
| Burundi Mutambu Colline Migoti | 60 | 60 KG | Dec 29 |
| Burundi Wet Process Gahahe | 65 | 60 KG | Jan 5 |
| Burundi Yandaro | 50 | 60 KG | Jan 5 |
| Burundi Honey Process Gahahe | 50 | 60 KG | Jan 5 |
| Burundi Yeast Fermentation Nemba | 5 | 60 KG | Jan 5 |
| Burundi Dry Process Kibingo | 50 | 60 KG | Jan 5 |
| Burundi Murambi | 40 | 60 KG | Jan 5 |
| Burundi Dry Process Agahore | 40 | 60 KG | Jan 5 |
| Rwanda Nyakarenzo Rusizi | 30 | 60 KG | Jan 16 |
| Rwanda Mushonyi Rutsiro | 30 | 60 KG | Jan 16 |
| Rwanda Nyamasheke Macuba | 25 | 60 KG | Jan 16 |
| Rwanda Ngororero | 30 | 60 KG | Jan 16 |
| Rwanda Yellow Honey Kanyege | 20 | 60 KG | Jan 16 |
| Rwanda Dry Process Rusizi | 25 | 60 KG | Jan 16 |
| Rwanda Dry Process Kanyege | 20 | 60 KG | Jan 16 |
| Rwanda Dry Process Nyakabingo | 20 | 60 KG | Jan 16 |
| Congo Cocaska Cooperative | 50 | 60 KG | Jan 16 |
| Rwanda Gitwe Peaberry | 40 | 60 KG | Jan 22 |
| Rwanda Gatare Peaberry | 20 | 60 KG | Jan 22 |
| Rwanda Mutovu | 25 | 60 KG | Jan 22 |
| Rwanda Karongi Gitesi | 45 | 60 KG | Jan 22 |
| Rwanda Gitwe | 50 | 60 KG | Jan 22 |
| Rwanda Tumba | 49 | 60 KG | Jan 22 |
| Rwanda Kageyo | 57 | 60 KG | Jan 22 |
| Timor Leste Goulala 4 | 25 | 60 KG | Feb 2021 |
| Timor Leste Lekisala | 25 | 60 KG | Feb 2021 |
| Timor Leste Koliate 14 | 25 | 60 KG | Feb 2021 |
| Timor Leste Loi-ludo | 25 | 60 KG | Feb 2021 |
| Sulalwesi Pulu Pulu Washed | 28 | 30 KG | Feb 2021 |
| Sulalwesi Angin Angin Washed | 40 | 30 KG | Feb 2021 |
| Sulawesi Topidi Washed | 40 | 30 KG | Feb 2021 |
| Sulawesi Topidi Honey | 20 | 30 KG | Feb 2021 |
| Sulawesi Topidi Natural | 20 | 30 KG | Feb 2021 |
| Sulawesi Sisola Honey | 40 | 30 KG | Feb 2021 |
| Flores Wawo Muda Washed | 40 | 30 KG | Feb 2021 |
| Flores Wolo Wio Washed | 40 | 30 KG | Feb 2021 |
| Flores Waja Mala Washed | 40 | 30 KG | Feb 2021 |
| Flores Sobo Washed | 30 | 30 KG | Feb 2021 |
| Flores Tangkul Washed | 40 | 30 KG | Feb 2021 |
| Java Tambak Ruyung Wet Hulled | 50 | 30 KG | Feb 2021 |
| Java Cikuray Wet Hulled | 50 | 30 KG | Feb 2021 |
| Java Temanggung Robusta | 40 | 30 KG | Feb 2021 |
| Java Frinsa Saccharic Honey | 20 | 30 KG | Feb 2021 |