Stay up to date on coffee we have coming down the pipeline and our latest green coffee arrivals schedule.
Green Coffee Notes for December 2020:
All of the West Coast ports are experiencing labor shortages, which is delaying containers being offloaded from incoming vessels. Nearly all imports are being delayed from unloading. We even had a container redirected to another port of entry!
Coffees that have arrived and are awaiting transfer from the port to the Annex coffee storageGreen coffee in general can be stored quite a while with little loss in quality, when compared to roasted coffee which loses freshness much sooner . Bright, delicate coffees can seem to fade faster; earthy More facility include Brazils from Carmo de Minas and Minas Gerais, and HondurasHonduran coffee was absent from the top ranks of the Specialty market, but that has changed. It has all the environmental factors on its side: soil, altitude, climate. All it's neighbors have sophisticated coffee production: More micro lots from BeneficioIn Latin American countries, a wet mill is called a Beneficio, where fresh coffee cherries are brought for pulping, fermentation, and drying.: In Latin American countries, a wet mill is called a Beneficio, where fresh More San Vicente
Our first BurundiBurundi coffee bears resemblance to neighboring Rwanda, in both cup character, but also the culture surrounding coffee. Burundi is a small landlocked country at the crossroads of East and Central Africa, straddling the crest of More and RwandaRwandan coffee was, at one time, rarely seen in the United States as either a Specialty grade or low-end commercial coffee. There simply was not that much coffee produced in Rwanda that went anywhere besides More containers are slated to start trickling in the last week of December. They have been delayed by container shortages and loading issues in the export country as well as on our end.
While we run a lean warehouse crew to stay COVID safe, we will be focusing our efforts on fulfilling the rush of holiday orders, and minimizing new coffee additions for the remainder of December.
We have plenty of reinforcements to restock with come January from GuatemalaGuatemalan coffee is considered a top quality coffee producer in Central America. Due to our proximity to Guatemala, some of the nicest coffees from this origin come to the United States. : Guatemalan growing regions More, EthiopiaEthiopia is the birthplace of coffee: it is in the forests of the Kaffa region that coffee arabica grew wild. Coffee is "Bun" or "Buna" in Ethiopia, so Coffee Bean is quite possibly a poor More, ColombiaColombian coffee is highly marketed and widely available in the US. They have been largely successful at equating the name Colombian Coffee with "Good" Coffee. This is half-true. Colombian can be very balanced, with good More, and more.
Our decaf selection is thin but we will be adding more options of our custom-decaffeinated Swiss Water Process coffee soon!
Upcoming coffees currently on the schedule to be added to our website:
| | | | |
| --- | --- | --- | --- |
| December Outlook | | | |
| Colombia Buesaco Alianza Granjeros | 31 | 70 KG | OAKLAND |
| Ethiopia Miirabawi Buna SWPSWP means Swiss Water Process is a patented water filtration decaf method, not a chemical solvent method. The plant is in Vancouver, Canada. More Decaf | 70 | 60 KG | OAKLAND |
| KenyaKenya is the East African powerhouse of the coffee world. Both in the cup, and the way they run their trade, everything is topnotch.: Kenya is the East African powerhouse of the coffee world. Both More Kiambu Fram Farm AB | 50 | 60 KG | OAKLAND |
| SumatraIndonesians are available as a unique wet-hulled or dry-hulled (washed) coffees. Giling Basah is the name for the wet-hulling process in Bahasa language, and will have more body and often more of the "character" that More AcehThe northernmost district in SumatraL Aceh District is north of North Sumatra and produces some very classic Sumatra coffees. The center of coffee in Aceh is Lake Tawar and Takengon, the city by the lake. More Farmers SWP Decaf | 70 | 60 KG | OAKLAND |
| | | | |
| --- | --- | --- | --- |
| January Outlook | | | |
| BrazilBrazil is a coffee giant . As Frank Sinatra sang, "they grow an awful lot of coffee in Brazil".: Brazil is a coffee giant . As Frank Sinatra sang, "they grow an awful lot of More Dry ProcessDry process coffee is a method for taking the fruit from the tree to an exportable green bean. The whole intact coffee cherry is dried in the sun with the green bean inside. Later it More FazendaFazenda is the Portuguese word for farm, hence it is the term used in Brazil. Fazenda is not a coffee-specific term. More Furnas | 60 | 60 KG | OAKLAND |
| Brazil Dry Process Pedra Branca | 81 | 60 KG | OAKLAND |
| Colombia Urrao Heirloom CaturraCaturra is an Arabica cultivar discovered as a natural mutant of Bourbon in Brazil in the first decade of the 20th century,  but wasn't studied until 1937. It has a good yield potential, but was More | 17 | 60 KG | OAKLAND |
| Costa RicaCosta Rican coffee is typically very clean, sweet, with lots of floral accents. hey are prized for their high notes: bright citrus or berry-like flavors in the acidity, with distinct nut-to-chocolate roasty flavors.: Can a More Miguel Rojas Rola | 38 | 60 KG | OAKLAND |
| El SalvadorEl Salvador coffee had an undeservingly poor reputation for years, marred mostly by the inability to deliver coffee of high quality in an unstable political climate. Unfortunately, agriculture is the first to suffer in revolution, More Santa Ana PacasA mutation of Bourbon cultivar that appeared in El Salvador in 1949: Pacas is a natural mutation of Bourbon cultivar that appeared in El Salvador in 1949. It has good cup character, and is an More | 35 | 60 KG | OAKLAND |
| El Salvador Santa Ana PacamaraAs the name implies, Pacamara is a large bean cultivar, a cross between Pacas and Maragogype with unique flavor properties. This variant originated in El Salvador in 1958, and has spread to nearby Central American More | 15 | 60 KG | OAKLAND |
| Ethiopia DP Yirga Cheffe Aricha | 117 | 60 KG | OAKLAND |
| Ethiopia OrganicGrown without the use of artificial fertilizers, herbicides, etc.: Organic coffee has been grown according to organic farming techniques, typically without the use of artificial fertilizers. Some farms have more local Organic Certification than the More Shakiso Kayon Mountain | 50 | 60 KG | OAKLAND |
| Guatemala Antigua Pulcal Inteligente | 43 | 60 KG | OAKLAND |
| Guatemala Xinabajul La Libertad | 47 | 60 KG | OAKLAND |
| Guatemala Huehuetenango Chalum | 34 | 60 KG | OAKLAND |
| Kenya Nyeri Ichamama PeaberryThe Spanish-language term for Peaberry is the same for "snail". See Peaberry for more information on the single bean fruit of the coffee tree. A peaberry is the rounded singular seed found in the coffee More | 14 | 60 KG | OAKLAND |
| Kenya Nyeri Kiruga PeaberryA peaberry is a green coffee "bean" that has a rounded form: Coffee is the dried seed from the fruit of a flowering tree - each fruit having 2 seeds facing each other (the flat More | 14 | 60 KG | OAKLAND |
| NicaraguaNicaraguan coffees from the Segovia, Jinotega, Ocotal and Matagalpa regions are nice balanced cups. They often possess interesting cup character along with body and balance, outperforming many other balanced Central American and South American high-grown More Jinotega Selección | 70 | 60 KG | OAKLAND |
| PeruPeruvian coffees have Central American brightness but in a South American coffee flavor package overall. The good organic lots do have more of a "rustic" coffee character.: Organic Peru ... you can get it anywhere More Fair TradeFair trade is an organized social movement and market-based approach to empowering developing country producers and promoting sustainability.: Fair trade is an organized social movement and market-based approach to empowering developing country producers and promoting More Organic Don Edy | 16 | 60 KG | OAKLAND |
| Sumatra Aged 5 Years Nusantara | 10 | 60 KG | OAKLAND |
| Sumatra Lintong Sigumpar Village | 22 | 60 KG | OAKLAND |
| Sumatra Wet ProcessWet-processing starts by removing the outer skin of the coffee cherry with a machine called a pulper, then fermenting the remaining fruit (with green bean inside) in water for 8-36 hours. The fermentation breaks down More Gunung Tujuh | 13 | 60 KG | OAKLAND |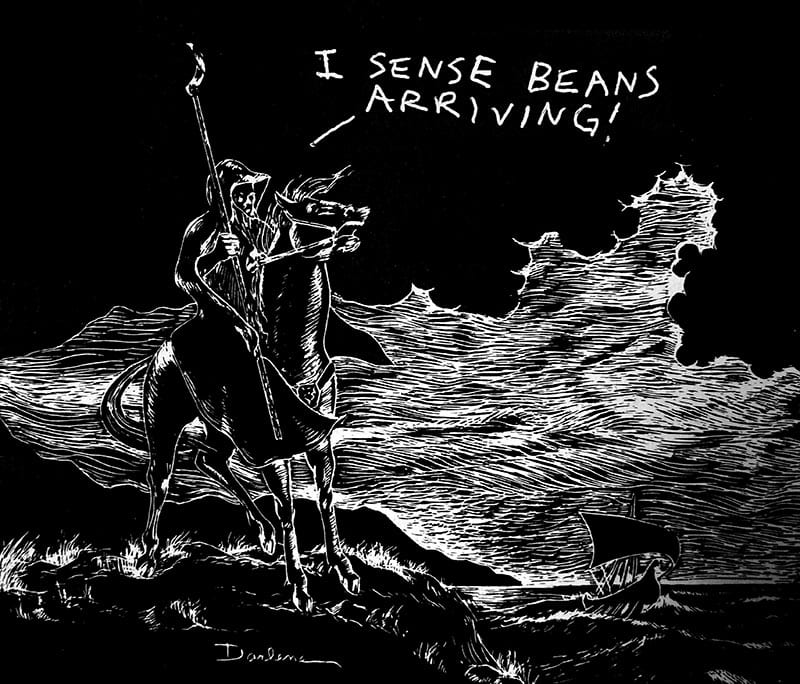 Incoming coffees currently on the water:
| | | | |
| --- | --- | --- | --- |
| Brazil Dry Process Pedra Branca | 31 | 60 KG | AFLOAT |
| Brazil Dry Process Carmo Estates | 28 | 60 KG | AFLOAT |
| Brazil Pulp NaturalPulp natural is a hybrid method of processing coffee to transform it from the tree fruit to a green bean, ready for export. Specifically, it involves the removal of the skin from the coffee, like More Pedra Branca Yellow BourbonYellow Bourbon is a subtype that has fruit which ripens to a yellow color, found mainly in Brazil where it was first grown. Bourbon coffees are named for the island in the India Ocean were More | 31 | 60 KG | AFLOAT |
| Brazil Dry Process Pedra Branca | 50 | 60 KG | AFLOAT |
| Brazil Dry Process Fazenda Furnas | 60 | 60 KG | AFLOAT |
| Brazil Ricardo Vagne Ignotti | 30 | 60 KG | AFLOAT |
| Papua New GuineaPapua New Guinea (PNG) occupies the eastern half of the island it shares with the Indonesian province of Irian Jaya, part of Indonesia. The two primary areas for coffee production can be grouped roughly as More Baroida Morita | 65 | 60 KG | Dec 29 |
| Papua New Guinea Norikiri | 10 | 60 KG | Dec 29 |
| Papua New Guinea Kainantu Urara | 25 | 60 KG | Dec 29 |
| Burundi Kayanza Yagikawa Motongo | 30 | 60 KG | Dec 29 |
| Burundi Kayanza Dusangirijambo | 35 | 60 KG | Dec 29 |
| Burundi Kazoza N'Ikawa Station | 34 | 60 KG | Dec 29 |
| Burundi Kazoza N'Ikawa Station | 20 | 60 KG | Dec 29 |
| Burundi Rwiri Yagikawa | 20 | 60 KG | Dec 29 |
| Burundi Mutambu Colline Migoti | 20 | 60 KG | Dec 29 |
| Burundi Monge Murambi Hill | 60 | 60 KG | Dec 29 |
| Burundi Mutambu Colline Migoti | 60 | 60 KG | Dec 29 |
| Burundi Wet Process Gahahe | 65 | 60 KG | Jan 5 |
| Burundi Yandaro | 50 | 60 KG | Jan 5 |
| Burundi HoneyIn coffee, honey-like sweetness is often found, but we use terms such as refined honey (highly filtered and processed) as opposed to raw honey rustic honey sweetness. This form of sweetness is largely a dynamic More Process Gahahe | 50 | 60 KG | Jan 5 |
| Burundi Yeast FermentationA key part of the wet process of coffee fruit is overnight fermentation, to break down the fruit (mucilage) layer that tenaciously clings to the coffee seed, so it can be washed off. Fermentation must More Nemba | 5 | 60 KG | Jan 5 |
| Burundi Dry Process Kibingo | 50 | 60 KG | Jan 5 |
| Burundi Murambi | 40 | 60 KG | Jan 5 |
| Burundi Dry Process Agahore | 40 | 60 KG | Jan 5 |
| Rwanda Nyakarenzo Rusizi | 30 | 60 KG | Jan 16 |
| Rwanda Mushonyi Rutsiro | 30 | 60 KG | Jan 16 |
| Rwanda Nyamasheke Macuba | 25 | 60 KG | Jan 16 |
| Rwanda Ngororero | 30 | 60 KG | Jan 16 |
| Rwanda Yellow Honey Kanyege | 20 | 60 KG | Jan 16 |
| Rwanda Dry Process Rusizi | 25 | 60 KG | Jan 16 |
| Rwanda Dry Process Kanyege | 20 | 60 KG | Jan 16 |
| Rwanda Dry Process Nyakabingo | 20 | 60 KG | Jan 16 |
| CongoKivu is the general name for East Congo (Kinshasa), covering a very broad geographical area, and the lake of the same name that divides them. It borders on Uganda, Rwanda, Burundi, and Lake Tanganyika on More Cocaska Cooperative | 50 | 60 KG | Jan 16 |
| Rwanda Gitwe Peaberry | 40 | 60 KG | Jan 22 |
| Rwanda Gatare Peaberry | 20 | 60 KG | Jan 22 |
| Rwanda Mutovu | 25 | 60 KG | Jan 22 |
| Rwanda Karongi Gitesi | 45 | 60 KG | Jan 22 |
| Rwanda Gitwe | 50 | 60 KG | Jan 22 |
| Rwanda Tumba | 49 | 60 KG | Jan 22 |
| Rwanda Kageyo | 57 | 60 KG | Jan 22 |
| TimorHibrido de Timor abbreviated HdT is the interspecies hybrid of C. Arabica and C. Canephora (Robusta) that was found in Timor Leste in the 1940s. It has been the bases of plant breeding for disease More Leste Goulala 4 | 25 | 60 KG | Feb 2021 |
| Timor Leste Lekisala | 25 | 60 KG | Feb 2021 |
| Timor Leste Koliate 14 | 25 | 60 KG | Feb 2021 |
| Timor Leste Loi-ludo | 25 | 60 KG | Feb 2021 |
| Sulalwesi Pulu Pulu Washed | 28 | 30 KG | Feb 2021 |
| Sulalwesi Angin Angin Washed | 40 | 30 KG | Feb 2021 |
| SulawesiSulawesi coffees are low-acid with great body and that deep, brooding cup profile akin to Sumatra. The coffee is sometimes known as Celebes, which was the Dutch colonial name for the island. Indonesians are available More Topidi Washed | 40 | 30 KG | Feb 2021 |
| Sulawesi Topidi Honey | 20 | 30 KG | Feb 2021 |
| Sulawesi Topidi Natural | 20 | 30 KG | Feb 2021 |
| Sulawesi Sisola Honey | 40 | 30 KG | Feb 2021 |
| FloresFlores is an Indonesian island, and as a coffee bears more resemblance to the coffees of Timor-Leste, New Guinea and Java than to the wet-hulled coffees of Sumatra and Sulawesi. It is sweet, with good More Wawo Muda Washed | 40 | 30 KG | Feb 2021 |
| Flores Wolo Wio Washed | 40 | 30 KG | Feb 2021 |
| Flores Waja Mala Washed | 40 | 30 KG | Feb 2021 |
| Flores Sobo Washed | 30 | 30 KG | Feb 2021 |
| Flores Tangkul Washed | 40 | 30 KG | Feb 2021 |
| JavaThere are several types of Abyssinia, but they are not from Ethiopia but rather Indonesia. Abyssinia 3 = AB3. PJS Cramer, a Dutch plant researcher, introduced this variety in 1928, supposedly from Ethiopia seed stock. It was More Tambak Ruyung Wet Hulled | 50 | 30 KG | Feb 2021 |
| Java Cikuray Wet Hulled | 50 | 30 KG | Feb 2021 |
| Java Temanggung RobustaRobusta usually refers to Coffea Robusta, responsible for roughly 25% of the world's commercial coffee. Taxonomy of Robusta is debated: some sources use "Robusta" to refer to any variety of Coffea Canephora, and some use More | 40 | 30 KG | Feb 2021 |
| Java Frinsa Saccharic Honey | 20 | 30 KG | Feb 2021 |