Stay up to date on coffee we have coming down the pipeline and our latest green coffee outlook and arrivals schedule.
Green Coffee Notes for November 2021:
A lot has happened since our last update in the middle of September. Nearly all of our Ethiopias have landed and are slowly but surely making their way to our offer list.
We rarely show more than 8 different lots at a time, and will work to keep the list full and fresh through the New Year and beyond. Check out the current Ethiopia's HERE. (or HERE for Coffee Shrub wholesale prices)
Upcoming coffees to keep an eye out for include a honey process

"Red honey" process gesha at a coffee farm in Costa Rica's Central Valley growing region. The honey process has nothing to do with honey other than the fact that they're both sticky! It's a term

lot from Nano Challa later this month, as well as a fully washed coffee from the Duromina cooperative, and a dry process

Dry process coffee is a method for taking the fruit from the tree to an exportable green bean. The whole intact coffee cherry is dried in the sun with the green bean inside. Later it

coffee from Goro Bedessa site in Hambela Wamena in early December. But that hardly scratches the surface of what's on the horizon from one of our most popular coffee origins.
Our first Rwanda

Rwandan coffee was, at one time, rarely seen in the United States as either a Specialty grade or low-end commercial coffee. There simply was not that much coffee produced in Rwanda that went anywhere besides

container arrived in Houston earlier last week and was quickly transferred to our Oakland warehouse next week (week of November 8th). If all goes as planned, we will have our first coffees available in the week of November 12th, which is perhaps an all-time record for us!
The Colombian coffees that landed 2 weeks ago are moving quickly, solidifying our decision to bring in a second box on its heels. Another 12 lots of coffee are being milled this week in Medellín, with an ETA later in November. For now, have a look at these stellar lots from Buesaco and Inzá currently on offer (or here for Coffee Shrub wholesale prices).
This is the time of year where Brazilian coffee ships, but like other green sellers, we're experiencing difficulties getting coffee out of the country. The truckers strike that started November 1st around skyrocketing diesel prices in the country, seems to have waned, opening access to the Santos port that was blocked by trucks for a few days (some on fire). But competition for space on outgoing vessels has exacerbated a bottleneck at the ports, and we've personally watched our bookings role from one week to the next, and are yet to nail something down. For now, we continue to hope and wait, and with any luck, we'll have our first Brazilian coffee around the 1st of the year.
The Oakland Port has finally cleared its backlog of cargo ships anchored out in the Bay, and has even started to restore services as a first call port for shipping lines. Yes, the Oakland Port congestion has mostly cleared up. But no, the shipping delays are far from over.
Almost all shipping routes continue to suffer from longer than normal transit times due to what has become the 'greatest hits' in the global shipping world – spike in shipping consumer goods, understaffed ports, container shortages, limited space on cargo ships….stop me if you've heard this one before!
And finally, a special note about the holiday season and new coffee additions. This is the busiest time of the year for us with the highest order counts. As such, there is no guarantee that we will launch all of the coffees in the list below by xmas. But we will do our best! Every year we set out to keep the in-stock origins flush with fresh options throughout the holiday season, and we promise to do what we can to meet that goal. Thanks for your patience and understanding during this crazy time of year!
Upcoming green coffees currently on the schedule to be added to our website:
Please keep in mind that the coffees on the Upcoming Coffee Outlook schedule with a location status of "In Transit" are still a bit of a wild card, and the month we have them listed under is based on the current shipping ETA, and subject to interruptions out of our control. Thanks for your patience!
November Coffee Outlook
December Coffee Outlook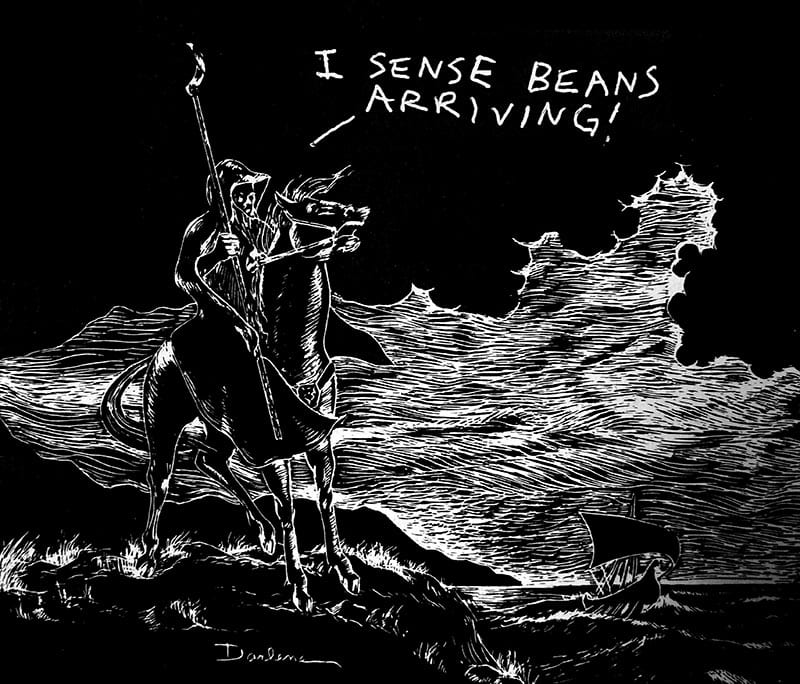 Incoming coffees currently on the water:
Africa Incoming Coffees
Central America Incoming Coffees
South America Incoming Coffees
Indonesia Incoming Coffees