An Excellent Cup of Fair Coffee
I gave a little phone interview last week to an AP reporter about the current state of the coffee market (exactly why she called a small-fry like me, I am not sure). I tried to explain why the coffee market is hurting farmers, and I listed what I consider 4 of the biggest problems in order of importance:
• There are way too many coffee farmers in the world and too much coffee on the market… too much bad coffee, that is…
• Vietnam and BrazilBrazil is a coffee giant . As Frank Sinatra sang, "they grow an awful lot of coffee in Brazil".: Brazil is a coffee giant . As Frank Sinatra sang, "they grow an awful lot of flood the market with low-quality, low-price coffee;
• We have a market where top quality African or Indonesian Central American often gets traded on the same cost basis as moldy Vietnam RobustaRobusta usually refers to Coffea Robusta, responsible for roughly 25% of the world's commercial coffee. Taxonomy of Robusta is debated: some sources use "Robusta" to refer to any variety of Coffea Canephora, and some use;
• And of the least effect is the fact that coffee middle-people and retailers float artificially high prices when the market dips.
After talking at length about the subject, the issue of Fair TradeFair trade is an organized social movement and market-based approach to empowering developing country producers and promoting sustainability.: Fair trade is an organized social movement and market-based approach to empowering developing country producers and promoting certification, market-independent coffees, how the market originated, etc., she said, "Okay, what I will be using a quote that 'coffee middle-people and retailers gouge consumers'." Ugh…
It's convenient to believe that greed and profiteering are to blame, but hurling invective at your local roaster is not going to make the coffee trade fair to farmers! I started my own coffee business (after years of managing stores and roasting coffee for others) at a time when the market was quite high. In late '97 the New York C Index that determines arabicaArabica refers to Coffea Arabica, the taxonomic species name of the genus responsible for around 75% of the worlds commercial coffee crop.: Arabica refers to Coffea Arabica, the taxonomic species name of the genus responsible coffee prices was edging upward of $2.00/lb, yet to hit its peak, and prices for the super-premium coffees was astronomical. And here we are 2 years later and the C has hit a record low. What does this mean?
Prices for great coffee are sometimes set against the C price, but I have never paid that for coffee …nor do I want to! In fact, there are huge premiums for estateA "coffee estate" is used to imply a farm that has its own processing facility, a wet-mill. In Spanish this is called an Hacienda. A Finca (farm) does not necessarily have a mill. (And Finca coffees, certified organicGrown without the use of artificial fertilizers, herbicides, etc.: Organic coffee has been grown according to organic farming techniques, typically without the use of artificial fertilizers. Some farms have more local Organic Certification than the and particular that guarantee consistent and fair prices to the farmer. The weak market has influenced some prices dramatically. Two years ago I paid (and you paid) $2 more per Lb. for auction lot Kenyas, this year the price is downright cheap. What you pay directly reflects what I pay, so I am getting prices of .30 less for origins and you can see from our prices this time last year, that's about the discount you get.
Is this good for farmers? No, it is horrible for farmers, especially the most quality-oriented. Frankly, I don't care what I pay for coffee as long as it is good. Ridiculous and unwarranted prices only pertain to ridiculous coffee like Jamaican and Kopi Luwak. If a great cup can be had for 60¢ or $1 more per lb., I will pay that without hesitation, and I think many of you will too. That's good, because without people like us lending some stability to the premium-priced coffee market, there would be no quality coffee …it would simply not be worth it to the grower. This has happened before: farmers simply walk away from their coffee farms, allowing the trees to get choked out by more vigorous plants, and dooming the consumer to cheap Brazilian coffee and new virulent strains of disease-resistant arabica. Maybe this is the shakedown that needs to happen, if indeed the case is that poor quality land is being used to make poor quality coffee.
What is the answer? I agree with those that want to institute a minimum price on the C, something around $1.20. Many people have discussed this as an insurance policy for farmers, and since the actual premiums for cup quality will remain, as they do now, we wouldn't be doing harm to the great cup we love while insuring a decent existence for those who make it all possible. We also are Fair Trade certified by Transfair, we buy Auction Lot coffees and market-independent coffees (the vast majority of our offerings fall into this category), and we donate on a per Lb. basis back to organizations like Coffee Kids, Doctors Without Borders, and the International Red Cross.
A Foreign Matter
There is a "urban legend" among coffee roasters that a guy had a bullet explode in his roaster a few years back. I can't find anyone to really verify this story, but finding a bullet in our coffee would certainly provide a thrill here at the shop, since the most exciting thing we have found is some sheets of unfinished Javanese school work.
Foreign matter can sometimes be found in the best of coffees, and its expected in any natural, dry-processed coffees. If you get 5 Lbs. of Harar you will probably find a couple small rocks in there. KenyaKenya is the East African powerhouse of the coffee world. Both in the cup, and the way they run their trade, everything is topnotch.: Kenya is the East African powerhouse of the coffee world. Both has some bits of parchmentGreen coffee still in its outer shell, before dry-milling, is called Parchment coffee (pergamino). In the wet process, coffee is peeled, fermented, washed and then ready for drying on the patio, bed, or a mechanical coffee, and some elephant ears. Black beans are found in Chiapas and the Huehuetenango from the 97/98 crop, along with a few pods. Small sticks and pieces of basket are in the YemenYemen has a coffee culture like no other place, and perhaps some of what we enjoy in this cup is due to their old style of trade...: Technically, Yemen is on the Asian continent (on. Seeds that look like they were flattened by a wheel (and they probably were!) are in the Sumatras. None of these are detrimental to the cup or we wouldn't carry it (in our coffee descriptions I noted that Chiapas and PeruPeruvian coffees have Central American brightness but in a South American coffee flavor package overall. The good organic lots do have more of a "rustic" coffee character.: Organic Peru ... you can get it anywhere might have 1 seed per lb. that you want to remove). Only very small, withered, very black seeds should be removed. If you pull out every seed with an abnormality you could easily be damaging the cup quality! (I often site the "triple-picked SF Prep" polished SumatraIndonesians are available as a unique wet-hulled or dry-hulled (washed) coffees. Giling Basah is the name for the wet-hulling process in Bahasa language, and will have more body and often more of the "character" that sample I have occasionally cupped that is DOA in the cup!) Obvious foreign matter should be removed, but wont hurt much either. Even the occasional rock is usually of a very soft variety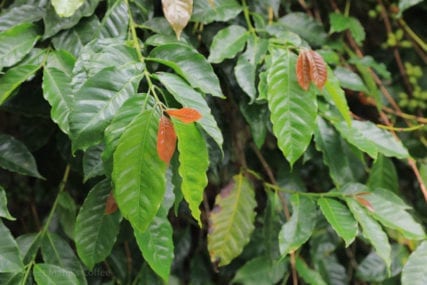 Hibrido de Timor abbreviated HdT is the interspecies hybrid of C. Arabica and C. Canephora (Robusta) that was found in Timor Leste in the 1940s. It has been the bases of plant breeding for disease and steel grinding burrs are unharmed by them. In 2 years I have had 3 metallic items (2 nails, one lump of metal) and those ARE damaging to grinders! Coffee is meticulously hand picked, prepped and hand sorted, but occasional interlopers are found. It's just testament to its colorful origins, and not a final determination of quality.
I have to admit, finding odd things in coffee is actually quite fun. What have I found? Not much really. I found a completely intact Sumatran bee in the MandhelingA trade name used for wet-hulled Sumatra coffees. It is an area and a culture group as well (spelled Mandailing often) but there is not as much coffee production in this area anymore, south of. Its wings were outstretched and I couldn't believe this large, delicate thing was intact with the weight of all that coffee on it! I found a bottlecap once. Maybe I should buy lower grade coffee: another roaster in Columbus found bullet casings, and hunks of cement! For clarification of what the above-mentioned terms (like black beanA coffee bean whose interior is totally back (endosperm), due to fungi, mold, yeast, pest. This happens with over-mature coffee cherry where the bean falls to the ground and is attacked by the Colletotrichum coffeeeanum etc. ) refer to, read the article on green coffee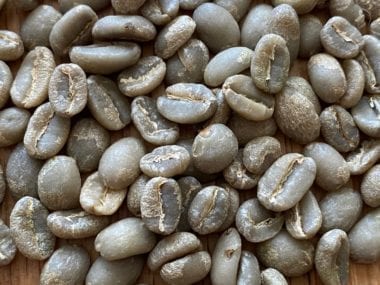 Green coffee refers to the processed seed of the coffee tree fruit. Coffee is a flowering shrub that produces fruit. The seeds of the fruit are processed, roasted, ground and prepared as an infusion.: Coffee quality at www.sweetmarias.com/articles.html
Malabar Gold Shipments from Late '00
We sent out some mistaken Malabar Gold EspressoA small coffee beverage, about 20 ml, prepared on an espresso machine where pressurized hot water extracted through compressed coffee.: In its most stripped-down, basic form, this is a working definition for espresso: A small Blend on several dates, and we want to replace any coffee we sent that was wrong! We have sent email to all people who bought Malabar Gold early this year, so everyone who bought any in 2001 who is affected has been contacted. But there are a few people who purchased it around 11/10 -11/20/00 that we don't have email records for …so if you have or remember getting some odd-looking Malabar Gold in late '00, please look at this web page: www.sweetmarias.com/malabar.gold.html
Coffee-Buyers Tip: Guatemalas are excellent this year. If you like bright coffees, try the Guatemalan Huixoc Huehuetenango when it arrives! Tom will be visiting Huehuetenango, Antigua and Fraijanes this August.
Sweet Maria's Coffee
9 E. 2nd Ave Columbus Ohio 43201
web: www.sweetmarias.com
email: [email protected]
Sweet Marias Green Coffee Offerings on 7/12/01:
This list is always superceded by the current list on our web page! http://sweetmarias.com/prod.greencoffee.shtml
Central American 1 lb 2 lb 5 lb 20 lb
Costa Rican Dota Conquistador $5.20 $9.88 $22.62 $80.08
Costa Rican Tres Rios -La Magnolia $5.00 $9.50 $21.75 $77.00
Costa Rican La Minita Tarrazu $7.10 $13.49 $31.60 $113.60
Costa Rican Tarrazu-Tres Rios $4.80 $9.12 $20.88 $73.92
Guatemalan Acatenango -Naranjo Kikiya $4.80 $9.12 $20.88 $73.92
Guatemalan Antigua -Bella Carmona $4.80 $9.12 $20.88 $73.92
Guatemalan Org. Atitlan -La Voz FT $5.30 $10.07 $23.06 $81.62
Guatemalan Org. Huehuetenango '01 FT $5.00 $9.50 $21.75 $77.00
Mexican Oaxaca Pluma -El Olivo Farm $4.60 $8.74 $20.01 $70.84
Mexican Org. San Augustin Loxicha $4.70 $8.93 $20.45 $72.38
Mexican Oaxaca San Pablo Becafisa $4.60 $8.74 $20.01 $70.84
Nicaragua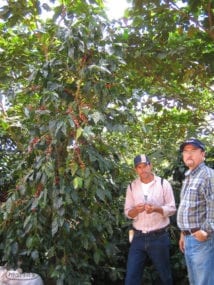 Nicaraguan coffees from the Segovia, Jinotega, Ocotal and Matagalpa regions are nice balanced cups. They often possess interesting cup character along with body and balance, outperforming many other balanced Central American and South American high-grown SHG La Illusion '01 $4.80 $9.12 $20.88 $73.92
PanamaPanama coffee ranges from medium quality lower altitude farms to those at 1600 - 1800 meters centered in the area of Boquete in the Chirqui district near the border with Costa Rica. Some farms feature Auction Winner -Finca Lerida $7.40 $14.06 $32.19
Panama Auction Winner -Finca Maunier $5.80 $11.02 $25.23
South American 1 lb 2 lb 5 lb 20 lb
Brazil Mogiani BourbonA coffee cultivar; a cross between Typica and Bourbon, originally grown in Brazil: Mundo Novo is a commercial coffee cultivar; a natural hybrid between "Sumatra" and Red Bourbon, originally grown in Brazil. It was developed -Safira $4.80 $9.12 $20.88 $73.92
Brazil Organic -Blue de Brasil $4.90 $9.31 $21.32 $75.46
Brazil Cerrado-Monte Carmelo $4.20 $7.98 $18.27 $64.68
Colombian Popayan SupremoA Colombian coffee grade referring to screen size of 17-18 screen. In the traditional bulk Arabica business, Supremo was the top grade Colombia, with Excelso one step below at 15-16 screen. Neither of these refer $4.50 $8.55 $19.58 $69.30
Colombian Nariño Del Abuelo $5.10 $9.69 $22.19 $78.54
Peru Org/FT Chanchamayo La Florida $5.00 $9.50 $21.75 $77.00
African- Arabian 1 lb 2 lb 5 lb 20 lb
Ethiopian Ghimbi DP '01 $4.50 $8.55 $19.58 $69.30
Ethiopian Harar Horse Lot 10-024-49 $5.20 $9.88 $22.62 $80.08
Ethiopian Yirgacheffe Lot 10-024-038 $5.50 $10.45 $23.93 $84.70
Kenya AB Gaturiri Farm Auction Lot'01 $5.90 $11.21 $25.67 $90.86
Kenya AA Tinganga Farm Auction Lot'01 $5.60 $10.64 $24.36 $86.24
Tanzanian Northern Peaberry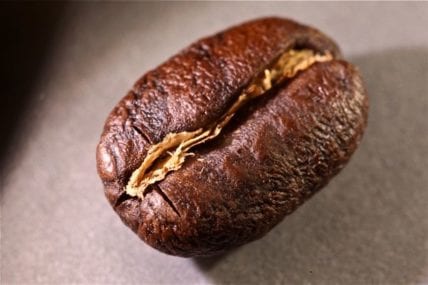 The Spanish-language term for Peaberry is the same for "snail". See Peaberry for more information on the single bean fruit of the coffee tree. A peaberry is the rounded singular seed found in the coffee 00-01 $5.00 $9.50 $21.75 $77.00
Tanzanian AA Flatbean '01 $4.70 $8.93 $20.45 $72.38
UgandaWhile Arabica was introduced at the beginning of the 1900's, Robusta coffee is indigenous to the country, and has been a part of Ugandan life for centuries. The variety of Wild Robusta Coffee still growing Organic Bugisu A $4.80 $9.12 $20.88 $73.92
Yemen MokhaThe Yemeni type of coffee, both in terms of the family of cultivars planted there, and the general trade name.: Mokha Yemeni type of coffee, both in terms of the family of cultivars planted there, Ismaili (Hirazi) $7.90 $15.01 $36.74 $126.40
Yemen Mokha Mattari $7.00 $13.30 $30.45 $112.00
Yemen Mokha Raimi (Rimy) $6.90 $13.11 $30.02 $110.40
Yemen Mokha Sanani '01 $7.00 $13.30 $30.45 $112.00
Indonesian- Indian 1 lb 2 lb 5 lb 20 lb
Indian Monsooned Malabar AA $5.50 $10.45 $23.93 $84.70
Aged Java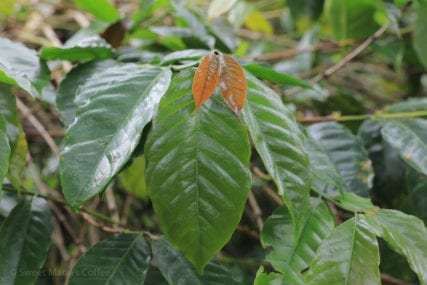 There are several types of Abyssinia, but they are not from Ethiopia but rather Indonesia. Abyssinia 3 = AB3. PJS Cramer, a Dutch plant researcher, introduced this variety in 1928, supposedly from Ethiopia seed stock. It was – Old Brown '97 $6.20 $11.78 $26.97 $95.48
Java Govt. Estate Blawan $4.80 $9.12 $20.88 $73.92
Papua New GuineaPapua New Guinea (PNG) occupies the eastern half of the island it shares with the Indonesian province of Irian Jaya, part of Indonesia. The two primary areas for coffee production can be grouped roughly as Mile High Estate $4.80 $9.12 $20.88 $73.92
Papua New Guinea Organic AA $5.00 $9.50 $21.75 $77.00
SulawesiSulawesi coffees are low-acid with great body and that deep, brooding cup profile akin to Sumatra. The coffee is sometimes known as Celebes, which was the Dutch colonial name for the island. Indonesians are available Toraja Gr.1 00 $4.80 $9.12 $20.88 $73.92
Sumatra Lintong Grade 1 '01 $5.10 $9.69 $22.19 $78.54
Sumatra Mandheling DP Gr.1 '01 $4.75 $9.03 $20.66 $73.15
Sumatra Lake Tawar 18+ $5.40 $10.26 $23.49 $83.16
Sumatra Organic Gayoland '01 FT $5.20 $9.88 $22.62 $80.08
Aged Sumatra Mandheling '98 $6.20 $11.78 $26.97 $95.48
Timor Organic Maubese 00-01 $4.80 $9.12 $20.88 $73.92
Islands- Blends -Etc. 1 lb 2 lb 5 lb 20 lb
HawaiiThe Kona district on the big island of Hawaii produces the best coffee from this state - clean, sweet and mild. : Ah, Hawaii... what a nice place. They grow nuts, fruit, and coffee. The KonaKona coffee comes from farms along the Kona Coast on the Big Island of Hawaii: Kona coffee comes from farms along the Kona Coast on the Big Island of Hawaii. Coffee is grown at elevations -Kowali Blue Mountain $15.90 $30.53 $73.94 $279.84
Hawaii Kona XF-Purple Mountain Farm $15.90 $30.53 $73.94 $279.84
Maui Kaanapali Moka '01 $11.20 $21.50 $52.08 5 lb limit
Hawaii Molakai Malulani '01 $6.90 $13.11 $32.09 5 lb limit
Puerto Rican Yauco Selecto AA $10.90 $20.71 $50.69 5 lb limit
Isle of Saint Helena '01 Crop $23.30 $44.74 2 lb limit
SM's Moka Kadir Blend $5.80 $11.02 $25.23 $89.32
SM's Espresso Monkey Blend $5.00 $9.50 $21.75 $77.00
SM's Classic Italian Espresso Blend $4.80 $9.12 $20.88 $73.92
SM's Decaf Espresso Blend $5.70 $10.83 $24.80 $87.78
SM's French RoastSugars are heavily caramelized (read as burned) and are degraded; the woody bean structure is carbonizing, the seed continues to expand and loose mass, the body of the resulting cup will be thinner/lighter as the Blend $5.50 $10.45 $23.93 $84.70
Malabar Gold Espresso Blend $6.00 $11.40 $26.10 $92.40
Decafs 1 lb 2 lb 5 lb 20 lb
Brazil Santos SWPSWP means Swiss Water Process is a patented water filtration decaf method, not a chemical solvent method. The plant is in Vancouver, Canada. Decaf $5.40 $10.26 $23.49 $83.16
Colombian MC Decaf $5.00 $9.50 $21.75 $77.00
Colombian CO-2 Decaf $5.50 $10.45 $23.93 $84.70
Costa Rican SHB Natural Decaf $5.10 $9.69 $22.19 $78.54
Guatemalan SHB Natural Decaf $5.10 $9.69 $22.19 $78.54
Indonesian Komodo Blend Org SWP D $6.10 $11.59 $26.54 $93.94
Kenya MC Decaf -German KVWA decaf plant in Germany specializing in the methylene chloride solvent method. KVW stands for Kaffee Veredelungs Werk: A decaf plant in Germany specializing in the methylene chloride solvent method. KVW stands for Kaffee Veredelungs $5.25 $9.98 $22.84 $80.85
Mexican Esmeralda Natural Decaf $4.70 $8.93 $20.45 $72.38
Sumatra Org.GayoMtn SWP Decaf $6.30 $11.97 $27.41 $97.02
Premium Robustas 1 lb 2 lb 5 lb 20 lb
Indian Kaapi Royale Robusta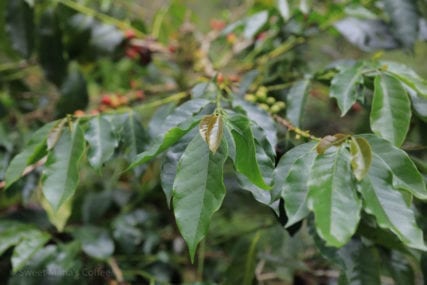 Ateng is a common name for Catimor coffees widely planted in Sumatra and other Indonesia isles.: Ateng, with several subtypes, is a common name for Catimor coffees widely planted in Sumatra and other Indonesia isles. $5.00 $9.50 $21.75 $77.00
Indian Monsooned Robusta AA $5.20 $9.88 $22.62 $80.08
Java Washed Robusta $4.30 $8.17 $18.71