South America Now! (Centrals Later)
It's a struggle to have people recognize that coffee is a crop. There is a yearly harvest cycle; coffee crops from different regions reach their peak harvest at different times of the year. As a general rule, the best coffees come from the "heart of the crop," the middle of the harvest when the higher altitude coffee cherries ripen to a deep red, almost crimson color. That's when we do most of our buying.
Right now, it is the South American coffees that are coming in, and in 1 to 2 months it will be the Central American origins. You can see by our Offering List that the Centrals have atrophied to a few of our best coffees, and the South American section has swollen! Do we really need to offer 6 or 7 Brazils at once?
Probably not. But the way we buy is simple: stock everything good, don't buy anything bad. So if a region is off for the year, we won't have it. And if it's good, we have a selection that borders on overkill. We have a diagram of the crop cycle periods on our web site's Coffee Library (which you can also access by typing www.thecoffeelibrary.com into your browser.
Among the Brazils, we have just received two excellent Cup of ExcellenceThe Cup of Excellence is a competition held yearly in many coffee-producing countries, designed to highlight the very best coffees from each origin.: The Cup of Excellence (COE) is a competition held more-or-less yearly in lots that we won in the auction. One is great for espressoA small coffee beverage, about 20 ml, prepared on an espresso machine where pressurized hot water extracted through compressed coffee.: In its most stripped-down, basic form, this is a working definition for espresso: A small, FazendaFazenda is the Portuguese word for farm, hence it is the term used in Brazil. Fazenda is not a coffee-specific term. Laranja-Cravo. The other is my choice for brewed/infused methods, Sitio Araucaria.
The Coffee -Wine Comparison
Coffee seems like a straightforward topic, at least it did when you bought coffee in a can, dissolved it in hot water, (clenched your jaw) and slogged it down. When I started in coffee, many people still did not know what a roasted coffee bean looked like, let alone the green seed! These days Joe Consumer may have an inkling that there's more to coffee than the can. But when a local TV station in the Bay Area (aren't we supposed to be sophisticated?) had a "coffee expert" guest, the discussion was limited to LatteAn espresso-based beverage with steamed silky milk on top, averaging 190-220 ml with 20 ml espresso, served in a ceramic cup or bowl, or a giant giant paper cup. vs. Mocha. Information about the coffee originIn coffee talk, it refers to a coffee-producing region or country; such as, "I was just at origin." Of course "Origin" for most product we use is not a beautiful farm in a temperate climate,, where it was grown, by whom, how it was processed, etc. is pretty hard to find at a Starbucks … the names of proprietary beverages and blender drinks dominate the menu. The discussion in Specialty Coffee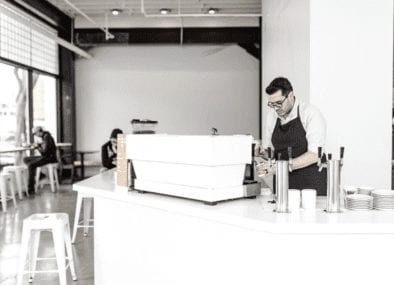 Specialty coffee was a term devised to mean higher levels of green coffee quality than average "industrial coffee" or "commercial coffee". At this point, the term is of limited use, since every multi-national coffee broker has been how to get people to take coffee seriously… how do we get them to ponder the notion that there is a lot to know about this very complexThe co-presence of many aroma and flavor attributes, with multiple layers. A general impression of a coffee, similar to judgments such as "balanced" or "structured" beverage? The answer has been to make coffee the "new wine"; talk about it like wine, write about it like wine, sell it like wine. I guess the argument was convincing; one company started to sell their roasted and green coffee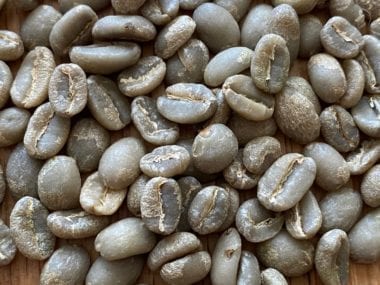 Green coffee refers to the processed seed of the coffee tree fruit. Coffee is a flowering shrub that produces fruit. The seeds of the fruit are processed, roasted, ground and prepared as an infusion.: Coffee in clear, corked wine bottles! Another roaster deep freezes green coffee to save "vintages" as one would cellar Burgundy.
In a general sense, it is easy to compare coffee to wine. Neither are nutritional necessities, but are integral to our food habits. They are both consumed for pleasure. The complex aromas and flavors of both have the potential to connect those who imbibe with the lives and fates of people throughout the world, to their culture, their nation, their soil. What we enjoy is a direct result of their care of the plant, precision in processingThe removal of the cherry and parchment from the coffee seed.: Coffee is either wet-processed (also called washed or wet-milled) or dry-processed (also called wild, natural or natural dry, and we abbreviate it DP sometimes)., careful transportation and handling, and diligence in preparationPreparation refers to the dry-milling steps of preparing coffee for export: hulling, grading, classifying, sorting.: Preparation refers to the dry-milling steps of preparing coffee for export: hulling, grading, classifying, sorting. Sorting means using density sorters. The more we enjoy single-farm coffees from distinct origins, the stronger and clearer that connection might become. Why make standards? Coffee needs standards to enhance the bond between those who love the drink, and all those whose work makes it possible, standards that are adaptive and suited to our unique trade. No, you can't certify a good cup of coffee since it could be stale, or even worse, French-roasted! And the process of
instituting a neutral "coffee board," one not related to any trade association or business entity, is a daunting task. But someone ought to try to establish standards that can define first-tier coffees, especially when the market refuses to pay a fair price. Corporations are happy to fudge the names of offerings to make them sound single-origin, or Estate-grown. Ever wondered why KonaKona coffee comes from farms along the Kona Coast on the Big Island of Hawaii: Kona coffee comes from farms along the Kona Coast on the Big Island of Hawaii. Coffee is grown at elevations Blend tastes like crud, or if a Mocha-Java has YemenYemen has a coffee culture like no other place, and perhaps some of what we enjoy in this cup is due to their old style of trade...: Technically, Yemen is on the Asian continent (on or Java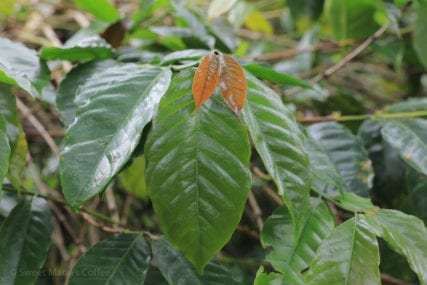 There are several types of Abyssinia, but they are not from Ethiopia but rather Indonesia. Abyssinia 3 = AB3. PJS Cramer, a Dutch plant researcher, introduced this variety in 1928, supposedly from Ethiopia seed stock. It was in it? Or that everyone seems to have Antigua and Tarrazu now, but neither region produces that much. How about "JamaicaJamaica coffee can be excellent mild, lush coffee... sometimes. Like Kona and Puerto Rican coffee, it is soft, mild, clean and well balanced when it is good.: Ah Jamaica, a great place to visit. But High Mountain?"
In our trade, the highest end of specialty coffee, there is a problem with "phony specialty coffee" being offered by brokers and exporters. To an inexperienced cupperOne who cups, or tastes and evaluates, coffee.: A cupper is a person who performs the somewhat formal analysis of coffee quality, called cupping. See the definition of cupping for more information. It has nothing they seem passable, but the coffee has not been processed to high standards, the cup masks flaws that will eventually emerge, and the green coffee will not hold up over time "Why not let the market determine coffee denominations?" A market based on global competition over undifferentiated commodity lots makes no sense in the specialty community. True single-farm coffees often deserve double their current price. Visit a coffee farm that has its own mill; you cannot believe the amount of specialized, skilled labor that goes into each pound of green coffee. What you get without standards is a lot of coffee businesses selling different qualities of coffee, competing on an uneven surface. You have roasters with the highest principles of quality and freshness in a marketplace with crudy old coffee from an unscrupulous business, and both have the exact same name on the bag: two coffees can be called SumatraIndonesians are available as a unique wet-hulled or dry-hulled (washed) coffees. Giling Basah is the name for the wet-hulling process in Bahasa language, and will have more body and often more of the "character" that MandhelingA trade name used for wet-hulled Sumatra coffees. It is an area and a culture group as well (spelled Mandailing often) but there is not as much coffee production in this area anymore, south of and be of completely different cup character and quality.
But why ape the wine model? Speaking as a well-meaning and imperfect participant in a flawed trade, coffee seems to get things quite backwards. We don't seem to understand the empirical method well, or working from a set of basic problems toward a systemic solution. We just want results. In this trade, coffee producers, brokers and sellers would love the cache (and price premiums) of selling coffee like wine, but without doing the work. The problem with comparing coffee production to viticulture is that a wine appellation system is the result of decades of history, culture and agronomyScience and study of crops and soils: A branch of agriculture dealing with field-crop production, soil management and physiology of crop plants as its focus. specific to wine. It wasn't whipped up overnight as an answer to the question "what do consumers want?" It wasn't the result of marketing. Defining coffee appellations would not start with the coffee regions, the arabicaArabica refers to Coffea Arabica, the taxonomic species name of the genus responsible for around 75% of the worlds commercial coffee crop.: Arabica refers to Coffea Arabica, the taxonomic species name of the genus responsible cultivars, or the altitudes of the farms. All these are important factors in quality coffee, but appellation would need to start with the cup. Why do coffees from different origins taste different? Like wine, it is a combination of history, of traditions in coffee cultivation and processing, of the people and their specific culture, and all the environmental aspects: altitude, soil, and weather. There are many ways to process coffee correctly, there are many opinions on what "correct" means. So start with the cup to determine what those who appreciate coffee, experts and amateurs side-by-side, find unique about each origin. The result will be a rough sketch of the different "signature character" cups that an origin produces. From that, the factors that produce that cup (and the negative actions that mar that cup) can be determined. Unlike wine, the resulting set of primary "causes" that result in a particular cup character will be quite different from the oenanthic universe. Yes, cultivars matter, but only as a muted and oftentimes indistinguishable element of the cup.
The method of processing, wet or dry, is much more significant. Wet processed coffees are roughly akin to white wines, fermentedAs a defect flavor, a fruit quality in a coffee that is excessively ripe, toward rotten. Fermented flavor can be the result of poor wet-processing, over-ripe cherry, or some other contamination in the processing. As without the grape skins, whereas dry-processed coffees are like red wines, fermented in the coffee cherryOriginally coffee literature referred to the fruit of the tree as a "berry" but in time it became a cherry. It is of course neither. Nor is the seed of the coffee a bean. All with the skin intact. Unlike wine, strict geographical standards would not work well with coffee. Coffee is too dependent upon altitude, microregional soil variations, climactic subregions, local soil differences. A coffee can be grown in the geographical center of Tarrazu and have no "typical Tarrazu character", another can be grown just outside Tarrazu, and be the epitome of the region. Or a coffee can be grown on the perfect plot in Tarrazu, but is planted with Catimor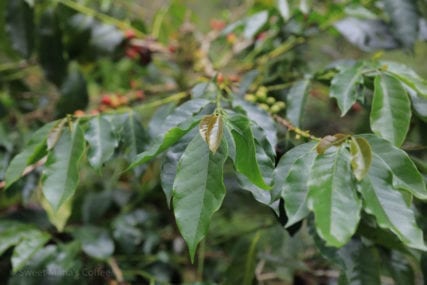 Ateng is a common name for Catimor coffees widely planted in Sumatra and other Indonesia isles.: Ateng, with several subtypes, is a common name for Catimor coffees widely planted in Sumatra and other Indonesia isles. (a highly productive hybrid that is actually an arabica-robusta cross) and have poor cup character. And the influences upon cup character can not be abstracted and minimized to essential notions like terroir as they are in wine. Coffee is a
product of a history; not only in terms of growing and processing, but in terms of brewing and "taste." There cannot be a universally recognized "good cup" of coffee, and so there cannot be a universally "correct" way to grow and process coffee. So perhaps what we can expect initially from an appellation system for coffee is to define defect-free cup types from various origins, and leave the search for Grand Crus and for terroir to the world of wine.
Sweet Maria's Coffee
1455 64th Street, Emeryville CA 94608
web: www.sweetmarias.com
email: [email protected]
Sweet Maria's Green Coffee Offering List on Mar 10 2004.
Central American 1 lb 2 lb 5 lb 20 lb
Costa Rican – La Magnolia $4.90 $9.31 $21.32 $75.46
Costa Rican La Minita Tarrazu $6.80 $12.92 $30.26 $108.80
GuatemalaGuatemalan coffee is considered a top quality coffee producer in Central America. Due to our proximity to Guatemala, some of the nicest coffees from this origin come to the United States. : Guatemalan growing regions OrganicGrown without the use of artificial fertilizers, herbicides, etc.: Organic coffee has been grown according to organic farming techniques, typically without the use of artificial fertilizers. Some farms have more local Organic Certification than the Coban – El Tirol $5.10 $9.69 $22.19 $78.54
Guatemala Huehuetenango-La Maravilla $4.80 $9.12 $20.88 $73.92
Mexican Oaxaca Pluma-Tres Oros 5142 $4.30 $8.17 $18.71 $66.22
Nicaragua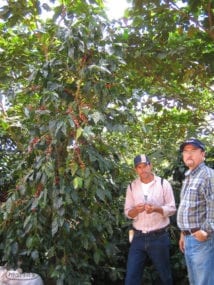 Nicaraguan coffees from the Segovia, Jinotega, Ocotal and Matagalpa regions are nice balanced cups. They often possess interesting cup character along with body and balance, outperforming many other balanced Central American and South American high-grown Matagalpa – San Martin EstateA "coffee estate" is used to imply a farm that has its own processing facility, a wet-mill. In Spanish this is called an Hacienda. A Finca (farm) does not necessarily have a mill. (And Finca $4.50 $8.55 $19.58 $69.30
South American 1 lb 2 lb 5 lb 20 lb
BoliviaBolivia has always been a coffee origin with great potential, the potential to have a unique Specialty coffee offering with unique cup character.: There's no better way to learn about a coffee-producing country than to Organic Cenaproc Co-op $4.50 $8.55 $19.58 $69.30
Bolivia Fair TradeFair trade is an organized social movement and market-based approach to empowering developing country producers and promoting sustainability.: Fair trade is an organized social movement and market-based approach to empowering developing country producers and promoting "de Montana" $4.70 $8.93 $20.45 $72.38
BrazilBrazil is a coffee giant . As Frank Sinatra sang, "they grow an awful lot of coffee in Brazil".: Brazil is a coffee giant . As Frank Sinatra sang, "they grow an awful lot of Cup of Excellence Laranja-Cravo $5.60 $10.64 $24.36 $86.24
Brazil Cup of Excellence Sitio Araucaria $5.70 $10.83 $24.80 $87.78
Brazil Fazenda Ipanema "Dulce" $4.50 $8.55 $19.58 $69.30
Brazil Matas de Minas -Fazenda Brauna $4.50 $8.55 $19.58 $69.30
Brazil Sul de Minas – Carmo Estate $4.40 $8.36 $19.14 $67.76
Brazil Organic/FT Poco Fundo $4.90 $9.31 $21.32 $75.46
Colombian Huila "Mercedes Supremo" $4.20 $7.98 $18.27 $64.68
Colombian Organic Mesa de los Santos $4.90 $9.31 $21.32 $75.46
Colombian Huila – La Florencia $4.50 $8.55 $19.58 $69.30
Colombian Popayan SupremoA Colombian coffee grade referring to screen size of 17-18 screen. In the traditional bulk Arabica business, Supremo was the top grade Colombia, with Excelso one step below at 15-16 screen. Neither of these refer "Caucano" $4.65 $8.84 $20.23 $71.61
EcuadorEcuador has everything it takes to grow great coffee. Positioned between Colombia and Peru, the interior mountain ranges have plenty of altitude, weather patterns, and ideal soil for quality coffee production.: Coffee has a long EScafe Co-op $4.70 $8.93 $20.45 $72.38
PeruPeruvian coffees have Central American brightness but in a South American coffee flavor package overall. The good organic lots do have more of a "rustic" coffee character.: Organic Peru ... you can get it anywhere Organic Norte -Perunor $4.50 $8.55 $19.58 $69.30
African- Arabian 1 lb 2 lb 5 lb 20 lb
Ethiopian Ghimbi Lot 5025 $4.20 $7.98 $18.27 $64.68
Ethiopian Organic Harar Gr. 5 $5.00 $9.50 $21.75 $77.00
Ethiopian Yirgacheffe Lot 4452 $5.20 $9.88 $22.62 $80.08
KenyaKenya is the East African powerhouse of the coffee world. Both in the cup, and the way they run their trade, everything is topnotch.: Kenya is the East African powerhouse of the coffee world. Both AA Auction Lot 369-Kanake $5.25 $9.98 $22.84 $80.85
Kenya AA Auction Lot -Kihenia $6.00 $11.40 $26.10 $92.40
Kenya AA Auction Lot -Thunguri $5.50 $10.45 $23.93 $84.70
RwandaRwandan coffee was, at one time, rarely seen in the United States as either a Specialty grade or low-end commercial coffee. There simply was not that much coffee produced in Rwanda that went anywhere besides Masaka "Seven Lakes" $4.40 $8.36 $19.14 $67.76
TanzaniaIn terms of the Tanzania coffee character, it belongs to the Central/East African family of washed (wet-processed) coffees, bright (acidy), and mostly aggressively flavorful of which Kenya is certainly the dominant coffee. Peaberries are often AA Songea Flatbean $4.70 $8.93 $20.45 $72.38
UgandaWhile Arabica was introduced at the beginning of the 1900's, Robusta coffee is indigenous to the country, and has been a part of Ugandan life for centuries. The variety of Wild Robusta Coffee still growing AA Bugisu $4.30 $8.17 $18.71 $66.22
Yemen MokhaThe Yemeni type of coffee, both in terms of the family of cultivars planted there, and the general trade name.: Mokha Yemeni type of coffee, both in terms of the family of cultivars planted there, Ismaili (Hirazi) $7.80 $14.82 $36.27 $124.80
Zambian AA Lupili Estate $4.60 $8.74 $20.01 $70.84
Zimbabwe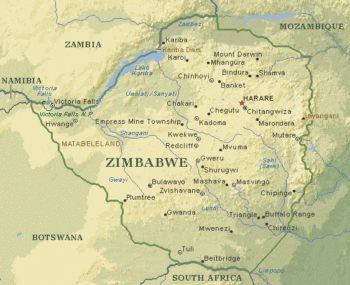 Zimbabwe, formerly known as lower Rhodesia until independence in 1980, has produced great coffee since production was introduced in the 1960s. Like Zambian coffees, these coffees are often overshadowed by the great East African coffee: AA Salimba Estate $4.60 $8.74 $20.01 $70.84
Indonesian- Indian 1 lb 2 lb 5 lb 20 lb
BaliCoffee from the Indonesian island of Bali was formerly sold mainly to the Japanese market. Perhaps it is the changing face of world economics that finds the first exports of Balinese coffee arriving under exclusive Shinzan Arabica $5.60 $10.64 $24.36 $86.24
Indian Monsooned Malabar Coehlo's Gold $5.00 $9.50 $21.75 $77.00
Indian Pearl Mountain Peaberry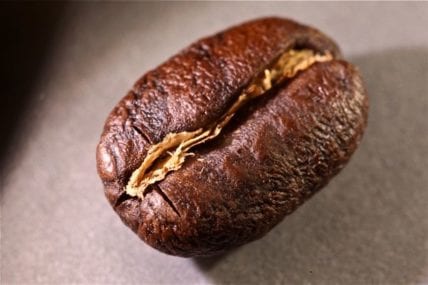 The Spanish-language term for Peaberry is the same for "snail". See Peaberry for more information on the single bean fruit of the coffee tree. A peaberry is the rounded singular seed found in the coffee $4.80 $9.12 $20.88 $73.92
Papua New GuineaPapua New Guinea (PNG) occupies the eastern half of the island it shares with the Indonesian province of Irian Jaya, part of Indonesia. The two primary areas for coffee production can be grouped roughly as – Kimel $4.50 $8.55 $19.58 $69.30
SulawesiSulawesi coffees are low-acid with great body and that deep, brooding cup profile akin to Sumatra. The coffee is sometimes known as Celebes, which was the Dutch colonial name for the island. Indonesians are available Toraja Grade 1 $4.50 $8.55 $19.58 $69.30
Aged Sumatra Lintong $5.80 $11.02 $25.23 $89.32
Sumatra Iskandar Triple-Pick $5.30 $10.07 $23.06 $81.62
Sumatra Mandheling '04 – Lot 5102 $4.40 $8.36 $19.14 $67.76
Timor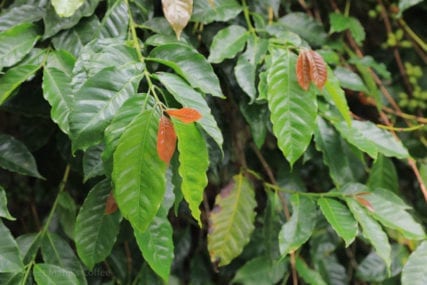 Hibrido de Timor abbreviated HdT is the interspecies hybrid of C. Arabica and C. Canephora (Robusta) that was found in Timor Leste in the 1940s. It has been the bases of plant breeding for disease Organic/FT Maubesse $5.10 $9.69 $22.19 $78.54
Islands- Blends -Etc. 1 lb 2 lb 5 lb 20 lb
Jamaica Blue Mountain – Mavis Bank $19.40 $37.25 $90.21 5 lb limit
HawaiiThe Kona district on the big island of Hawaii produces the best coffee from this state - clean, sweet and mild. : Ah, Hawaii... what a nice place. They grow nuts, fruit, and coffee. The Kona Purple Mountain XF $15.60 $29.95 $72.54 5 lb limit
Hawaii Kona Purple Mountain F $14.40 $27.65 $66.96 5 lb limit
SM's Moka Kadir Blend $5.60 $10.64 $24.36 $86.24
SM's Espresso Monkey Blend $5.00 $9.50 $21.75 $77.00
SM's Classic Italian Espresso Blend $4.80 $9.12 $20.88 $73.92
SM's Decaf Espresso Blend $5.60 $10.64 $24.36 $86.24
SM's Liquid Amber Espresso Blend $5.30 $10.07 $23.06 $81.62
SM's French RoastSugars are heavily caramelized (read as burned) and are degraded; the woody bean structure is carbonizing, the seed continues to expand and loose mass, the body of the resulting cup will be thinner/lighter as the Blend $5.00 $9.50 $21.75 $77.00
SM's Roasted French ChicoryChicory was a popular coffee substitute and economizer for 2 centuries, back when coffee was more prized, and pure coffee was a luxury. : Chicory was a popular coffee substitute and economizer for 2 centuries, $4.80 $9.12 $20.88 $73.92
Decafs 1 lb 2 lb 5 lb 20 lb
Brazil Prima Qualita WP Decaf $4.60 $8.74 $20.01 $70.84
Colombian Huila Natural Decaf $4.50 $8.55 $19.58 $69.30
Colombian ExcelsoA Colombian coffee grade referring to screen size of 15-16. In the traditional bulk Arabica business, Excelso is a step below the large bean Supremo grade, which indicates screen size 17-18. Medellin WP Decaf $4.70 $8.93 $20.45 $72.38
Costa Rican El Sol WP Decaf $5.10 $9.69 $22.19 $78.54
Ethiopian Yirgacheffe WP Decaf $5.20 $9.88 $22.62 $80.08
Kenya AA WP Decaf $5.50 $10.45 $23.93 $84.70
PanamaPanama coffee ranges from medium quality lower altitude farms to those at 1600 - 1800 meters centered in the area of Boquete in the Chirqui district near the border with Costa Rica. Some farms feature WP Decaf -Panamaria Estate $5.20 $9.88 $22.62 $80.08
Sulawesi Toraja WP Decaf $5.10 $9.69 $22.19 $78.54
Sumatra WP Decaf $5.20 $9.88 $22.62 $80.08
Timor WP Decaf $5.00 $9.50 $21.75 $77.00
Premium Robustas 1 lb 2 lb 5 lb 20 lb
Indian Organic Washed RobustaRobusta usually refers to Coffea Robusta, responsible for roughly 25% of the world's commercial coffee. Taxonomy of Robusta is debated: some sources use "Robusta" to refer to any variety of Coffea Canephora, and some use $4.20 $7.98 $18.27 $64.68
Uganda Robusta -Esco Farms 18+ $4.00 $7.60 $17.40 $61.60
Ugh! (The Coffee) $0.70 1 lb limit