Stay up to date on coffee we have coming down the pipeline and our latest green coffee outlook and arrivals schedule.
Green Coffee Notes for January 2022:
We're still working our way out from under a pile of orders that came in over the holiday season, but are very close to being completely caught up.
This has meant employing some very temporary trade offs, like limiting the number of coffees on our website, and letting our Liquid Amber, French, and New Classic blends run out of stock. These sacrifices are only short-term, and things should get back to normal, with a full list of coffees, and regular order turnarounds at the start of February. Thank you so much for your patience as we work through this!
Looking over the February Outlook below, you'll see some a few origins coming back in stock, like Colombia

Colombian coffee is highly marketed and widely available in the US. They have been largely successful at equating the name Colombian Coffee with "Good" Coffee. This is half-true. Colombian can be very balanced, with good

, and Honduras

Honduran coffee was absent from the top ranks of the Specialty market, but that has changed. It has all the environmental factors on its side: soil, altitude, climate. All it's neighbors have sophisticated coffee production:

(actually, we just launched our first Honduras from Beneficio

In Kenya, a "Factory" is actually a coffee wet mill (called a washing station in other parts of Africa) where the fresh cherry is brought for wet-processing. It is called a wet mill usually, and

San Vicente that you can check out here). In addition, we also have containers of coffee from Peru

Peruvian coffees have Central American brightness but in a South American coffee flavor package overall. The good organic lots do have more of a "rustic" coffee character.: Organic Peru ... you can get it anywhere

, Brazil

Brazil is a coffee giant . As Frank Sinatra sang, "they grow an awful lot of coffee in Brazil".: Brazil is a coffee giant . As Frank Sinatra sang, "they grow an awful lot of

, Flores

Flores is an Indonesian island, and as a coffee bears more resemblance to the coffees of Timor-Leste, New Guinea and Java than to the wet-hulled coffees of Sumatra and Sulawesi. It is sweet, with good

, and Sulawesi

Sulawesi coffees are low-acid with great body and that deep, brooding cup profile akin to Sumatra. The coffee is sometimes known as Celebes, which was the Dutch colonial name for the island. Indonesians are available

with ETA's a little later in February. You'll start to see those pop up on the February Coffee Outlook once we have a solid idea of ETA's.
On that note, the Oakland Port has been operating at normal capacity once again, which is good news for processing

The removal of the cherry and parchment from the coffee seed.: Coffee is either wet-processed (also called washed or wet-milled) or dry-processed (also called wild, natural or natural dry, and we abbreviate it DP sometimes).

our West Coast arrivals. Our most recent coffees moved through the Port within 10 days of landing, which is a huge improvement from the 1 month+ turnarounds we were experiencing in late 2021!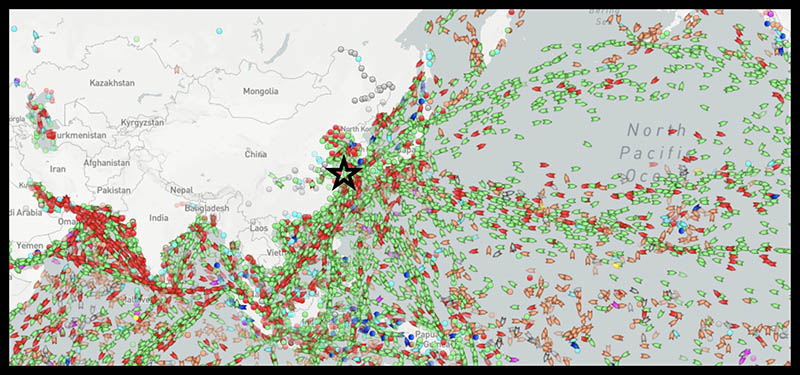 But further up the logistics chain, congestion is mounting at trans-shipment ports such as Shanghai. Regional outbreaks of the OMICRON variant have caused several Chinese ports to temporarily close, leaving many shippers little option but to reroute to Shanghai, causing a massive bottleneck, long processing times, and extremely limited space for trans-shipping cargo on outgoing vessels.
Obviously this does not affect incoming coffees from Latin America at the moment. But our recent shipments from Burundi

Burundi coffee bears resemblance to neighboring Rwanda, in both cup character, but also the culture surrounding coffee. Burundi is a small landlocked country at the crossroads of East and Central Africa, straddling the crest of

and Rwanda

Rwandan coffee was, at one time, rarely seen in the United States as either a Specialty grade or low-end commercial coffee. There simply was not that much coffee produced in Rwanda that went anywhere besides

are unfortunately caught up in the congestion, and we're currently working with our import partners to push them through as quickly as possible.
We just finished booking full containers of coffee from Colombia (yes, another one!), Sumatra

Indonesians are available as a unique wet-hulled or dry-hulled (washed) coffees. Giling Basah is the name for the wet-hulling process in Bahasa language, and will have more body and often more of the "character" that

, and Timor

Hibrido de Timor abbreviated HdT is the interspecies hybrid of C. Arabica and C. Canephora (Robusta) that was found in Timor Leste in the 1940s. It has been the bases of plant breeding for disease

Leste. We are also just starting to see early offer samples from Ethiopia

Ethiopia is the birthplace of coffee: it is in the forests of the Kaffa region that coffee arabica grew wild. Coffee is "Bun" or "Buna" in Ethiopia, so Coffee Bean is quite possibly a poor

, and expect those contracts to start to take shape by the end of the month.
A Note on the Rising Cost of Green Coffee in 2022
There's no doubt this will be one of the most expensive years for coffee in our 20+ years of business. The price for coffee on the ICE market (Intercontinental Exchange) closed today at roughly $2.35/lb, compared to $1.25 this time last year, an 88% increase.
The C Market resistance we're seeing at $2.50 at the moment may not be the ceiling, and how high this thing goes before the pendulum swings the other way is anybody's guess.
The initial upward push coincided with a severe draught in Brazil, followed by one of the worst frosts in decades, the damage of which is playing out in 2022. Coffee shortages and extreme transit delays in parts of the world have left buyers scrambling to cover their positions, which only served to push the price upward even more.
But these are only the backdrop to what's driving the prices we pay for coffee (we rarely follow the C Market unless it's in an upward trajectory!). High local demand for coffee in the different buying origins, as well as higher costs to growers and exporters are pushing that price up even higher.
This email excerpt from an exporter we worked with in Costa Rica

Costa Rican coffee is typically very clean, sweet, with lots of floral accents. hey are prized for their high notes: bright citrus or berry-like flavors in the acidity, with distinct nut-to-chocolate roasty flavors.: Can a

last year illuminates some of the nuanced costs of doing business, not often seen by the consumer, but greatly affect the bottom line. It's unfortunately a common story in many other regions too.
"Paying more for coffee" isn't so much the issue here. Unfortunately, a big chunk of the inflated prices is being absorbed by supply chain actors like shipping companies who are able to squeeze exorbitant fees for their services because there are simply no other options. We'd much rather see that $$$ go to farmer premiums, but this is where we're at.
This is new territory for us, and we are looking for ways to counter some of these costs so that we don't have to raise prices more than necessary.
Unlike most coffee importers who sell their stock based off the current C Market price, our prices for coffees in-house are fixed. This means you never pay more for any coffee we currently have listed or in the wings.
But for the coffee we are buying right now, you can expect to see prices trend upward as we move through the year to help cover that added cost. All coffee will be affected to some degree, but with "hidden" costs such as logistics varying wildly from one origin

In coffee talk, it refers to a coffee-producing region or country; such as, "I was just at origin." Of course "Origin" for most product we use is not a beautiful farm in a temperate climate,

to the next, that increase will also vary.
Upcoming green coffees currently on the schedule to be added to our website:
Please keep in mind that the coffees on the Upcoming Coffee Outlook schedule with a location status of "In Transit" are still a bit of a wild card, and the month we have them listed under is based on the current shipping ETA, and subject to interruptions out of our control. Thanks for your patience!
January Coffee Outlook
Guatemala

Guatemalan coffee is considered a top quality coffee producer in Central America. Due to our proximity to Guatemala, some of the nicest coffees from this origin come to the United States. : Guatemalan growing regions

Xinabajul Los Chuchitos
100
60 KG
Oakland
India

S-795 is a variety based on the " S-Line" coffees of India, and stands for Selection 795, It has a very fine cup, one of the best in Indonesia, but is not a high volume

Organic

Grown without the use of artificial fertilizers, herbicides, etc.: Organic coffee has been grown according to organic farming techniques, typically without the use of artificial fertilizers. Some farms have more local Organic Certification than the

Araku Valley
20
60 KG
Oakland
Kenya

Kenya is the East African powerhouse of the coffee world. Both in the cup, and the way they run their trade, everything is topnotch.: Kenya is the East African powerhouse of the coffee world. Both

Nyeri Gatugi Peaberry

The Spanish-language term for Peaberry is the same for "snail". See Peaberry for more information on the single bean fruit of the coffee tree. A peaberry is the rounded singular seed found in the coffee

25
60 KG
Oakland
Sumatra Honey Process

"Red honey" process gesha at a coffee farm in Costa Rica's Central Valley growing region. The honey process has nothing to do with honey other than the fact that they're both sticky! It's a term

Kerinci
25
60 KG
Oakland
Yemen

Yemen has a coffee culture like no other place, and perhaps some of what we enjoy in this cup is due to their old style of trade...: Technically, Yemen is on the Asian continent (on

Sana'a-Ibb Highlands
36
32 KG
Oakland
Sweet Maria's Moka Kadir Blend
N/A
Oakland
February Coffee Outlook
Brazil Alta Mogiana Santo Amaro
80
30 KG
Oakland
Colombia Buesaco Productores Aliados
51
70 KG
Oakland
Colombia Inzá Rio Páez
24
70 KG
Oakland
Colombia Honey

In coffee, honey-like sweetness is often found, but we use terms such as refined honey (highly filtered and processed) as opposed to raw honey rustic honey sweetness. This form of sweetness is largely a dynamic

Process Ciudad Nube
23
70 KG
Oakland
Costa Rica Honey Process Las Anonas
15
69 KG
Oakland
Costa Rica Helsar SWP

SWP means Swiss Water Process is a patented water filtration decaf method, not a chemical solvent method. The plant is in Vancouver, Canada.

Decaf
56
60 KG
Oakland
El Salvador

El Salvador coffee had an undeservingly poor reputation for years, marred mostly by the inability to deliver coffee of high quality in an unstable political climate. Unfortunately, agriculture is the first to suffer in revolution,

Finca

Spanish 101: Finca is the Spanish word for farm. Sometimes the term Hacienda is used to imply an Estate, which would mean the farm has its own wet-mill. A Finca does not necessarily have a

Miravalle Bourbon

A coffee cultivar; a cross between Typica and Bourbon, originally grown in Brazil: Mundo Novo is a commercial coffee cultivar; a natural hybrid between "Sumatra" and Red Bourbon, originally grown in Brazil. It was developed

28
69 KG
Oakland
Ethiopia Organic Dry Process

Dry process coffee is a method for taking the fruit from the tree to an exportable green bean. The whole intact coffee cherry is dried in the sun with the green bean inside. Later it

Daannisa
100
60 KG
Oakland
Ethiopia Yirga Cheffe Kebele Gotiti
120
60 KG
Oakland
Guatemala Huehuetenango Finca Rosma
69 KG
Oakland
Guatemala Finca La Florencia
28
69 KG
Oakland
Guatemala Xinabajul Santa Barbara
20
69 KG
Oakland
Honduras Las Flores Doña Maria Parainema
14
69 KG
Oakland
Honduras Montecillos Finca La Alondra
13
69 KG
Oakland
Kenya Kirinyaga Kiunyu Peaberry

A peaberry is a green coffee "bean" that has a rounded form: Coffee is the dried seed from the fruit of a flowering tree - each fruit having 2 seeds facing each other (the flat

11
60 KG
Oakland
Laos Paksong Typica
8
60 KG
Oakland
Nicaragua

Nicaraguan coffees from the Segovia, Jinotega, Ocotal and Matagalpa regions are nice balanced cups. They often possess interesting cup character along with body and balance, outperforming many other balanced Central American and South American high-grown

Finca Buenos Aires Lot 2
25
69 KG
Oakland
Nicaragua Honey Buenos Aires Maracaturra

As the name indicates cross between large-bean Maragogype and Caturra cultivars. : As the name indicates cross between large-bean Maragogype and Caturra cultivars. It seems to be found most in Nicaragua, although I am not

5
69 KG
Oakland
Nicaragua Dry Process El Suyatal
5
69 KG
Oakland
Sumatra Kerinci Tujuh Cooperative
40
60 KG
Oakland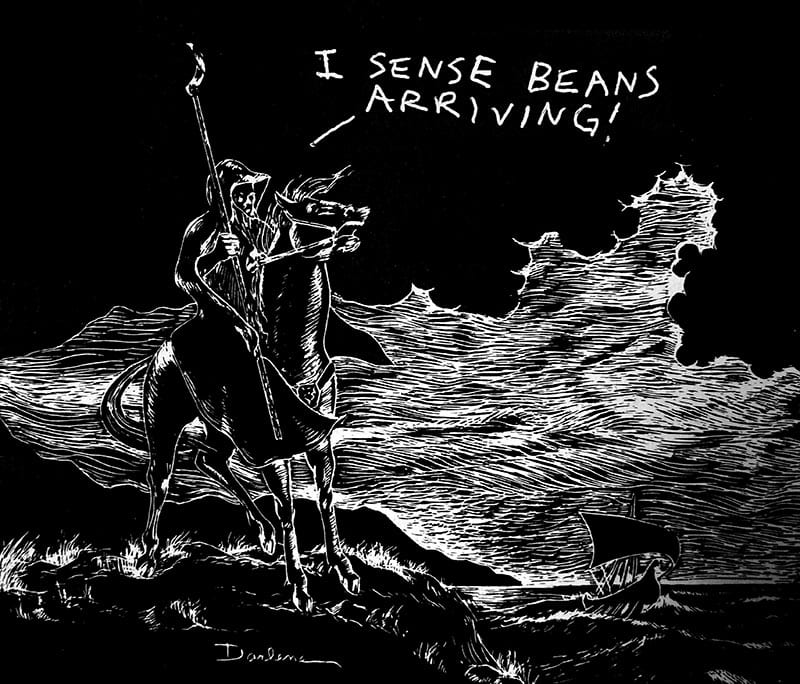 Incoming coffees currently on the water:
Africa Incoming Coffees
Congo

Kivu is the general name for East Congo (Kinshasa), covering a very broad geographical area, and the lake of the same name that divides them. It borders on Uganda, Rwanda, Burundi, and Lake Tanganyika on

Organic Dry Process Kivu Katana
60
60 KG
Feb 10
Congo Organic Kirumba Kavisa
40
60 KG
Feb 10
Rwanda Rubavu Rwinyoni
60
60 KG
March 21
Rwanda Rusizi Gaseke
25
60 KG
March 21
Rwanda Nyamasheke Nyakabingo
25
60 KG
March 21
Rwanda Ngororero
25
60 KG
March 21
Rwanda Nyamasheke Macuba
45
60 KG
March 21
Rwanda Dry Process Kanyege
25
60 KG
March 21
Rwanda Honey Process Kanyege
30
60 KG
March 21
Rwanda Dry Process Macuba
40
60 KG
March 21
Rwanda Dry Process Nyamiyaga
20
60 KG
March 21
Rwanda Honey Process Karambi
30
60 KG
March 21
Yemen Mokha

The Yemeni type of coffee, both in terms of the family of cultivars planted there, and the general trade name.: Mokha Yemeni type of coffee, both in terms of the family of cultivars planted there,

Khulani
150
32 KG
March 21
Yemen Mokha Matari
150
32 KG
March 21
Yemen Hiwar
50
32 KG
March 21
Yemen Mokha Harasi
100
32 KG
March 21
Yemen Haimi
50
32 KG
March 21
Yemen Hajjah
100
32 KG
March 21
Burundi Yeast Fermentation

Yeast fermentation involves adding different types of external yeasts to the fermentation stage of wet processing in order to help control the outcome, and ultimately, how the coffee tastes. Naturally occurring yeasts are always a

Yandaro
20
60 KG
April 1
Burundi Kabarore Commune Yandaro
70
60 KG
April 1
Burundi Kayanza Gahahe
65
60 KG
April 1
Burundi Gatare Masha
45
60 KG
April 1
Burundi Dry Process Kibingo Station
60
60 KG
April 1
Burundi Gaterama Agahore Station
28
60 KG
April 1
Burundi Dry Process Agahore
26
60 KG
April 1
Tanzania

In terms of the Tanzania coffee character, it belongs to the Central/East African family of washed (wet-processed) coffees, bright (acidy), and mostly aggressively flavorful of which Kenya is certainly the dominant coffee. Peaberries are often

Namku AA
30 (of 55)
60 KG
Not yet shipped
Tanzania Sepulila AB
39 (all)
60 KG
Not yet shipped
Tanzania Namku Peaberry
19 (all)
60 KG
Not yet shipped
Tanzania Igale Peaberry
24 (all)
60 KG
Not yet shipped
Zambia

From the country formerly known as upper Rhodesia in a country now named for the Zambezi River, Zambian coffees range from Kenya-like brightness to subtle, balanced coffee with complexity, body and nuanced flavors... Zambia has

Anaerobic Dry Process
15
60 KG
Not yet shipped
Zambia Fully Washed
15
60 KG
Not yet shipped
South America Incoming Coffees
| | | | |
| --- | --- | --- | --- |
| Peru Quanda Chirinos | 20.00 | 69 KG | Jan 23 |
| Peru Lonya Grande Velo De Novia | 45.00 | 69 KG | Jan 23 |
| Peru San Jose De Lourdes | 20.00 | 69 KG | Jan 23 |
| Peru Organic San Ignacio | 50.00 | 69 KG | Jan 23 |
| Peru Organic La Coipa | 75.00 | 69 KG | Jan 23 |
| Brazil Marcos Ferreira De Faria | 50.00 | 60 KG | Jan 29 |
| Brazil Thiago Marson Casavechia | 80.00 | 60 KG | Jan 29 |
| Brazil Vera Lucia Pereira | 20.00 | 60 KG | Jan 29 |
| Brazil Thales Donizete Dos Reis | 30.00 | 60 KG | Jan 29 |
| Brazil Adair De Oliveira Neto | 25.00 | 60 KG | Jan 29 |
| Brazil Fred Terumi Iwano | 35.00 | 60 KG | Jan 29 |
| Peru San Francisco Pedro Garcia | 40 | 69 KG | Feb 2 |
| Peru Bello Horizonte Andres Burga | 29 | 69 KG | Feb 2 |
| Peru Las Pirias Ramiro Vela | 26 | 69 KG | Feb 2 |
| Peru Huabal Dalila Cruz | 42 | 69 KG | Feb 2 |
| Peru El Diamante Roger Chilcon | 58 | 69 KG | Feb 2 |
| Peru Pueblo Las Piñas | 48 | 69 KG | Feb 2 |
| Peru El Paraiso Yoner Arevalo | 38 | 69 KG | Feb 2 |
Indonesia & SE Asia Incoming Coffees
Papua New Guinea

Papua New Guinea (PNG) occupies the eastern half of the island it shares with the Indonesian province of Irian Jaya, part of Indonesia. The two primary areas for coffee production can be grouped roughly as

Kainantu Sero
70
60 KG
Jan 17
Papua New Guinea Korgua Estate

A "coffee estate" is used to imply a farm that has its own processing facility, a wet-mill. In Spanish this is called an Hacienda. A Finca (farm) does not necessarily have a mill. (And Finca

AA
26
60 KG
Feb 21
Sulawesi Rodo Rodo
17
60 KG
Feb 25
Sulawesi Wet Hulled Latimojong
40
60 KG
Feb 25
Sulawesi Panaikang
8
60 KG
Feb 25
Sulawesi Desa Topidi
8
60 KG
Feb 25
Sulawesi Honey Process Gowa
5
60 KG
Feb 25
Sulawesi Dry Process Topidi
11
60 KG
Feb 25
Java

There are several types of Abyssinia, but they are not from Ethiopia but rather Indonesia. Abyssinia 3 = AB3. PJS Cramer, a Dutch plant researcher, introduced this variety in 1928, supposedly from Ethiopia seed stock. It was

Wet Hulled Siki Alit
30
60 KG
Feb 25
Java Wet Hulled Waspada
40
60 KG
Feb 25
Flores Wawo Muda
18
60 KG
Feb 25
Flores Waja Mala
18
60 KG
Feb 25
Flores Wolo Wio
38
60 KG
Feb 25
Flores Dry Process Bei Poso
7
60 KG
Feb 25
Timor Leste Daurfusu
25
60 KG
Not Yet Shipped
Timor Leste Daurfusu
30
60 KG
Not Yet Shipped
Timor Leste Daurfusu
10
60 KG
Not Yet Shipped
Timor Honey Process Leste Daurfusu
55
60 KG
Not Yet Shipped
Timor Dry Process Leste Daurfusu
55
60 KG
Not Yet Shipped
Timor Leste Dry Process Lulirema
18
60 KG
Not Yet Shipped
Timor Leste Taurema
18
60 KG
Not Yet Shipped
Timor Leste Basargeon
16
60 KG
Not Yet Shipped
Timor Leste Hatletegeo
15
60 KG
Not Yet Shipped
Timor Leste Lekisala
40
60 KG
Not Yet Shipped