What is "Fresh Green Coffee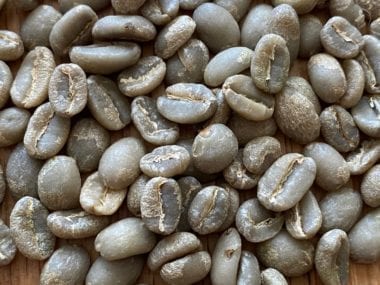 Green coffee refers to the processed seed of the coffee tree fruit. Coffee is a flowering shrub that produces fruit. The seeds of the fruit are processed, roasted,... ...more?"
There's a problem in the making for the home roasting community. We have struggled for years to improve our roasting techniques, to demand better roasting appliances. Many have turned their backs on the manufacturers, choosing to build their own air roasters and drum roasters from popcorn popper parts and barbeque grills. In 2004, if you are willing to pay the price (roasters are expensive!), to pay attention, and to make a few tweaks to your equipment, you can roast coffee at home better than some professionals who might have pricey equipment but bad technique.
But the problem is in seed … in the green coffee that we roast. I'll be blunt; no matter how crafty you are with your Variac-regulated, PID-controlled, thermo-coupled roaster, you can't turn crap into cake. Garbage in means garbage out.
In the greater commercial coffee trade, declining quality is to be expected. You can't pay coffee farmers at current market prices and expect premium Specialty coffee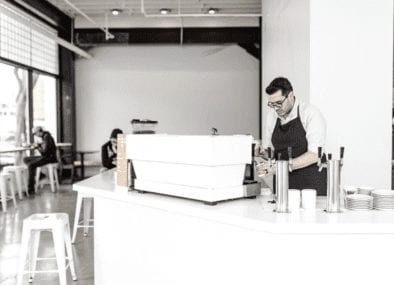 Specialty coffee was a term devised to mean higher levels of green coffee quality than average "industrial coffee" or "commercial coffee". At this point, the term is of... ...more. But there are other problems among the coffee sellers and buyers that are inexcusable. The first problem is the eroding definition of Specialty coffee. There are coffees being sold as Estate-specific that are not. There are brands developed by the coffee mills or even by the importers, applied to generic coffees to make them seem specialty. Some of these don't fit even the most basic definition of Specialty coffee, that they are from a specific originIn coffee talk, it refers to a coffee-producing region or country; such as, "I was just at origin." Of course "Origin" for most product we use is not... ...more and have cup quality. And, most importantly, there is old coffee being sold to home roasting consumers, past cropRefers to an older coffee not from the "New Crop" or the "Current Crop". Cuppers will even use it as a general term for baggy, old hay or... ...more or marginal current cropRefers to any coffee that has not been replaced by new crop shipments, even if it was shipped from origin many months before. See Past Crop and New... ...more coffees. In this case, it could be a coffee of the best pedigree, with excellent cup quality … if it was fresh. But after sufficient time (or even a short time in bad storage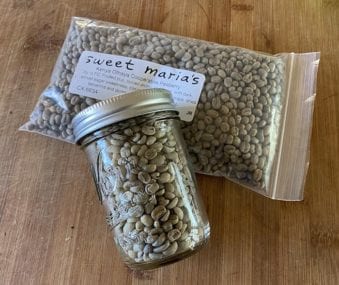 Green coffee can be stored much longer than roasted coffee: Roasted coffee starts to lose its aromatics in 10 days after roasting. Green coffee can be stored months... ...more conditions) the cup quality erodes and the coffee, no matter if it is top SHB, Grade 1, Micro-regional, Shade-Grown, Hard Bean, Fair TradeFair trade is an organized social movement and market-based approach to empowering developing country producers and promoting sustainability.: Fair trade is an organized social movement and market-based approach... ...more, Heirloom CultivarCultivar is a term used interchangeably with Varietal in the coffee trade to indicate plant material, although there are distinctions.: The naming of a cultivar should conform to... ...more, Sun-dried, Bird-Friendly or processed by monks one seed at a time – it will be a flat, baggy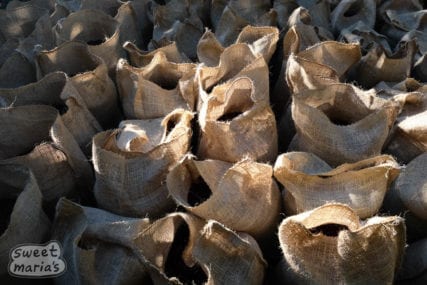 The flavor of coffee that has been stored for too long, it has absorbed the flavor of whatever it has been stored in. : Coffees that are held... ...more cup of cardboard-flavored brown water!!!
When I started in the trade we would talk about green coffee being "fresh" for 2 years or more. We were wrong! It was a fiction that we told ourselves as roasters, propagated by brokers who had warehouses full of old coffee to sell. But in 2004 it is a fiction that coffee sellers, roasted or green, continue to tell themselves (and their customers) because the alternative, selling off the coffee at a loss or even dumping it, is too painful.
But there is another problem; some new home coffee roasters don't know what baggy old coffee tastes like, so there's nobody to hold the coffee supplier accountable. Daily cupping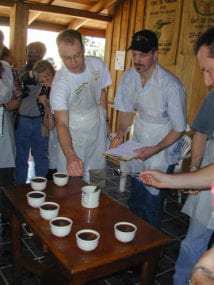 Cupping is a method of tasting coffee by steeping grounds in separate cups for discrete amounts of ground coffee, to reveal good flavors and defects to their fullest.... ...more is a lot of work, and many coffee sellers are not experienced cuppers, haven't cupped with other professionals or in public settings and competitions. So they rely on a broker to tell them what is good, without verifying for themselves by evaluating each new offer against other current coffees, and against previous lots. We possibly end up with the blind leading the blind, and defective coffees sold as Specialty. It may save time and money to avoid rigorous cupping. But the difference in price between green coffee suppliers and coffee origins are insignificant amounts; it is more important that quality come before price. If a coffee costs $6 Lb. rather than $4 Lb. the difference amounts to 3¢ per cup. 3¢!
For our part, we are now offering another "educational" coffee (remember the Vietnam Gr.4 Robusta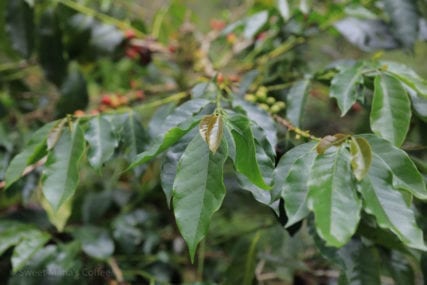 Ateng is a common name for Catimor coffees widely planted in Sumatra and other Indonesia isles.: Ateng, with several subtypes, is a common name for Catimor coffees widely... ...more)? This time it is past crop coffee, and really not that old. It is 2002 crop and we are offering it at its fair market price given the cup quality: 70¢ per Lb. It is listed at the end of our coffee offering sheet as Ye Olde 1 Lb. Of Coffee -2002 Crop and I beg you to try it, listen to how it roasts, how the first crackFirst crack in one of two distinct heat-induced pyrolytic reactions in coffee. It is distinguished by a cracking or popping sound in the coffee, and occurs between 390... ...more sounds, and how it cups. There is so much more to discuss on this topic (origins that age quicker than others, how Sweet Maria's handles our green coffee stock, Freshness dates –our reviews list lot/bag marks and arrival dates—and more). But this could fill 5 newsletters. There are indeed 3 more articles and info. sheets in our Coffee Library. Check them out at www.sweetmarias.com/articles.shtml!
What is "Fresh-Roasted Coffee?"
Put in perspective green coffee is physically dense and chemically stable compared to roasted coffee. I've just made it sound like green coffee ages in nanoseconds; really it is roasted coffee that has the lifespan of a sick flea!
The basic home roaster's dilemma isn't figuring ways to keep a pound of coffee fresh for as long as possible. The home roaster is usually fighting off the temptation to allow coffee some time to rest and de-gas after roasting before consuming the preciously small batch. For this reason, the home roaster doesn't really need to consider seriously the many ways that coffee flavor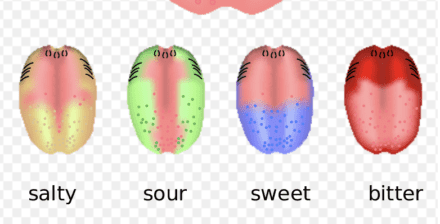 The overall impression in the mouth, including the origin character as well as tastes that come from the roast.: This is the overall impression in the mouth, including... ...more degrades over time. But it's useful to illustrate some of the basics of freshness, if for no other reason than to show the fragile nature of coffee flavor, and gain a greater respect for its complexity. And how else are we going to explain to non-roasters why our coffee is so aromatic and lively?
Chemical Basis of Freshness: The enemies of coffee flavor are open air (oxidation and dissipation of aromas), heat (coffee stored in warm environment), and moisture (high humidity especially). My dull and lifeless cup of KenyaKenya is the East African powerhouse of the coffee world. Both in the cup, and the way they run their trade, everything is topnotch.: Kenya is the East... ...more is the perfect starting point, because East African coffees have an abundance of Aldehydes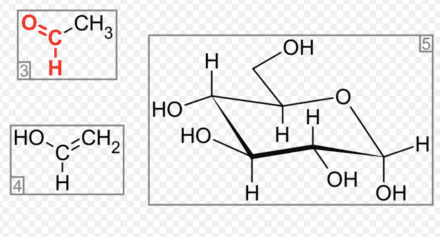 An important factor in coffee aromatics, partially formed in roasting by the interaction of fatty acids and oxygen: Along with Ketones, Aldehydes are an important factor in coffee... ...more that account for their strongly attractive aromatics and fruit flavors. Aldehydes combine with acids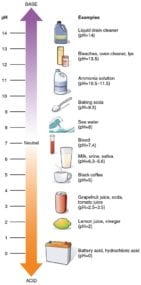 Many acids contribute to coffee flavor: acetic, malic, citric, quinic, tartaric, phosphoric, etc.: Many acids contribute to coffee flavor; malic, citric, quinic, tartaric, phosphoric, etc. See Acidity or... ...more during roasting to form aromatic Esters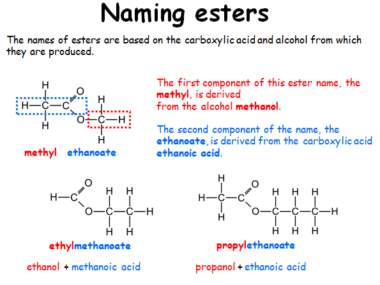 An ester is an often fragrant organic or partially organic compound formed by the reaction between an acid (including amino acids) and an alcohol. They play a smaller... ...more. Esters and aldehydes are the most volatile aromatic compounds, broken down by heat and moisture or oxidation/dissipation. Certain aromatics are diminished by 50% after ground coffee is left 15 minutes in open air!
The basic set of compounds responsible for perceived coffee freshness are a particular set of Sulpherous Mercapatans, and in particular Methyl Mercapatan. This chemical is lost rapidly through dissipation and oxidation, especially when ground coffee is left in open air in a humid environment. Lab results show noticeable loss in 24 hours, and up to 70% loss within 3 days.
Many compounds in coffee are perceived as positive in moderation, then as negative in higher concentrations. Furfuryl Mercapatan is one. At the very slight concentration of .01 to .5 parts per billion it communicates freshness to the senses, and any higher it is perceived as staleness! Such is the topsy-turvy world of coffee chemistry.
PhenolsA compound in coffee that at high levels contributes to negative flavors, but can have positive aspects as well: Phenols are a set of organic compounds, relatively stable,... ...more are sensed as spicy notes in darker roasted coffees, and especially noticeable in dark roasted Ethiopians or East Africans. Also in specific roast tastes you find Pyradines (smoky, ashyThe smell or taste of ash, such as an ashtray, cigarette smoke, or fireplace. Often a roast defect.: A quality in aroma or flavor similar to that of... ...more), Pyrazines (earthyEarthy is a flavor term with some ambivalence, used positively in some cases, negatively in others.: Sumatra coffees can have a positive earthy flavor, sometimes described as "wet... ...more, mustyOff aroma and flavor that reminds one of a dank, moldy closet. This flavor can hint at a dangerous coffee mold and should not be consumed.: Off aroma... ...more) and PyrrolesThere are 70 identified Pyrroles in coffee, important aromatic compounds.: There are 70 identified Pyrroles in coffee, important aromatic compounds, thermally formed by a reaction of aldoses with... ...more (smoky, roasty). Phenols evaporate easily. Pyrroles are more stable but are a negative taste sensation in greater concentrations. Pyrazines are highly volatile and dissipate easily. Pyrroles occur in the coffee oils and are subject to oxidation. The above compounds can be dramatically reduced or converted to negative flavors within 8-10 days of roasting, and much sooner under the influence of oxygen, heat and moisture.
In general, staling occurs as fats and oils are oxidized. As coffee takes on oxygen, Lipids are converted. The main undesirable compounds produced are Peroxides, and the more peroxides present the more will be produced…a sort of exponential regression into staleness. Also, fats are subject to aromatic taints, so keep coffee (both green and roasted) away from your onions.
De-gassing coffee is not immune to the effects of oxygen. It simply has less oxygen surrounding the coffee due to the presence of CO-2 gasses emanating from the fresh coffee. But it takes very little oxygen to stale coffee over time, so the key is to minimize exposure to oxygen, and minimize the time until the coffee is consumed.
Degradation of coffee flavor is inevitable, and pre-roasted coffee, whether it is packaged in a valve-bag or not, has inevitably lost flavor. So it makes sense that the simplest way to combat all the forces that ruin coffee quality over time is to reduce the time between roasting and consumption!
Sweet Maria's Coffee
1455 64th Street, Emeryville CA 94608
web: www.sweetmarias.com
email: [email protected]
Sweet Maria's Green Coffee Offering List on Jan. 10 2004.
Central American 1 lb 2 lb 5 lb 20 lb
Costa Rican Auction Lot -El Legendario $7.50 $14.25 $33.75 $121.50
Costa Rican – La Magnolia $4.90 $9.31 $21.32 $75.46
Costa Rican La Minita Tarrazu $6.80 $12.92 $30.26 $108.80
El SalvadorEl Salvador coffee had an undeservingly poor reputation for years, marred mostly by the inability to deliver coffee of high quality in an unstable political climate. Unfortunately, agriculture... ...more Chalatenango- Zona Alta $4.80 $9.12 $20.88 $73.92
GuatemalaGuatemalan coffee is considered a top quality coffee producer in Central America. Due to our proximity to Guatemala, some of the nicest coffees from this origin come to... ...more Antigua – Filadelfia EstateA "coffee estate" is used to imply a farm that has its own processing facility, a wet-mill. In Spanish this is called an Hacienda. A Finca (farm) does... ...more $5.20 $9.88 $22.62 $80.08
Guatemala OrganicGrown without the use of artificial fertilizers, herbicides, etc.: Organic coffee has been grown according to organic farming techniques, typically without the use of artificial fertilizers. Some farms... ...more Coban – El Tirol $5.10 $9.69 $22.19 $78.54
Guatemala Huehuetenango-La Maravilla $4.80 $9.12 $20.88 $73.92
Honduras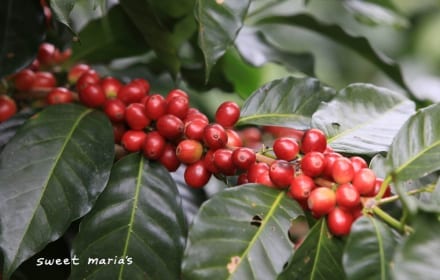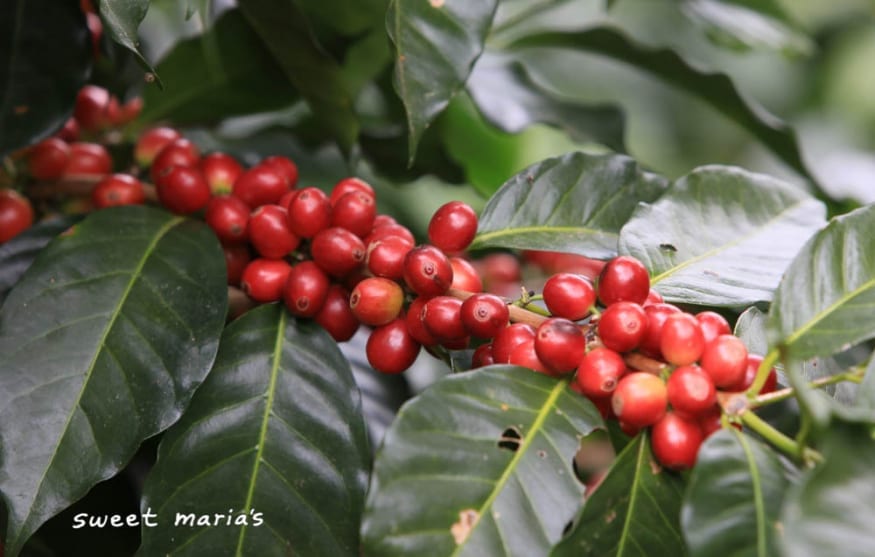 Honduran coffee was absent from the top ranks of the Specialty market, but that has changed. It has all the environmental factors on its side: soil, altitude, climate.... ...more Org. SHG – Sebastian Melgar $5.10 $9.69 $22.19 $78.54
Mexican Oaxaca Pluma-Tres Oros 5142 $4.30 $8.17 $18.71 $66.22
Nicaragua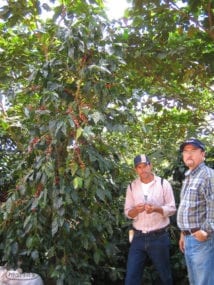 Nicaraguan coffees from the Segovia, Jinotega, Ocotal and Matagalpa regions are nice balanced cups. They often possess interesting cup character along with body and balance, outperforming many other... ...more Matagalpa PacamaraAs the name implies, Pacamara is a large bean cultivar, a cross between Pacas and Maragogype with unique flavor properties. This variant originated in El Salvador in 1958,... ...more 19+ $4.90 $9.31 $21.32 $75.46
Nicaragua Matagalpa – San Martin Estate $4.50 $8.55 $19.58 $69.30
Nicaragua Cup of Exc. Co-op 22 de Sept. $6.50 $12.35 $29.25 $105.30
PanamaPanama coffee ranges from medium quality lower altitude farms to those at 1600 - 1800 meters centered in the area of Boquete in the Chirqui district near the... ...more Boquette -Finca La Berlina $5.40 $10.26 $23.49 $83.16
South American 1 lb 2 lb 5 lb 20 lb
BoliviaBolivia has always been a coffee origin with great potential, the potential to have a unique Specialty coffee offering with unique cup character.: There's no better way to... ...more Organic Caranavi "Colonial" $4.50 $8.55 $19.58 $69.30
BrazilBrazil is a coffee giant . As Frank Sinatra sang, "they grow an awful lot of coffee in Brazil".: Brazil is a coffee giant . As Frank Sinatra... ...more FazendaFazenda is the Portuguese word for farm, hence it is the term used in Brazil. Fazenda is not a coffee-specific term. ...more Ipanema "Dulce" $4.50 $8.55 $19.58 $69.30
Brazil Matas de Minas -Fazenda Brauna $4.50 $8.55 $19.58 $69.30
Brazil Sul de Minas – Carmo Estate $4.40 $8.36 $19.14 $67.76
Brazil Organic/FT Poco Fundo $4.90 $9.31 $21.32 $75.46
Brazil Mogiana Estate Natural-Dry $4.60 $8.74 $20.01 $70.84
Colombian Huila ExcelsoA Colombian coffee grade referring to screen size of 15-16. In the traditional bulk Arabica business, Excelso is a step below the large bean Supremo grade, which indicates... ...more Lot 6581 $4.40 $8.36 $19.14 $67.76
Colombian Organic Mesa de los Santos $4.90 $9.31 $21.32 $75.46
PeruPeruvian coffees have Central American brightness but in a South American coffee flavor package overall. The good organic lots do have more of a "rustic" coffee character.: Organic... ...more Organic Norte -Perunor $4.50 $8.55 $19.58 $69.30
African- Arabian 1 lb 2 lb 5 lb 20 lb
Ethiopian Ghimbi Lot 5025 $4.20 $7.98 $18.27 $64.68
Ethiopian Harar Horse Lot 4338 $5.00 $9.50 $21.75 $77.00
Ethiopian Organic Sidamo Dry-Process $4.50 $8.55 $19.58 $69.30
Ethiopian Yirgacheffe Lot 4452 $5.20 $9.88 $22.62 $80.08
Kenya AA Auction Lot -Kanake $5.25 $9.98 $22.84 $80.85
Kenya AA Auction Lot -Kihenia $6.00 $11.40 $26.10 $92.40
Kenya AA Auction Lot -Ruiruiru $5.70 $10.83 $24.80 $87.78
Kenya AA Auction Lot -Thunguri $5.50 $10.45 $23.93 $84.70
UgandaWhile Arabica was introduced at the beginning of the 1900's, Robusta coffee is indigenous to the country, and has been a part of Ugandan life for centuries. The... ...more AA Organic Bugisu $4.40 $8.36 $19.14 $67.76
YemenYemen has a coffee culture like no other place, and perhaps some of what we enjoy in this cup is due to their old style of trade...: Technically,... ...more MokhaThe Yemeni type of coffee, both in terms of the family of cultivars planted there, and the general trade name.: Mokha Yemeni type of coffee, both in terms... ...more Ismaili (Hirazi) $7.80 $14.82 $36.27 $124.80
Zambian AA Lupili Estate $4.60 $8.74 $20.01 $70.84
Zimbabwe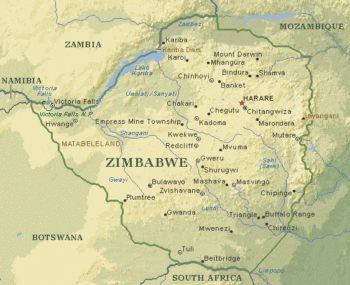 Zimbabwe, formerly known as lower Rhodesia until independence in 1980, has produced great coffee since production was introduced in the 1960s. Like Zambian coffees, these coffees are often... ...more AA Salimba Estate $4.60 $8.74 $20.01 $70.84
Indonesian- Indian 1 lb 2 lb 5 lb 20 lb
BaliCoffee from the Indonesian island of Bali was formerly sold mainly to the Japanese market. Perhaps it is the changing face of world economics that finds the first... ...more Shinzan ArabicaArabica refers to Coffea Arabica, the taxonomic species name of the genus responsible for around 75% of the worlds commercial coffee crop.: Arabica refers to Coffea Arabica, the... ...more $5.60 $10.64 $24.36 $86.24
Indian Monsooned Malabar Coehlo's Gold $5.00 $9.50 $21.75 $77.00
Indian Mysore Nuggets Extra Bold $4.80 $9.12 $20.88 $73.92
Indian Pearl Mountain PeaberryA peaberry is a green coffee "bean" that has a rounded form: Coffee is the dried seed from the fruit of a flowering tree - each fruit having... ...more $4.80 $9.12 $20.88 $73.92
Java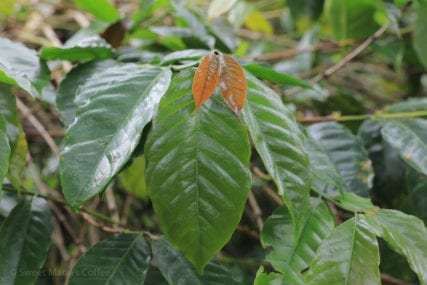 There are several types of Abyssinia, but they are not from Ethiopia but rather Indonesia. Abyssinia 3 = AB3. PJS Cramer, a Dutch plant researcher, introduced this variety in 1928,... ...more Government Estate -Blawan $5.00 $9.50 $21.75 $77.00
Papua New GuineaPapua New Guinea (PNG) occupies the eastern half of the island it shares with the Indonesian province of Irian Jaya, part of Indonesia. The two primary areas for... ...more -Kimel A 4689 $4.50 $8.55 $19.58 $69.30
SulawesiSulawesi coffees are low-acid with great body and that deep, brooding cup profile akin to Sumatra. The coffee is sometimes known as Celebes, which was the Dutch colonial... ...more Toraja Grade 1 $4.50 $8.55 $19.58 $69.30
Aged SumatraIndonesians are available as a unique wet-hulled or dry-hulled (washed) coffees. Giling Basah is the name for the wet-hulling process in Bahasa language, and will have more body... ...more Lintong $5.80 $11.02 $25.23 $89.32
Sumatra Iskandar Triple-Pick $5.30 $10.07 $23.06 $81.62
Sumatra MandhelingA trade name used for wet-hulled Sumatra coffees. It is an area and a culture group as well (spelled Mandailing often) but there is not as much coffee... ...more Gr.1-Lot 1613 $4.30 $8.17 $18.71 $66.22
TimorTimor-Leste (East Timor) is a tiny island between Australia and Sulawesi, annexed by Indonesia and liberated in a referendum several years ago. Small scale coffee farming was jump-started... ...more Organic/FT Maubesse $5.10 $9.69 $22.19 $78.54
Islands- Blends -Etc. 1 lb 2 lb 5 lb 20 lb
JamaicaJamaica coffee can be excellent mild, lush coffee... sometimes. Like Kona and Puerto Rican coffee, it is soft, mild, clean and well balanced when it is good.: Ah... ...more Blue Mountain – Mavis Bank $19.40 $37.25 $90.21 5 lb limit
SM's Moka Kadir Blend $5.60 $10.64 $24.36 $86.24
SM's EspressoA small coffee beverage, about 20 ml, prepared on an espresso machine where pressurized hot water extracted through compressed coffee.: In its most stripped-down, basic form, this is... ...more Monkey Blend $5.00 $9.50 $21.75 $77.00
SM's Classic Italian Espresso Blend $4.80 $9.12 $20.88 $73.92
SM's Decaf Espresso Blend $5.60 $10.64 $24.36 $86.24
SM's Liquid Amber Espresso Blend $5.30 $10.07 $23.06 $81.62
SM's French RoastSugars are heavily caramelized (read as burned) and are degraded; the woody bean structure is carbonizing, the seed continues to expand and loose mass, the body of the... ...more Blend $5.00 $9.50 $21.75 $77.00
SM's Roasted French ChicoryChicory was a popular coffee substitute and economizer for 2 centuries, back when coffee was more prized, and pure coffee was a luxury. : Chicory was a popular... ...more $4.80 $9.12 $20.88 $73.92
Decafs 1 lb 2 lb 5 lb 20 lb
African Highland WP Decaf Blend $5.50 $10.45 $23.93 $84.70
Brazil Prima Qualita WP Decaf $4.60 $8.74 $20.01 $70.84
Colombian Huila Natural Decaf $4.50 $8.55 $19.58 $69.30
Colombian Excelso Medellin WP Decaf $4.70 $8.93 $20.45 $72.38
Costa Rican El Sol Sundried WP Decaf $5.10 $9.69 $22.19 $78.54
Ethiopian Yirgacheffe WP Decaf $5.20 $9.88 $22.62 $80.08
Kenya AA WP Decaf $5.50 $10.45 $23.93 $84.70
Mexican Esmeralda Natural Decaf $4.40 $8.36 $19.14 $67.76
Panama WP Decaf -Panamaria Estate $5.20 $9.88 $22.62 $80.08
Sulawesi Toraja WP Decaf $5.10 $9.69 $22.19 $78.54
Sumatra WP Decaf $5.20 $9.88 $22.62 $80.08
Premium Robustas 1 lb 2 lb 5 lb 20 lb
Indian Organic Washed RobustaRobusta usually refers to Coffea Robusta, responsible for roughly 25% of the world's commercial coffee. Taxonomy of Robusta is debated: some sources use "Robusta" to refer to any... ...more $4.20 $7.98 $18.27 $64.68
Uganda Robusta -Esco Farms 18+ $4.00 $7.60 $17.40 $61.60
Other! 1 lb 2 lb 5 lb 20 lb
Ye Olde 1 Lb. Of Coffee -2002 Crop $0.70 1 lb limit