PanamaPanama coffee ranges from medium quality lower altitude farms to those at 1600 - 1800 meters centered in the area of Boquete in the Chirqui district near the... ...more "Cup of ExcellenceThe Cup of Excellence is a competition held yearly in many coffee-producing countries, designed to highlight the very best coffees from each origin.: The Cup of Excellence (COE)... ...more" Auctions
The first ever Cup Of Excellence auctions for Panama coffees was held in May and Sweet Maria's purchased two lots of the 8 winning coffees, including the #1 ranked coffee from Finca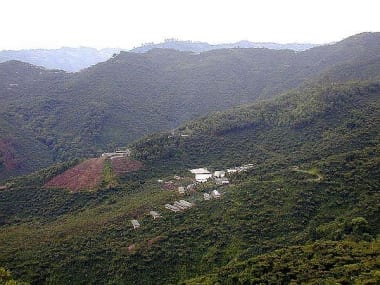 Spanish 101: Finca is the Spanish word for farm. Sometimes the term Hacienda is used to imply an Estate, which would mean the farm has its own wet-mill.... ...more Lerida. While some of the farms that were awarded the top 8 spots and inclusion in the auction might be familiar, these specific coffee lots represented the best coffee from the best farms. They were picked and processed beyond the highest standards to compete against the many Panamanian farms that entered the competition. Sweet Maria's paid the record price for the winning lot, the highest in the auction. And as a model for rewarding cup quality and hard-working coffee farmers, the auction system is incomparable in its success! Please support quality coffee, and try the auction-winning lots.
Finca Lerida EstateA "coffee estate" is used to imply a farm that has its own processing facility, a wet-mill. In Spanish this is called an Hacienda. A Finca (farm) does... ...more Coffee
Lerida Estate is situated in the valley of Boquete in the Northwestern part of Panama. It is surrounded by 500 acres of tropical forest in the slopes of the Baru Volcano.
The farm is situated perfectly for growing top quality coffee: Deep and rich volcanic soil, altitude ranging from 1600 to 1700 meters above sea level, adequate rainfall with a sunny and dry harvesting season, are key factors for the production of crimson red arabicaArabica refers to Coffea Arabica, the taxonomic species name of the genus responsible for around 75% of the worlds commercial coffee crop.: Arabica refers to Coffea Arabica, the... ...more cherries. These cherries are harvested daily and go through a meticulous wet processWet-processing starts by removing the outer skin of the coffee cherry with a machine called a pulper, then fermenting the remaining fruit (with green bean inside) in water... ...more in Lerida's unique processingThe removal of the cherry and parchment from the coffee seed.: Coffee is either wet-processed (also called washed or wet-milled) or dry-processed (also called wild, natural or natural... ...more plant. The beans are sundried and set to rest for no less than 60 days.
The four-bag lot purchased by Sweet Maria's are from batches No.30- 36. The coffee was harvested on January 4- 11, 2001 FermentationA key part of the wet process of coffee fruit is overnight fermentation, to break down the fruit (mucilage) layer that tenaciously clings to the coffee seed, so... ...more took place from 39-48 hours. The sun-drying process took an average of 11 days per batch. The coffee was judged #1 in cup quality in the 2001 Cup of Excellence competition.
Finca Maurnier Estate
I was able to cup all the 8 award-winning lots at the invitational Panama cupping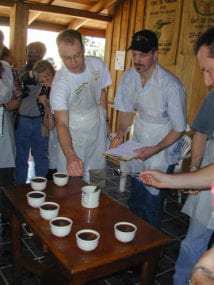 Cupping is a method of tasting coffee by steeping grounds in separate cups for discrete amounts of ground coffee, to reveal good flavors and defects to their fullest.... ...more at the SCAA Annual Conference in Miami. A quick overview of the lots made it clear to me that the original judges had been focused more on piercing high acidity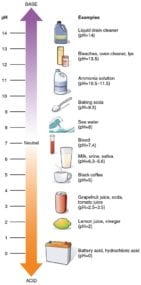 Acidity is a positive flavor attribute in coffee, also referred to as brightness or liveliness. It adds a brilliance to the cup, whereas low acid coffees can seem... ...more, the quality that gives a cup its bright effervescentA combined mouthfeel and flavor sensation, hinting at a dynamic and lively cup: While coffee is not a carbonated beverage, at times a combination of factors (brightness/acidity with... ...more nature, rather than bodyAssociated with and sensed by mouthfeel, body is sense of weight and thickness of the brew, caused by the percentage of soluble solids in the cup, including all... ...more and overall complexity. Acidity, akin to dryness in wine and hops brightnessA euphemistic term we use often to describe acidity in coffee. A bright coffee has more high, acidic notes. : A euphemistic term to describe acidity in coffee.... ...more in beer, can make coffees seem one-dimensional though, and the Lerida stood out as the coffee most contrary to the citrusy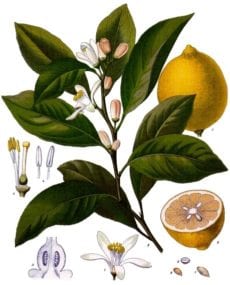 Qualities in coffee that are reminiscent of a citrus fruit; orange, lemon, grapefruit, kumquat, etc.: Qualities in coffee that are reminiscent of a citrus fruit; orange, lemon, grapefruit,... ...more and acidy character of most of the lots. Yes its bright, but it had a winey-black cherry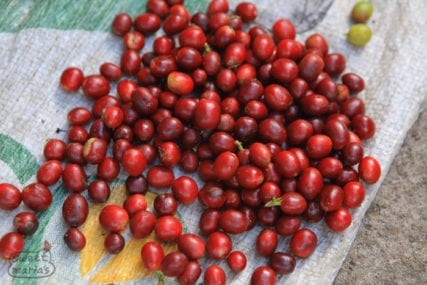 Either a flavor in the coffee, or referring to the fruit of the coffee tree, which somewhat resembles a red cherry.: Either a flavor in the coffee, or... ...more fruitiness in the cup, more body, and a spicy note in the aftertasteAftertaste refers to lingering residual sensations in the mouth after coffee has swallowed. It might be distinguished from "finish" which is the final sensations of the coffee while... ...more. But there was another coffee in the auction that I fell in love with, finding out later that it was the Maurnier and that it had barely won a spot in the auction at #8. I was surprised! It had less acidity but great depth and finishSimilar to aftertaste, but it refers to the impression as the coffee leaves the palate. Aftertaste is the sensations gathered after the coffee has left the mouth. We... ...more. It was easily as sophisticated in cup character as the Lerida, but with a full, mellowA general primary-to-secondary post gustatory flavor characterization, often called "rich" or alternately "smooth" Coffee that has been hanging out in the warehouse, but not really helping out with... ...more balanceSuggests a harmony and proportion of qualities, and implies mildness since no one quality dominates.: Balance is both an obvious and slippery taste term. It implies a harmony... ...more and less acidity overall. I was as determined to get the lot of Maurnier coffee as I was to buy the Lerida, and if you try it at a City roastCity roast is what we define as the earliest palatable stage that the roast process can be stopped and result in good quality coffee. City roast occurs roughly... ...more with a day of restingEither the resting of parchment coffee after drying, or for the home roaster, post-roast resting.: Resting might refer to "reposo", the time after drying the parchment coffee, when... ...more, I think you will see why! Here are the details:
Region: Boquete, Higher Lands: Vocancito
Altitude: 1500 meters and up
VarietyA botanical variety is a rank in the taxonomic hierarchy below the rank of species and subspecies and above the rank of form (form / variety / subspecies... ...more: Typica 40%, BourbonA coffee cultivar; a cross between Typica and Bourbon, originally grown in Brazil: Mundo Novo is a commercial coffee cultivar; a natural hybrid between "Sumatra" and Red Bourbon,... ...more 15%, CaturraCatimor is a broad group of cultivars derived from a Hibrido de Timor (HdT) and Caturra cross, highly productive, sometimes with inferior cup flavor. The main issue is... ...more 45%
Process: Continuous washed
Background: Maurnier was a seminal coffee Finca in the Boquete region, now considered the source for the best Panamanian coffees. Monsiur Gilbert Maunier (Mojneeae) married a Boqueteña Lady and moved in to start his own Finca. With his expertise he developed a biodiverse coffee plantation keeping the original shade trees and planting separated lots for each of the three varieties.
When moving to Costa RicaCosta Rican coffee is typically very clean, sweet, with lots of floral accents. hey are prized for their high notes: bright citrus or berry-like flavors in the acidity,... ...more, he sold the Finca to another Boqueteño that eventually sold it to Mr. Plinio Ruiz (who farms other prize-winning lots in the auction). The original Finca philosophy remains the same. The first coffee roasting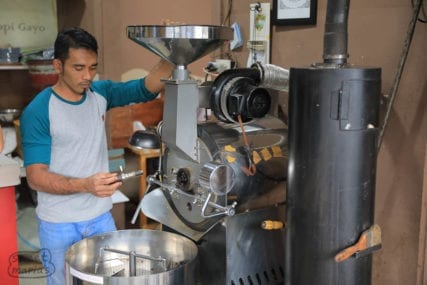 The application of heat to green coffee seeds (beans) to create palatable material for brewing a great cup!: Coffee roasting is a chemical process induced by heat, by... ...more machine that Mr. Ruiz acquired belonged to Mr. Maunier.
A Matter of Taste
Finding the coffees you like is no easy task, but the reward is great. I hope our Coffee Cupping Reviews* help you select coffees you might like, but it is going to take some experimentation and a few blunders to flesh out your preferences. And coffee presents some special problems; the tastes are subtle and complexThe co-presence of many aroma and flavor attributes, with multiple layers. A general impression of a coffee, similar to judgments such as "balanced" or "structured" ...more compared to other beverages, and the language to describe them unfamiliar.
The most important way to quickly define your tastes is to keep a coffee log. This doesn't have to be anything fancy; it could be as simple as tearing the sticker labels off the bags of coffee you like and putting them on a sheet of paper. But keep track of which coffees you liked best and how dark they were roasted when they really impressed you.
When you find a coffee that you really don't like, consider it a great success! It's a solid starting point to determine a coffee flavor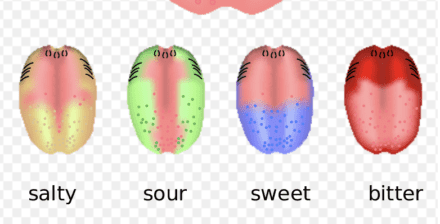 The overall impression in the mouth, including the origin character as well as tastes that come from the roast.: This is the overall impression in the mouth, including... ...more you don't like, and which coffees to scratch off your list. Perhaps it is "earthyEarthy is a flavor term with some ambivalence, used positively in some cases, negatively in others.: Sumatra coffees can have a positive earthy flavor, sometimes described as "wet... ...more". You will find this in SumatraIndonesians are available as a unique wet-hulled or dry-hulled (washed) coffees. Giling Basah is the name for the wet-hulling process in Bahasa language, and will have more body... ...more in the form of mustyOff aroma and flavor that reminds one of a dank, moldy closet. This flavor can hint at a dangerous coffee mold and should not be consumed.: Off aroma... ...more or earthy flavors, in Ethiopians — but only the dry-processed ones. Look for that word in the cupping reviews and it's a good clue to avoid that coffee.
Or maybe bright coffees with citrusy acidity are unpleasant to you. Avoid some Kenyas and some "bright" Centrals. The wet-processed Ethiopians like Yirgacheffe are also citrusy. You can see that a taste characteristic is not strictly geographical. If you loved an East African like a Zimbabwe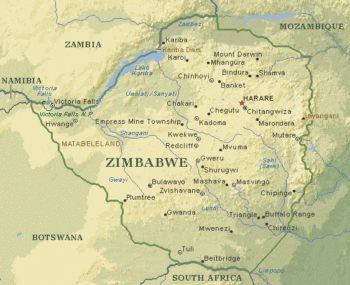 Zimbabwe, formerly known as lower Rhodesia until independence in 1980, has produced great coffee since production was introduced in the 1960s. Like Zambian coffees, these coffees are often... ...more, it doesn't mean you will love an Ethiopians Harar in the same way, despite them both being African. The difference between Sumatra and TimorTimor-Leste (East Timor) is a tiny island between Australia and Sulawesi, annexed by Indonesia and liberated in a referendum several years ago. Small scale coffee farming was jump-started... ...more is pronounced even though both are Indonesian. Even within a sub-region, primary taste characteristics can be extremely different: a Ugandan is nothing like a neighboring Kenyan. For this reason you find that knowing a little about coffee always seems insufficient given that conventionalConventional coffee means that a coffee is not organic certified, in the coffee trader parlance. ...more wisdom is often half-true, and singularities abound!
And remember this: our coffees have character! If it's a character you like, you'll be thrilled. If it's one you don't, you will know it right away. But that doesn't mean its a bad coffee. I put a lot of work into cupping coffee from every coffee brokerage I can to find the truly exceptional origins, and from specific lot numbers of the same name to find the best bags. But it's a committee of one (just me!) that makes cupping decisions. Your results will differ…
Sweet Maria's Coffee
9 E. 2nd Ave Columbus Ohio 43201
web: www.sweetmarias.com
email: [email protected]
Sweet Marias Green Coffee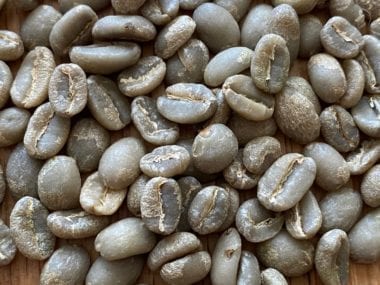 Green coffee refers to the processed seed of the coffee tree fruit. Coffee is a flowering shrub that produces fruit. The seeds of the fruit are processed, roasted,... ...more Offerings on 5/29/01:
This list is always superceded by the current list on our web page! PANAMA auction winners: available June 5. http://sweetmarias.com/prod.greencoffee.shtml
Central American 1 lb 2 lb 5 lb 20 lb
Costa Rican Dota Conquistador $5.20 $9.88 $22.62 $80.08
Costa Rican La Minita Tarrazu $7.10 $13.49 $31.60 $113.60
Costa Rican Tarrazu-Tres Rios $4.80 $9.12 $20.88 $73.92
Guatemalan Antigua -Bella Carmona $4.80 $9.12 $20.88 $73.92
Guatemalan Finca El Injerto '01 $4.90 $9.31 $21.32 $75.46
Guatemalan Org. Atitlan -La Voz Co-op $5.30 $10.07 $23.06 $81.62
Guatemalan OrganicGrown without the use of artificial fertilizers, herbicides, etc.: Organic coffee has been grown according to organic farming techniques, typically without the use of artificial fertilizers. Some farms... ...more Huehuetenango '01 $5.00 $9.50 $21.75 $77.00
Mexican Organic -Finca Las Chiapas $4.90 $9.31 $21.32 $75.46
Mexican Oaxaca Pluma -El Olivo Farm $4.60 $8.74 $20.01 $70.84
Mexican Org. San Augustin Loxicha $4.70 $8.93 $20.45 $72.38
Mexican Oaxaca San Pablo Becafisa $4.60 $8.74 $20.01 $70.84
Nicaragua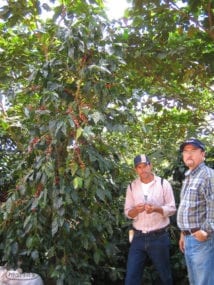 Nicaraguan coffees from the Segovia, Jinotega, Ocotal and Matagalpa regions are nice balanced cups. They often possess interesting cup character along with body and balance, outperforming many other... ...more SHG La Illusion '01 $4.80 $9.12 $20.88 $73.92
South American 1 lb 2 lb 5 lb 20 lb
BrazilBrazil is a coffee giant . As Frank Sinatra sang, "they grow an awful lot of coffee in Brazil".: Brazil is a coffee giant . As Frank Sinatra... ...more Organic -Blue de Brasil $4.90 $9.31 $21.32 $75.46
Brazil Auction Winner-Sitio Sao Joao $5.20 $9.88 $22.62 5 lb limit
Brazil Cerrado-Monte Carmelo $4.20 $7.98 $18.27 $64.68
Colombian Popayan SupremoA Colombian coffee grade referring to screen size of 17-18 screen. In the traditional bulk Arabica business, Supremo was the top grade Colombia, with Excelso one step below... ...more $4.50 $8.55 $19.58 $69.30
Colombian Medellin ExcelsoA Colombian coffee grade referring to screen size of 15-16. In the traditional bulk Arabica business, Excelso is a step below the large bean Supremo grade, which indicates... ...more Bolivar $4.50 $8.55 $19.58 $69.30
Colombian Tuluni Supremo 18+ $4.80 $9.12 $20.88 $73.92
PeruPeruvian coffees have Central American brightness but in a South American coffee flavor package overall. The good organic lots do have more of a "rustic" coffee character.: Organic... ...more Org/FT Chanchamayo La Florida $5.00 $9.50 $21.75 $77.00
African- Arabian 1 lb 2 lb 5 lb 20 lb
Ethiopian Harar Horse Gr.5 '01 $5.20 $9.88 $22.62 $80.08
Ethiopian Yirgacheffe Gr.2 '01 $5.50 $10.45 $23.93 $84.70
KenyaKenya is the East African powerhouse of the coffee world. Both in the cup, and the way they run their trade, everything is topnotch.: Kenya is the East... ...more AA Eaagads Farm '01 $5.30 $10.07 $23.06 $81.62
Kenya PeaberryA peaberry is a green coffee "bean" that has a rounded form: Coffee is the dried seed from the fruit of a flowering tree - each fruit having... ...more '00 $5.00 $9.50 $21.75 $77.00
Tanzanian Northern Peaberry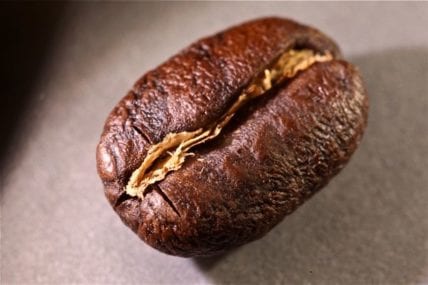 The Spanish-language term for Peaberry is the same for "snail". See Peaberry for more information on the single bean fruit of the coffee tree. A peaberry is the... ...more 00-01 $5.00 $9.50 $21.75 $77.00
UgandaWhile Arabica was introduced at the beginning of the 1900's, Robusta coffee is indigenous to the country, and has been a part of Ugandan life for centuries. The... ...more Organic Bugisu A $4.80 $9.12 $20.88 $73.92
YemenYemen has a coffee culture like no other place, and perhaps some of what we enjoy in this cup is due to their old style of trade...: Technically,... ...more MokhaThe Yemeni type of coffee, both in terms of the family of cultivars planted there, and the general trade name.: Mokha Yemeni type of coffee, both in terms... ...more Mattari $7.00 $13.30 $30.45 $112.00
Yemen Mokha Raimi (Rimy) $6.90 $13.11 $30.02 $110.40
Yemen Mokha Sanani '01 $7.00 $13.30 $30.45 $112.00
Zimbabwe AA+ -Lynwood Estate $5.30 $10.07 $23.06 $81.62
Indonesian- Indian 1 lb 2 lb 5 lb 20 lb
Indian Monsooned Malabar AA $5.50 $10.45 $23.93 $84.70
Aged Java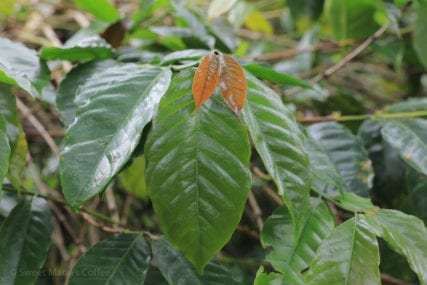 There are several types of Abyssinia, but they are not from Ethiopia but rather Indonesia. Abyssinia 3 = AB3. PJS Cramer, a Dutch plant researcher, introduced this variety in 1928,... ...more – Old Brown '97 $6.20 $11.78 $26.97 $95.48
Java Govt. Estate Blawan $4.80 $9.12 $20.88 $73.92
Papua New GuineaPapua New Guinea (PNG) occupies the eastern half of the island it shares with the Indonesian province of Irian Jaya, part of Indonesia. The two primary areas for... ...more Mile High Estate $4.80 $9.12 $20.88 $73.92
Papua New Guinea Organic AA $5.00 $9.50 $21.75 $77.00
SulawesiSulawesi coffees are low-acid with great body and that deep, brooding cup profile akin to Sumatra. The coffee is sometimes known as Celebes, which was the Dutch colonial... ...more Toraja Gr.1 00 $4.80 $9.12 $20.88 $73.92
Sumatra Lintong Grade 1 '01 $5.10 $9.69 $22.19 $78.54
Sumatra MandhelingA trade name used for wet-hulled Sumatra coffees. It is an area and a culture group as well (spelled Mandailing often) but there is not as much coffee... ...more DP Gr.1 '01 $4.75 $9.03 $20.66 $73.15
Sumatra Lake Tawar 18+ $5.40 $10.26 $23.49 $83.16
Sumatra Organic Gayoland '01 $5.00 $9.50 $21.75 $77.00
Aged Sumatra Pwani Mandheling $6.00 $11.40 $26.10 $92.40
Aged Sumatra Mandheling '98 $6.20 $11.78 $26.97 $95.48
Timor Organic Maubese 00-01 $4.80 $9.12 $20.88 $73.92
Islands- Blends -Etc. 1 lb 2 lb 5 lb 20 lb
HawaiiThe Kona district on the big island of Hawaii produces the best coffee from this state - clean, sweet and mild. : Ah, Hawaii... what a nice place.... ...more KonaKona coffee comes from farms along the Kona Coast on the Big Island of Hawaii: Kona coffee comes from farms along the Kona Coast on the Big Island... ...more XF-Purple Mountain Farm $15.90 $30.53 $73.94 $279.84
Maui Kaanapali Moka '01 $11.20 $21.50 $52.08 n/a
Hawaii Molakai Malulani '01 $6.90 $13.11 $32.09 n/a
Puerto Rican Yauco Selecto AA $10.90 $20.71 $50.69 n/a
Isle of Saint Helena '01 Crop $23.30 $44.74 n/a n/a
SM's Moka Kadir Blend $5.80 $11.02 $25.23 $89.32
SM's EspressoA small coffee beverage, about 20 ml, prepared on an espresso machine where pressurized hot water extracted through compressed coffee.: In its most stripped-down, basic form, this is... ...more Monkey Blend $5.00 $9.50 $21.75 $77.00
SM's Classic Italian Espresso Blend $4.80 $9.12 $20.88 $73.92
SM's Decaf Espresso Blend $5.70 $10.83 $24.80 $87.78
SM's French RoastSugars are heavily caramelized (read as burned) and are degraded; the woody bean structure is carbonizing, the seed continues to expand and loose mass, the body of the... ...more Blend $5.50 $10.45 $23.93 $84.70
Malabar Gold Espresso Blend $6.00 $11.40 $26.10 $92.40
Decafs 1 lb 2 lb 5 lb 20 lb
Brazil Santos SWPSWP means Swiss Water Process is a patented water filtration decaf method, not a chemical solvent method. The plant is in Vancouver, Canada. ...more Decaf $5.40 $10.26 $23.49 $83.16
Colombian MC Decaf $5.00 $9.50 $21.75 $77.00
Colombian CO-2 Decaf $5.50 $10.45 $23.93 $84.70
Costa Rican SHB Natural Decaf $5.10 $9.69 $22.19 $78.54
Ethiopian Yirgacheffe MC Decaf $5.50 $10.45 $23.93 $84.70
Guatemalan SHB Natural Decaf $5.10 $9.69 $22.19 $78.54
Indonesian Komodo Blend Org SWP D $6.10 $11.59 $26.54 $93.94
Kenya MC Decaf -German KVWA decaf plant in Germany specializing in the methylene chloride solvent method. KVW stands for Kaffee Veredelungs Werk: A decaf plant in Germany specializing in the methylene chloride... ...more $5.25 $9.98 $22.84 $80.85
Mexican Esmeralda Natural Decaf $4.70 $8.93 $20.45 $72.38
Sumatra Mandheling Natural Decaf $5.40 $10.26 $23.49 $83.16
Sumatra Org.GayoMtn SWP Decaf $6.30 $11.97 $27.41 $97.02
Premium Robustas 1 lb 2 lb 5 lb 20 lb
Indian Kaapi Royale Robusta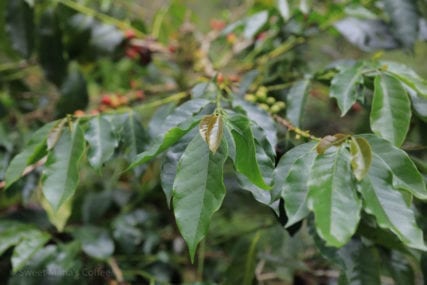 Ateng is a common name for Catimor coffees widely planted in Sumatra and other Indonesia isles.: Ateng, with several subtypes, is a common name for Catimor coffees widely... ...more $5.00 $9.50 $21.75 $77.00
Indian Monsooned RobustaRobusta usually refers to Coffea Robusta, responsible for roughly 25% of the world's commercial coffee. Taxonomy of Robusta is debated: some sources use "Robusta" to refer to any... ...more AA $5.20 $9.88 $22.62 $80.08
Java Washed Robusta $4.30 $8.17 $18.71 n/a