Central American Round Up, Yee-haw!
At this point we have the largest selection of Cup of ExcellenceThe Cup of Excellence is a competition held yearly in many coffee-producing countries, designed to highlight the very best coffees from each origin.: The Cup of Excellence (COE) is a competition held more-or-less yearly in (CoE) coffees in stock. The only coffee set to arrive is the Honduras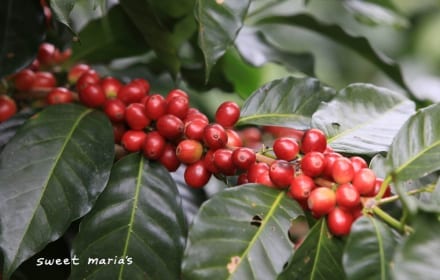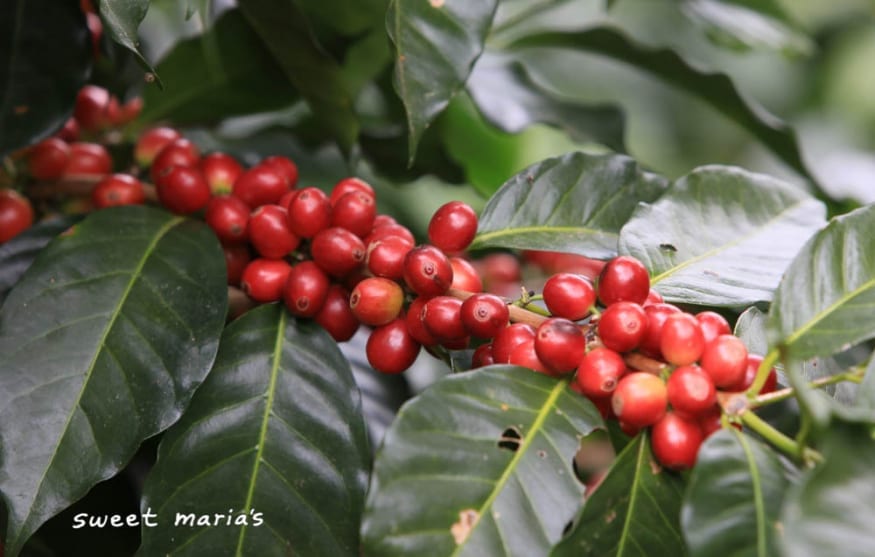 Honduran coffee was absent from the top ranks of the Specialty market, but that has changed. It has all the environmental factors on its side: soil, altitude, climate. All it's neighbors have sophisticated coffee production: CoE Lot and it is stuck in a warehouse in Miami, delayed because of the successive hurricanes! In fact, there are only a couple lots of Central American coffees still due to arrive from the later part of the harvest season. Roughly speaking, October through next March is a window of time that I will not buy Central American coffees, because they are either the dregs of the current cropRefers to any coffee that has not been replaced by new crop shipments, even if it was shipped from origin many months before. See Past Crop and New Crop as well. that are last to sell, or the new cropRefers to fresh shipments of green coffee within the first month or two of the earliest arrivals ... not quite the same as Current Crop, which means the most recent harvest. As a stable dried shipments that are from lower elevations (or rushed through
processingThe removal of the cherry and parchment from the coffee seed.: Coffee is either wet-processed (also called washed or wet-milled) or dry-processed (also called wild, natural or natural dry, and we abbreviate it DP sometimes).). So the final months of 2004 are a good time to look over our fresh, mid-crop offerings of Central American coffees and stock up to last through next March! Here's a quick overview:
Costa RicaCosta Rican coffee is typically very clean, sweet, with lots of floral accents. hey are prized for their high notes: bright citrus or berry-like flavors in the acidity, with distinct nut-to-chocolate roasty flavors.: Can a: This past year I found that HaciendaHacienda is used to imply an Estate that has a full processing facility (wet mill): Sometimes the term Hacienda is used to imply an Estate, which would mean the farm has its own wet-mill. A La Minita had the best offerings, with very disappointing samples coming from other sources (the Costa Rica auction, Llano Bonito, Fruta de Oro, etc.). I am not specifically referring to the coffee from La Minita farm, but rather the La Magnolia Tres Rios and the Dota Conquistador that are imported by the La Minita organization. I think the limited (read sold-out) SM Peaberry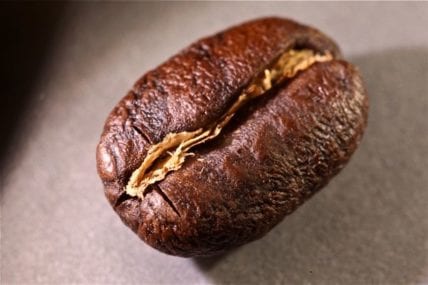 The Spanish-language term for Peaberry is the same for "snail". See Peaberry for more information on the single bean fruit of the coffee tree. A peaberry is the rounded singular seed found in the coffee was fantastic. No new CR offerings en route until new crop. GuatemalaGuatemalan coffee is considered a top quality coffee producer in Central America. Due to our proximity to Guatemala, some of the nicest coffees from this origin come to the United States. : Guatemalan growing regions: It's been a good year overall, with the Huixoc being a great cup, but not the same as 3 years ago. The San Vicente is an SM Exclusive and is a really nice, dense seed BourbonA coffee cultivar; a cross between Typica and Bourbon, originally grown in Brazil: Mundo Novo is a commercial coffee cultivar; a natural hybrid between "Sumatra" and Red Bourbon, originally grown in Brazil. It was developed cultivar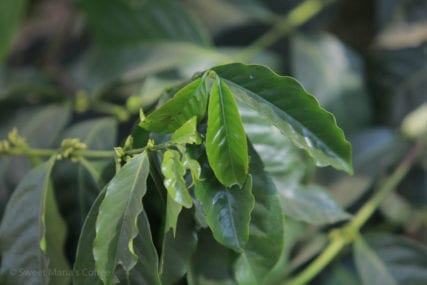 USDA is (obviously) the United States Department of Agriculture. USDA also had coffee plant breeding programs in the past and one variety they distributed to Indonesia and was widely planted is called USDA  (sounds like  coffee. I passed on some of our previous offerings (Filadelfia, El Injerto, Santa Barbara, etc) finding many to be too flat and dull. Huixoc remains a great coffee and the Coban El Tirol is fantastic. There are 2 incoming lots still: Guatemala Barillas (bright, floral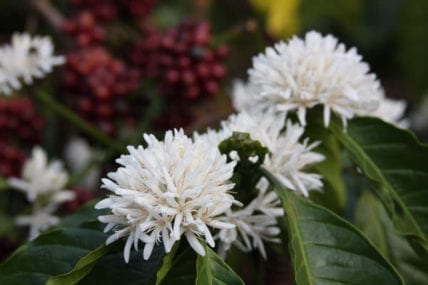 Floral notes in coffee exemplify the connection between taste and smell. Describing the taste of a specific flower is near impossible...we always default to "it tastes like it smells" which, admittedly, isn't the most helpful. , awesome) and Guatemala Atitlan Santo Tomas Pachuj (fruityIn some coffee taster's lexicon, "fruity" means the coffee is tainted with fruit, and "fruited" means a coffee is graced by positive fruit notes. We don't exactly see the difference in terms of these two, butteryA mouthfeel description indicating thickness and creaminess, and can also be a flavor description.: Buttery is primarily a mouthfeel description indicating thickness and creaminess. It indicates a high level of lipids (fats) in the coffee,).
El SalvadorEl Salvador coffee had an undeservingly poor reputation for years, marred mostly by the inability to deliver coffee of high quality in an unstable political climate. Unfortunately, agriculture is the first to suffer in revolution,: The day after I posted our 3 amazing El Salvador CoE lots, I saw an announcement of Starbucks new pricey "Black Apron" offering; El Salvador PacamaraAs the name implies, Pacamara is a large bean cultivar, a cross between Pacas and Maragogype with unique flavor properties. This variant originated in El Salvador in 1958, and has spread to nearby Central American. Clearly, "Big Green" is also impressed with this cultivar. I went out on a limb for Salvador coffees this year, because they are so much better than many roasters give them credit for. Three lots of CoE was a big investment for tiny Sweet Maria's, and if I lose my shirt, fine. It's a just cause.
Nicaragua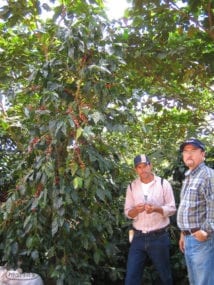 Nicaraguan coffees from the Segovia, Jinotega, Ocotal and Matagalpa regions are nice balanced cups. They often possess interesting cup character along with body and balance, outperforming many other balanced Central American and South American high-grown: I was on the CoE jury and the quality overall was very high. We bought 2 lots and along with the Marogogype and the OrganicGrown without the use of artificial fertilizers, herbicides, etc.: Organic coffee has been grown according to organic farming techniques, typically without the use of artificial fertilizers. Some farms have more local Organic Certification than the Fair TradeFair trade is an organized social movement and market-based approach to empowering developing country producers and promoting sustainability.: Fair trade is an organized social movement and market-based approach to empowering developing country producers and promoting Segovia in stock, this is quite a grand and varied Nicaragua selection. No new incoming shipments.
PanamaPanama coffee ranges from medium quality lower altitude farms to those at 1600 - 1800 meters centered in the area of Boquete in the Chirqui district near the border with Costa Rica. Some farms feature: Like El Salvador, I consider Panama a underrated Central, and this years offerings have been excellent. The Jaramillo and Leru Auction Lots are gone, but the unique Hartmann EstateA "coffee estate" is used to imply a farm that has its own processing facility, a wet-mill. In Spanish this is called an Hacienda. A Finca (farm) does not necessarily have a mill. (And Finca Songbird is excellent this year. We have one incoming shipment, a mid-crop lot of Finca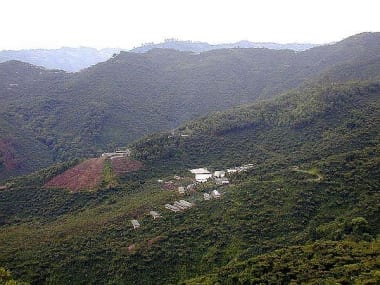 Spanish 101: Finca is the Spanish word for farm. Sometimes the term Hacienda is used to imply an Estate, which would mean the farm has its own wet-mill. A Finca does not necessarily have a La Berlina … an excellent 100% Typica cultivar coffee. MexicoMexican coffee originates from South-central to Southern regions of the country. For that reason, coffees from Coatepec and Veracruz are much different from Oaxacan Plumas, which are in turn much different from the Southernmost region: The coffee crisis has set in here, and the toll it has taken on overall cup quality is plainly visible. It just doesn't pay to farm quality coffee in Mexico. For our part, we have paid sustainable, fair prices for our selection of Mexican coffees from Oaxaca and Chiapas, and have no other incoming shipments until new crop in March.
Honduras: The Organic Marcala lot we have is quite good and somehow people just don't add it to their shopping lists. It's a shame. And the Honduras CoE lot from La Fortuna farm will probably be on the web site by the time you read this! Now, these are just a few brief comments and if you really wantto learn something about the Centrals, you are going to have to power on the CPU and read our site a bit. -Tom
Ivan the Terrible
A day before the massive Hurricane Ivan was set to hit JamaicaJamaica coffee can be excellent mild, lush coffee... sometimes. Like Kona and Puerto Rican coffee, it is soft, mild, clean and well balanced when it is good.: Ah Jamaica, a great place to visit. But I received an urgent call. It was quite possible that Ivan, on the verge of being a Category 5 monster, was going to wipe out the Blue Mountain farms of the island. In 1988, Hurricane Gilbert, a mere Category 3, destroyed the coffee harvest for that year and 3 more! The coffee plant is fragile. A tree has a woodyGenerally a taste defect from age; old green coffee, perhaps yellowing in color. This is due to the drying out of the coffee over time, and as the moisture leaves the seed it takes organic, strong trunk, but most of the other growth is herbaceous and fragile. A strong windstorm can ruin the coffee harvest in several ways. If the trees happen to be flowering at the time, the delicate blossoms will be blown away and no coffee cherryOriginally coffee literature referred to the fruit of the tree as a "berry" but in time it became a cherry. It is of course neither. Nor is the seed of the coffee a bean. All will develop. If the coffee cherry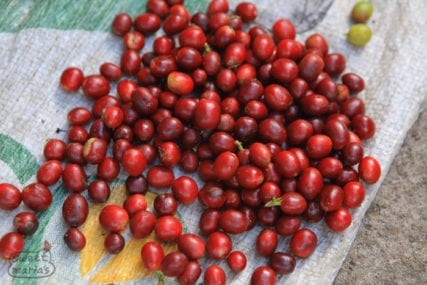 Either a flavor in the coffee, or referring to the fruit of the coffee tree, which somewhat resembles a red cherry.: Either a flavor in the coffee, or referring to the fruit of the coffee is green, the clusters are firmly attached to the branch, but the overall weight in a strong storm can stress the branch and tear it. And if the cherry is ripe it is easily knocked to the ground and ruined. Now, in this we are discussing regular storms with winds in the 25-35 mph range. In a hurricane, the trees can easily be stripped to the trunk. But coffee is vulnerable in other ways. Good coffee grows at altitude and is often situated precariously on steep slopes. In fact, many of the farms I have been to have coffee plantings on 45+ degree terrain! (It boggles the mind to think how the trees are cared for and harvested). The greatest damage on these steep slopes is from mudslides that take out whole swathes of land, damage the farm buildings below, and destroy the internal roads and paths. This was the case in Nicaragua and Honduras with Hurricane Mitch. And it was also the primary destructive force with Gilbert! The panicked phone call I mentioned was concerning the last shipment of Jamaica from this crop to leave the island. The ship left port in Kingston just one day before Ivan's wrath was felt. We secured an option to buy coffee from this shipment, thinking it might be the last for a long, long time. As it turns out, Ivan was indeed terrible, but it could have been worse. The Hurricane eye skirted the southwestern part of the island, sparing the Blue Mountain (eastern) region somewhat. As for the Mavis Bank mark we buy from, the mill was spared. The deluge of rain did create numerous mudslides but no direct hits on the farm infrastructure. The loss to this crop was serious, at least 50% of the new crop is gone. I am not sure what this means for availability or pricing, but the most important thing was that death and injury on the island was much, much less than it could have been. At this writing (Sept. 15), we hope the Mobile, Alabama will be spared as well!
The Holidays Are Coming (Egad)!
I don't think I was such a Grinch until we started in retail. Most folks who work in retail agree that the holidays bring such an increase (not only in business but stress and anxiety) that it has makes a person wonder what it's all about. The past two years we have worked everyday in the home stretch between Thanksgiving and Christmas – and have been able to keep up pretty well. On behalf of Derek and myself (who answer all the emails and phone calls) I'd like to ask that folks take a deep breath, and know that whatever is wrong, we will try our best to fix it. UPS also has a huge increase in volume at this time of year, so more damage always occurs. We might need a day or two to get back to you, but we will get back to everyone as soon as possible. With any luck, everyone will have a safe and happy Holiday season.
–Maria
Sweet Maria's Coffee
1455 64th Street, Emeryville CA 94608
web: www.sweetmarias.com
email: [email protected]
Sweet Maria's Green Coffee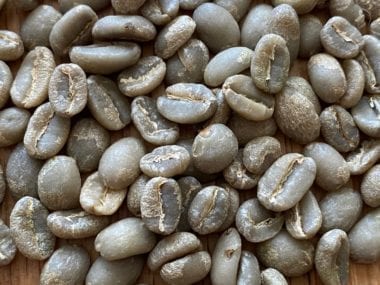 Green coffee refers to the processed seed of the coffee tree fruit. Coffee is a flowering shrub that produces fruit. The seeds of the fruit are processed, roasted, ground and prepared as an infusion.: Coffee Offering List on Sept 15, 2004.
Check our web page for the most up-to-date offering list!
Central American 1 lb 2 lb 5 lb 20 lb
Costa Rica Dota Tarrazu -Conquistador $4.90 $9.31 $21.32 $75.46
Costa Rica Tres Rios -La Magnolia $4.80 $9.12 $20.88 $73.92
Costa Rica La Minita Tarrazu $6.80 $12.92 $30.26 $108.80
El Salvador CoE Lot #12 San Jose $6.20 $11.78 $27.59 $99.20
El Salvador CoE Lot #15 La Montanita $6.00 $11.40 $26.70 $96.00
El Salvador CoE Lot #19 Montecarlos PB $5.90 $11.21 $26.26 $94.40
Guatemala Antigua -Los Pastores $4.60 $8.74 $20.01 $70.84
Guatemala Organic Coban – El Tirol $4.80 $9.12 $20.88 $73.92
Guatemala Huehuetenango -Huixoc 6468 $4.55 $8.65 $19.79 $70.07
Guatemala HHT -Finca San Vicente $4.80 $9.12 $20.88 $73.92
Honduras CoE Auction Lot -La Fortuna $7.80 $14.82 $34.71 $124.80
Honduras Organic Marcala SHG $4.40 $8.36 $19.14 $67.76
Mexico SHG EP Chiapas Jaltenango $4.10 $7.79 $17.84 $63.14
Mexico Oaxaca "Pluma Hidalgo" $4.40 $8.36 $19.14 $67.76
Mexico Org/FT Oaxaca Pluma $4.90 $9.31 $21.32 $75.46
Nicaragua Cup of Excellence -El Regreso $6.80 $12.92 $30.26 $108.80
Nicaragua Cup of Exc. -Coop 15 de Sept. $6.80 $12.92 $30.26 $108.80
Nicaragua Matagalapa MaragogypeMaragogype is a mutation of Typica coffee and was discovered in Brazil. The Maragogype is a large plant with big leaves, low production and very large fruits (and seeds / green beans). It has been $5.20 $9.88 $22.62 $80.08
Nicaragua Organic/FT Segovia $4.90 $9.31 $21.32 $75.46
Panama -Hartmann Estate "Songbird" $4.75 $9.03 $20.66 $73.15
Panama Boquete -Lerida Estate $4.60 $8.74 $20.01 $70.84
South American 1 lb 2 lb 5 lb 20 lb
BoliviaBolivia has always been a coffee origin with great potential, the potential to have a unique Specialty coffee offering with unique cup character.: There's no better way to learn about a coffee-producing country than to Organic Cenaproc Co-op $4.50 $8.55 $19.58 $69.30
Bolivia Fair Trade "de Montana" $4.70 $8.93 $20.45 $72.38
BrazilBrazil is a coffee giant . As Frank Sinatra sang, "they grow an awful lot of coffee in Brazil".: Brazil is a coffee giant . As Frank Sinatra sang, "they grow an awful lot of Cerrado -Patrocinio Natural $4.50 $8.55 $19.58 $69.30
Brazil Cup of Excellence Laranja-Cravo $5.60 $10.64 $24.36 $86.24
Brazil FazendaFazenda is the Portuguese word for farm, hence it is the term used in Brazil. Fazenda is not a coffee-specific term. Ipanema "Dulce" $4.50 $8.55 $19.58 $69.30
Brazil Organic/FT Poco Fundo $4.90 $9.31 $21.32 $75.46
Colombian Huila "Mercedes Supremo" $4.20 $7.98 $18.27 $64.68
Colombian Narino del Abuelo $4.50 $8.55 $19.58 $69.30
Colombian Organic Mesa de los Santos $4.90 $9.31 $21.32 $75.46
Colombian Popayan SupremoA Colombian coffee grade referring to screen size of 17-18 screen. In the traditional bulk Arabica business, Supremo was the top grade Colombia, with Excelso one step below at 15-16 screen. Neither of these refer "Caucano" $4.65 $8.84 $20.23 $71.61
PeruPeruvian coffees have Central American brightness but in a South American coffee flavor package overall. The good organic lots do have more of a "rustic" coffee character.: Organic Peru ... you can get it anywhere Organic/Fair Trade Ccochapampa $4.90 $9.31 $21.32 $75.46
African- Arabian 1 lb 2 lb 5 lb 20 lb
Ethiopian Harar -Lot 7039 "Horse" $4.70 $8.93 $20.45 $72.38
Ethiopian Organic/Fair Trade Harar $5.10 $9.69 $22.19 $78.54
Ethiopian Organic Sidamo $4.50 $8.55 $19.58 $69.30
Ethiopian Yirgacheffe -Lot 7449 $5.20 $9.88 $22.62 $80.08
KenyaKenya is the East African powerhouse of the coffee world. Both in the cup, and the way they run their trade, everything is topnotch.: Kenya is the East African powerhouse of the coffee world. Both AA Auction Lot 234 -Kagumoini $5.60 $10.64 $24.36 $86.24
Kenya AA Auction Lot -Karatina $5.50 $10.45 $23.93 $84.70
Kenya AA Auction Lot 211 -Kiamabara $5.50 $10.45 $23.93 $84.70
UgandaWhile Arabica was introduced at the beginning of the 1900's, Robusta coffee is indigenous to the country, and has been a part of Ugandan life for centuries. The variety of Wild Robusta Coffee still growing Organic Bugisu – Sipi Falls $4.40 $8.36 $19.14 $67.76
African- Arabian continued 1 lb 2 lb 5 lb 20 lb YemenYemen has a coffee culture like no other place, and perhaps some of what we enjoy in this cup is due to their old style of trade...: Technically, Yemen is on the Asian continent (on
MokhaThe Yemeni type of coffee, both in terms of the family of cultivars planted there, and the general trade name.: Mokha Yemeni type of coffee, both in terms of the family of cultivars planted there, Mattari $7.10 $13.49 $33.02 $113.60
Indonesian- Indian 1 lb 2 lb 5 lb 20 lb
Indian Monsooned Malabar Coehlo's Gold $5.00 $9.50 $21.75 $77.00
Indian Pearl Mountain MNEB 19+ in transit
Indian Pearl Mountain PeaberryA peaberry is a green coffee "bean" that has a rounded form: Coffee is the dried seed from the fruit of a flowering tree - each fruit having 2 seeds facing each other (the flat in transit
Papua New GuineaPapua New Guinea (PNG) occupies the eastern half of the island it shares with the Indonesian province of Irian Jaya, part of Indonesia. The two primary areas for coffee production can be grouped roughly as – Kimel $4.50 $8.55 $19.58 $69.30
SulawesiSulawesi coffees are low-acid with great body and that deep, brooding cup profile akin to Sumatra. The coffee is sometimes known as Celebes, which was the Dutch colonial name for the island. Indonesians are available Toraja Grade One $4.50 $8.55 $19.58 $69.30
Aged SumatraIndonesians are available as a unique wet-hulled or dry-hulled (washed) coffees. Giling Basah is the name for the wet-hulling process in Bahasa language, and will have more body and often more of the "character" that Lintong $5.80 $11.02 $25.23 $89.32
Sumatra Iskandar Triple-Pick $5.30 $10.07 $23.06 $81.62
Sumatra MandhelingA trade name used for wet-hulled Sumatra coffees. It is an area and a culture group as well (spelled Mandailing often) but there is not as much coffee production in this area anymore, south of '04 – Lot 6854 $4.40 $8.36 $19.14 $67.76
Sumatra Organic Gr. 1 Gayo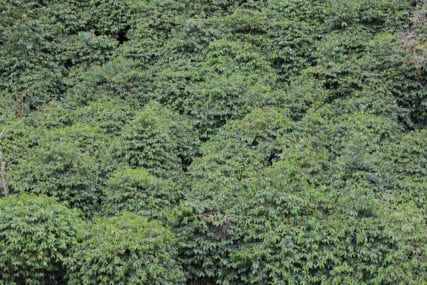 Gayo is ethnic group from the area of Aceh Sumatra around Lake Takengon. They use the name Gayo Coffee to market their production. The Acehnese are a different ethnic group, more centered in the lower Mountain $4.60 $8.74 $20.01 $70.84
Islands- Blends -Etc. 1 lb 2 lb 5 lb 20 lb
AustraliaAustralian coffee bears resemblance in the cup to the soft "Island Coffee" flavor profile. Coffee cultivation began in Australia in 1880 and continued through 1926, but was found to be generally unprofitable, and the quality Mountain Top Estate XF $8.10 $15.55 $37.67 5 lb limit
HawaiiThe Kona district on the big island of Hawaii produces the best coffee from this state - clean, sweet and mild. : Ah, Hawaii... what a nice place. They grow nuts, fruit, and coffee. The KonaKona coffee comes from farms along the Kona Coast on the Big Island of Hawaii: Kona coffee comes from farms along the Kona Coast on the Big Island of Hawaii. Coffee is grown at elevations -Honaunau Peaberry $15.40 $29.57 $71.61 5 lb limit
Puerto RicoPuerto Rican coffee has the typical"island profile". These coffees, which include Jamaica and Kona, have a soft cup, not acidic, balanced, and mild. : I have tried other Puerto Rican coffees but only bought Yauco Yauco Selecto AA $9.70 $18.62 $45.11 $161.02
SM's Moka Kadir Blend $5.60 $10.64 $24.36 $86.24
SM's EspressoA small coffee beverage, about 20 ml, prepared on an espresso machine where pressurized hot water extracted through compressed coffee.: In its most stripped-down, basic form, this is a working definition for espresso: A small Monkey Blend $5.00 $9.50 $21.75 $77.00
SM's Classic Italian Espresso Blend $4.80 $9.12 $20.88 $73.92
SM's Decaf Espresso Blend $5.60 $10.64 $24.36 $86.24
SM's Liquid Amber Espresso Blend $5.30 $10.07 $23.06 $81.62
SM's French RoastSugars are heavily caramelized (read as burned) and are degraded; the woody bean structure is carbonizing, the seed continues to expand and loose mass, the body of the resulting cup will be thinner/lighter as the Blend $5.00 $9.50 $21.75 $77.00
SM's Puro Scuro Blend $5.40 $10.26 $23.49 $83.16
SM's Roasted French ChicoryChicory was a popular coffee substitute and economizer for 2 centuries, back when coffee was more prized, and pure coffee was a luxury. : Chicory was a popular coffee substitute and economizer for 2 centuries, $4.80 $9.12 $20.88 $73.92
Decafs 1 lb 2 lb 5 lb 20 lb
African Highland WP Decaf Blend $5.20 $9.88 $22.62 $80.08
Brazil Prima Qualita WP Decaf $4.60 $8.74 $20.01 $70.84
Colombian ExcelsoA Colombian coffee grade referring to screen size of 15-16. In the traditional bulk Arabica business, Excelso is a step below the large bean Supremo grade, which indicates screen size 17-18. Medellin WP Decaf $4.70 $8.93 $20.45 $72.38
Colombian Huila Natural Decaf $4.50 $8.55 $19.58 $69.30
Costa Rican El Sol WP Decaf $5.10 $9.69 $22.19 $78.54
Ethiopian WP Decaf (Yirgacheffe) $5.20 $9.88 $22.62 $80.08
Guatemala Huehuetenango WP Decaf $5.20 $9.88 $22.62 $80.08
Indian Monsooned WP Decaf $5.10 $9.69 $22.19 $78.54
Indonesian Organic SWPSWP means Swiss Water Process is a patented water filtration decaf method, not a chemical solvent method. The plant is in Vancouver, Canada. Komodo Blend $5.70 $10.83 $24.80 $87.78
Kenya AA WP Decaf $5.90 $11.21 $25.67 $90.86
Mexican Esmeralda Natural Decaf $4.40 $8.36 $19.14 $67.76
Mexican Organic/Fair Trade WP Decaf $5.50 $10.45 $23.93 $84.70
Nicaragua Jalapa SHG WP Decaf $5.00 $9.50 $21.75 $77.00
Panama WP Decaf -Panamaria Estate $5.20 $9.88 $22.62 $80.08
Sulawesi Toraja WP Decaf $5.10 $9.69 $22.19 $78.54
Sumatra WP Decaf $5.20 $9.88 $22.62 $80.08
Premium Robustas 1 lb 2 lb 5 lb 20 lb
Indian Organic Washed RobustaRobusta usually refers to Coffea Robusta, responsible for roughly 25% of the world's commercial coffee. Taxonomy of Robusta is debated: some sources use "Robusta" to refer to any variety of Coffea Canephora, and some use $4.20 $7.98 $18.27 $64.68
Uganda Robusta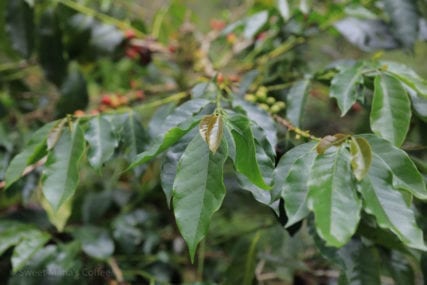 Ateng is a common name for Catimor coffees widely planted in Sumatra and other Indonesia isles.: Ateng, with several subtypes, is a common name for Catimor coffees widely planted in Sumatra and other Indonesia isles. -Esco Farms 18+ $4.00 $7.60 $17.40 $61.60