Our monthly digest from the Sweet Maria's Email list, announcing new coffees, new content and new events!
June 2020 offerings are all listed here, for your reference. If you want to read about our arriving coffee, events, product and news, sign up for our emailer.
---
June 1, 2020

Another great video. Some ambient scenes from the Kafa zone of Western Ethiopia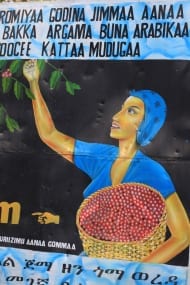 Ethiopia is the birthplace of coffee: it is in the forests of the Kaffa region that coffee arabica grew wild. Coffee is "Bun" or "Buna" in Ethiopia, so Coffee Bean is quite possibly a poor, a look at a couple nice coffee farms and cats getting along with buzzards.

As Montana prepares to enter Phase 2 of reopening the economy, cafes and restaurants are able to increase their capacity, while maintaining social distancing. One of those cafes is Big Creek Coffee Roasters in Hamilton, Montana. Big Creek is a Sweet Maria's customer for over 15 years, and a Shrub customer since 2010.

Have a look at an overview of our coffee buying in Guatemala, replete with links to farm video-tours and roasting fundamentals articles for these super versatile coffees.
---
June 5, 2020


We talked with our export partners in GuatemalaGuatemalan coffee is considered a top quality coffee producer in Central America. Due to our proximity to Guatemala, some of the nicest coffees from this origin come to the United States. : Guatemalan growing regions to assess thttps://legacy.sweetmarias.com/library/guatemala-a-post-harvest-update-from-origin/he effects the COVID-19 pandemic has had on post-harvest production and preparationPreparation refers to the dry-milling steps of preparing coffee for export: hulling, grading, classifying, sorting.: Preparation refers to the dry-milling steps of preparing coffee for export: hulling, grading, classifying, sorting. Sorting means using density sorters for the upcoming harvest season.

Last weekend, Hurricane Amanda wreaked havoc on El SalvadorEl Salvador coffee had an undeservingly poor reputation for years, marred mostly by the inability to deliver coffee of high quality in an unstable political climate. Unfortunately, agriculture is the first to suffer in revolution,, causing massive flooding across the country and loss of life. The coffee season is winding down and work is underway to uncover roadways in order to move coffee from the rural areas to the ports, where some of the worst damage was encountered.
---
July 9, 2020

As we monitor our shipments closely, it's clear that our next Ethiopian arrivals will be from cooperatives in the West. Look for fresh coffee by the 1st week of July (hopefully sooner!) from familiar co-ops like Nano Challa and Biftu Gudina, as well as several that are new to us this year.
We have had a great response to our 20% Off Guatemala Overstock sale. Note that it is on 6 selected lots, chosen because they were larger lots and wouldn't run out of stock mid-sale. Don't miss out on your chance to pick up some of these delicious overstock coffees at a very low price.
Our African coffees have been shipping on time from port. The only delay has been with a shortage of containers to load into.
It seems so far that Covid 19 control measures in Ethiopia have been effective with relatively few cases.
The Prismo Aeropress

A portable coffee brewer that makes a unique dense brew, somewhat similar to an Americano.: The Aeropress looks like a giant syringe: coffee grounds are in the bottom, and when you depress the syringe it

attachment from Fellow Products has been selling quickly, perhaps because the concentrate it makes is so good for iced coffee, and it's getting HOT out ? .
Our cupping

Cupping is a method of tasting coffee by steeping grounds in separate cups for discrete amounts of ground coffee, to reveal good flavors and defects to their fullest. It has formal elements and methodology in

lab has been a bit slow recently, as all selections for new crop

Refers to fresh shipments of green coffee within the first month or two of the earliest arrivals ... not quite the same as Current Crop, which means the most recent harvest. As a stable dried

Centrals and African coffees have been made and we await final Preshipment Samples (PSS) and the first arrivals.
---
June 12, 2020


Our merchandise manager, Ryan is back at it with another Sweet Maria's staff picks sample set. See what coffees she chose this time around.
We just started carrying this cool new mug from Japan. It has a capacity of 250 cc, or just over 8 fluid ounces. It fits the Aeropress as well as the Prismo attachment, but it's very snug with the latter. The pattern is from a traditional kimono and the glazes are classic cobalt blue with a brown accent on the handle.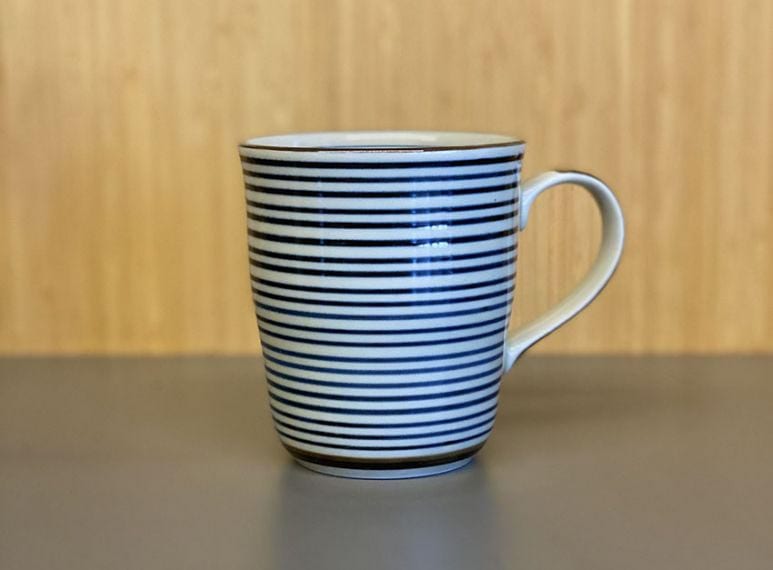 ---
June 17, 2020


Ever wonder how caffeine

An alkaloidal compound that has a physiological effect on humans, and a bittering taste. It is found throughout the coffee plant but is more concentrated in the seed / coffee bean. Arabica ranges from 1.0

is taken out of decaf coffee? Is it actually addictive? A diuretic? Check out our classic library article where we explore caffeine's role in health and ecology. There's some photos of actual extracted caffeine in there as well. Hopefully they don't make you too queasy.
The way a coffee smells plays a huge part in how much we enjoy it…but how about vinyl records? Doesn't as better smelling record sound better? Hmmm… well, find out as Dan and Tom sniff a few record sleeves around the cupping lab.
Check out ourtravelogue and insights from Tom's 2019 trip to Timor

Hibrido de Timor abbreviated HdT is the interspecies hybrid of C. Arabica and C. Canephora (Robusta) that was found in Timor Leste in the 1940s. It has been the bases of plant breeding for disease

Leste. Timor Leste produces great coffee, especially if you enjoy the subtle herbal

A flavor descriptor in coffee reminiscent of herbs, usually meaning aromatic, savory, leafy dried herbs. Usually, more specific descriptions are given, whether is is a floral herb, or sage-like, etc. In reality, there are very

and spice notes common in Indonesian coffees but the origin

In coffee talk, it refers to a coffee-producing region or country; such as, "I was just at origin." Of course "Origin" for most product we use is not a beautiful farm in a temperate climate,

itself still faces a lot of challenges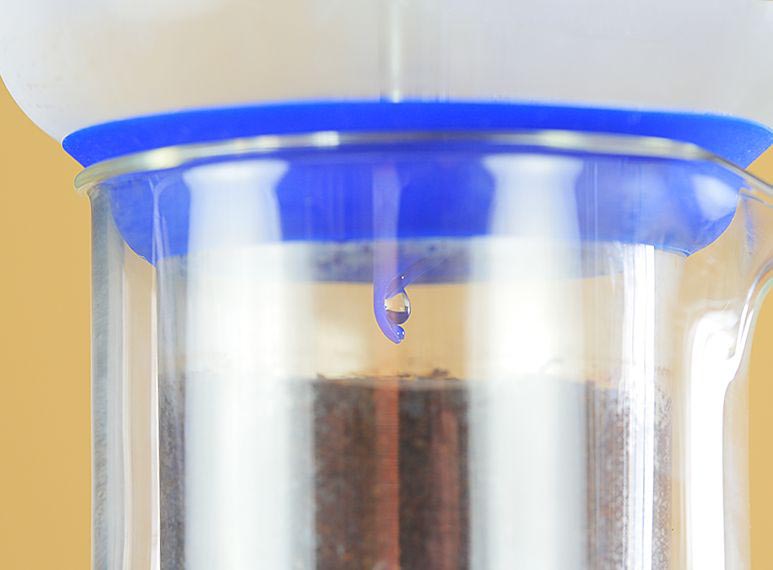 ---
June 19, 2020


We had to cancel an upcoming trip to Colombia but things are still looking up as the range of samples we just received from Inzá, Caicedo and Urrao is encouraging.

---
June 24, 2020

Our recent Instagram post about using UV light to grade and check green coffee for defects was popular so we thought we would keep the conversation going. This coffee came from Dure Dako, a new Ethiopian cooperative we are excited about. But something happened, either at the dry millA facility that accepts dried coffee cherry and mechanically separates the coffee bean from the dried fruit and parchment layer. The facility can be highly mechanized, as in Ethiopia, or very simple, as in Yemen., or perhaps in transit. What you see in the post below is the sample viewed under UV aka black light. We test samples when they arrive in Oakland with UV for moisture level and water activity. This lot measured 13.6%. In our experience, Ethiopian coffees have low moisture content, around 10% or even 9.5%. Also, a wet processWet-processing starts by removing the outer skin of the coffee cherry with a machine called a pulper, then fermenting the remaining fruit (with green bean inside) in water for 8-36 hours. The fermentation breaks down coffee should not show this much luminescence under UV. In the end, we trust cupping and it had a basic profile with a taste of cardboard and astringency in the finish. Sadly it was rejected and we continue to look for other lots from the co-op to take its place.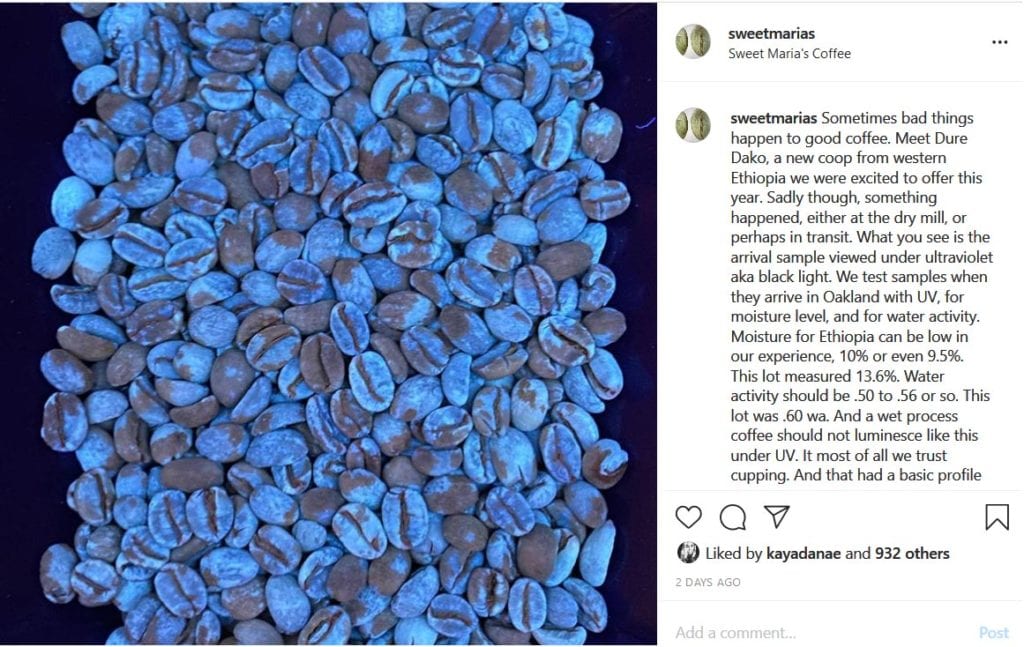 As Covid continues to spread in Addis and the number of recorded cases is increasing in Ethiopia, we have heard reports from a coffee trader that some traders are in fear of higher than usual amounts of green coffee being stuck at ports. This is due to cancelled shipments that were supposed to go to coffee consuming destinations. He said that there have been reports of this season's Ethiopian crop being of lesser quality which he is skeptical of.

The Bialetti Kitty moka pot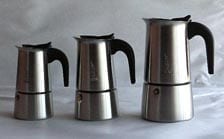 Moka Pot stovetop brewers produce a dense concentrated cup that's something between espresso and Turkish coffee. Coffee is placed into a filter between the lower chamber (that you fill with water) and the upper chamber is the most recent addition to our line of brewers. Does it brew espresso? Not really. But if you like a strong, dense, concentrated cup of coffee, the Kitty will be a good addition to you coffee brewer cabinet. We like the heavy duty construction, and you will too when you think about how much pressure is building up inside as it heats up on your stove top. Oh yeah, it works with induction stove tops too.
---
June 26, 2020



RETRO WEB PAGE ALERT. The following link is only intended for those interested in photos of awesome photos of homemade coffee roasters from the late 90's and early 2000's
---
June 30, 2020
Roasting decaf can be tricky. Decaf green coffee is considerably darker than non-decaf. This means it's hard to tell by sight what roast stage it's at while it's roasting. First crackFirst crack in one of two distinct heat-induced pyrolytic reactions in coffee. It is distinguished by a cracking or popping sound in the coffee, and occurs between 390 and 410 degrees Fahrenheit in most coffee can be quieter too. Sometimes you can't hear it at all. If you are roasting dark, past Full City, the beans will take on a blackened, matte appearance that can make any experienced home roaster question if they should have stopped the roast a few minutes ago. So, how do you roast decaf? It's not easy, but time, smell and experience will definitely help. Check out our recent IG post where we showed the difference between two Ethiopias roasted to the same level. One decaf, one non-decaf. There's quite a difference.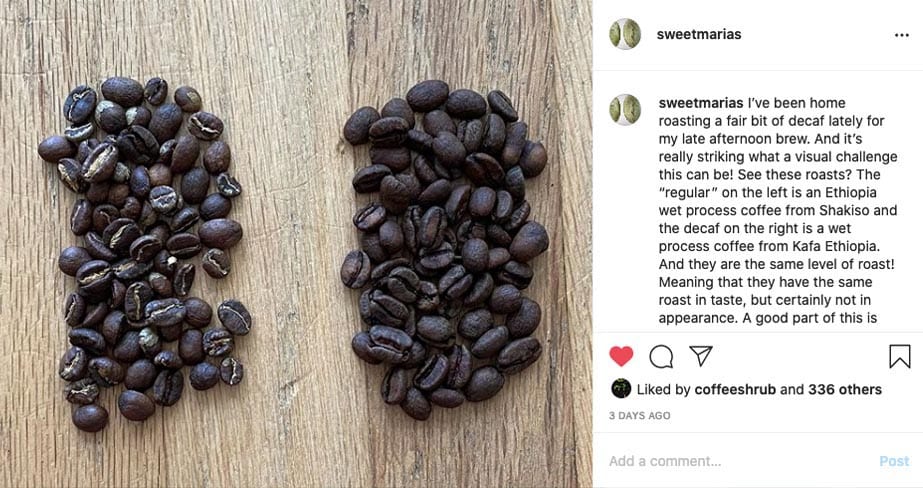 The Fresh Roast SR800 is back in stock and it's a great upgrade for anyone familiar with electric popcorn popper roasting. it allows your senses access to the sights, sounds and smells of the roast process but it's a step up since it collects chaffChaff is paper-like skin that comes off the coffee in the roasting process. Chaff from roasting is part of the innermost skin (the silverskin) of the coffee fruit that still cling to the beans after, gives you heat/fan control and roasts more than 2x the amount. All this with a footprint about the size of a small blender.