Stay up to date on coffee we have coming down the pipeline and our latest green coffee outlook and arrivals schedule.
Green Coffee Notes for March 2022:
Are you as tired of talking about the 'global logistics crisis' as we are? It's still here, widespread, and not going to be fixed anytime soon. Those are about the only facts that are static. Just about everything else is as fluid as a river, with lots of twists and turns!
We're doing our best to keep abreast of what countries are experiencing container shortages, which ports are jammed up (sadly, it's Oakland's turn again), and how we can pivot to try and expedite maritime transit. But the truth is, coffee ETA's are trickier to predict these days than Seattle weather (I speak from personal experience!). So for now, I'll try to stick to what we actually know below. But please keep in mind that the 'E' in 'ETA' stands for 'estimated', and our ability to accurately estimate when a coffee will be available isn't quite clear until it's in Oakland!
New and Upcoming Coffees
If you hadn't noticed, we were able to re-launch our Espresso

A small coffee beverage, about 20 ml, prepared on an espresso machine where pressurized hot water extracted through compressed coffee.: In its most stripped-down, basic form, this is a working definition for espresso: A small

Monkey, New Classic Espresso and French Roast

Sugars are heavily caramelized (read as burned) and are degraded; the woody bean structure is carbonizing, the seed continues to expand and loose mass, the body of the resulting cup will be thinner/lighter as the

blends. We took a short break from the manual labor required to blend coffee in order to prioritize your orders. Now that we're back on top of things, Liquid Amber is back on our list of reboots, and should be available the 1st week of March. A note to our Coffee Shrub customers: We are only offering blends in 50 lb. bag, but are working toward a "full bag" solution for a few of the more popular blends next month.
We continue to build out our green coffee

Green coffee refers to the processed seed of the coffee tree fruit. Coffee is a flowering shrub that produces fruit. The seeds of the fruit are processed, roasted, ground and prepared as an infusion.: Coffee

list, adding no less than 6 new coffees each week for the past 3 weeks. We plan to keep pace, and are already deepening origin

In coffee talk, it refers to a coffee-producing region or country; such as, "I was just at origin." Of course "Origin" for most product we use is not a beautiful farm in a temperate climate,

categories like Ethiopia (also on Coffee Shrub) and Colombia (also on Coffee Shrub).
We saw several new arrivals from Peru

Peruvian coffees have Central American brightness but in a South American coffee flavor package overall. The good organic lots do have more of a "rustic" coffee character.: Organic Peru ... you can get it anywhere

and Brazil

Brazil is a coffee giant . As Frank Sinatra sang, "they grow an awful lot of coffee in Brazil".: Brazil is a coffee giant . As Frank Sinatra sang, "they grow an awful lot of

in the last two weeks, so be on the lookout for single producer and custom regional blends from both origins starting end of February.
From the Cupping Table
Tom has cupped through literally 100's of offer samples from Kenya

Kenya is the East African powerhouse of the coffee world. Both in the cup, and the way they run their trade, everything is topnotch.: Kenya is the East African powerhouse of the coffee world. Both

and Ethiopia

Ethiopia is the birthplace of coffee: it is in the forests of the Kaffa region that coffee arabica grew wild. Coffee is "Bun" or "Buna" in Ethiopia, so Coffee Bean is quite possibly a poor

since the start of the year. While our Kenya buying is coming to a close (you can see most of our contracted coffees below), we are still finalizing our volume in Ethiopia. That said, our first containers from both origins are slated to ship in March.
I've added the first few containers of finalized African coffees to our "Incoming Coffees" list below, including a handful of Western Coop coffees like Nano Challa and Duromina, as well as a few Guji's from Hambela Wamena.
I (Dan) have been working through offers from Costa Rica

Costa Rican coffee is typically very clean, sweet, with lots of floral accents. hey are prized for their high notes: bright citrus or berry-like flavors in the acidity, with distinct nut-to-chocolate roasty flavors.: Can a

the past couple of weeks, and nearly wrapped up a second full container of coffee. I'm currently tasting samples from micro mills in Tarrazu and Chirripo, part of a new buying relationship with an intermediary/exporter in Tarrazu.
In the past, we've tended to stick to "white honey" process coffees, Costa Rica's version of fully washed. But this year, we're excited to be bringing in some full honey

In coffee, honey-like sweetness is often found, but we use terms such as refined honey (highly filtered and processed) as opposed to raw honey rustic honey sweetness. This form of sweetness is largely a dynamic

, fruit-forward coffees that will certainly compliment our list! We hope to see these in Oakland by May.
Looking back at list of coffees we've cupped, you get a sense of just how many different lots a single farm, or mill produces…and we only see a small chunk of that total! With multiple offers from some pretty big names, it can be tough to pick a winner. Not all of them make the cut for us, but that doesn't mean they aren't all good, or even great.
It's a good reminder that the "Nano Challa", or "Duromina", or "Don Oscar", or "Helsar", etc you see on our offer list are different from what other suppliers have. We would never claim ours is the best, but we certainly choose the best coffees from what we are shown! It helps to be at the front of the line, so to speak, too, and having 15+ year buying relationships with some of these suppliers affords us pretty good pole position.
Field Reports from Origin
Guatemala

Guatemalan coffee is considered a top quality coffee producer in Central America. Due to our proximity to Guatemala, some of the nicest coffees from this origin come to the United States. : Guatemalan growing regions

: The harvest is finishing up, and though a little later than last year, it's looking like we will be able to secure the same volumes from our suppliers with new crop

Refers to fresh shipments of green coffee within the first month or two of the earliest arrivals ... not quite the same as Current Crop, which means the most recent harvest. As a stable dried

offers rolling in as early as next week (1st week of March). Labor shortages for coffee pickers, higher cost of agricultural inputs, transportation, and a skyrocketing C market price, mean paying more for Guatemalan coffees than ever before. They're no exception, and it's just something we're all going to have to get comfortable with for the short term!
Nicaragua

Nicaraguan coffees from the Segovia, Jinotega, Ocotal and Matagalpa regions are nice balanced cups. They often possess interesting cup character along with body and balance, outperforming many other balanced Central American and South American high-grown

: Harvest is expected to finish

Similar to aftertaste, but it refers to the impression as the coffee leaves the palate. Aftertaste is the sensations gathered after the coffee has left the mouth. We combine these to form the "final flavor

by middle of March, and our main supplier Cafetalera Buenos Aires are pulling samples of some of our yearly favorites; La Laguna, El Suyatal, Buenos Aires, and more. High local demand is boosting the price of parchment

Green coffee still in its outer shell, before dry-milling, is called Parchment coffee (pergamino). In the wet process, coffee is peeled, fermented, washed and then ready for drying on the patio, bed, or a mechanical

, even though harvest isn't all that low compared to 2020/21. We expect to have contracts in place next month, shipping shortly after, and look to May as a reasonable arrival target.
Rwanda

Rwandan coffee was, at one time, rarely seen in the United States as either a Specialty grade or low-end commercial coffee. There simply was not that much coffee produced in Rwanda that went anywhere besides

+ Burundi

Burundi coffee bears resemblance to neighboring Rwanda, in both cup character, but also the culture surrounding coffee. Burundi is a small landlocked country at the crossroads of East and Central Africa, straddling the crest of

: Our final containers from Rwanda and Burundi were held up at ports in Shanghai due to major slow-downs and traffic congestion caused by COVID-19 related shutdowns. The good news is, it sounds like they are both scheduled for transshipment, and should be here next month. Harvest is underway in both countries, with coffee already being delivered by farmers beginning in February. Unfortunately, Rwanda received unusually heavy rains last week causing landslides in some areas, and disrupting harvest in some of the growing regions. It's still too early to know how much of an impact this will have on production, but we're keeping an eye on the situation.
Upcoming green coffees currently on the schedule to be added to our website:
Please keep in mind that the coffees on the Upcoming Coffee Outlook schedule with a location status of "In Transit" are still a bit of a wild card, and the month we have them listed under is based on the current shipping ETA, and subject to interruptions out of our control. Thanks for your patience!
March Coffee Outlook
April Coffee Outlook (so far!)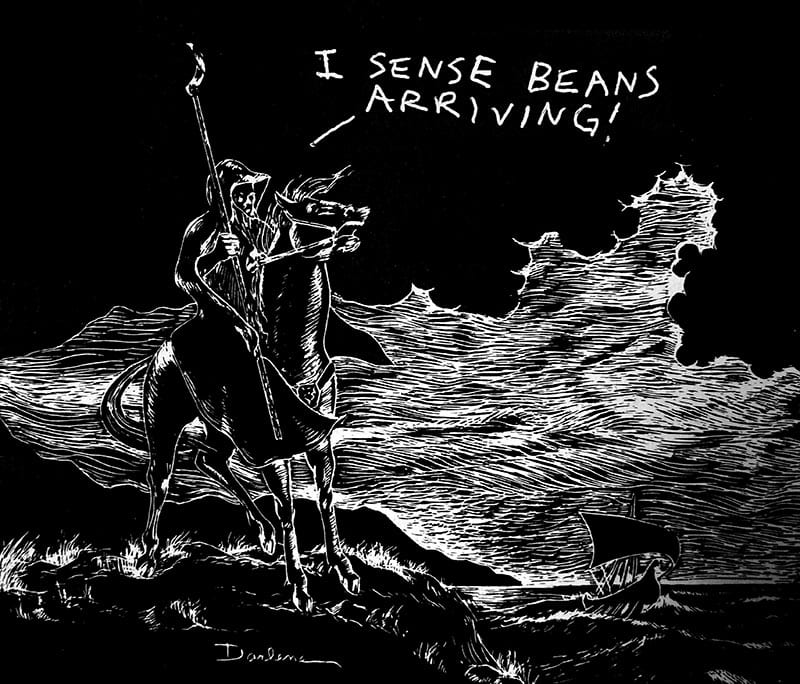 Incoming coffees currently on the water: March – May
Africa Incoming Coffees
South America Incoming Coffees
Indonesia & SE Asia Incoming Coffees